January 17, 2021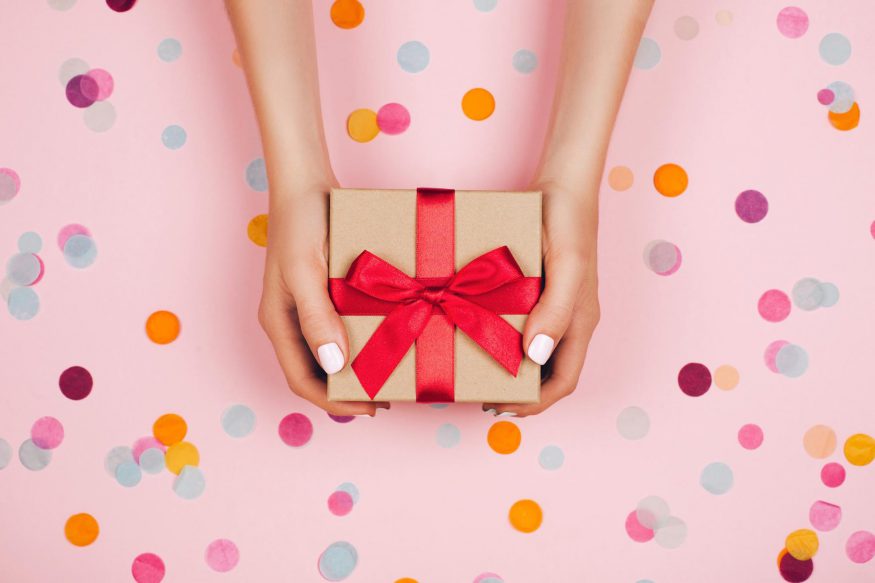 It probably isn't the birthday party or day your friends or loved ones had planned, but birthdays during quarantine can feel just as special with a few thoughtful touches. Like birthday cards, birthday gifts during quarantine can create some celebratory magic with small, simple tweaks. 
To that end, here are some of our ideas for birthday gifts during quarantine to help inspire you. Plus, we're sharing a few of our most-loved digital birthday cards that are perfect for pairing with a digital gift card.

15 Fun Birthday Gifts During Quarantine They'll Love
Just because you can't get together in person doesn't mean you can't show how much you care. Check out these ideas for birthday gifts during quarantine. From cake to coffee makers, there's something for every price bracket, every recipient, and every interest. 
1. Baked Goods
For one of the sweetest (literally) birthday gifts during quarantine, deliver some delicious baked goods to your best friend or family member. You'll find all sorts of options available, including birthday cake, cupcakes, brownies, donuts, and more. Can't find the perfect sweet treat online? Bake and send something you've made from scratch! 
2. Loungewear
With all of us staying home more often than usual, loungewear has really come into its own. Soft, cozy wearables are one of the most perfect birthday gifts during quarantine. Your loved one or bestie can swap their old PJs or uncomfy jeans for a loungewear set, robe, slippers, or cozy joggers instead. 
3. House Plants
When getting outside isn't always an option, bring the great outdoors inside. House plants make great birthday gifts during quarantine — especially thanks to the rise of plants by mail or monthly plant subscription companies. Treat the birthday boy or girl to some new succulents, a fiddle leaf fig, or opt for a fake plant if they're not known for their plant care skills. 
4. Cute Face Masks
Face masks have become one of those essentials that you take everywhere, so why not help your friend look cute while they're staying safe? Order a set of luxury silk face masks in their favorite colors or create your own personalized version featuring a design you've created just for them. 
5. Mini Projector
Those evenings spent in front of the TV watching Netflix likely aren't going away anytime soon. Treat your friend or family member to an upgrade with a mini projector and some fun theater accessories. They can then use this fun gadget to transform their TV nights into a cozy film night with their own "big screen." Make it a multi-sensory experience by also sending them tasty popcorn and delicious candy. 
6. Coffee Maker
If they can't get to their favorite coffee store, give a loved one the next best thing with their own in-home coffee maker. Find the perfect coffee machine to match their coffee preferences — like sweet or rich — then have it delivered to their home along with a taster pack of coffee pods or your favorite coffee beans. 
7. Self-Care Gift Box
Birthday gifts during quarantine don't have to feel any less personalized than before. In fact, it's the perfect time to get creative with a DIY self-care box for someone special. (You could also find premade versions online.) Fill it with things you know they'll love — like scented candles, luxe skincare, stationery, an uplifting book, and their most-loved snacks. 
8. Stylish Glassware
Hitting the cocktail bar for happy hour isn't happening any time soon due to social distancing. Help a friend recreate the experience at home by sending them some gorgeous glassware as a birthday gift. Scout around online retailers like Anthropologie for beautiful wine glasses, unusual tumblers, or fancy champagne coupes, and send them along with a bottle of their favorite beverage. Then set up a virtual happy hour to toast your loved one!
9. Subscription Box
Give your birthday pal one of the best gifts that keeps on giving with a subscription box that suits their interests. There are so many options out there — from luxury skincare to quirky socks and everything in between. Most subscription services let you send a gift of a set number of boxes or months, so you can find a gift option that's affordable and personal. 
10. Motivational Stationery
Working from home has its perks, but sometimes it can feel lonely. If your bestie is now working solo from home, cheer them up with motivational feel-good stationery. Treat them to a personalized planner for the year ahead, some colorful note paper, or desk accessories you know will look perfect on their desk. 
11. Tea or Coffee Subscription
This is one of those really thoughtful birthday gifts during quarantine for hot beverage lovers. Find out their favorite coffee house or type of tea and buy them a monthly subscription, so they'll never worry about running out while they're stuck at home. If they're more experimental, look for an option where they'll be sent an exciting new taste every month. 
12. Video Games
Close some of that quarantine distance by gifting your loved one with a video game you can play together. Virtual family games make for thoughtful birthday gifts during quarantine that can really help lift their spirits. Send them a copy of something like Animal Crossing where you can visit each others' islands, or Mario Kart where you can battle it out to see who's the fastest. 
13. Nail Art Set
If your bestie's nail salon is closed or they can't get an appointment, this is a really thoughtful gift idea. Find the perfect nail art set online and have it sent to them, along with some fresh nail polish and tools. Maybe you can even find an online nail art class or tutorial, so they can practice their new skills with some inspiration. 
14. Jigsaw Puzzle
Jigsaw puzzles aren't just for holiday celebrations — they make wonderful birthday gifts during quarantine too. There's so much choice when it comes to puzzles these days, including really fun, creative ideas like color gradients, modern art, memes, and more. Find something on Amazon, Etsy, or another online retailer that matches one of their interests and send it their way. 
15. Gift Card 
Sometimes it's just not practical to send physical birthday gifts during quarantine. Or perhaps your gift recipient loves to shop online. If that's the case, gift cards are the perfect quarantine birthday gift.
With Greenvelope, you can now send a gift card with any of our digital birthday cards at no extra cost! This means you can send someone you love well wishes and attach a digital gift card for a whole range of retailers. It's perfect when you want them to pick out an item they'll love, or if you're too late for something to reach them in the mail on time. 
6 Digital Birthday Cards To Send During Quarantine
An online birthday card is the perfect way to get those happy thoughts across to friends and loved ones during quarantine. Don't forget you can add a gift card to these at no extra cost for an extra treat for your bestie or family member.
Birthday Defined Card
Share all the reasons why getting older isn't such a bad thing with this funny birthday card. We love this pearlescent text version, but you can also find ombré versions or customize it with your own colors.
Getting Older Birthday Card
Know someone with a great sense of humor? This fun birthday card marks the moment with a touch of playfulness and comes in a variety of playful colorways. 
Hooray Birthday Card
We love the pastel colors on this sweet birthday card design. The golden confetti is a lovely touch, and the upbeat wording is sure to put a smile on anyone's face.
Things Are Bananas Birthday Card
The world sure does feel bananas right now, so this whimsical birthday card is perfect for the times we live in. Stick with the traditional colors, or go wild and request Greenvelope's designers to kick it up a notch with some brightly colored bananas instead. 
Biiirthday Card
How many candles should be on their cake this year? Make light of your bestie turning older with this playful birthday card. It's sweet, simple, and the perfect way to spread some birthday cheer. 
Birthday Bestie Card
Want to send something really personal to a loved one on their birthday? This photo birthday card means you can add your favorite photo of the two of you, plus a personalized message right on the front to celebrate the occasion. 
Send Amazing Birthday Gifts During Quarantine
Don't let coronavirus put a stop to heart-filled birthday celebrations. Pick out a birthday card that feels so completely "them" and pair it with a birthday gift you can easily get to them by mail or email. Add a personal touch with a handwritten note or personalization, and you've got a lovely way to mark the date even if you can't be together.