October 24, 2021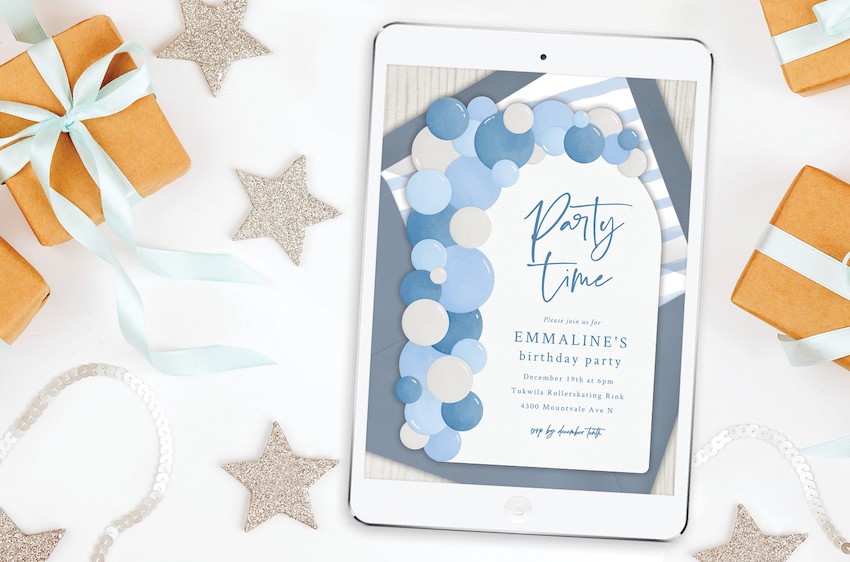 Growing up with a winter birthday can be hard if you prefer parties that include sunshine, pools, and floaties. But having a winter birthday doesn't mean you have to be frosty. In fact, some of the best party themes are oriented around winter. Things like snowflake balls and sledding parties can be magical affairs — and even more fun than summer birthdays. To help you plan the coolest wintertime celebration, try this list of winter birthday party ideas.
9 Magical Winter Birthday Party Ideas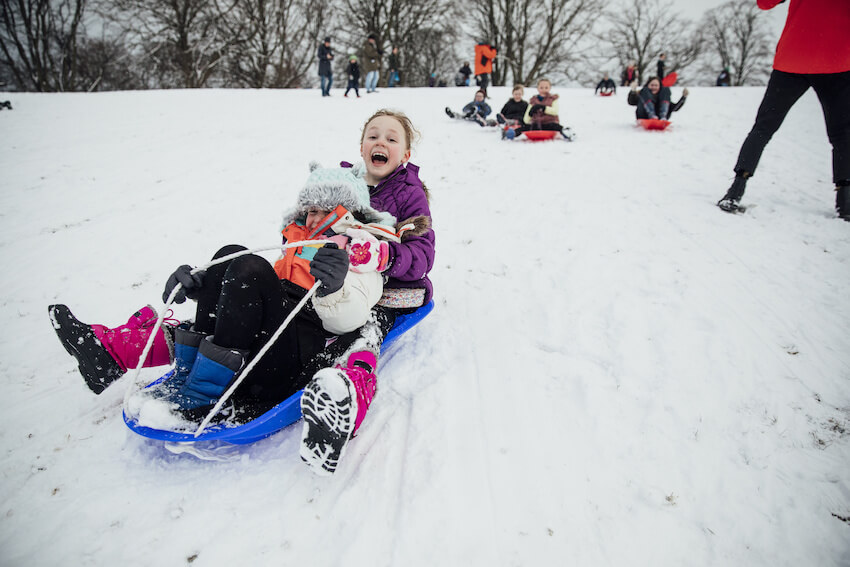 When looking for birthday party ideas, we've got you covered. Here are some of our favorite options — from sledding and ice skating parties to laser tag and a snowflake ball.
1. Ice Skating Party
Invitation Pick: Sea Glass Invitation
Breathe in the cool crisp air with a fun ice skating party. This party is great for young kids as well as adults. You can pay for ice skating lessons or bring the gang to a free skate period at the local rink. Alternatively, you can have your party at an ice hockey game if you prefer to be a spectator and not an athlete. If you're lucky enough to live near a frozen lake in the winter, you can also host an ice skating party in the great outdoors. Just be sure that the ice is safe for skating.
If you're renting out an ice skating rink, create your own playlist with your favorite songs or choose wintry tunes if you have a holiday birthday. You can also ask if the venue can set up lights to add ambiance and if they'll serve the birthday cake out on the ice.
2. Gingerbread Decorating Party
Invitation Pick: Classic Christmas Cookies Invitation
Hosting a party for someone whose birthday is near the holidays? Host a gingerbread decorating party. Pick up gingerbread kits at the grocery store for an easy event or bake gingerbread at home if you're the DIY type. This event is great for kid and adult birthdays alike. You can have a contest for the best gingerbread house and the winner can take home a special party favor.
3. Snow Castle Party
Invitation Pick: Snow Globe Invitation
What's better than building a sandcastle in summer? Building a snow castle in the winter! This activity is great for getting everyone outdoors and keeping the kids busy. Building an igloo or snow castle is as easy as filling a plastic tub with snow. Look for a plastic tub that is rectangular and has straight sides. Pack the snow in it tightly, turn it over, and then pound on the bottom so the snow comes out. Repeat and work in a circle, stacking the blocks next to each other. When you move on to the second layer, stagger the blocks and set them a few inches in to create the dome look.
With this winter birthday party, you're likely to get cold playing in the snow. Serve hot chocolate (or hot toddies for the adults!) to warm up. You can also rent outdoor gas heaters or set up a room indoors where everyone can warm up and enjoy a hot meal.
4. Winter Movie Party
Invitation Pick: Prismatic Snowflake Invitation
If the birthday boy or girl is a Disney fan, consider a celebration inspired by "Frozen" where guests watch the movie together. Decorate using themed paper plates and tablecloths, and hang snowflake decor around the room. You can serve winter birthday cake or Frozen-inspired cupcakes as well as white chocolate popcorn to enjoy as you watch the movie. 
Not into "Frozen" but still want a winter movie-themed party? No problem! Decorate your space with classic winter decor including snowflakes and snowmen. Watch your favorite movies to inspire your winter theme — "Ice Age" or "The Grand Budapest Hotel," anyone?
5. Ornament-Making Party
Invitation Pick: Marbled Ornament Card
Another great idea for holiday birthdays is to turn the event into an ornament-making party. Invite your friends and family over for a child's birthday or an adult's birthday celebration. Set up a table with ornament decorating tools. You'll need ornaments — balls or wooden shapes work well — as well as decorative elements like glitter, sequins, and paint. You can also use things like buttons, beads, pine cones, corks, and bells. To keep things organized, keep each item in a bowl that can easily be passed around.
Make sure you have enough glue guns and glue sticks for everyone and be sure to cover the table with a decorative tablecloth that will add ambiance and also protect your table. You can add decorative elements to your space (think snowflakes, snowmen, reindeer, and holly) to transform it into a winter wonderland.
The great thing about this winter birthday party idea is that each guest gets to bring home their very own decorative ornament as a party favor. You can also serve hot cocoa with marshmallows and a birthday cake for an ultra-sweet touch.
6. Sledding Party
Invitation Pick: Country Christmas Card
Celebrate a winter birthday with an epic sledding party. While this can be done with little ones given proper supervision, it's usually best suited for an older child's birthday or an adult celebration. Grab a few sleds and head to your favorite sled hill or build a luge run in your own backyard. You can have sled races to see who can get down to the bottom the fastest. Once you're done sledding, head indoors to a party room to have cake and sing happy birthday to the special boy or girl.
Be sure to tell partygoers to dress warm since most of this event will be held outdoors. You can include a reminder on the birthday party invitation by listing proper attire including gloves, a snowsuit, and a sled — if you want guests to bring their own.
7. Penguin and Snowman Sleepover Party
Invitation Pick: Dancing Snowmen Invitation
Another fun winter birthday party idea is a penguin and snowman slumber party. Ask attendees to dress up as penguins or snowmen/snowwomen. Some fun party activities to keep everyone entertained include a snowball fight or a scavenger hunt. You can hide wintertime items outside and have the party guests try to find as many as they can using clues. You can hide things like a ski pole, snow gloves, a scarf, and an ice skate for the kids or adults to find. The person or the team that finds the most items wins a prize.
Once the activities are over, serve plenty of tasty snacks that guests can enjoy late into the evening while watching movies and or telling silly (or scary) wintertime stories.
8. Snowflake Ball
Invitation Pick: Arctic Princess Invitation
This winter party theme is perfect for older kids and adults who want a glamorous celebration. Invite everyone to your snowflake ball where they are sure to have a fun night dancing and toasting the birthday honoree. You can host the event in your living room or rent out an event space for a special birthday like a quinceanera or a sweet 16.
Decorate the space with snowflake garland and glittering white lights. You can add white drapery to create the look of a winter wonderland and use silver or metallic place settings for a touch of glamour. Serve wintry foods like stew and soup and finish it off with a dessert featuring ice cream to keep with the wintry theme. Ask guests to wear their best ball attire and get ready for a magical evening. 
9. Laser Tag
Invitation Pick: Laser Tag Invitation
The kiddos will have a blast at this winter birthday bash. Hit the local laser tag facility for a fun kids' birthday party where they can run around and laugh for hours. You can give attendees a goody bag with glow-in-the-dark stickers, neon lollipops, and glow sticks.
Host an Epic Birthday Party Every Year
Having a winter birthday doesn't mean you're stuck doing indoor activities. With these winter birthday party ideas, you can have fun inside or in the great outdoors while celebrating your special day. For more great party planning ideas, continue browsing our Stationers blog and full selection of online birthday invites to suit every theme and occasion.