December 4, 2020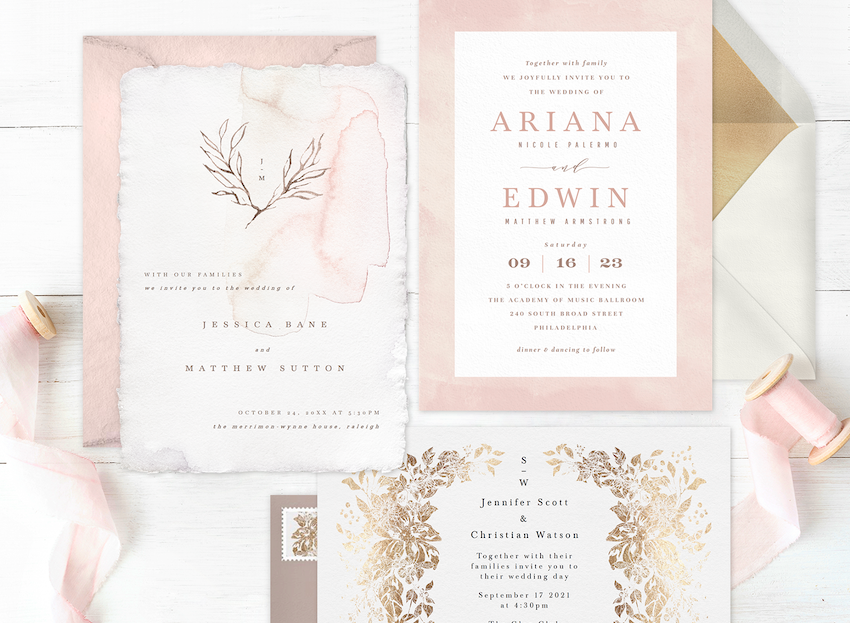 While a wedding invitation captures a special moment in time, from year to year wedding invitations hardly stay the same. Previously unforeseen styles, formats, accents, and artistry sprout at the hands of gifted artists and designers in order to accommodate how couples' tastes and preferences evolve. Trends then emerge and help set the tone for thousands of wedding celebrations each year. 
From daring pattern combos to inventive dimensionality and beyond, the wedding invitation trends we're seeing for 2021 do push the envelope, but in ways that are true to the design while also accentuating the authenticity of the couple about to exchange vows.
Color Trends
One of the big wedding trends of 2021 is a shift away from green and white florals towards warm, romantic florals in tonal palettes. This shift in floral design is then used to inform the palette of the couples' wedding stationery. So instead of the use of minimalist greens and whites, couples are opting for warm-hued palettes like burnt orange, mauve, and dusty rose. Additionally, super-bright, bold stationery palettes are also seeing a rise in popularity, often paired with minimalist stationery sets or fun, informal, thematic designs.
Mixed Patterns
One of the most daring trends we're seeing is wedding stationery designs that mix multiple patterns in complementary styles within a single suite (lovingly referred to by some as "power clashing"). A bit maximalist, and a bit eddy, this trend finds its roots in couture fashion designs and the way they expertly mix and match different patterns and embellishments within a single suite for a cohesive yet exciting look.
Emphasis on Dimensionality 
The textural and dimensional stationery trend is one that we also saw gaining popularity in 2020, so we are thrilled to see couples continue to embrace it into the new year and for any postponed or rescheduled celebrations. We are seeing a lot of love for designs that feature strong textural elements, such as thin sheets of wood used as envelope liners or invitations printed on fabric. We're also seeing an increase in styles that add dimensional visual interest, such as pressed flowers, acrylic invitations, and plenty of vellum accouterments. 
Floral-based Designs
The presence of florals on wedding stationery is a trend that is here to stay, though the styles, colors, and ways in which those florals are incorporated evolve over time. For 2021 celebrations, we are seeing an increase in unexpected florals, often informed by the couples' favorite region, shared memories, or local flora. Additionally, the popularity of dried florals, tonal palettes, and non-floral greenery is on the rise. The way that these florals are incorporated into designs has also evolved, as we are seeing either simple and structured floral arrangements that often feel like minimalist modern art. Or, on the far end of the spectrum, you'll find wild, untamed, romantic florals bursting from the page. Watercolor florals continue to be a popular choice, often with moody or edgy executions. However, photo-real, simple linework and bold illustrations are also trending choices for floral stationery. 
Ultra Customized
Couples are becoming increasingly drawn to stationery designs that really tell the story of their relationship or set the tone for their wedding day. Custom crests and monograms continue to be popular, featuring iconography, colors, or florals that represent the couple, and can be placed on invitations, menus, signage, and more. Fully-custom invitations and stationery are also gaining popularity, with details such as venue illustrations, maps, and bespoke illustrations in a variety of executions that fit the personal aesthetic of the couple.
Informal Verbiage
In contrast to large, formal ballroom-style affairs, more and more couples are shifting their wedding from traditional affairs to more intimate gatherings. This new style of intimate weddings often means non-traditional venues, embracing individuality, and often trimming the guest list from 300 to 100. This embracing of intimacy and individuality has freed many couples to opt for wedding verbiage on invitations that is more casual, and less conformed to "traditional rules" about wedding invitations. Get ready to see plenty of modern wedding invitation designs that feature playful wording, unorthodox verbiage, and oversized typography.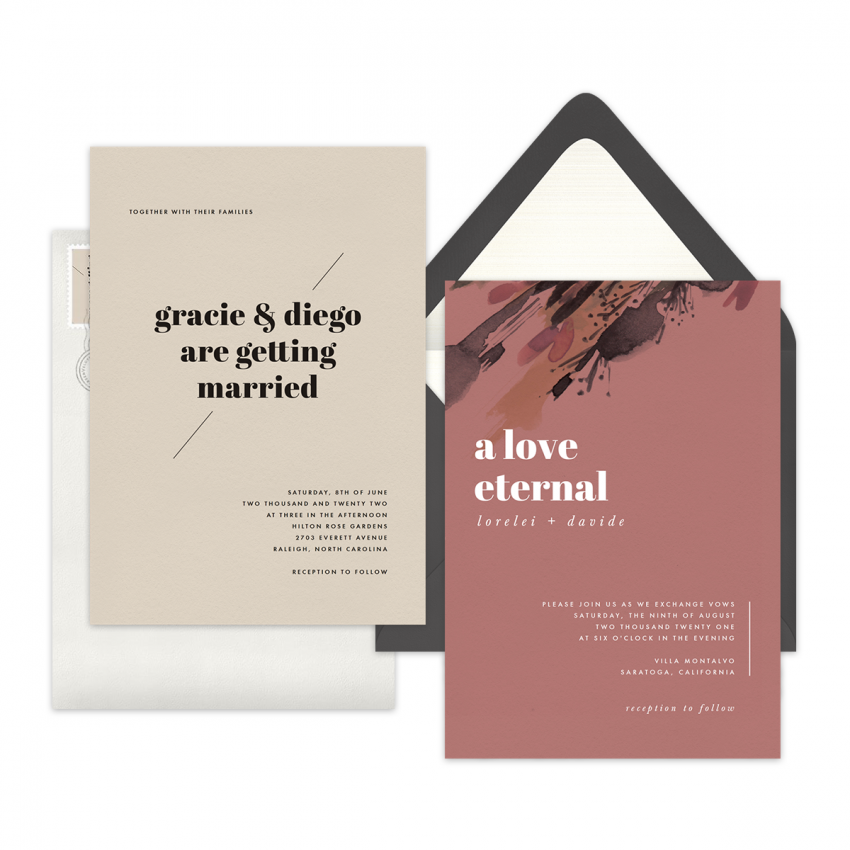 Loving these trends? Greenvelope's community of designers are ahead of the game and are constantly delivering new wedding invitation designs for you and yours to browse and customize.
For those who prefer to set their own trends, Greenvelope offers many varieties of wedding invitation styles, including Classic, Romantic, Rustic, Watercolor, and more to inspire your style, or make something completely your own with one of our fully custom design services. 
Check out all of Greenvelope's Wedding Invitation Collection and find the perfect design for your special day.