April 7, 2021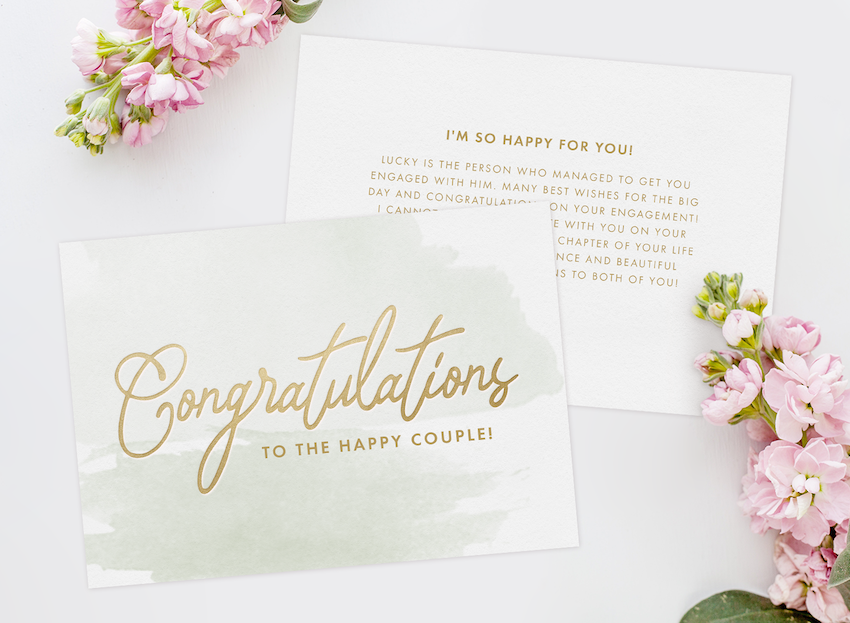 Weddings are one of life's most joyous occasions, so it's only natural to want to celebrate this milestone moment by sharing or writing down a thoughtful wedding congratulations message. To help you craft some sweet and timeless notes, we've brought together our best tips on writing wedding congratulations, including wording ideas that range from heartfelt to humorous.

Where to Write Wedding Congratulations Messages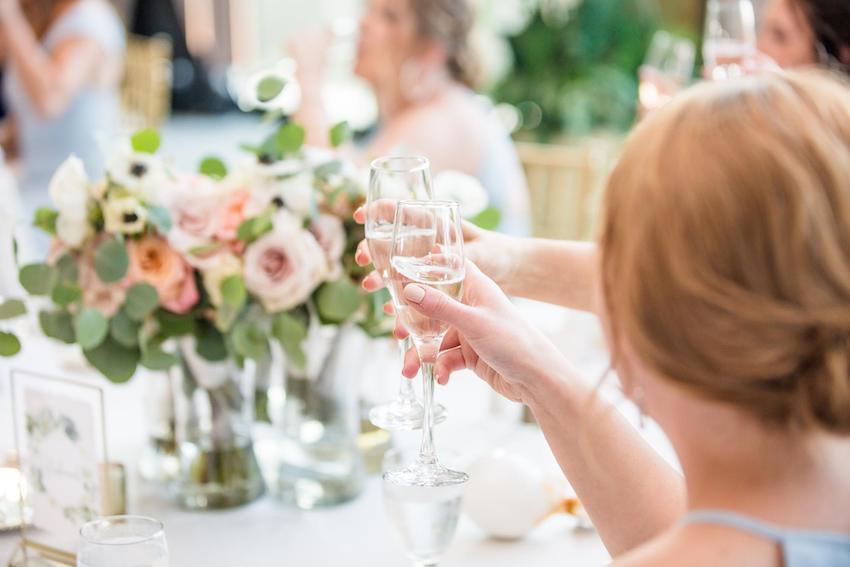 When you think of wedding congratulations, you might think of that moment where you toast the newlyweds at the reception. But there are other places to share your well wishes — here are a handful of places that are perfect for sharing a lovely wedding greeting.
At the Wedding Reception
Most couples have a guest book or another memento at the reception that they'd love their guests to sign. This is the perfect place to share your warm wishes for the happy couple. You'll want to keep your wedding message short and sweet as there's often limited space. It's a great place to add a lovely "Congratulations on your special day!" or "Best wishes for the future!" 
In a Wedding Card
One of the most popular places to share a congratulatory message is within a wedding congratulations card. It's often given alongside your wedding gift at the reception, but you could also send it by mail or digitally if you couldn't make it to the event. 
Whether it's a physical or digital card, you can start with a simple congratulations, then go into more detail about how excited you are about their future together — or share a personal story that's unique to you and the couple. 
Online
We don't just celebrate our loved ones' union in those traditional ways anymore — we also comment on Facebook photos or leave a note on a wedding website. These digital spaces are ideal places to share wedding congratulations messages with the newlyweds. 
These online greetings tend to be short and casual, and often related to what's in a photo or post. Messages like "Congrats, [Name] — love the dress!" or "We love how happy you look — congratulations!" are more common. 
Tips for Writing a Wedding Congratulations Message
Writing a heartfelt note doesn't always come naturally, even if you're excited about the occasion. No worries! You can write your wedding congratulations message like a pro with these handy tips. 
Match the Tone
Whether it's your best friend tying the knot or a coworker who's taking the plunge, it's a great idea to match your message with the tone of your relationship with them. 
A wedding congratulations note to a close family member will likely read very differently than one to a distant friend. Think about whether your note needs to be formal or casual, and whether you want to keep it simple or overflow with joy. If you're not sure about the formality of the occasion, the couple's digital invitation or save the date can give you a hint. 
Make It Personal
It's tempting to stick to something general like "Congratulations on your wedding!" and leave it at that. But if you can, add more of a personal touch to make your wedding congratulations unique to the couple. 
Look for a way to weave in a memory that you all share, or comment on how beautiful the couple looked on the day. Mention how you can't wait to see their honeymoon photos, or that you're looking forward to catching up with them soon. These little additions help your message stand out and feel more personal to the couple. 
Express Your Emotion
Weddings are wonderful celebrations, so don't feel like you have to hold back when it comes to writing your wedding congratulations message. 
Think about how happy the newlyweds will feel when they read your heartfelt note full of joy. Hosting a wedding is a big event, and it's always lovely to know that your guests are as excited about it as you are. Write your message from the heart in a way that'll make the recipients smile. 
Our Favorite Wedding Congratulations Message Ideas to Inspire You
You know how happy you are for the newlyweds, but sometimes it's hard to put those feelings into words. Here are some wedding wishes to help you find the right words and share your sentiments.
Heartfelt Wedding Congratulations
Looking for something thoughtful and straight from the heart for close friends or a family member? Here are some sweet wedding congratulations messages to inspire you. 
Congratulations, [Name and Name]! It was so lovely to be part of your wedding day. You are both special to me and I'll always cherish the memories!

Congrats you two! Wishing you a lifetime of love and happiness together.

Huge congrats and lots of love to you, [Name and Name]! I hope you have the most amazing future ahead of you. 

It's been so wonderful to watch your new life together [Name and Name]. Congratulations and all the best for the future!

Congrats [Name and Name]! We're delighted to get to celebrate this joyful day with you. 
Funny Wedding Congratulations
Wedding congratulations don't have to be serious — especially if you're close with the newlyweds or have a fun relationship. If you can get away with a bit of humor, these message ideas are for you. 
Congrats on finally tying the knot, [Name]! You took long enough!

We weren't sure you'd ever find the one, [Name], but [Name] is perfect for you. 

Congratulations! Welcome to the weird and wonderful world of married life. 

Congrats, [Name] and [Name]. When you need me, I have all the best marriage advice! 

Not sure how you convinced [Name] to do this, but congrats [Name]! 
Formal Wedding Congratulations
Sometimes the wedding will call for something a bit more formal and traditional. Here's how to share your joy in a more refined way. 
Wishing you all the best for your special day.

Congratulations to the happy couple and your loved ones! 

May today mark the start of a long and prosperous journey together.

Sending you well wishes as you enter into this wonderful union.

Congratulations to the married couple on this beautiful day. 
Welcome to the Family
It's always exciting welcoming someone new to your family by marriage. Celebrate that happiness with one of these messages. 
Welcome to the family, [Name]! We're so excited to have you with us. 

I'm so happy that my [Relative] got their happily ever after with you, [Name].

We know you're going to give [Name] such a happy life. Welcome to the family! 

It's so exciting to gain you as a family member, [Name]! Here's to the future!

We're full of joy at this union and the start of a new family together. 
Wedding Congratulations From Afar
Distance and other obstacles can make it hard for everyone to attend the ceremony or reception. Here's how to send your love and wedding congratulations from a distance. 
Congratulations, [Name] and [Name]! So sorry we can't make it to your big day, but we're excited to see you again soon. 

Warmest congratulations to you all the way from [Place]! 

Congrats on tying the knot! Hope to see you soon when we can share the same time zone!

Wishing you a long and joyful marriage, [Names]. We can't wait to see you soon! 

Love travels across great distances, just like this message. Congratulations to you both! 
Simple Wedding Congratulations
If you don't know the happy couple that closely, a heartfelt or funny message doesn't feel quite right. Here's what to say in a message for a friendly coworker or distant family friend. 
Congratulations on your wedding! Wishing you all the best for a joyful future together. 

Happy wedding day, [Name]! 

Congratulations to you both. Wishing you a beautiful start to your new journey together. 

Wishing you the best for a happily ever after, [Name]! 

Congrats on getting married! Wishing you all the best. 
Write a Wedding Congratulations Message the Easy Way
Sometimes all you need is a little advice to find the right words for your wedding congratulations message. Think about your relationship to the couple, the level of formality, and how and where you're sharing your message with them. Take inspiration from our wording ideas above, then personalize your note to create a heartfelt message that'll bring joy to the newlyweds.