October 14, 2021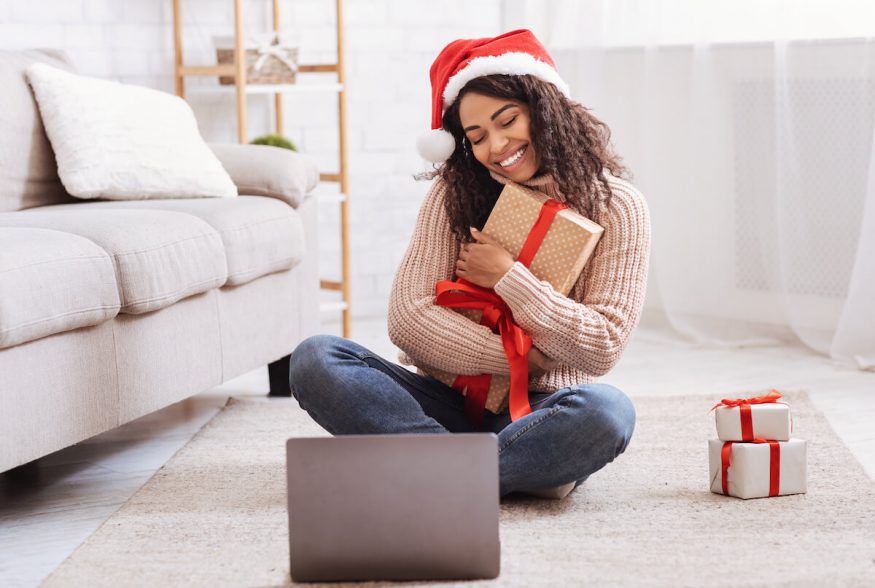 Hosting a virtual Christmas party can feel very different from hosting an in-person event. Instead of planning your festive decor and arranging your table setting, you're thinking about whether your virtual quiz will work or how to make your online celebration feel special. 
To help you throw the best virtual get-together for the season, take a look at these virtual Christmas party ideas. (You can even use them for a holiday office party.) Our mini-guide will help you plan and host your event with plenty of options to create that warm, fuzzy, festive feeling even if you're miles apart. 

How to Host a Virtual Christmas Party
Before you can gather your loved ones together on a video call, there are a few essential steps to take. Here's are some virtual Christmas party ideas to get you started.
Choose a Theme
Your Christmas party doesn't need a theme, but if you want one, now's the time to decide. Go for a celebration inspired by your favorite holiday movie, festive clothing (hello, ugly Christmas sweater!), or a Christmas pajama party — the choice is yours. 
Once you've settled on a theme, it's much easier to plan your virtual Christmas party. Your theme can guide your playlist of holiday songs, games and activities, mailed gifts, and more. 
Plan a Few Activities
It's not a proper Christmas party without some games and activities. To bring your virtual Christmas party to life, plan a handful of activities that involve everyone. 
Popular party activities that work across a distance include at-home scavenger hunts, quizzes, bingo, and party games like charades and Pictionary. You could also consider a festive disco, sing-off, or visit from Santa himself if you have little ones joining your video call. For more options, check out our list of ideas below. 
Select a Date and Time
This time of year can get busy quickly, so set your party date early in the month or work around what's already in the schedule. If you're hosting a casual event for friends, opt for a date that's still within the holiday season but not too close to the main celebration days. 
For a family gathering, you could all meet up virtually on Christmas Day to recreate some of that holiday magic. A late-night Christmas Eve happy hour event with festive drinks can be fun too. Think about who's coming and what works best for everyone's schedules. 
Invite Your Christmas Party Guests
Once you've worked out the basics of your virtual get-together, you can start building your guest list and sending out your party invites. 
For your virtual Christmas party celebration, it doesn't get better than digital holiday party invitations. You can easily share links to your Zoom or Google Meet video call, communicate with guests about details, and have them RSVP all in one place. Greenvelope offers plenty of holiday party invitations that you can transform into virtual party invites and customize with your own colors and wording. 
Our Favorite Virtual Christmas Party Ideas
Ready to plan an epic virtual Christmas party? Here are some of our most-loved holiday party games and virtual holiday party ideas to ensure everyone has a wonderful time. 
1. Host a Christmas Movie Watch Party
Get into the holiday spirit by hosting an old-fashioned movie-watching party. It's an easy way to gather virtually and spread holiday cheer. Choose a film, ask your guests to turn down the lights, and watch along together with some popcorn and eggnog in hand. 
Queue up your favorite Christmas movie, or ask your guests for suggestions ahead of time. You could add a note about this when you send out your online invitations — so guests can reply with their ideas. 
2. Play Festive Bingo
One of the best Christmas games to play together is a few rounds of bingo. It's the kind of game that anyone can join — from your little cousin to your young-at-heart grandma. Plus, it's incredibly simple to create a fun, festive-themed version using Christmas imagery. 
If you're sending gifts by mail, put together a party package that includes games — like these free printable Christmas bingo cards. This way, your guests can play along without worrying about having a printer. 
3. Arrange a Christmas Gift Exchange
While you can't meet in person to exchange gifts, you can still share holiday cheer with a virtual Secret Santa gift exchange. Get all your guests to sign up to a list or service like Elfster, then pair off your party guests so they know the identity of their gift recipient. 
Set a budget for gifts (say, $20 maximum), ask people to create a wishlist of things they'd love, and set a deadline for mailing gifts. Then, everyone can open their gifts together at your virtual event. 
4. Host a Virtual Cookie Decorating Party
We love the smell of freshly baked dough ready to frost, especially when you pair it with a mug of hot chocolate. Give your guests a true taste of the season with a virtual cookie decorating party that you can prepare in advance. 
Create a care package loaded with gingerbread or holiday cookies that need to be decorated. Be sure to include all the trimmings, like icing and candy, as well as hot cocoa mix to wash it all down. Send the goodies at least a week in advance of your celebration to ensure your guests receive them on time for your virtual Christmas party. 
5. Have an Ugly Sweater Contest
Hosting an ugly sweater contest is a super-fun way to mark the holidays. This is one of those party activities that involves everyone and is easy to do.
Ask your guests to turn up in their favorite ugly festive sweater, and award a prize for the best, funniest, or most awful design. Make it clear that your guests can buy a sweater or go wild with a DIY revamp on something they already own to keep it affordable. You could even turn this activity into a DIY contest by sending marker pens and accessories in the mail for them to decorate ahead of the party. 
6. Sing Christmas Carols
There's something comforting about gathering together and singing festive songs and carols in front of the Christmas tree, or with neighbors outside your home. While things might look different with an online party, you can still take part in this much-loved Christmas tradition. 
Put singing on your virtual Christmas party ideas list with either a traditional round of carols or a more contemporary karaoke session. Ask people for their suggestions of carols or songs before the day, and put together links to lyric sheets to share on the day. 
7. Play a Holiday Trivia Quiz
If you're not sure which fun games to include on your party activity list, trivia is a tried-and-true favorite that's always welcome. Put together a list of trivia questions all about Christmas and the holiday season. Create rounds based on festive songs, holiday movies, all that delicious seasonal food, and more. As you play, keep score so you can select a winner at the end of the game.
8. Send Gifts by Mail
Hosting a virtual Christmas party doesn't mean your gifts have to be virtual too. Prepare your gifts ahead of time and mail them out so that your guests can open them on the call for an extra special surprise. You might even consider sending everyone a Santa hat so you can snap fun photos during the party. 
If sending everyone a gift by mail isn't practical, why not send a gift card alongside your online invitations? With Greenvelope, you can easily send gift cards for no additional fee, giving you an easy way to spread even more holiday cheer. 
Let These Virtual Christmas Party Ideas Help You Celebrate the Most Wonderful Time of the Year
There's so much you can do to transform a standard video call into an exciting, fun-filled holiday extravaganza. Whether you're watching holiday movies, decorating cookies, donning ugly Christmas sweaters, or singing carols, you're sure to have a most memorable time. Once you have your virtual Christmas party ideas planned out, send out a wonderfully themed virtual holiday party invitation to excite your guests about all the fun that's in store.