May 23, 2021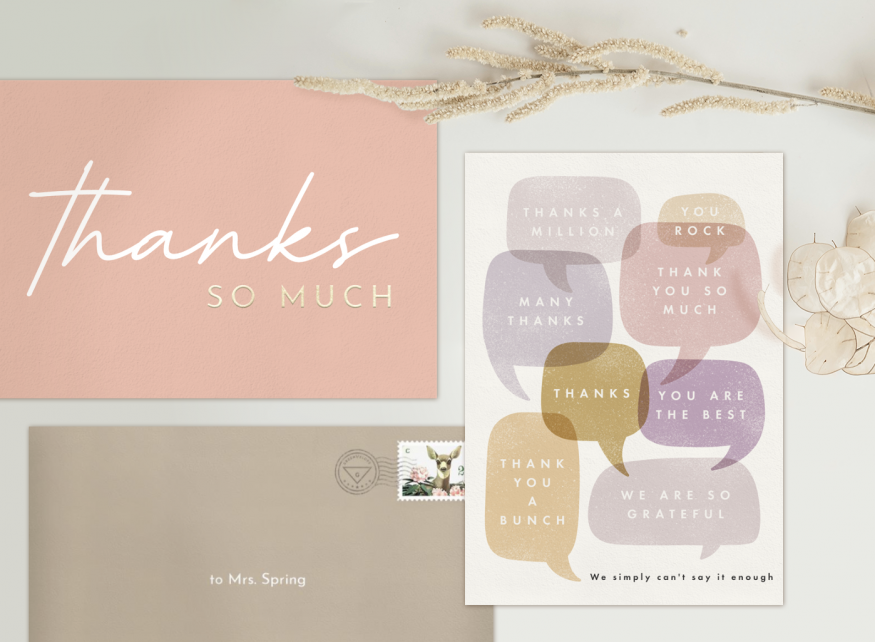 It's time to start thinking about sending a thank you card for teacher appreciation. They do so much for your child throughout the year, and now's the ideal moment to express just how important they are.
To help you write the perfect thank you card for teachers, we've brought together our best tips and wording ideas — plus some thoughtful teacher gift ideas too. 

What to Write in a Thank You Card for Teacher Appreciation
Whether you're sending a greeting card for teacher appreciation week or celebrating the end of the school year, here's our guide on how to craft the perfect thank you message. 
Express Your Gratitude
The main reason for sending a thank you card for teachers is to express how grateful you are for everything they've done. They've made a huge impact on your child's experience in school, and you want to share that. 
Use your thank you note to talk about how grateful you are, right from the heart. Reflect on how they've supported your child through a challenging topic or been a warm, bright presence in their school life so far. 
Make It Personal
It's easy to send a thank you card, but it takes some extra thought and care to make it stand out and leave a lasting impact. To put a big smile on your child's teacher's face, make your thank you note feel personal. 
Look for an editable digital card that lets you send a personalized thank you with ease. Add some DIY customization by choosing your colors and fonts, then add wording that speaks to your unique experience. Reflect on specific moments that they've helped your child through, or include a fun memory you have of when they went above and beyond what's expected of a teacher. 
Wish Them Well
A teacher's hard work is never done, so a special way to finish off your thank you card for teachers is with a note to wish them well. It shows that you're grateful not only for everything  they've done so far, but that you hope they have a wonderful time throughout the year. 
Use this as an opportunity to send good luck their way as they prepare for the upcoming school year and that super busy back-to-school period just on the horizon. If they're moving on to another class or school, share your excitement for them by wishing them all the best with the new opportunity. 
Wording Inspiration for Your Thank You Card for Teachers
Now you know what to say in your teacher appreciation card, but sometimes it's hard to find the exact words to make that happen. Here are some wording ideas to inspire you — feel free to borrow them or make them your own with a few changes. 
From a Parent
There's not one perfect way to write a thank you note to your child's teacher — what matters is that it comes from the heart and makes the teacher smile. If you're looking for ideas, here are a few phrases to get you started.
Thank you so much for always being an amazing role model to Stephen. He's learned so much from you! 

You're one of the best educators we've ever known, Miss George. Thank you for always going the extra mile for Sara and your other students.

You're a truly wonderful teacher. Thank you for being part of our lives.

We're so grateful for the hard work you put into your classroom and into teaching our beloved Thomas. Thank you! 

We can't believe it's the end of year already. Thank you for being part of Amanda's best year yet! 
From a Student
If you're helping your child write a thank you card for their teacher, here are some wording ideas we love. For that extra touch, encourage them to add a sentence or two that speaks to their own personal experiences too. 
You're such a great teacher, Mr. Fitz! 

Thanks for being an awesome teacher, Mrs. Harrison. I couldn't have gotten through Shakespeare without you! 

You've been my favorite school teacher ever. Thanks so much! 

You're the most special teacher I've ever known, Mr. George. Thanks for all your help with math! 

I have so many amazing memories to take from high school, but you'll always stand out. Thank you for being the best teacher! 
On Behalf of a Young Child
Sometimes you'll want to thank your child's kindergarten or preschool teacher, but your little one can't quite get the words onto paper yet. If that's the case, here are some adorable thank you messages you can send on behalf of your little star. 
You're the best teacher in the whole wide world! 

Thank you for being the most amazing teacher, Mr. Smith! 

Yay for Miss Williams! You're the best! 

Thank you for always playing dinosaurs with me, Mr. Ball.

It's always a fun day with you, Mrs. Mane! 
Fun Gift Ideas to Match Your Thank You Card for Teachers
Sometimes you'll want to send a small gift alongside your thank you card for teachers to make it feel all the more special. If you're looking for teacher gift ideas, here are a few to help you find the perfect surprise. 
A Plant or Flowers
A fun way to say thank you to a teacher and express your gratitude is to send them a sweet mini plant — like a succulent. You can find plenty of adorable cacti in stores that come with funky, brightly colored pots, or designs that feature "thank you" wording on them. These make ideal teacher gifts as they're easy to care for and can help brighten up their desk. 
If plants aren't your gift recipient's favorite, try flowers instead. While teachers often get flowers, they're a sweet and simple way to say thank you. To make the gift last even longer, swap fresh flowers for a gorgeous dried flower bouquet that they can enjoy for months to come. 
Chocolate or Candy
You can't go wrong with candy or chocolate. They're the ultimate in-person gift for teachers — especially if you don't know their personal interests or you simply want to send a sweet pick-me-up. 
Think about which candy or chocolate your child's teacher would love best. Your child probably has the best idea here, so see if they can figure out their teacher's favorites. Package everything in a thoughtful way, and hand over your gift alongside your thank you card. 
Digital Gift Card
If you want to send a really thoughtful teacher gift, a digital gift card is the way to go. That way, the teacher can choose something they'll really love — or maybe something practical for the classroom that everyone can enjoy. 
With Greenvelope, you can add a digital gift card to your personalized thank you card before you check out. The gift card can be used in many online stores, so the gift recipient will have no problem finding the perfect treat. 
Send the Best Teacher Thank You Cards This Year
Teachers do an amazing job and deserve to hear just how valuable they are. We hope this guide has helped you figure out what to feature in your thank you card, find some wording inspiration, and discover a sweet gift to accompany your thanks.