December 15, 2021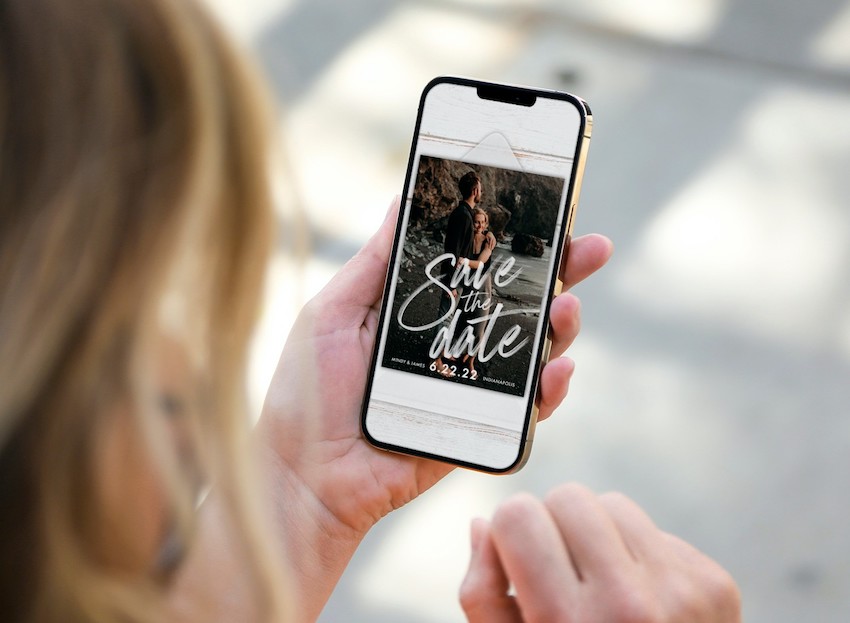 With all the countless details that go into wedding planning, the last thing you want to worry about is someone not getting a save the date invite because it got lost in the mail. A missing save the date can leave someone feeling out of the loop at a special time. Luckily, you can avoid this problem completely by sending a save the date text.
Let's take a look at why texts are such an easy (and stylish) option as well as what to include, wording ideas, and how to design one that looks just as impressive as a traditional wedding save the date card. 

What Is a Save the Date Text?
A save the date text is a lot like any save the date card — except instead of sending one in the mail or by email, your save the date invitation will land in your guest's text message inbox. It's a great way to share the news of your wedding date and let loved ones know that they're firmly on the guest list. 
Texts are a contemporary solution to an age-old problem — trying to make sure that you reach everyone you want to invite with as little fuss and delay as possible. With a save the date text, the entire process is easier. 
3 Reasons to Send Save the Date Texts for Your Big Day
We love that save the date texts are ultra-convenient, but that's not the only advantage they have. Here are some of the most convincing reasons to consider sending a save the date text instead of a more traditional option for your wedding day. 
1. Convenient Way to Reach Everyone
Formal wedding and save the date etiquette suggests sending your cards six to eight months ahead of the wedding. If you have everyone's mailing address in time, that's no problem. However, it can be more challenging than you think to wrangle everyone's details. As such, you might not get a chance to sit and write save the date cards to fit your timeline.
Save the date texts are a wonderful alternative in this case. They're an incredibly easy way to invite your loved ones — and all you need is their cell phone number and name. Plus, your invite is much less likely to get lost along the way as it's hard to ignore an incoming text message. 
2. Easy to Create and Send
Save the date texts can save you a significant amount of time during the wedding planning process. There's less time (or no time) spent visiting stores, meeting with wedding stationery designers, and making trips to the mailbox. (You can also save time and money by option for online invitations.)
At Greenvelope, our save the date texts are incredibly easy to create and send to your loved ones. Even better, you can do everything from the comfort of your own home and customize your design to perfectly match your digital wedding invitations. 
3. Highly Customizable Yet Affordable
Your wedding day will be as unique as you and your partner, so it makes sense that your save the date cards are just as personalized. Traditionally, that would mean working with an expensive stationery designer. But with Greenvelope, you can customize and send your digital save the dates in an affordable yet no less impressive way.
Online save the dates strike a lovely balance between a bespoke creation and a cheerful DIY effort. You get to customize the look with colors, photos, and wording — even if you don't usually count art or design among your talents. Save the date texts let you spread the news to your guest list at a price point that won't ruin your wedding budget. 
What to Include in Your Save the Date Text
Your text invitations don't have to be complicated. In fact, they often work best if you keep the wording to the minimum. Still, there are a few must-have details to feature in your save the date text message. 
Your Guests' Names
It might sound obvious, but when you're sending a digital invite with no physical outer envelope, it can sometimes be confusing to determine who is invited. Make things clear by addressing your save the date to your named guests, along with any plus ones if applicable. 
Couple's Names
Chances are everyone on your wedding guest list already knows your name. It's still best practice and good etiquette to include your full name on your save the dates. This is especially helpful for any distant family members or anyone who's not sure about how to spell your or your partner's name. 
Reason for Sending
It should be obvious from your card design, but let your guests know that you're getting married! Keep it simple with "Save the date" or something sweet like "We set a date" or "We've found the perfect date!"
Expected Wedding Date
Your guests can't save the date if you don't give them one, so don't miss this step. Feature your proposed wedding ceremony date prominently on your design in a format that's crystal clear — especially if there could be any confusion around the date format for international guests. For example, instead of 11/23 or 23/11, spell it out as November 23 and then include the year. 
Potential Wedding Location
Not everyone has their wedding venue sorted this early, which is totally fine. If you do though, feel free to share it now — especially if you're planning a destination wedding. This way, guests can sort travel plans and hotel bookings early to score the best price. If you don't have a venue booked yet, share the general location of the wedding if you can — even if that's only a country or state. 
Other Details
Any other details on your save the date are entirely up to you. You might decide to set up a wedding website or registry, which you could provide a link for more information. If you're collecting RSVPs now, tell people the best way to do this. It can also help to include "formal invitation to follow" at the bottom of your save the date — especially if your wedding guests don't need to do anything right now. 
Save the Date Wording Ideas to Inspire You
There's nothing wrong with sticking to a sweet and simple "save the date" for your text message cards. After all, that's exactly what you want your wedding guests to do. If you're looking for something a little different though, here are some save the date wording examples to inspire you: 
Did someone say open bar?

Save our wedding date!

It's all set for [date]!

Won't you save the date for us? 

We can't wait to see you on [date]

Heads up, we've found a date! 

Join us on [date] for our magical day! 

Join us on [date] to party the night away! 

Keep this date free for us, please!

After much deliberation, we've settled on a date 

Mark this date on your calendar … you're invited! 

Ready … set … go! Our wedding's happening on [date]

We're getting everything ready to celebrate with you on [date]
Whether you want to keep it simple, add a touch of humor, or even write a longer message, your save the date text can reflect your personality and wedding theme.
How to Create a Save the Date Text with Greenvelope
Creating your own save the date text with Greenvelope couldn't be easier. All you need to do is follow our standard process right up until the sending stage. 
Start by browsing our wedding save the dates to find a few designs you love. Whittle down your shortlist until you've found the perfect save the date template. What's lovely is you can also find wedding invitations and thank you cards in a matching design. Next, make it completely your own. Add an engagement photo, choose your colors, and personalize your wording and details. 
When you're happy with your design, move to the next stage of the process — getting your invites ready to send. Add your guest list into the system, making sure you have the guest's name and a way of contacting them — a cell phone number, email address, or both. 
Before you hit send, choose how you want your guests to receive their save the dates. If you have an email address on file it'll go there by default, but you can switch this to a text message if you prefer. If you only have a cell phone number for someone, they'll receive a text message by default. Simple!
Share Your Joy with Beautiful Save the Date Texts
Save the date texts are a great way to share the news that you've set your wedding date. They're easy to send, simple to receive, and don't compromise on style or quality even if you have a tight wedding budget. 
Take inspiration from this guide to help you put together your own save the date texts. Assemble your guest list, choose an invitation design, customize it to your heart's content, then send your text messages on their way to your loved ones in no time at all.