August 22, 2022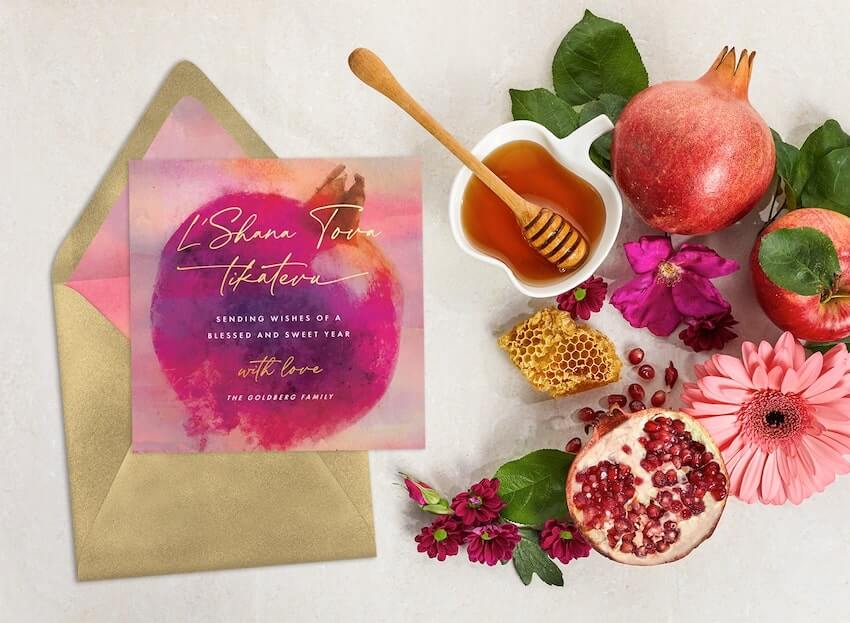 Rosh Hashanah is a wonderful time for celebration and tradition. It's a chance to look forward to a joyous new year and reflect upon the successes of the year gone by. The day starts with blowing the shofar (ram's horn) and candles are lit each evening. As with most holidays, food plays a central role in the festivities. Parties are filled with pomegranates, love, and celebration as well as plenty of prayer and religious customs.
Whether you're Jewish and looking for wording ideas to wish friends a joyful holiday or you simply want to send well wishes to Jewish friends and family members, you'll find thoughtful Rosh Hashanah greetings here. Plus, you'll find gorgeous invitations you can use to invite loved ones to celebrate this festive holiday.

Rosh Hashanah Greeting Ideas and Wording Tips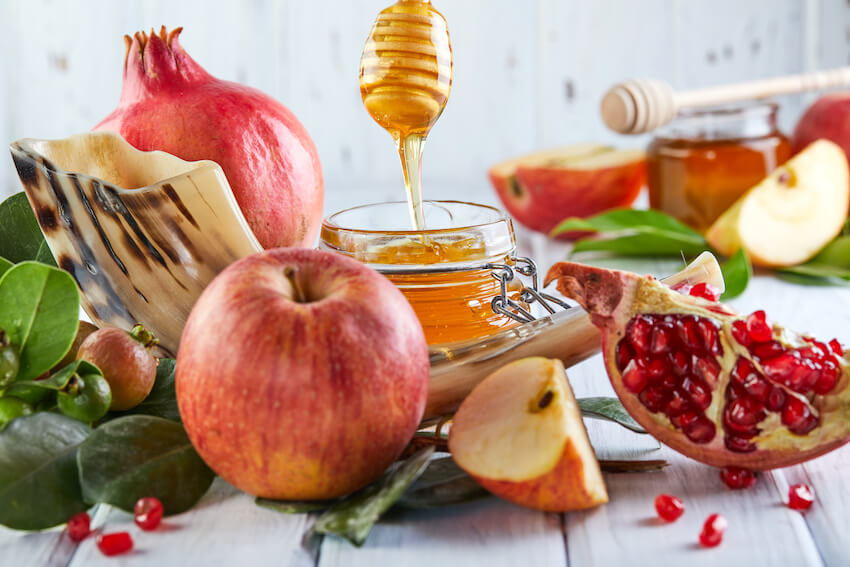 Celebrating Rosh Hashanah — the Jewish New Year — is one of the most joyous occasions on the Jewish calendar. Honoring the first day and second day of the New Year, the name Rosh Hashanah literally translates to "head of the year." Also called Yom Teruah, it's the first of several Jewish holidays that occur in late summer and early fall. 
The most common greeting for Rosh Hashanah is simply "Happy New Year!" The key difference is that Jewish people typically use Hebrew words to send greetings. If the holiday falls on the Sabbath, you can add Shabbat Shalom to the beginning of any of these greetings. Below are several ways to wish a happy Rosh Hashanah to family, friends, and colleagues.
Shanah Tovah
For Rosh Hashanah and similar High Holidays and Days of Awe like Yom Kippur, the common greeting is "shanah tovah." This phrase translates to "good year" and is a simplified version of the longer salutation "l'shanah tovah u'metukah," which means "for a good and sweet year."
The shorter phrase is more popular when speaking to someone while written cards often include the longer version. Feel free to express this Rosh Hashanah greeting before, on the day of, and a few days after the holiday as well.
Some ideas for using this Rosh Hashanah greeting:
Shanah tovah! We hope this year brings you many sweet returns.

Our family sends warm wishes for a joyous new year. L'shana tova!

Shana tova tikatevu! We wish you a year full of peace, joy, and good health. 

Shana tovah u'metukah. I hope the season's sweetness and happiness carries through the next year. 
Chag Sameach
Another popular Rosh Hashanah greeting is chag sameach. This phrase translates to "happy holiday." It can be used for various Jewish holidays and is a good choice for those who don't speak Hebrew and may feel overwhelmed at some of the longer greetings on this list. Some traditionalists only use this greeting for the three pilgrimage festivals — Shavuot, Passover, and Sukkot — but it's still acceptable for Rosh Hashanah. 
Some ideas for using this Rosh Hashanah greeting:
Chag sameach! We hope your family enjoys celebrating the special holiday with sweet treats and lots of joy. Best wishes for the year ahead.

Chag sameach! Each year brings new joys, challenges, and wonder. Hoping this year is the best and sweetest one yet.

Chag sameach! We hope you find sweet ways to celebrate the new year and all its good tidings.

Best wishes for a year full of prosperity, happiness, and time spent with the ones you love most. Chag sameach!

It's the best time of the year. We can look back on our accomplishments and look forward to a year of sweet joy and the privilege of overcoming new challenges. From our family to yours, we wish you a chag sameach!
Gut Yontiff
Gut yontiff or good yontiff is a Yiddish-derived phrase that comes from a blend of Hebrew words "yom tov" which means "good day." This phrase is often used to celebrate any Jewish holiday that forbids working.
Some ideas for using this Rosh Hashanah greeting:
On this glorious Rosh Hashanah, we wish you gut yontiff. We hope you spend the days enjoying sweet delicacies and the joy of family.

Gut yontiff, my friends! May the new year provide you with prosperity, luck, and happiness.

Good yontiff, dear family! We wish you a wonderful new year full of adventures, joy, and success. 

Here's to a joyous new year. We hope you find a special way to celebrate. Gut yontiff!
10 Rosh Hashanah Card and Invitation Designs
Whether you're hosting a Rosh Hashanah event or want to send a card to your Jewish loved ones, Greenvelope has a large selection of Rosh Hashanah cards and event invitations. From formal and understated to festive and fun, there's a design you can customize to suit your needs. Here are some of our favorite Rosh Hashanah greeting cards and invites.
1. Celebrate Rosh Hashanah Invitation
This dinner party invitation features classic motifs of the Jewish New Year with fish, pomegranates, and a bold shana tova greeting. It's perfect for an event of blowing the shofar and dipping apples into honey in celebration of the holiday.
2. Sweet Honeybees Invitation
Use this cheerful bee-themed invite to celebrate Rosh Hashanah with Jewish friends and family. There's plenty of room for event details so you can let guests know if it's an evening gathering or a full two-day celebration.
3. Abstract Gold Swirl Invitation
Honor the past year and celebrate the sweet new year with this elegant and modern invite. It features gold foil details for a sophisticated look and the autumn colorways are perfectly suited for this fall celebration.
4. Sweet Honeycomb Invitation

This sweet invitation is ideal for celebrating the Jewish New Year. The modern honeycomb design on the card matches beautifully with the envelope liner featuring understated yet festive elements like pomegranates and honey dippers. 
5. L'Shanah Tovah Announcement
Wish friends and family good health with this lovely photo card. It puts your family front and center and the delicate gold foil accents add a hint of glamor and shimmer.
6. Sweet Delicacies Invitation
Hosting a Rosh Hashanah feast? Invite guests to join you with this colorful invite. It features a jar of honey, buzzing bees, pomegranates, and apples — all the fixings for a delicious New Year's event.
7. Rosh Hashanah Dinner Invitation
Set the table — and the scene — for a delicious feast with this Rosh Hashanah dinner invite. The hand lettering adds a personal touch and there's plenty of room on the card to include the event details.
8. Shana Tova Blessings Card
This vibrant Rosh Hashanah greeting card features a watercolor pomegranate accented by gold foil text. It's celebratory and refined, making it the perfect way to send your warmest wishes to friends, colleagues, and family members.
9. Pomegranate Botanical Invitation
Wish loved ones "l'shanah tovah" and inscription in the Book of Life with this festive pomegranate card. You can customize it as an invitation to your traditional holiday feast.
10. Pomegranate Flourish Invitation
This hand-lettered invite features a juicy pomegranate amid a swirling background. Use it to invited loved ones to a Rosh Hashanah meal or customize it as a greeting to wish friends and family "tzom kal" for an easy fast in the days leading up to Yom Kippur.
Celebrate Rosh Hashanah and Jewish Traditions
With these Rosh Hashanah greetings, you can wish your loved ones, friends, and colleagues a happy new year. From formal cards and announcements to cheerful and bright invites, Greenvelope has the digital invitations you need for every celebration.
If you plan on celebrating the event at home, check out our tips for hosting a Rosh Hashanah dinner. Continue browsing our blog where you'll find ideas and advice on celebrating all the Jewish holidays. From sharing Passover greetings to Hanukkah party ideas, there are plenty of thoughtful and creative ways to honor Jewish traditions.