February 1, 2022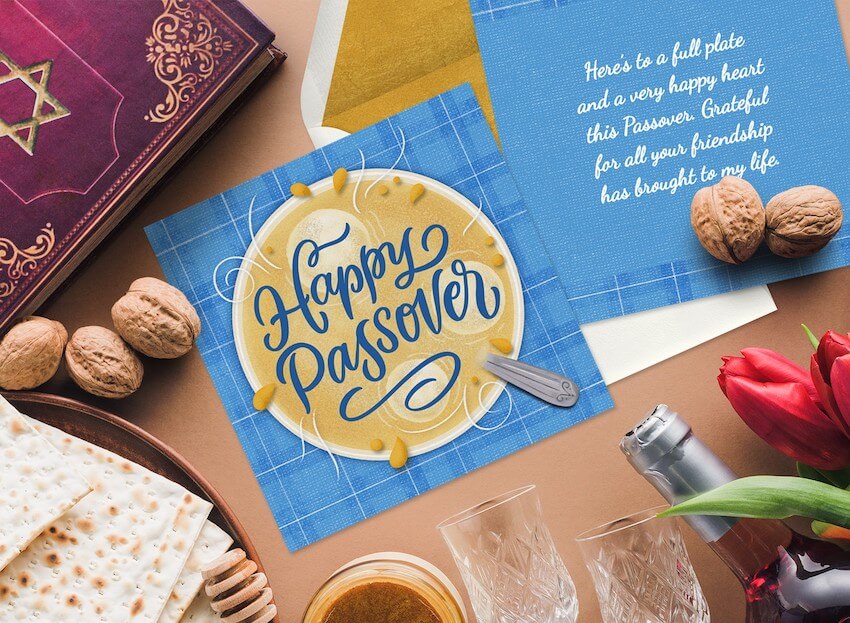 With Passover approaching, it's only natural to start reflecting on feelings of gratitude and joy. When it's time to share those warm thoughts with loved ones, a thoughtful Passover greeting card is the perfect way to do it. If you want to wish someone well during this Jewish holiday, we have everything you need right here. These ideas for Passover greetings are sure to help you find the right words, plus you'll find a variety of Passover card designs for sending your wishes. 

Thoughtful Passover Greetings to Share With Loved Ones
Whether you're attending a Passover Seder at a friend or loved one's home, or simply want to send a card, here are some happy Passover wishes you can send their way. 
Simple Passover Greetings
You don't need to write paragraphs to wish someone well this holiday season. For an ultra-simple yet meaningful way to mark this Yom Tov, here are some simple Passover greetings to consider for your message: 
Wishing you a joyous and

happy Passover

, [Name]! 

Have a

joyous Passover

. 

I'm thinking of you this Passover, [Name].

Enjoy Passover with your

loved ones

!

Happy holidays

to my favorite [relative] this Passover! 
Traditional Hebrew Passover Greetings
Sending a traditional Passover greeting in Hebrew is a great idea if you know your recipient would love it. Here are some of the most popular Hebrew Passover greetings (with translations):Â 
Chag Sameach

! (

Happy holiday

!)

Chag Pesach Sameach

(

Happy Passover holiday

)

Chag Kasher v

'Sameach! (Have a happy, kosher festival! Note: If you know your recipient will be observing

kosher for Passover

, this is a great greeting to use.)Â 

Chag Pesach Kasher Vesame'ach

(Have a happy, kosher Passover festival – this is another fitting greeting for those observing kosher.)
Traditional Yiddish Passover Greetings
If your recipient is familiar with Yiddish, sending them a Passover greeting in this language can be a thoughtful nod to their Ashkenazi heritage and culture. Here are a few ideas for sending a warm Passover message in Yiddish:
Gut Yontif

! (Good holiday! Note: This works well for any holiday. During Passover, you'd usually use this greeting for the first and last days.)

Gut Moed to you! (Good holiday to you! Note: You'd typically use this to wish someone well for the intermediate days of the

Passover holiday.

)
Passover Greetings for Close Friends and Loved Ones
Beyond the simple and traditional, there are plenty of other thoughtful ways to wish your Jewish friends and loved ones well during this important Yom Tov. Take inspiration from these Passover greetings to create the perfect wording for your Passover cards. 
Sending you lots of warmth and joy this Passover, [Name].

As we remember the events of Passover, I'm reminded of just how much you mean to me.

Shalom

to you and yours.

Thinking of you this Passover, [Name]! Have a lovely time with your family. 

Wishing you a revitalizing Passover with your

loved ones

this year.

I'll always be grateful for you, [Name]. Thank you for being part of my life and

happy Passover

.
Passover Greetings from Your Business
Like Yom Kippur and Hanukkah, you might want to send a holiday card from your business to honor the Jewish holiday of Passover. If you do, here are some great phrases you can include in your card:Â 
Happy Passover

from [Business Name]. We appreciate you. 

Wishing you a warm and meaningful Passover. We're grateful that you continue to do business with us at [Company Name].

Wishing all of our

Jewish friends

at [Company Name] a

happy Passover

.

Happy Passover

! We wish you a restful time of reflection. 

Thank you for being one of our most honored customers, [Client Name]. We wish you a

happy Passover

. 
Messages of Gratitude After Passover
Sometimes you'll want to send a thank you card or note of appreciation after Passover. This is a lovely thing to do if you attended a Jewish festival or a seder, or experienced the holiday for the first time with new friends. Here are some messages of gratitude you can send their way to express your thanks: 
It was wonderful to experience Passover with you, [Name]. Thank you for sharing such a lovely seder with me!

You organized such a beautiful celebration to mark Passover this year. Thank you for everything you do.

It's always beautiful to celebrate Passover with you, [Name]. I'm so glad you're my friend.

Thank you so much for sharing your

seder

with me. It was an honor to sit with you and listen to the

Haggadah

and the story of Passover. 

I've learned so much about

Judaism

from you, [Name].

Happy Passover

and thank you for including me in your holiday celebrations.
6 Passover Greeting Cards to Celebrate the Holiday
One of the best ways to share your warm wishes is with a Passover card. They're ideal whether you want to send a digital card to a loved one across the distance, or a quick but meaningful thank you card to a friend. 
To help you find the perfect card, here are some of our favorite Passover cards. Each one can be customized with different color and text options to help you bring your Passover greetings to life. 
Scripted Passover Card
Keep things simple and stylish with this scripted Passover card. We love the simplicity of the card's front side juxtaposed with the gorgeous watercolor effect on the reverse where you can write a longer personalized message. It's a lovely way to blend traditional and modern design elements.
Pretty Passover Card
This one-sided pretty Passover card is perfect if you have a short, sweet greeting to send. It's available in a variety of lovely color options, including mint green, gray, pink, and lavender — or you can work with our designer to create a totally custom hue.
Seder Table Card
We can't always be with loved ones during Passover. If you're missing someone this year, this seder table card lets them know you're wishing for you to all be together next year. The beautiful illustrations on the front give way to lots of space on the back for a heartfelt message.
Spring Star Card
We love the floral infusion on this spring star card. It beautifully mixes the traditional Star of David with a cute, modern touch — thanks to the typography and color palette. The floral pattern continues on the reverse and on the matching digital envelope for a nice touch.
Bright Spring Florals Card
This bright spring florals card is a fresh way to wish someone well this Passover. The floral border and delicate typography add a touch of elegance to the design, which is available in three stunning color palettes.
Matzo Ball Soup Card
Who doesn't love this Passover classic? Celebrate the holiday in a fun way with this matzo ball soup card. Your recipient can enjoy the cheerful illustration on the front before reading your Passover greeting on the backside.
Honor This Special Jewish Holiday with Thoughtful Passover Greetings
Passover is a time of remembrance, gratitude, and coming together. Whether you celebrate Passover yourself or want to send well wishes to a friend or colleague who does, a meaningful Passover greeting in a beautiful card is a lovely way to do it.
Take a look through our collection of Passover cards to find one you love. Then, personalize it with a heartfelt greeting and words of appreciation. When you're all finished, you can have it sent to your friend or loved one in just a few clicks so they can enjoy your good wishes wherever they are.