December 16, 2020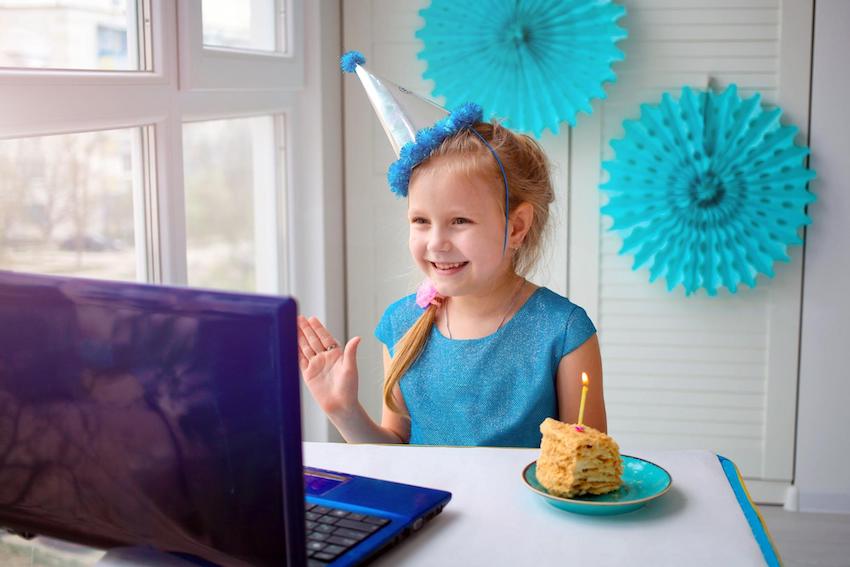 The coronavirus pandemic has changed the way we live — from where and how we work to how we celebrate milestones that don't wait just because the world has been turned upside down. For our kids, the coronavirus pandemic has made it hard or even impossible to enjoy sports and time in the classroom with friends. So when a birthday rolls around, it can be hard to figure out the best way to celebrate.
Fortunately, there's an alternative to giving in to the birthday blues. While we have to celebrate a little differently right now, there are quarantine birthday ideas for kids that still maximize fun and make the day special and memorable. Discover creative ways to make the birthday boy or birthday girl feel extra special in the midst of a difficult time.

7 Fun Quarantine Birthday Ideas for Kids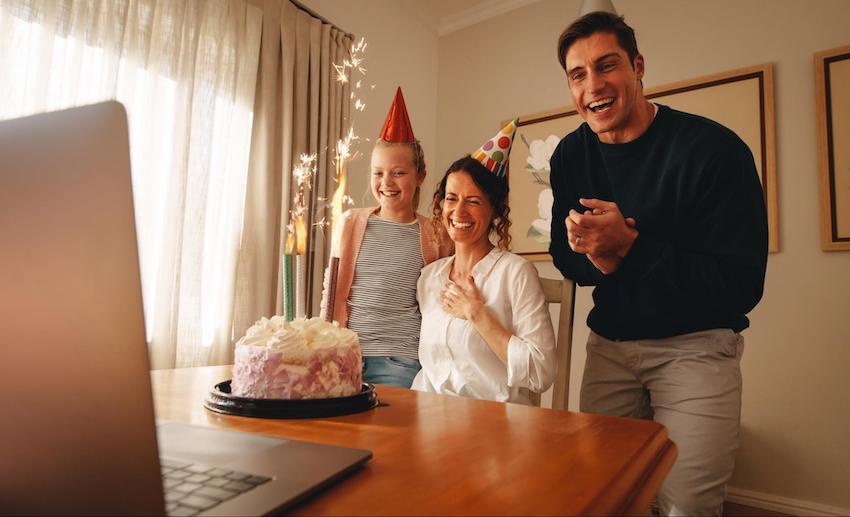 We know your child's happiness means the world to you. While the pandemic has changed things, there are still ways you can ensure your child has a happy and memorable birthday party. From virtual dance parties to recording video messages for the special kiddo, here are some fun quarantine birthday ideas for kids.
1. Scavenger Hunt
Celebrate the special day by sending the birthday honoree on a scavenger hunt around the house or in the neighborhood. Hide a few presents in fun spots and jot down hints to help your child find each one. You can also use a site like Watson Adventures to have a professional design a virtual scavenger hunt for the big day.
For young children, you can draw pictures instead of writing hints or help guide them along the way. If your child's friends live nearby, ask them to join the fun by hiding presents in their yards for your child to find. 
If you're stuck inside or live somewhere where the weather might inhibit hiding presents outdoors, don't fret. You can still host a fun quarantine birthday scavenger hunt, just move things indoors. Do a string hunt by running a string throughout your home. Tie presents to the string and celebrate each time the birthday boy or girl finds a new surprise. 
2. Virtual Party
One of the best ways to celebrate your child's special day is to host a virtual birthday party. Your child will get to spend time giggling and playing with friends remotely, plus you'll have less mess to clean up when it's time to wind things down. (That's one bonus to remote celebrations!)
To host a virtual party, all you need is a video call or video chat app like FaceTime, Zoom, Skype, or Google Hangouts. Download the app to your phone or computer and send a birthday invitation to friends and family indicating the date and time to join as well as the login details.
During the special day, your child can open presents and blow out candles on their birthday cake while socializing with loved ones. Want to make things feel more festive? Set a virtual party theme! You can ask guests to dress up in popular birthday themes such as superheroes, princesses, or characters from your child's favorite movie.
Decorate the room with streamers, banners, and DIY balloon arches by ordering supplies online or have them delivered from your grocery store to your home. Alternatively, you can use a virtual Zoom background to fit your child's birthday theme. You can upload your own designs to Zoom or use a tool like Canva to find dozens of background options including ocean scenes and retro themes.
3. Drive-By Birthday Parade
While the coronavirus pandemic brought about the prevalence of masks and hand sanitizer — and an understanding that many of us weren't washing our hands properly! — it also led to finding creative ways to have fun. One of these inventive ideas was the drive-by celebration for birthday parties and graduations.
Your child may not be able to spend the afternoon with friends, but he or she can still see them from a safe distance with a drive-by parade. Ask the parents of your child's friends to decorate their cars with balloons, streamers, and signs. Then have them drive by the house in a parade celebrating your kiddo's big day. Honking horns and shouts of joy are sure to cheer up your child and make him or her feel special. 
4. Campout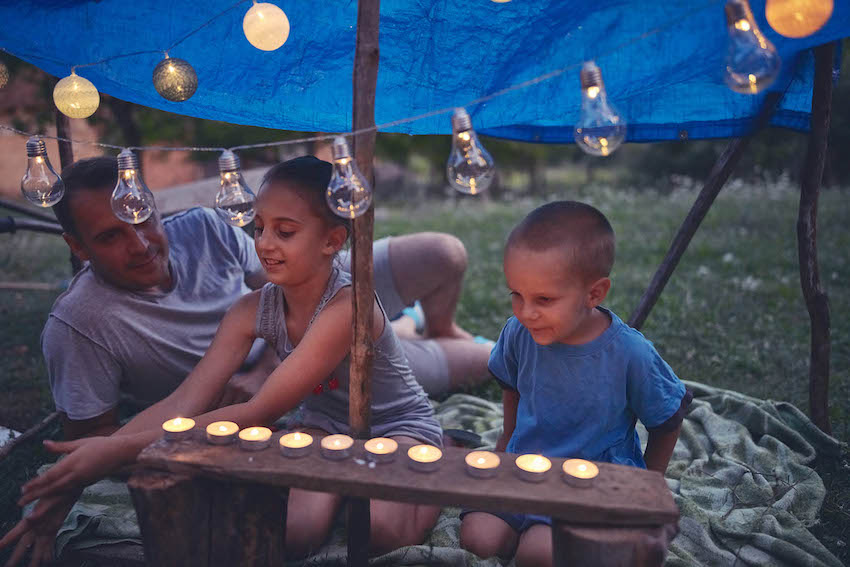 OK, so you might not be able to pack the car full of supplies and visit your child's favorite campground since many facilities are closed. However, you can have a good old-fashioned campout right in your front yard or backyard. Grab a tent and have your child help you pitch it in the yard. Make it extra special by adding some fairy or twinkle lights and create a fun birthday banner for the birthday tent.
If it's in line with your state and county pandemic regulations, invite a couple of your child's friends to celebrate. Space the tents out to allow for proper physical distancing and make sure each kid has their own tent to adhere to social distancing regulations. 
Don't have a tent or a yard? No problem! Just set up a cozy space in the living room with sleeping bags and an air mattress. Snuggle up with your family members and have a sing-along around a few lighted candles. Don't forget to share a few ghost stories if your little one can handle spooky fun.
Pro tip: You can also roast marshmallows over the candles if you're celebrating an older child's birthday. Woodwick has some fun candles that sound just like a crackling fire to make it feel like you're really enjoying the great outdoors.
5. Netflix Party
Host a virtual movie party for your child's birthday. Use a tool like Netflix Party or Watch2Gether, which allows groups of people to join a video chat and watch the same film at the same time. You can choose a series like "Lord of the Rings" or select your child's favorite movie to be the starring act. For young children, movies like "Frozen" and Disney classics are a great way to host a sing-along and keep guests entertained and engaged.
Make the virtual event extra special by mailing your child's friends a special birthday party favor box. You can include things like popcorn, candies, and horn blowers to make the day extra special.
6. Order Food From Your Child's Favorite Restaurant
If your child wants something low-key or you can't find a time and date to get everyone together virtually, host a special birthday at home with your household family members. Order food from your kid's favorite restaurant and have it delivered or do curbside pickup.
Let the restaurant know it's for a birthday party and they'll likely do something special — like throw in a dessert. In some areas, you may even be able to do outdoor dining, making for a special outing your child will remember with fondness.
7. Virtual Game Night
Games are a fantastic way to get everyone laughing and having a good time. While we can't get together to roll the dice or exchange Monopoly money quite yet, we can still pay virtual games to keep spirits high. Get together on Zoom or another video platform and play fun classics like Uno, Scrabble, or Pictionary. For older kids, you can set up a birthday tournament of video games using an Xbox or Playstation system.
4 Fun Digital Invitations for a Special Birthday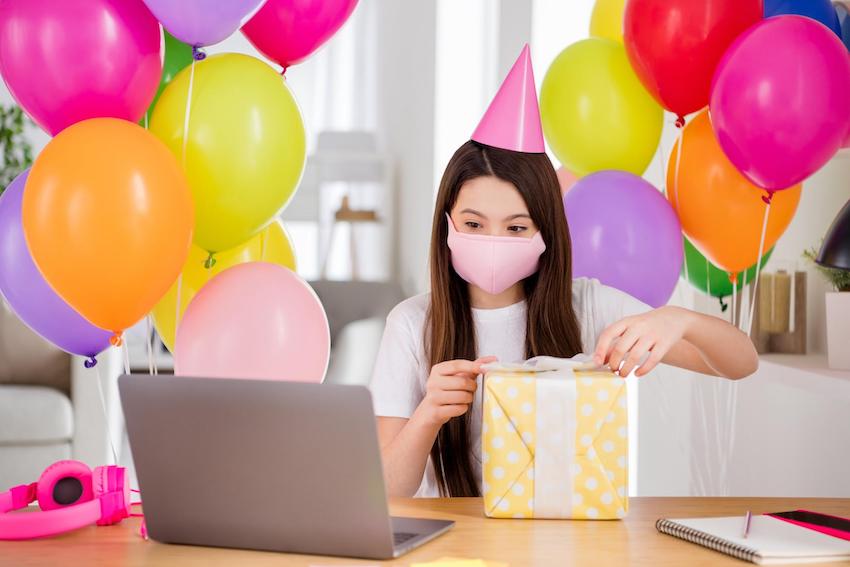 Invite friends and family to your kiddo's birthday celebration with fun birthday party invitations. Choose a quarantine birthday idea for kids and then select a card that matches the theme or the focus of the event. From virtual ice cream socials to sing-alongs and campouts, you're sure to find an invitation to match. Here are some of our favorite kids birthday invitation ideas to get the party started.
1. Whimsical Unicorn Invitation
Invite guests to a magical virtual birthday party with this playful invite. The colorful pastel hues are cheery and bold, lending a fun atmosphere to any birthday celebration. The gold foil makes it elegant enough for teens while the whimsical design is perfectly suited for younger kids.
2. Birthday Shark Invitation
Help your little one celebrate a milestone birthday with this fun shark invite. It'll have all your guests singing the "Doo doo doo" song and get them excited for a beach-themed virtual party or a small socially distanced outdoor gathering.
3. Jumbo Cupcake invitation
This cupcake invitation is a sweet way to invite friends and family to a fun birthday while following all safety guidelines. The sparkling candles and soft palette make it perfect for both young and older children alike. Customize it by choosing your own background color and font.
4. Spider Hero Invitation
Does your child want a superhero-themed party? This hero invite is perfect for boys and girls who want to host a virtual movie party or a costumed birthday event. The comic book style artwork infuses a hint of adventure and action, so it's also suitable for scavenger hunts and campouts. 
Have a Very Happy Birthday During a Tough Time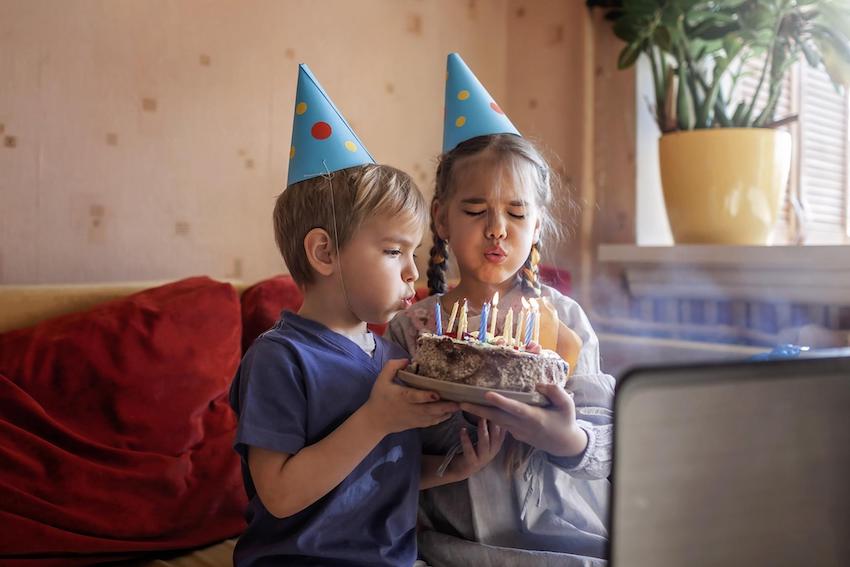 With these virtual and remote kid's birthday party ideas, your child is sure to have a fun day even if things have to be a little different this time. From Zoom parties and digital sing-alongs to outdoor campouts and a yummy night in, your child will feel special and enjoy their birthday even during quarantine.
Choose the perfect quarantine birthday idea for kids from this list and then invite friends and family to your virtual event with stunning online invitations. With digital invites, you don't have to worry about leaving your home and heading to the post office to mail physical cards, helping to keep you, your family, and your community safe.
Choose a fun design your child adores and send the invites via email using Greenvelope. It's easy to see who has RSVP'd to your virtual event and you can quickly send updated time and login information as needed. Plus, it's another way to make your kiddo feel special by letting them select the invite that suits their digital party theme or socially distanced outdoor hangout.