March 25, 2020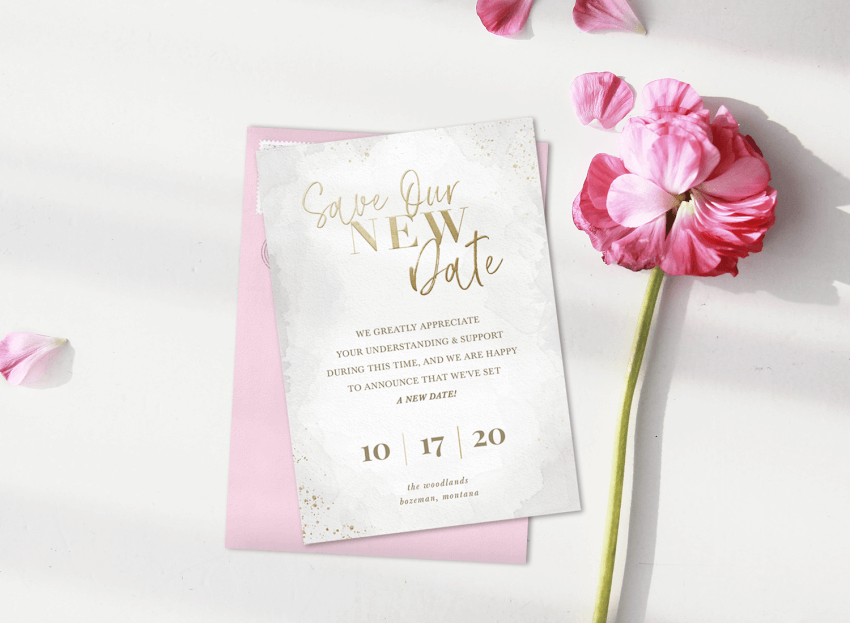 Whether it's because of a family illness, natural disaster, or global pandemic, making the decision to postpone your wedding is difficult. We hope to make the moment easier with this guide to how to postpone a wedding and our tips for staying positive during this tough time.

Stay Calm and Make a Plan
If you're in this position, it's often completely unexpected. Even the calmest of couples can feel tense or disappointed about postponing a wedding. If you and your partner can try to stay balanced and calm, this will make the process feel easier. Lean on your partner for support, and think of other positive experiences to ground you. While you have to press pause on preparing for your wedding, you may be able to use this time in another way — like starting a home decor project or picking up a new hobby.
The first step in postponing a wedding is to get clear on the details. Consider whether you want to set a future date now or want to confirm this later on. If you do have an alternate date in mind, confirm this with your venue and suppliers before sharing it with your guests. While having a new date can make it easier for guests to rearrange travel and accommodation, in times of uncertainty — like the coronavirus outbreak (COVID-19) — it's difficult to plan too far ahead.
Once you've made a decision as a couple about whether you're ready to choose a future date or not, you can begin to discuss with family and inform your guests.
Inform Your Family and Wedding Party
The first people you'll want to talk to about postponing a wedding are your family, wedding party, and any close friends involved in helping you with wedding arrangements. If you're working with a wedding planner or another professional is helping you with wedding planning, make sure they're clued-in too.
Keep your family members and close friends in the loop about what's happening with your wedding. This is especially important if they're contributing to the wedding financially or practically, as they may be able to help you make alternative arrangements. Other relatives and your wedding party may also offer help contacting vendors or informing guests — don't be hesitant to accept their support in times like this.
Speak to Your Suppliers
One of the first actions you'll want to take is to confirm your postponement with your venue and suppliers. Try to inform them as soon as you know that you're changing dates to give everyone plenty of notice and to avoid waste or additional costs.
If you're postponing your big day due to a natural disaster or global crisis, like the coronavirus pandemic (COVID-19), chances are your suppliers are expecting to hear from you. They may even have already contacted you to make alternative arrangements. Still, you'll want to check in and confirm with every supplier — including your venue, florists, caterers, musicians, and photographer.
To make things smoother when it comes to re-arranging your wedding, try and keep the same suppliers. This also gives your wedding vendors the reassurance that they'll be keeping your business, which is especially helpful in times of uncertainty.
Tell Your Guests
After you've informed those closest to you and confirmed with your suppliers, you'll need to spread the word to your guests that the wedding is being postponed. Do this as early as possible — as soon as you're sure the event isn't going ahead on the planned date.
Advanced notice gives guests more time to cancel bookings and change travel plans, especially if it's a destination wedding. If the postponement is due to a global event, like coronavirus (COVID-19), guests may feel reassured they don't need to make the decision over whether to attend or not.
If your wedding date is fast approaching, you'll want to inform your guest list in the quickest way possible. A digital wedding postponement notice is one of the best ways to do this. You can quickly create and personalize a digital card, and send it instantly to all your guests. This gives you confidence that everyone has received the message, as you can track opens and resolve any undelivered ecards. You also don't need to spend precious time writing and mailing cards, which can carry an additional germ risk.
When you send your cards, make it clear your wedding has been postponed, but you're not canceling. You don't need to go into detail about why unless you want to. In some cases, sharing a brief reason can help curb an influx of phone calls and messages.
Don't feel as though you have to make your postponement notice especially formal. Keep it in line with your usual tone and personality.
If you're taking this postponement in stride and it's not due to an unhappy event, share some of that positivity with a one-liner or a lighter approach. This can help your guests feel reassured and may make them smile if they're feeling disappointed for you. Try something like "we're canceling (for now) so you don't have to" or "now you'll have more time to find the perfect outfit."
Refresh Your Wedding Website
If you have a wedding website, now is a great time to update it. Make it clear that your wedding date has been postponed and either offer the new date or say that it'll be confirmed in due course.
As you'll be keeping your wedding website updated throughout the process, it's useful to include the link with your postponement notice. That way, guests can check in on progress and stay informed. You could also customize a digital wedding card to send to guests once more details are available.
Wedding Postponement Tips
While you're taking care of these essentials, the tips below can help your budget, rescheduling arrangements, or cake and decor dilemmas.
Check Your Insurance
In some cases of postponement or cancellation, wedding insurance or wedding cancellation policies may cover some of your costs. This can be true in cases where the reason is an "act of god" or other unforeseen event.
Many policies, however, include clauses that restrict payouts for existing medical conditions or communicable diseases like novel coronavirus (COVID-19). Still, it's worth checking with your insurer to see where you are and what's covered. It's also a good idea to keep up with guidance from the Centers for Disease Control and Prevention (CDC) and watch national news to see if any additional support is likely.
Be Flexible With Dates
If there's a national or worldwide reason to cancel or postpone events, trying to reschedule for later in the year will be busier than ever. This means there'll be extra competition for wedding venues on dates that are traditionally less popular. If you can be flexible with your dates, you'll have a greater chance of retaining your venue or finding an alternative location where you'd love to tie the knot.
Donate Unwanted Items
For wedding dates that are fast approaching, your suppliers may have already created decor or perishable goods for your special day that you no longer need. This includes food like cakes, donuts, cookies, and other catered items. If that's the case, look for local charities that may be able to take these items off your hands. You may also have flowers that have already been prepared, which could be donated to a local hospital or children's hospice to help brighten people's days.
How to Stay Positive After Postponing Your Wedding
For many couples, their wedding day is the highlight of the year, so it's understandable if you're feeling disheartened after postponing. If you're not able to set a future date yet, this can also leave you with a sense of worry, wondering when your wedding might take place.
To help combat that, try to stay positive by looking ahead to the future. You'll still be marrying the love of your life at your dream wedding, just on a different timeline. Spend time together as a couple and lean on each other for support.
If it will help, mark your would-have-been wedding date with a celebration for just the two of you. Go on a date or stay home and recount memories of your journey together while you get excited about your plans for the future. Sometimes humor helps too, so don't be afraid to make light of the situation if that will make you and your partner feel better.
Look Ahead to Your Future Wedding
Times of uncertainty and having to postpone your nuptials can be tough. We hope this guide has helped you understand the practical steps to take and has given you some ideas on how to approach your postponement in a more positive way. Stick together as a couple, embrace the support offered by friends and family, and think about all the ways you can make your future wedding date as wonderful as possible.