November 14, 2018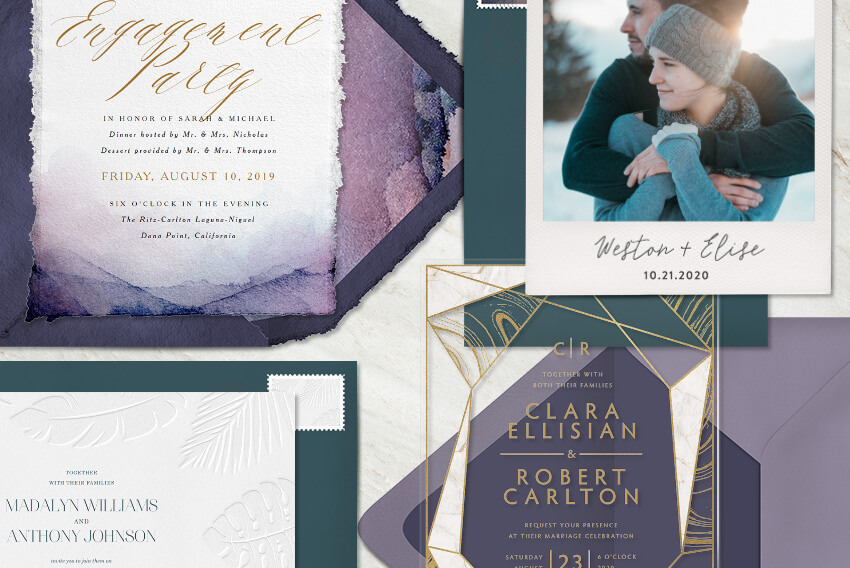 While there's nothing wrong with classic wedding invitation styles, we absolutely love how unique renditions are trending. From contemporary color palettes and abstract design to bold graphics and unique materiality, creative wedding invitations are perfect for any modern couple wanting to make a bold, beautiful statement. Keep scrolling to see 15 of our most unique wedding invitation designs!
Acrylic
Ideal for couples who love an added touch of creativity, non-paper mediums like iridescent acrylic are becoming more and more popular. We love how something unique as acrylic can generate a stunning first impression.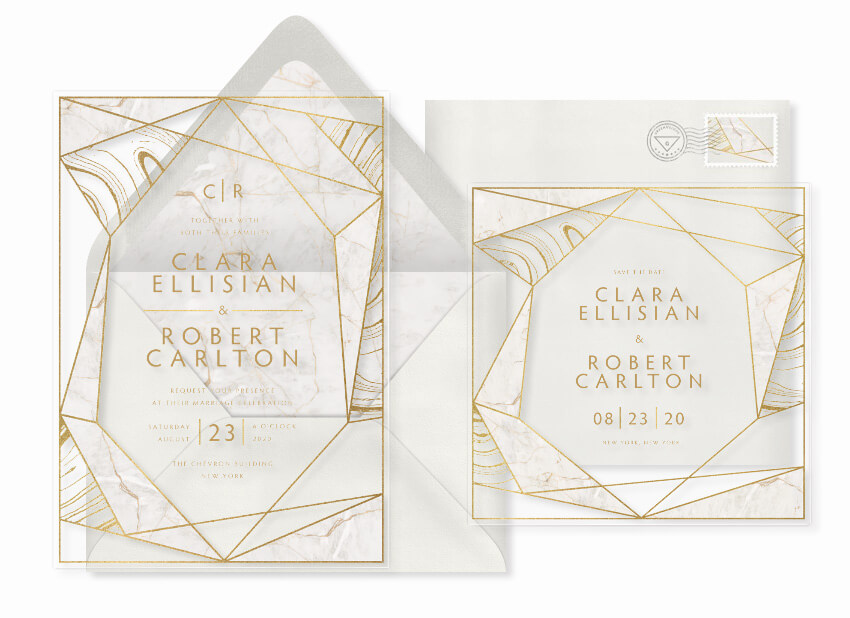 Bold Graphics
First impressions are everything, so why not consider an invitation with a bold graphic (sunflowers, anyone?) This style is perfect for couples looking to make a statement (or hint at an overarching wedding theme!)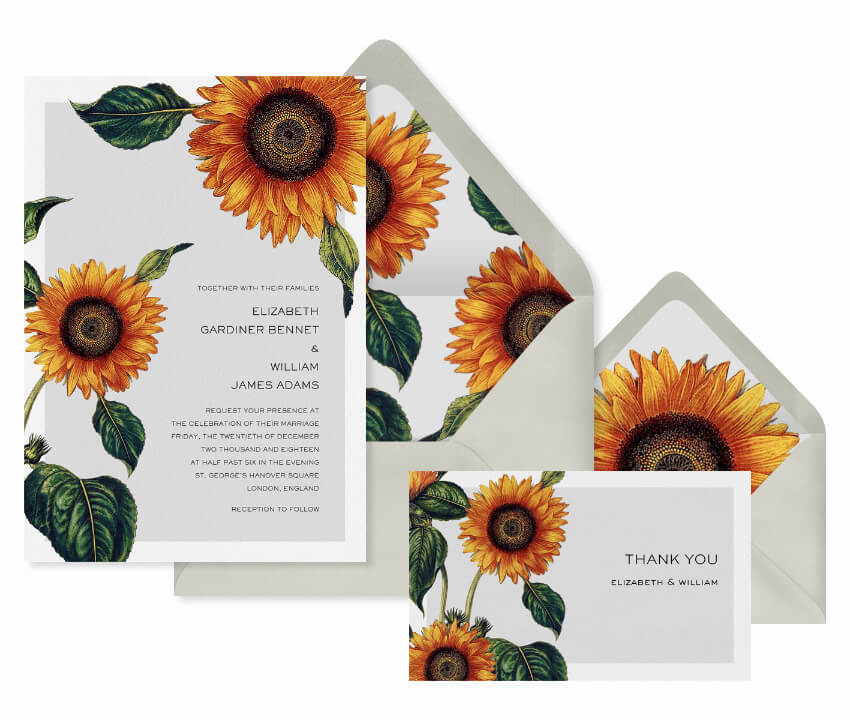 Hometown Illustrations
This invitation style is perfect for couples who want to see their hometown come to life. Whether "home" is best described through rolling countryside hills or a sleek city skyline, opting for a hand-drawn invitation that depicts your hometown's charm is nothing short of special.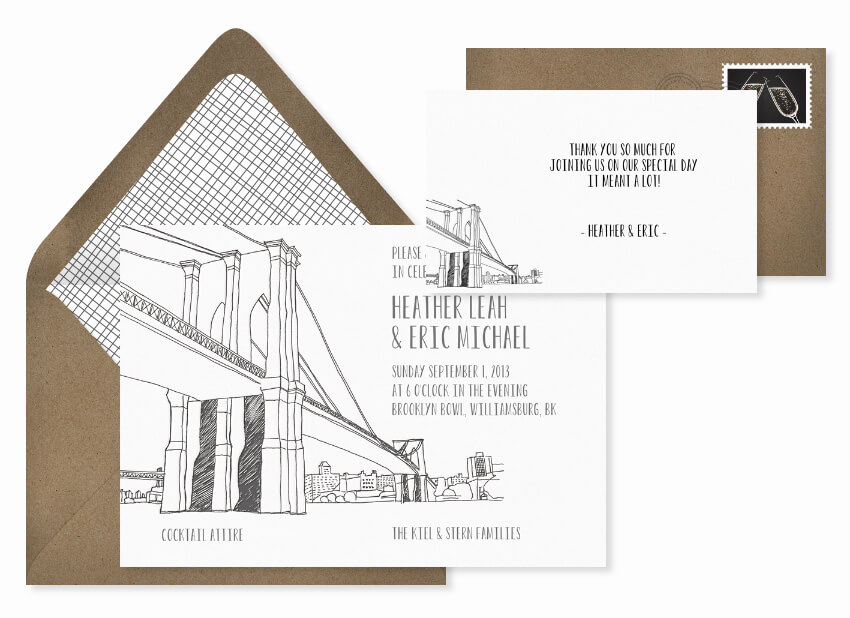 Vibrant Color
For the colorful at heart, we love the idea of incorporating bright, vibrant hues into a wedding invitation. Lively, playful, and so fun, why not kick your wedding off on a bright note?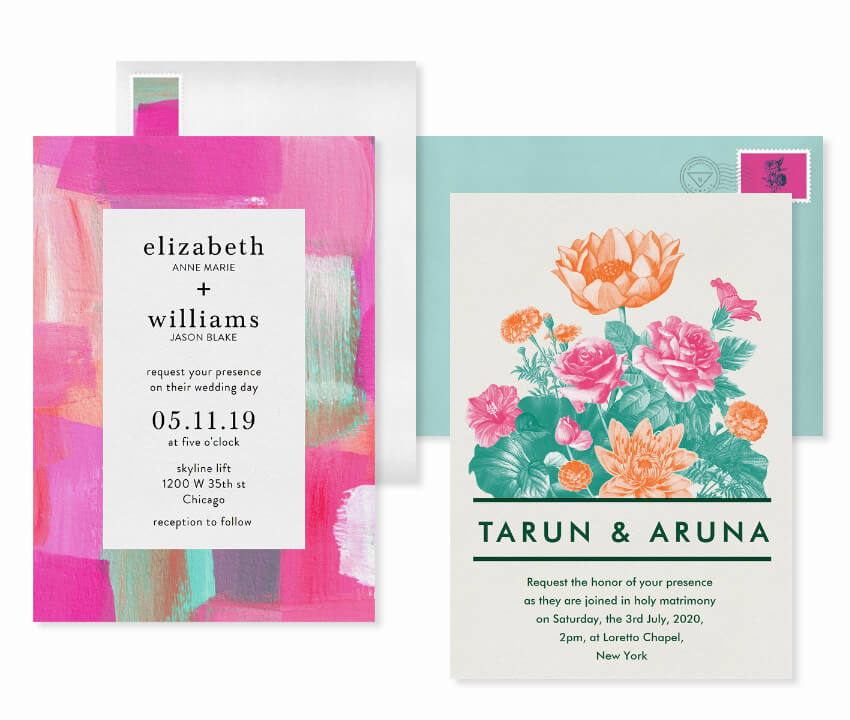 Outdoor-Inspired Designs
If you're planning a wedding in the great outdoors (or if nature is just close to your heart),  consider incorporating an outdoor-inspired invitation. From rustic national parks to urban recreation areas, there's an outdoorsy invite that's perfect for you.
Yosemite by National Park Foundation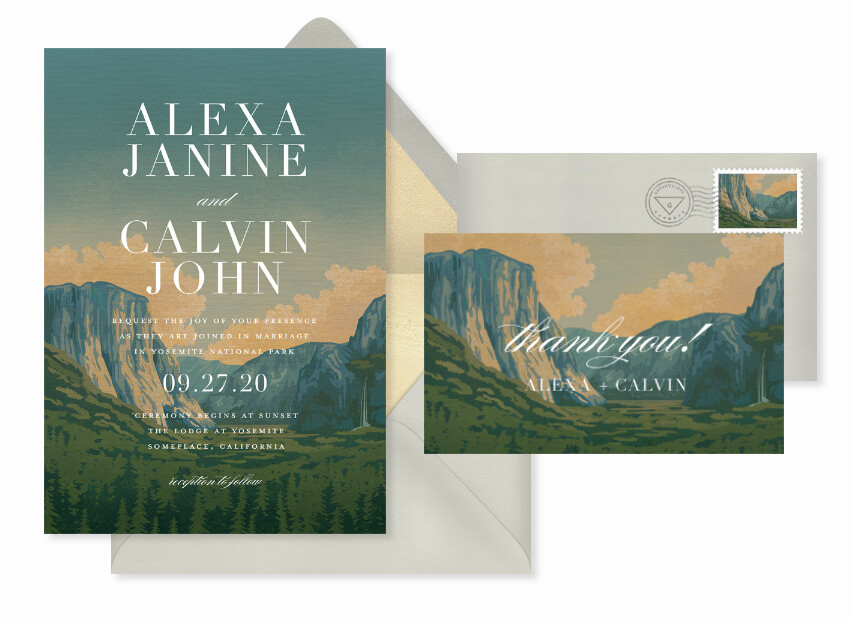 Calendar Designs
Just circle the date—it's as simple as that! Both fun and functional, we love the idea of incorporating a calendar into your invitation design (and your guests will too!)
Boarding Pass Designs
Ideal for travel lovers, this boarding pass wedding invitation will set the tone for any destination wedding. From the moment the envelope is opened, your guests will be ready to pack their bags!
First Class by Clementine Creative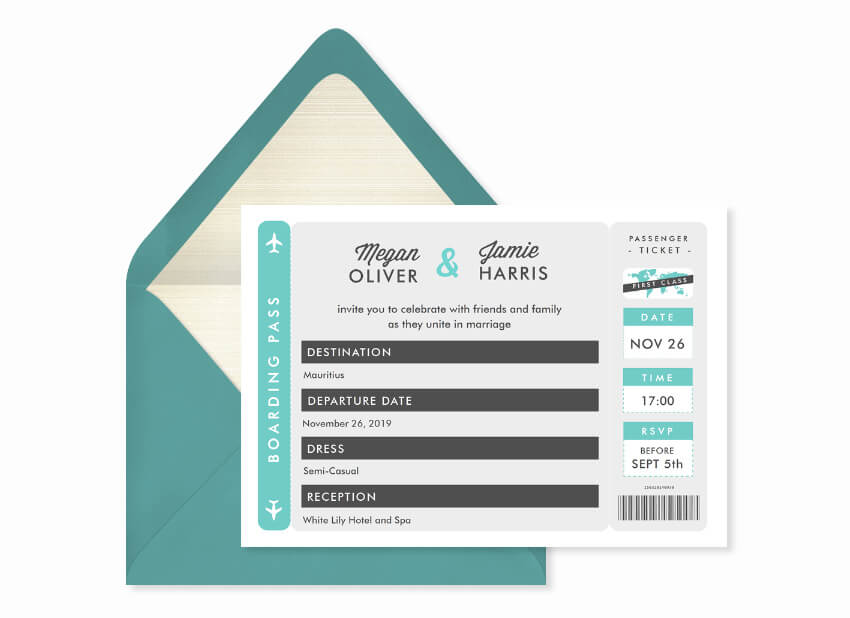 Deckled-Edge Designs
Delicate, elegant, and strikingly beautiful, there's just something about a deckled-edge design. Paired with colorful strokes of watercolor, this style of invitation design is sure to leave your guests in awe.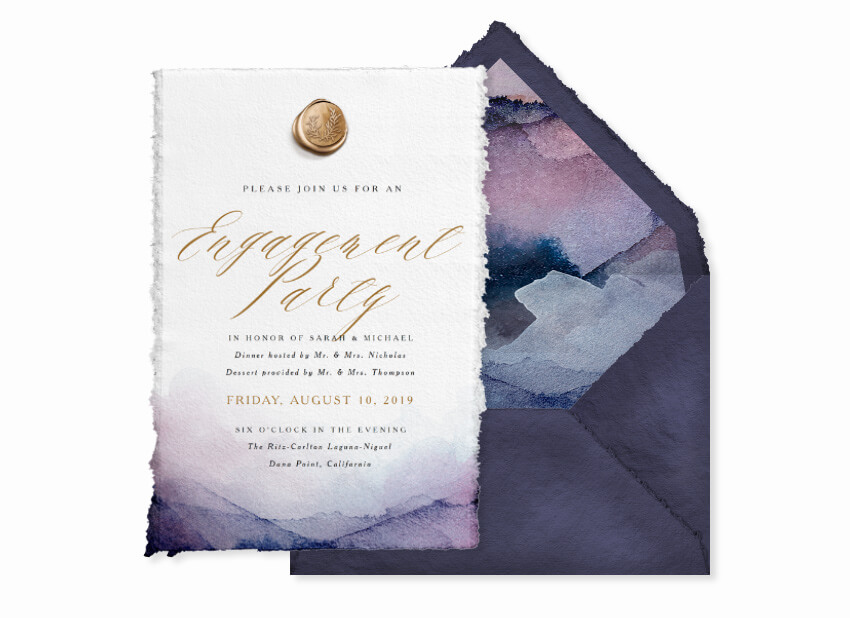 Postcard Designs
A postcard wedding invitation seems especially fitting for adventurous couples embarking on their journey toward happily ever after. Complete with a touch of nostalgia (and a sweet little stamp!), postcard designs are a fun way to kick off your special day.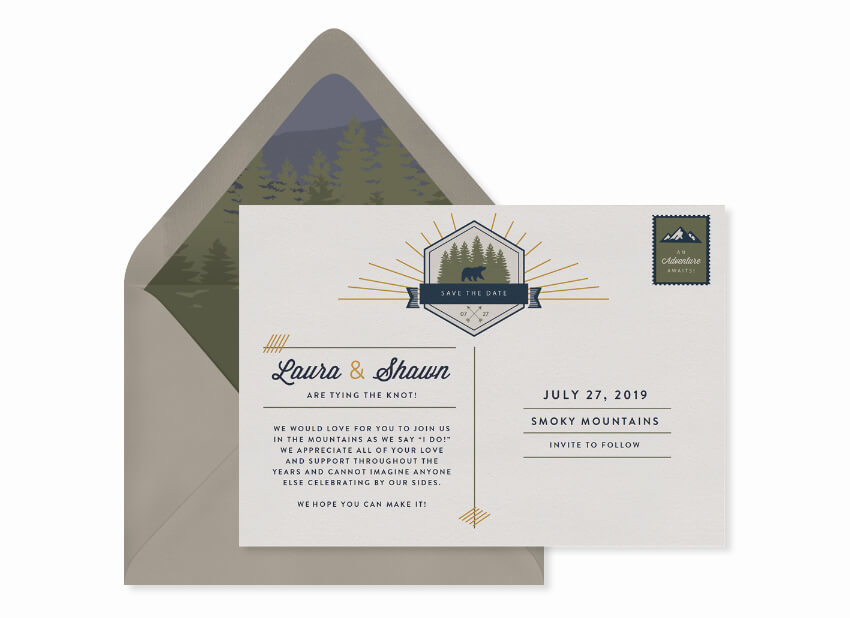 Polaroid Designs
The best thing about a polaroid wedding invitation? The most special part of the design (your personalized photo!) is framed front and center.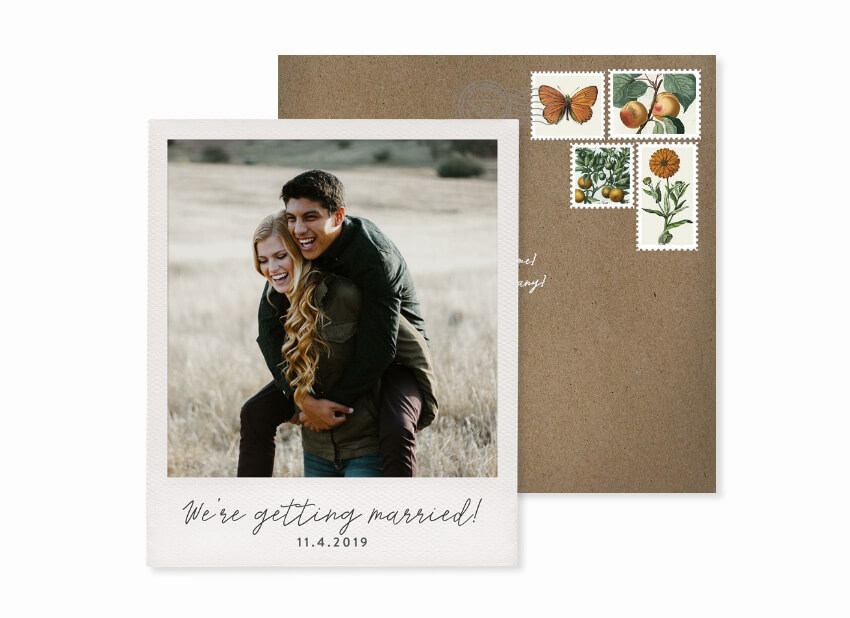 Die-Cut Stacked Paper Design
For couples who love elevated design accents, a traditional stacked-paper effect is sure to set the stage for any wedding celebration with a special, unique touch.
Winter Wood by Signature Greenvelope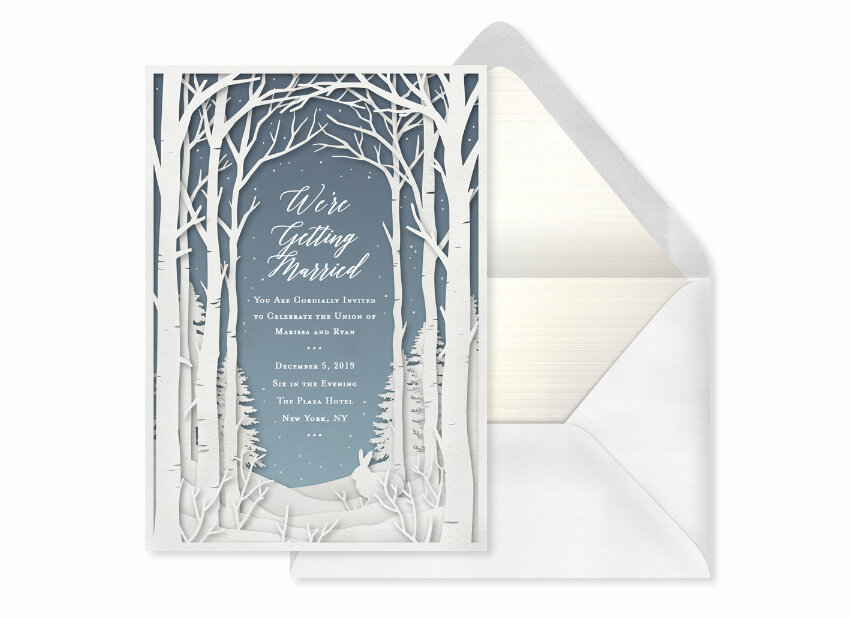 Classic Die-Cut Design
Classic doesn't have to mean boring, especially when it comes to die-cut designs. If intricate elegance happens to be your style, a classic die-cut design is the perfect choice.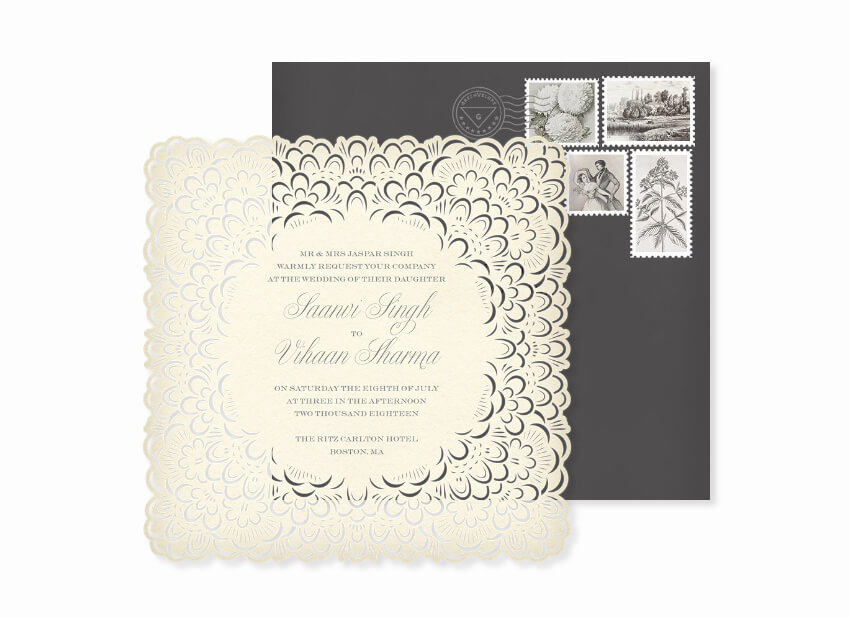 Blind Letterpress Designs
Rather than relying on ink to create a visually compelling pattern, this style boasts a clean and stylish stamped effect that is traditionally achieved on paper through pressure. Blind letterpress wedding invitations are perfect for couples who appreciate artful shadowing and applied textures.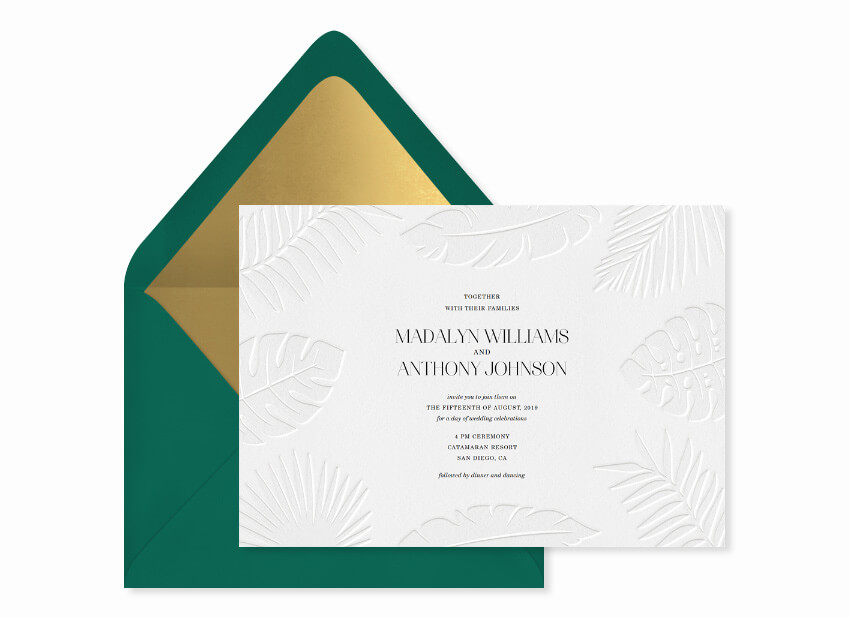 Two-Sided Invitations
For couples hoping to add any well wishes or additional event details, a two-sided wedding invitation (like this stunning floral design!) is ideal.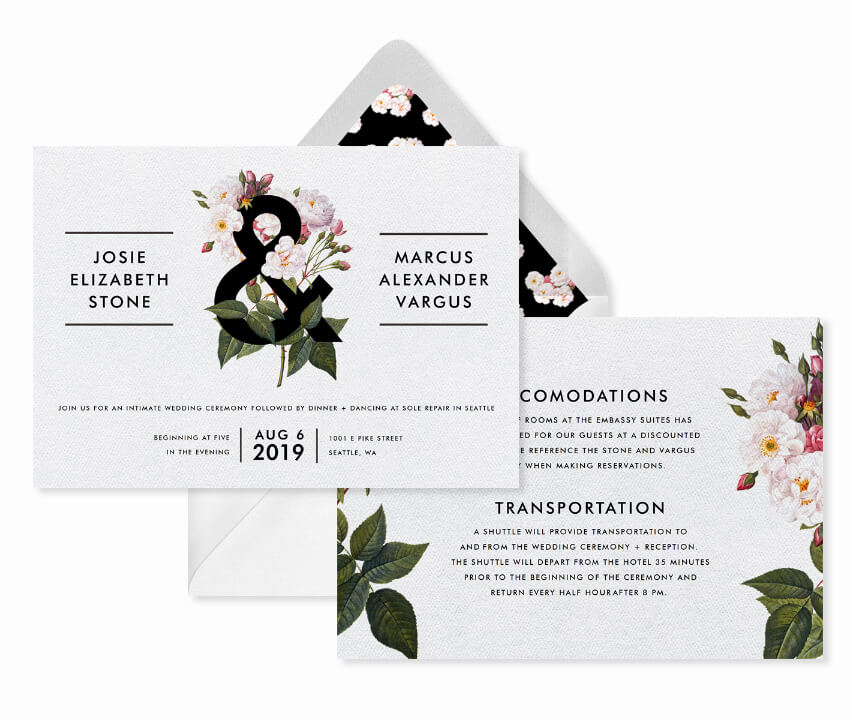 Train Ticket Designs
This train ticket invitation design is perfect for couples who love a unique touch of enchantment.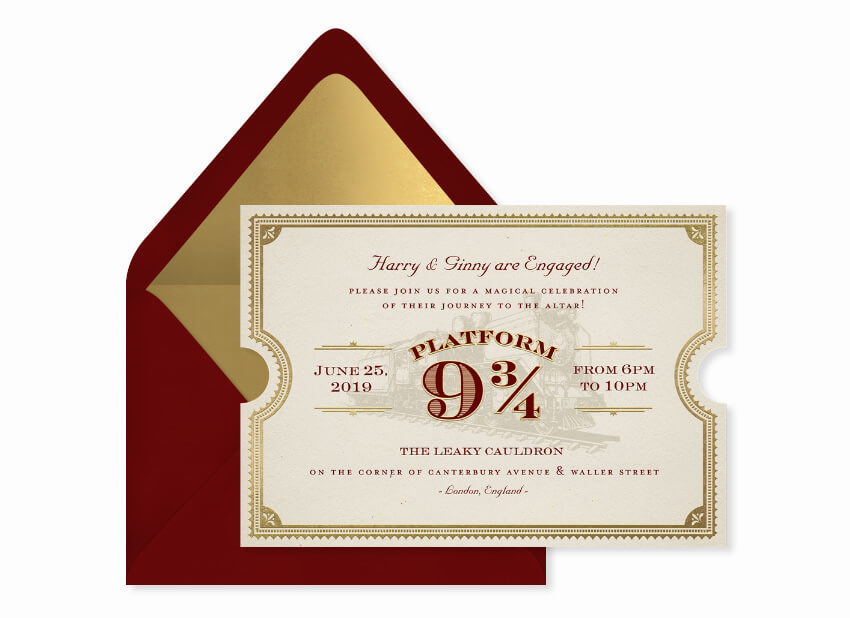 For more unique styles and trends, visit Greenvelope and browse through a variety of inspiring wedding invitation collections!