December 19, 2019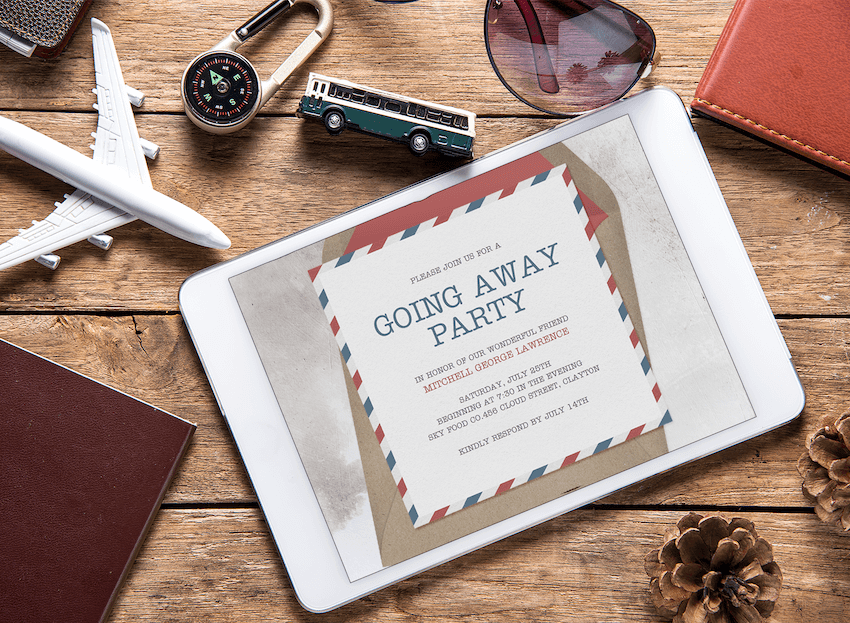 Pardon us while we get a little sentimental here, but there is no greater emotional conflict than sending — or receiving — a going away party invitation.
If a family member, former roommate, or bestie is moving away, you can't help but be selfishly, lovingly sad for their departure. And yet, you're completely torn because, whether they're moving away for a career opportunity, significant other, or to be closer to their family, you ultimately want what's best for them.
Honestly, it's one of the hardest things you have to do as an adult, watching your friends move to different cities and start different chapters of their lives. And while it's hard to imagine your daily life without them, unable to walk over to their apartment, crack open a bottle of wine on a Tuesday, or grab happy hour together when you miraculously get off work at 5 p.m., you're still grateful for each of those moments.
Goodbyes are so, so hard. We're not going to sit here and try to tell you otherwise. But what we will say is this: Saying farewell to friends and family should be a time of celebration. You should toast to the great memories you've made together, and wish them the absolute best on their new endeavors. So send out these going away party invitations to throw one last bash, and raise your glasses to all the good times spent together.

8 Going Away Party Invitations
If you're saying goodbye to a family member, friend, or loved one, throw them one last party to cherish all the great times you've spent together. And remember, it's not the last time you'll see each other: Soon, baby shower invitations and wedding invitations will offer an opportunity for all of you to reconnect.
Or if you're the one moving away, invite your family, friends, and neighbors over for one last hoorah at your old place. If your stuff is already packed away in boxes, choose your favorite pub, pizza joint, or coffee spot as the party theme and location. That way, you get to say goodbye to all of your loved ones and your beloved neighborhood spot all at once.
1. Friendly Send Off Invitation
Whether you're crossing state lines or just moving into a new neighborhood, this invitation can offer a fun, hopefully-not-final, farewell to friends and neighbors. Invite those you love over for one last night in your nearly-vacant home (selling point: It's probably the cleanest they've ever seen your place). Host one last BBQ or enjoy pizza delivery while sitting crossed-legged on your living room floor, sharing your memories of this place you called home.
2. Final Farewell Invitation
This beautiful farewell party invitation is a simple, yet elegant card for a going away party. A gold foil envelope, lined with a chevron gold design, encloses a dark teal invitation with coordinating gold font. The word "farewell" is written in cursive across the front of the invite with the party invitation wording written in white. Feel free to write any details about the party, including the date, time, and location on the bottom or back of the invitation.
3. Interactive Shapes Invitation
Are you the one leaving the neighborhood? Then send out this retro-inspired moving announcement to reminisce with all of your favorite humans. Invite your friends and neighbors over for one last gathering before you leave town, swapping favorite stories from this period in your lives.
Customize the text to include the details of your going away party, keeping the tone bright and cheery (even if you find yourself getting choked up between goodbyes). If you're moving but still staying in the area, maybe in a few weeks you can send out dinner invitations to bring them over for a proper housewarming.
4. City Trek Invitation
Here's what no one tells you about being an adult: It's unrealistic to expect all of your friends to stay in one place forever. Eventually, your friends will move back to their hometowns, move on to bigger cities, or pursue their careers in different markets. And while social media and Google flights are great tools for keeping in touch, saying goodbye is always tough. To cherish your last few weeks together, send out this going away greeting card for one last bash.
5. All Aboard Invitation
There's a number of reasons to say goodbye, not all of which have to do with moving cities. Sometimes, you say goodbye because a colleague retires or takes a job at a different firm. Other times, you may wish a friend good luck as they leave to attend grad school.
No matter why you're wishing a friend farewell, this goodbye party invite is sure to wish them well on their next excursion. An illustrated, watercolor ship takes up the bulk of the design, so add fun copy to the invitation saying, "Bon voyage!" or "Wish (name) luck on her next voyage!" to friends and loved ones.
6. Fly Away Invitation
Is a loved one taking a hop across the pond? Or are they completely switching hemispheres? Whether your friend or loved one is moving to another state or another country, this going away party invitation will ensure you'll see them one last time before they leave. Send it out to the entire gang for one last night of reflecting before the grand departure.
7. Farewell Friend Invitation
Your friends have been with you since college. And now that you have entered the workforce, grown into adults, and are considering moving away to be closer to family, it's hard to say goodbye.
To give a subtle nod to the college parties you once attended together, throw one last bon voyage party. Send out this farewell party invite to invite your friends over for a last boozy brunch or dinner party, reflecting on the fun times you've shared together.
8. Bonne Journée Invitation
As we stated earlier, there are a number of reasons to throw a going away party. This send-off invitation has a patriotic feel, allowing it to double as a military going away party invitation. On the front of the invitation card, write the details of the party, including the date and time, as well when the guest of honor will be deployed.
Say "See You Later" Instead of Just "Goodbye"
We understand that throwing a send-off party can be emotional. And we want all of your attention and focus to be on sharing memories — not on playing host or hostess. At Greenvelope, we take as much off your plate as possible by tracking RSVPs for you, making it easy to message your guests, and ensuring your invitations don't get lost in the (snail) mail.
We hope this list of going away invitations gave you plenty of party ideas to host a proper send-off. Whether you're preparing for a final open house or a military send-off, or you're sending out a retirement party invitation, we're sure you'll plan a wonderful way to say goodbye — or, even better, "See you next time."