May 5, 2022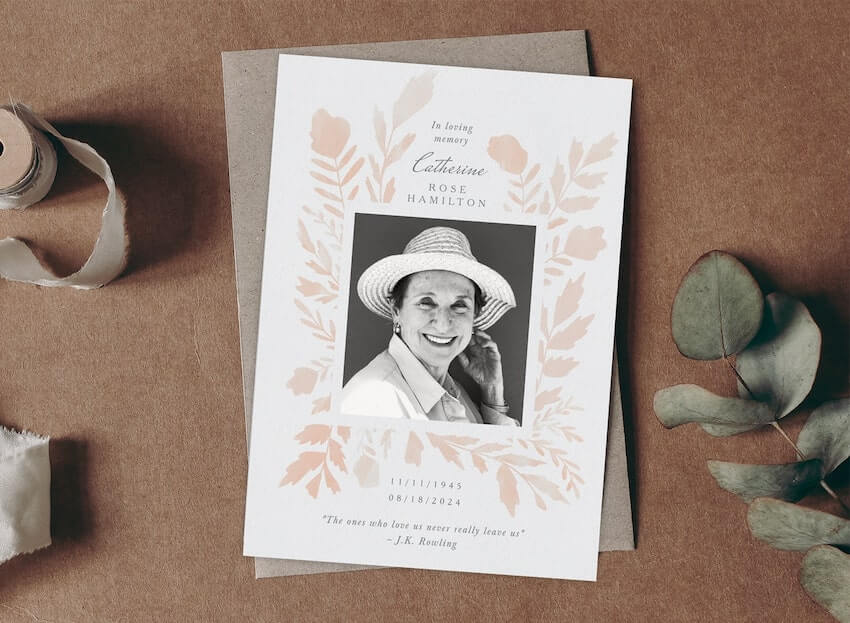 It can be an incredibly difficult time when a loved one passes away. Not only are you dealing with the emotional experience of saying goodbye, but you're also going through the process of planning a memorial service. Once you know the details of the location, date, and time of the funeral service, you can send out funeral invitations. Here, we'll show you what to include in a funeral invitation as well as designs that will help you honor your loved one in a special, heartfelt way.

What to Include in a Funeral Service Invitation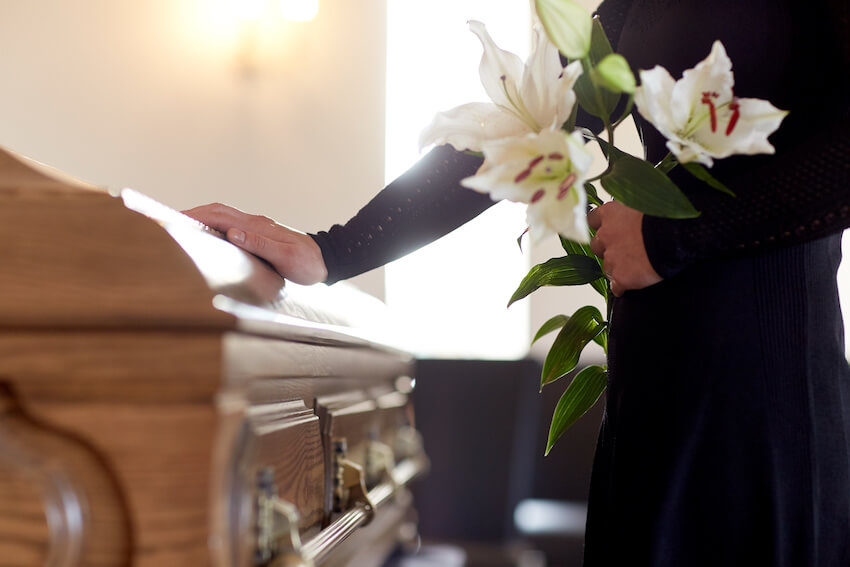 There are many types of memorial services and choosing the right one means balancing what your loved one would have wanted (or explicitly requested) and what the family thinks is best. Perhaps you choose to host a celebration of life where guests are encouraged to be lively and remember the honoree in good times. Or maybe a more serious service or religious ceremony is better suited to the situation.
Consider the type of service you're planning to ensure your funeral invitation is consistent with the theme and tone. For a religious event, you may want to include wording that reflects your faith as well as that of your loved one who has passed. For example, there are many Bible verses that would work for an invitation to a celebration of life.
Here are some wording ideas for your funeral invitation:
Family and friends of [loved one], you are invited to gather and pay your respects

With great sorrow, we announce the passing of [loved one] and invite you to remember his life

Please join us as we pay tribute to [loved one] who peacefully passed to be with the Lord

After a valiant fight, we are saddened to announce that [loved one] has passed away. Please join us as we honor and remember her with love and gratitude.

God decided it was time for [loved one] to join His kingdom. Please join us for a celebration of her life.

It is with heavy hearts that we announce the passing of [loved one]. He wouldn't have wanted us to mope about and be sad. Instead, join us in a celebration of life as we honor him with a colorful day filled with music and love.
Just like a wedding invitation or save the date, a funeral invitation should include basic details such as:
The full name of the loved one

A photo of your loved one 

Birthplace

Date of death

Date, time, and location of the funeral service (and whether it's a public or private event)

Names of surviving family members

RSVP details if needed
You may also want to include any fundraising details on the invitation. This can also apply if you're collecting money for a charity in lieu of flowers. You can also include a brief funeral program template if you are having more than one event, such as a religious mass followed by a brunch.
13 Funeral Invitation Designs to Honor a Loved One
At Greenvelope, you'll find funeral invitation designs and funeral announcements that you can customize to suit the type of memorial service you're hosting. Use any card template to create a personal, meaningful message that honors your dearly departed in a thoughtful, caring way. Here are 13 designs we hope will inspire you and offer some help during this difficult time.
1. Rose Gold Clover Invitation
This celebration of life invitation offers a vintage and elegant feel. It features hand-painted florals and comes in five color palettes. Customize the funeral invitation template by changing the font and color scheme to suit your needs.
2. Deep Blue Sea Invitation
This funeral invitation card is perfect for honoring someone who loved the sea. It features a vibrant depiction of the ocean waves and has a large text box where you can include all the relevant details for the funeral service.
3. Snow-Capped Trees Invitation
This woodsy memorial service invitation sets a pensive yet comforting mood. With stunning imagery of evergreen trees dusted with snow, it's an ideal design for someone who loved nature and the peace that it brings.
4. Simply Celebrate Invitation
This minimalist funeral card template features a large photo box where you can put your favorite photo of your loved one. The memorial announcement is printable and you can customize the interface by adjusting the color and font to suit the personality of your family member or friend.
5. Lined Arch Invitation
Announce the passing of a loved one with this loving memory invitation. It features a large image box surrounded by an arched frame, putting the honoree at the center of attention. The gold foil accents add a touch of elegance to the invite.
6. Moody Tulips Invitation
This moody invitation features tulips in dark purple and black hues. The elegant, timeless design would work well for a religious service invitation and the text overlay offers enough space to include all the event details.
7. Starry Night Announcement
Honor a recently departed loved one with this starry funeral invitation that features an inky blue background highlighted by stars and a glowing moon. You can keep the lovely quote featured in the card template or replace it with a favorite quote, verse, or poem.
8. Soft Leaves Invitation
This funeral invitation features subtle greenery and a touch of glamor with a sparkle envelope. It also depicts a small cross and a photo box where you can honor the life of your loved one.
9. Modern Cross Invitation
This funeral invitation design features a gold cross and frame overlaying a beautifully rich background. The card is available in several gem hues and is ideal for religious funerals.
10. Wildflower Frame Announcement
This funeral invite features a photo of your loved one surrounded by wispy wildflowers. There's a blank side on the back of the card where you can put all the funeral event details or a longer obituary.
11. Subtle Shades Invitation
This watercolor funeral invite features subtle brushstrokes that accent a photo of your loved one. There's room on the front and back of the card for memorial event details.
12. Watercolor Tree of Life Card
This high-quality funeral invitation features a hand-painted tree of life and a delicate gold frame. It's formal yet cheerful without being over the top. Customize the invitation by changing the background color or typography to match your event.
13. Cross Memories Invitation
This photo funeral invitation features five photo boxes so you can share multiple photos of your loved one in happier moments. The photos are arranged in the shape of a cross making it the perfect card for religious funerals.
Honor Life's Moments
While writing a funeral invitation can be difficult, we hope this guide will help you navigate the process just a little bit more easily. From what to include on the invite to finding the right design, all of these details can be handled right from your computer with digital invitations and announcement cards. If you'd like even more ideas, please take a look at these 21 celebration of life invitations that will suit your special gathering and honor your loved one.