August 15, 2019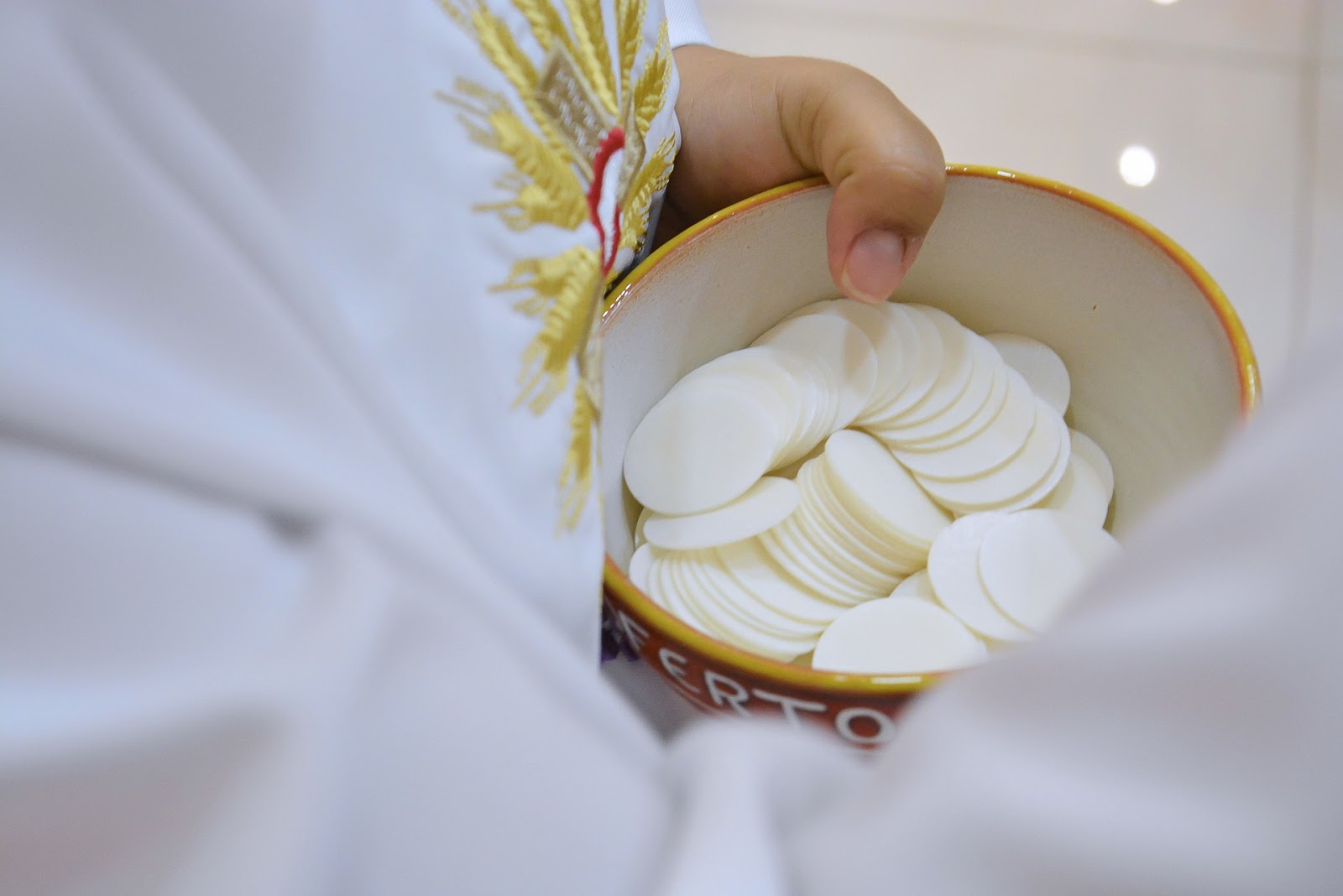 For those who follow the Catholic faith, the First Holy Communion is an important rite of passage for 7- and 8-year-old children. It is one of the three Sacraments of Initiation into the Catholic Church, which also include Baptism and Confirmation. More than just a day to wear white and receive gifts, the child will receive Jesus for the first time in what is called the Blessed Sacrament.
Since a First Communion is an intensely religious event, it can be more daunting to plan than other milestones like a birth announcement, baby shower, or first birthday. You'll want your First Communion invitations to let guests know what to expect from the ceremony and communion party, if there is one. Above all, this is a special day for your little one, and they should be front and center along with, of course, the church. Follow this complete First Holy Communion invitation guide for everything you'll need to know about your child's big milestone.

Who You Should Invite to Your Child's First Communion
First Communion ceremonies and parties are typically intimate events of close family and friends. This includes godparents, siblings, grandparents, and other friends and relatives who are a big part of your Communicant's life. In particular, guests should include everyone who has impacted your child's religious development. Most of the time, your church will be able to accommodate as many guests as you'd like. Still, be sure to double check their capacity first.
Can I Invite Non-Catholics to a First Communion?
The Catholic church welcomes non-Catholics to Sunday mass and the same applies for First Communion Ceremonies. Close friends and family who are not Catholic, or not particularly religious at all, will still want to be a part of this big event for your family.
You may want to confer with non-religious guests about proper Mass etiquette. They may feel uncomfortable, but you can let them know it's very common for non-Catholics to remain seated during Mass. Those who are partaking should be baptized Catholics, and they should fast one hour before the ceremony.
How to Choose a First Communication Invitation Design
While you can find a wealth of invitations designed for a First Communion (especially on Greenvelope!), any invitation can be customized to serve as a First Communion invitation. So choose something that reflects your and your child's design style. Popular motifs include crosses, doves, stained glass windows, watercolors, and more. These designs can sometimes overlap with Christening and Baptism invitations, or even baby shower invitations, Christmas cards, and birthday invitations.
Above all, it should feel thoughtful and reflect the gravity of the event. You can decide to go with a religious-themed invitation or one that focuses on the springtime season when First Communions are typically held.
Religious Invitations for First Holy Communion
For serious Catholics, religion should be first and foremost when it comes to the First Communion. A cross motif can be beautiful and thoughtful.
Beautiful Cross Invitation
This hand-drawn cross is wrapped in gorgeous ivy that feels at once religious and feminine for a little girl's First Communion. Let her add fun details, like a glitter invitation liner for a pop of personality.
Simple Cross Invitation
Featuring a gilded frame, gold-foil cross, and stylized type, this Simple Cross design is sleek and sophisticated. There's plenty of room for all of your ceremony and party details — in a word, timeless.
Deckled Edge Cross Invitation
Classic type and a deckled edge give this religious invitation a vintage feel. A foil cross and frame lend a decadent touch, which can be customized in silver, bronze, or rose gold metallics.
Non-Religious First Communion Party Invitations
There are plenty of gorgeous First Communion invitations that don't need to be outwardly religious. This can be a great option if you plan on inviting friends of mixed faiths. And it's a good way to select something that reflects your child's personal style.
Some popular First Communion design styles include watercolors, greenery, florals, vintage elements, and letterpress. In the United States, First Communions typically take place in late April or early May, so spring motifs are always a great option. Consider one of these sweet styles.
Laurel Frame Invitation
A delicate, hand-drawn laurel frame surrounds modern text in this contemporary invitation design. The laurel lends a subtle nod to religion without being overtly secular. Plus, the greenery is springlike without being overly feminine, perfect for either a little boy or girl's communion.
Pretty Pastel Peonies Invitation
Elegant watercolor peonies descend from this soft pastel invitation. Accompanied by stylized cursive and letterpress text, spring florals feel at once contemporary and romantic. Pair with a pearl envelope lining.
Arched Branches Invitation
Let out your inner minimalist with this ethereal invitation suite. Subtle hand-painted watercolor laurel branches frame stylized text to announce your little one's First Communion. Textured cardstock features a soft off-white, or you can customize it in pink, slate, light gray, or navy blue.
Details to Include on Your First Communion Invitations
Now that you've picked the perfect invitation design, be sure to include all of the appropriate information. Of course, you'll want the name of your little one to be front and center. Also be sure to list the date of the First Communion, name and address of the parish, time of the ceremony, and location and time of the after-party if you're having one.
You don't have to have a party, but it is customary and a great way to celebrate your little one's big day. If you need a headcount for your church or party's venue, be sure to include RSVP information and a requested date to receive responses.
It's best to send out First Communion invites 4-6 weeks prior to the ceremony. You might even consider sending save the dates to out-of-town guests who may need extra time to make travel arrangements.
Other Helpful Information to Include
If your church has an overflow parking lot, it may be wise to include that address on your invitation as well. If you don't want to receive gifts, be sure to mention that on your invitation. You can simply say, "Kindly, no gifts," or, "Your presence is the only gift we need" in your invitation wording.
Otherwise, most guests will arrive with gifts or cards in hand. For First Communions, keepsakes, sentimental frames, bibles, and other religious gifts are popular. If you do accept gifts, don't forget to send thank you cards within a few days of the event, but no later than a month after.
Have a Blessed First Communion Celebration
Your child's First Holy Communion is an exciting milestone in their religious life. They've worked hard to get to this point, so you'll want to acknowledge their devotion with a celebration. A thoughtful First Communion invitation is a great way to let loved ones know about the event.
Be sure to check with your church and party venue about capacity before designing the guest list. Then, feel free to invite devout Catholics and non-Catholics alike. Choose an invitation that reflects this momentous occasion as well as your little one's personality.
On your invitation, be sure it include details about the ceremony time and location, as well as your after-party. Make your child a part of the process and welcome their opinion. It is, after all, their special day.