January 20, 2021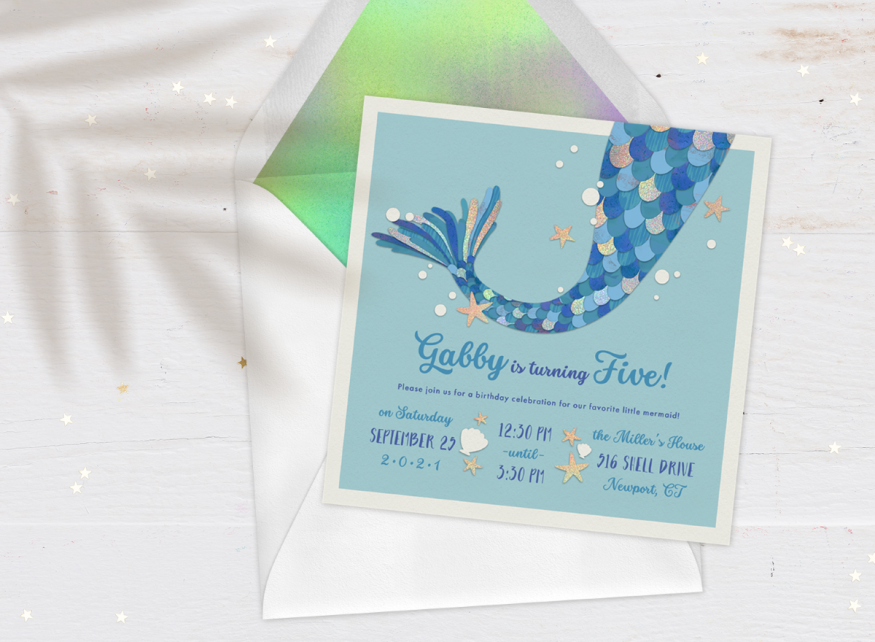 Mermaid-themed parties are so much fun to plan. You can really get creative with your color choices, room decor, and party games. Plus, you can add an underwater twist to so many delicious snacks and treats! 
To help you plan the perfect mermaid theme party, here are a few of our favorite tips to inspire you. We've included decor ideas, party food inspiration, and some of our top mermaid theme party invitations too.

15 Marvelous Mermaid Theme Party Ideas
Excited to start planning a magical mermaid-themed party? Look no further — here are some great ways to create an enchanting underwater world at your next celebration. 
1. Mermaid-Inspired Dress Code
For the ultimate mermaid theme party, ask your guests to join you in their best mermaid-inspired outfits. Suggest ways they can recreate the mermaid look with a bright tutu or DIY tail, or encourage people to come dressed as their favorite underwater creature. If you have the budget, you could even supply mermaid costumes and a dress-up station at the party. 
2. Underwater-Inspired Balloon Arch
Welcome your party guests to a fun underwater kingdom with a spectacular balloon arch. Pick out balloons in shades of blue and green for an aquatic look, or swap them for cute pastels or bright colors to match your party theme. Then, have the balloon arch made by a party supply store or DIY your own balloon garland or arch instead. 
3. Glistening Under the Sea Backdrop 
Transform your party venue into an underwater oasis by covering the walls with a glistening backdrop. Look for a blue or teal wall covering or piece of fabric that you can drape to create a backdrop, then decorate with sparkling gems, streamers, shells, and other underwater-inspired decor. This is also a great way to create a backdrop for a DIY photo booth where guests can snap memorable pics. 
4. Create Your Own Mermaid Crown
Give your party guests something fun to do while they celebrate the guest of honor with this sweet DIY activity. Whether you're gathered for a kids' birthday party or a baby shower, this is a lovely way to create something to take home. Match your craft supplies to your party guests' age — you can use real shells, paper decorations, stick-on gems, and other fun accessories. 
5. Face Painting 
Get your party guests in the magical mood by bringing in a face painter. Encourage the little ones to choose their favorite marine animal or mermaid character, and watch as everyone enjoys the party with brightly colored designs on their faces. 
6. Seashell Garland
Bring some of that beach atmosphere to your mermaid theme party with a seashell garland. Cut out seashell and starfish shapes on paper, cut holes for twine or ribbon, and string them together to create garland. Add in metallic paper or sprinkle with glitter for extra impact. 
7. Mermaid Cake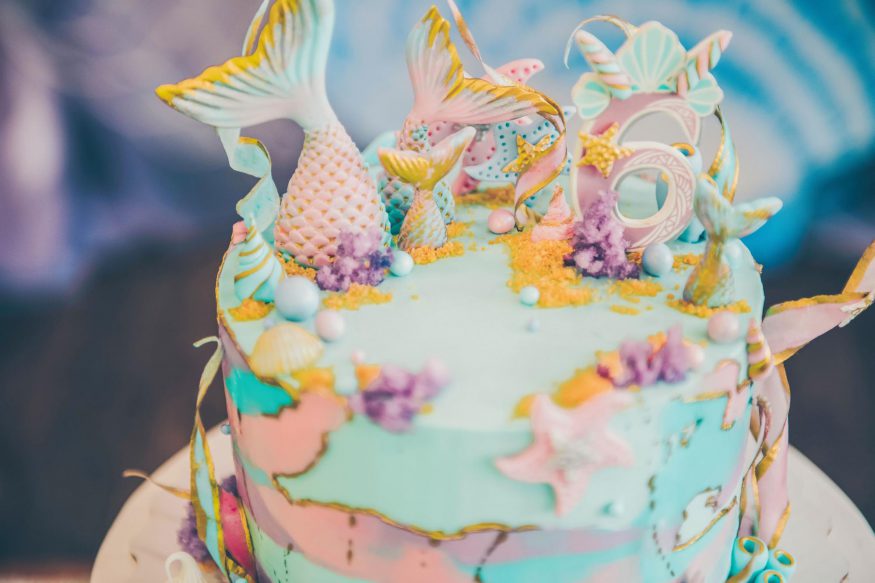 Every mermaid party deserves a gorgeous cake for the birthday guest of honor. Transform a store-bought or homemade cake or cupcakes by adding a creative mermaid tail decoration. Choose colors that match your party theme or your birthday girl's or boy's favorite colors, and add to the design with edible glitter. 
8. Under the Sea Tableware
Continue the party theme across your buffet table, sweets table, and dinner table with some adorable mermaid theme tableware. Choose paper plates, cutlery, tumblers, tablecloths, and serving bowls that match your theme and colors perfectly. You can also add a sprinkling of seashell confetti or a real shell centerpiece. 
9. Mermaid Animal Cake Pops
There's nothing sweeter than adorable mermaid animal cake pops. They're a fun way to make your party guests smile, plus they're delicious. Follow this cake pop recipe that uses popsicle molds and fondant icing to help you create something really impressive. 
10. Treasure Hunt
Encourage your mermaid-themed birthday party guests to find their very own treasure trove inspired by Disney's Ariel with a fun treasure hunt. Hide treasure somewhere at your party venue, and put together a DIY treasure map to lead your little mermaid party guests on their way. Create a bounty of treasure your guests will love — try chocolate coins or colorful costume jewelry. 
11. Pin the Tail on the Mermaid
Take the party game classic and give it a new twist for your mermaid theme party. Browse a marketplace like Etsy, and you'll find plenty of pin the tail on the mermaid printables that you can buy, download, and print at home. It's a sweet but simple party game that'll get your guests smiling. 
12. Jellyfish Paper Lanterns 
Want a really fun way to make your guests feel like they're under the sea? Hang giant jellyfish paper lanterns from your ceiling. Follow this handy tutorial to DIY your own jellyfish paper lanterns at home for an exciting way to boost your party's atmosphere. 
13. DIY Shell Jewelry 
Looking for another great mermaid-themed activity? We love the idea of sitting down together to create DIY shell jewelry. For kids, you can adapt with kid-friendly materials like paper or foam, but for adults, you can work with real shells. If you're working with real shells, follow this tutorial to prep them ahead of your celebration. 
14. Mermaid Pool Party
Have a pool or know someone who does? Take your mermaid theme party to the next level with a real-life pool party. Rent mermaid tails and pool floats, and take your party decorations outside to create a magical oasis for everyone to enjoy. 
15. Mermaid Theme Party Favor Bags
It's always hard to say goodbye at the end of a party, but you can send your guests on their way with some fun mermaid theme goodie bags. Pick a themed bag or box, then fill it with chocolate coins, bubbles, a mermaid coloring pack, themed stickers, jewelry, a seashell keychain, or anything else that will keep the celebration going. 
Fun Mermaid Theme Party Invitations We Love
Ready to spread the word about your magical under the sea birthday party or celebration? Here's a handpicked selection of our most loved mermaid-themed online invitations. 
Mermaid Magic Party Invitation
Spread the word about your party with this magical mermaid invitation design. The soft colors and sprinkles of gold foil give it a really whimsical touch. There are three color options to choose from — blue, pink, and green. 
Scalloped Waves Party Invitation
Invite people to a sophisticated mermaid-themed bash with this modern scalloped waves invitation. In this example, it's used as a graduation party invitation, but you can easily personalize the text to make this a sweet way to invite people to a birthday party, baby shower, or summer celebration. 
Under the Sea Party Invitation
There's a lot to love about this under the sea party invitation. The soft watercolor background paired with the modern fish and fauna makes this design perfect for baby showers and birthday parties alike. 
The Ocean Is Calling Party Invitation
Invite your party guests to join you under the sea by a mystical island with this ocean-inspired party invitation. The Hawaiian-inspired details and gorgeous watercolor background complement each other to create a beautiful way to welcome people to your underwater-themed party. 
Beach Day Party Invitation
We love the fun illustrations on this beach day party invitation. It's full of all those elements you'd find under the sea, like sand dollars, shells, whales, and starfish. Let these friends of the mermaids invite your party guests to a magical celebration. 
Create a Memorable Mermaid Theme Party
We love the idea of throwing a mermaid theme party for birthdays, baby showers, and even fundraisers for children's charities. The pastel color palette, themed party decor, and array of adorable ocean creatures make this a fantastic party theme for kids and adults alike. 
Use some of our mermaid theme party ideas to create an underwater world that your guests are sure to love. Style your tables, create cute cake pops, and get together to create your own seashell jewelry to celebrate the guest of honor.