July 5, 2021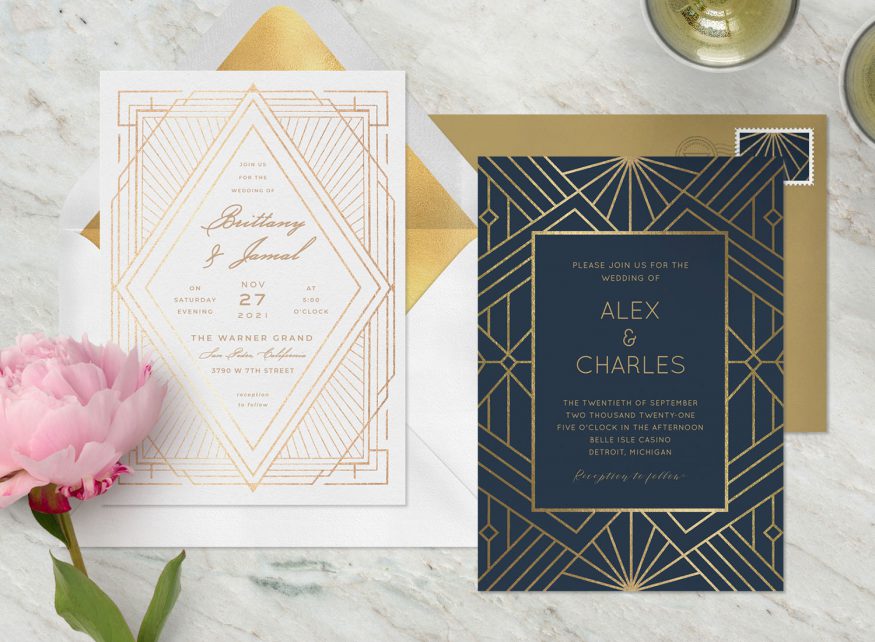 Nothing says glam like Art Deco design. The bold lines, geometric designs, and metallic accents elevate any event. Plus, this iconic style is romantic and whimsical — a perfect combination for sharing your love story.
Here, we'll show you how to design the ultimate Art Deco wedding. You'll discover decor ideas and learn more about the style. Plus, you'll find incredible Art Deco wedding invitations to set the scene for your special day.

How to Design the Ultimate Art Deco Wedding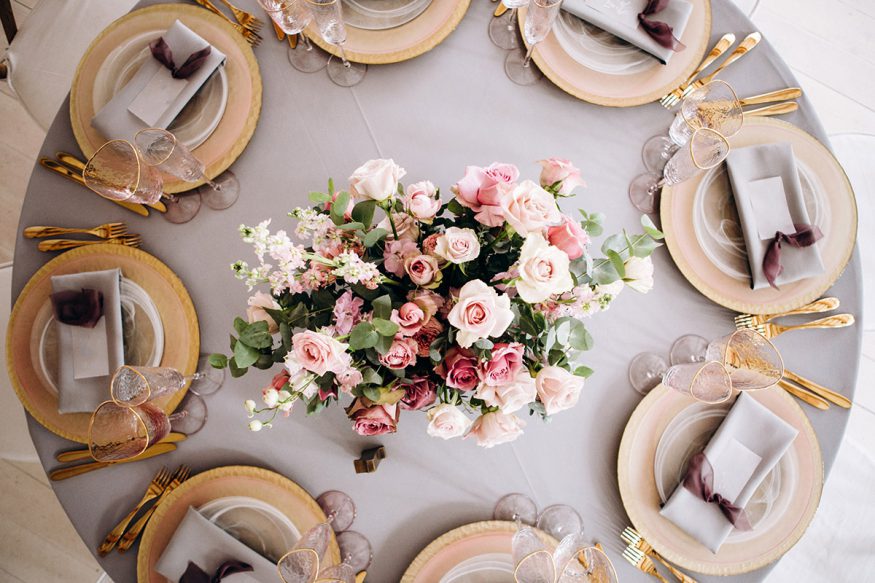 Art Deco is a design style that first hit the scene in the early 1920s. Known for its geometric shapes, bold lines, and rich colors, the design is synonymous with luxury and glamour, reflecting the indulgent air of the era. With a luxurious tone, it's no wonder that Art Deco design is as popular as ever — especially for wedding decor.
To design your dream Art Deco wedding, start with decor that focuses on glamorous and sophisticated touches. For example, whether you're hosting a backyard wedding or having an indoor celebration, consider outfitting the space with furniture in sumptuous fabrics such as velvet and sleek, cool-to-the-touch pieces like a glass bar.
Geometric prints are the hallmark of this design style, and no Art Deco wedding is complete without a few geometric accents. For something simple, pair gilded silverware with geometric print napkins. For a bigger style statement, create a DIY copper geometric wedding arch or backdrop for a photo booth.
Metallics are king when it comes to Art Deco style. Shimmery gold, copper, rose gold, and silver are right at home with this glamorous aesthetic. Drape your tables with gold runners or use silver charger plates to offset white china. In general, neutral shades like grey, cream, and black are a perfect backdrop for these shiny accents. But if you want to add more color, stick to rich, dark jewel tones like emerald and ruby.
The style also incorporates a hearty dose of sophisticated vintage items. Look for vintage metallic candlesticks to use as centerpieces. A vintage bar cart can add a hint of whimsy to your cocktail hour and an antique mirror can greet guests in style as they arrive. 
Art Deco isn't just about bold lines and rigid, geometric shapes. If you don't opt for velvet furniture such as dining chairs, velvet napkin rings or velvet tablecloths can go a long way in setting the scene for an Art Deco or Art Nouveau wedding (which is a bit more ornate). 
Art Deco Wedding Invitation Wording Ideas
For an Art Deco celebration, the font and phrasing you choose for your wedding invitations (and any event signage) can tie everything together. Look for typography that suits Art Deco style — fonts with straight, smooth lines and hard edges are a great choice. You can also use fonts with exaggerated curves for a more elegant look.
Words matter when it comes to wedding invites. Most Art Deco weddings tend to be sophisticated and black-tie events, but it's your wedding so you can host it how you want to. If you want a glam wedding, address your invitations using full names and include any professional titles, if applicable. Make sure to include who's hosting the wedding — for example, the bride's parents — the dress code, and RSVP cards.
For more casual affairs or minimonies, you can use first names or nicknames of guests if desired. Don't forget to include the basics like the time, location, and date of the big day.
You may also want to include sayings or quotes in your Art Deco wedding invitation. Quotes from The Great Gatsby can help set the scene for an Art Deco wedding. 
Here are a few of our favorites:
"

And so with the sunshine and the great bursts of leaves growing on the trees" we invite you to witness our union in holy matrimony.

"I love her and that's the beginning and end of everything." Be a part of our love story as we invite you to join our celebration on September 20th.

"There are all kinds of love in this world but never the same love twice." Join us in celebrating our unique love story on our wedding day.
Art Deco Wedding Invitation Inspiration
At Greenvelope, we offer a huge selection of wedding invitation suites. These include wedding invites, save the date cards, and engagement party invitations. You'll also find hundreds of invitations for bridal showers and rehearsal dinners. Best of all, each design is entirely customizable. You can change the typography and color to suit your specific theme, and even upload your own design to truly make it unique. Here are some of our favorite Art Deco wedding invitation designs to inspire you.
1. Art Deco Diamond Invitation
This Great Gatsby wedding invitation features radiating lines in a shimmering gold foil. It's equal parts elegant and vintage, making it perfect for Art Deco and Great Gatsby style.
2. Modern Art Deco Invitation
This Art Deco invite is available in various colors including navy blue, black, and silver. It features gold, silver, or rose gold accents to amp up the glam factor. Elegant and vibrant, it's perfect for wedding stationery, baby showers, and bridesmaid gatherings.
3. Deco Diamond Invitation
This gold wedding invitation exudes luxe sophistication and glamour. It's perfect for a vintage-inspired 1920s wedding as well as modern takes on Art Deco design. Dripped in gold, it's sure to complement a stunning wedding dress and beautiful vintage decor.
4. Simple Art Deco Invitation
This simple Art Deco invitation is ideal for weddings whether it's an over-the-top affair or a casual, cozy setting. It incorporates the bold, straight lines of Art Deco design and a hint of glamour with gold foil. The wedding invitation set includes a beautiful digital envelope, the wedding card invitation, and thank you cards for after the event.
5. Pearl Starburst Invitation
This wedding stationery takes a colorful approach to Art Deco design. Choose from different background colors including emerald, grey, and black. The hues make the gold foil frame stand out, framing the important details of your wedding day. It's ideal for a Great Gatsby wedding or a Roaring Twenties wedding program.
6. Fountain Lovebirds Invitation
This fun wedding invite features a retro design with sweet lovebirds on a fountain. It's a great way to share your love story with friends and family. Plus, the Art Deco design pairs perfectly with Great Gatsby party decor like gold art and metallic place cards for a themed wedding. You can also use the invite for an Art Deco birthday party.
7. Art Gallery Invitation
This modern Art Deco invite is bold and eye-catching. It features strong angles and muted geometric designs that are hallmarks of this design aesthetic. The invitation template can be personalized to suit your preferences thanks to various typography and color options.
Go Glam With an Art Deco Wedding
Host the ultimate Art Deco wedding with these design ideas and invitation inspiration. From velvet furniture and metallic accents to geometric backdrops, it's never been easier to host the vintage and glam wedding of your dreams. 
With stunning Art Deco wedding invitations from Greenvelope, you're sure to set the scene for a glamorous and gorgeous day. If you need more wedding inspiration, continue browsing the Stationers blog where you'll find everything from party decor ideas to wedding etiquette and planning tips.