June 6, 2022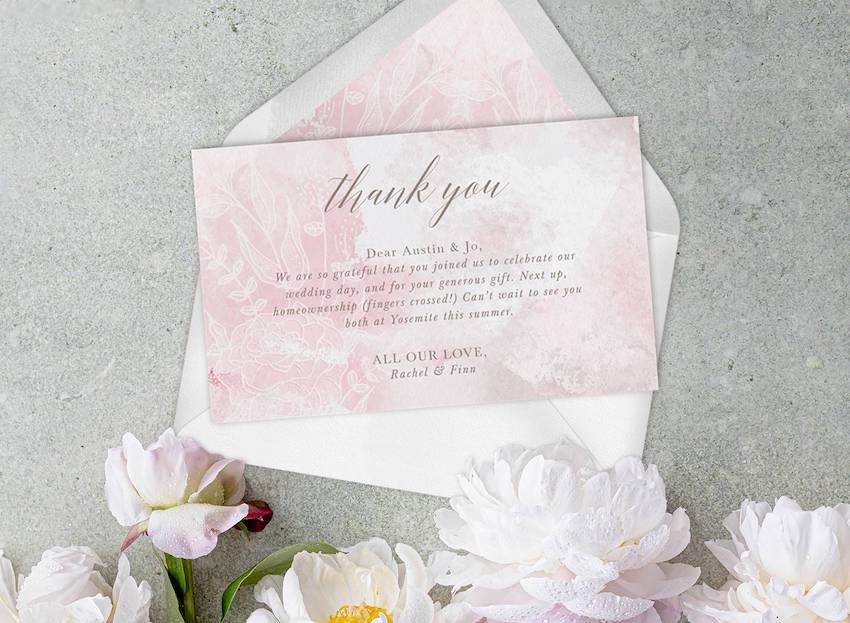 When the wedding ceremony is all wrapped up, you and your new spouse will want to enjoy your marital bliss. While that means cherishing every memory and savoring each new moment, it also means completing a few post-wedding tasks. Among the most important is sending out thank you cards to all the guests who attended your wedding and loved ones who sent gifts.
For many couples, writing thank you cards can be daunting. Finding the right words to express your appreciation while avoiding an etiquette faux pas can be difficult — especially if someone has given you a cash gift. Here, we'll show you proper wedding thank you card wording for cash gifts so you can show your guests how much their generosity means to you.

Wedding Thank You Card Wording for Cash Gift: Things to Consider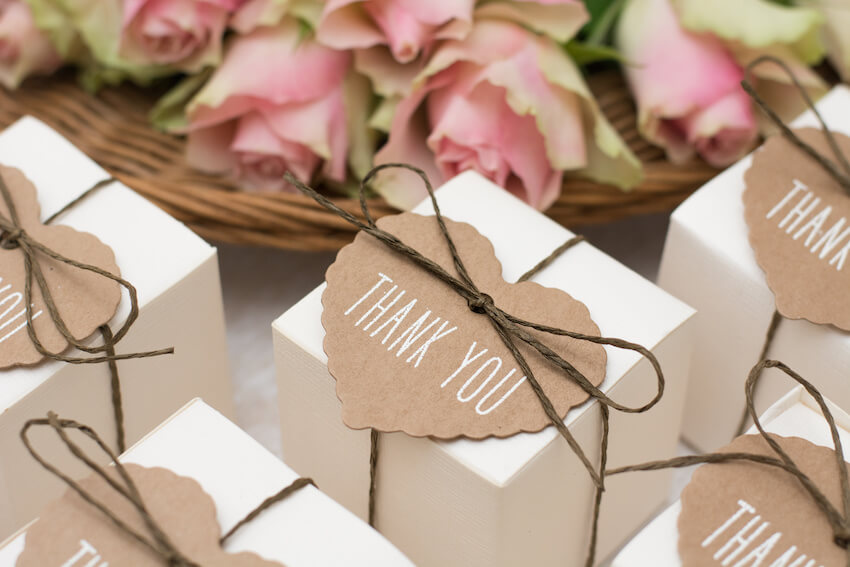 Gifts are a natural part of weddings. Your wedding guests — from the bridesmaids and groomsmen to family members and friends — want to honor your special day. Whether you're gifted a sentimental memento, housewares, or a gift card, each item is a token of your guest's appreciation for including them in your big day. Plus, these gifts are a celebration of their love for your union. As a couple, a thank you card goes a long way in showing your appreciation.
Whether your guest has given you a generous gift or a sentimental little something, you'll want to give thanks. But what's the best wedding thank you card wording for cash gifts? Let's review what to keep in mind — including thank you card etiquette tips — as you write your wedding thank you cards. 
Consider Who You're Thanking
Choosing the right tone and wording depends largely on who you are thanking. If you're thanking a wedding vendor you met once or twice, it's best to keep the wording formal. If you're thanking your best friend or a wedding planner with whom you worked nearly every day, you can include a more sentimental and personal note.
Also, consider if you are thanking an individual, a couple, or a group. Some families choose to give group gifts. For group gifts, it's considerate to send a thank you to each individual. This shows that you appreciate their contribution and allows you to thank each person individually. For a gift from a couple, you can send one thank you card expressing your appreciation.
Include a Reference to the Cash Gift
Traditionally, wedding etiquette frowned upon mentioning the cash amount of the wedding gift. It was considered inappropriate and too forward to discuss finances. Today, it's actually better to mention the amount of money you received. Writing down the cash amount lets the gift giver know that you received the correct amount. However, you can use your own discretion when referencing a cash gift. If you think the guest will be offended by mentioning the amount, feel free to leave it out.
Explain How You'll Use the Money
Guests who give cash often appreciate knowing how that money will be used. Etiquette experts recommend writing how you and your spouse plan on using their gift when writing out the thank you notes. Tell them if you're using the funds for a new home, a puppy fund, or to pay for part of the destination wedding. If the money was given towards a honeymoon or trip fund, you can include what types of activities or excursions you'll be spending the money on.
Wedding Thank You Card Wording Examples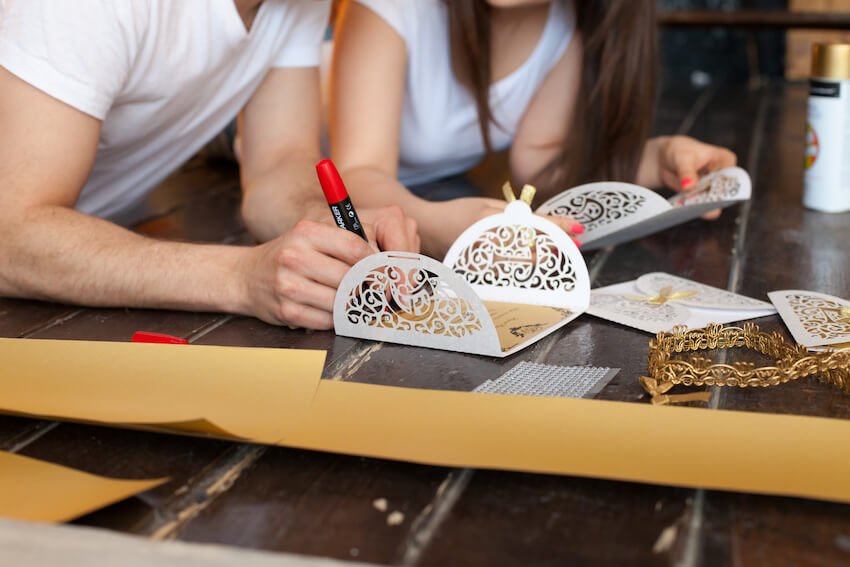 Now that you know what to keep in mind when choosing your wedding thank you card wording for cash gifts, it's time to start planning what you'll say. We've put together a few thank you card templates you can use to get started. Make sure to personalize each one by adjusting your tone to suit the recipient and indicate how you'll spend the money.
Here are some wedding thank you card wording ideas for cash gifts:
Dear [Guest],
Thank you kindly for your thoughtful gift of $200. Thanks to your thoughtfulness, we were able to purchase crystal-studded wine glasses commemorating our nuptials. We appreciate you being part of our wedding.
In gratitude,
The Newlyweds
—
Dearest [Guest],
Thank you for your incredibly generous gift of $1,000. With it, we're closer to our dream of remodeling the second bedroom so we can expand our little family. We appreciate you taking the time to celebrate with us. 
Lots of love,
The Newlyweds
—
Our dearest [Guest Name],
We are over the moon with gratitude. Thank you for spending time with us on our wedding day as we said "I do." It was a special moment we will cherish forever. We'd also like to express our thanks for your monetary gift of $500. We have put it to good use as part of an investment in a new home.
Thank you,
The Newlyweds
—
Dear [Guest Name],
Thank you for taking the time to be part of our wedding party. We appreciate the $100 gift that we put towards framing our wedding photos. We will cherish the memories we made during the wedding planning process — from planning the bridal shower to standing beside us on our big day. Can't wait to celebrate more of life's milestones together. 
With love,
The Newlyweds
Tips for Writing a Wedding Thank You Card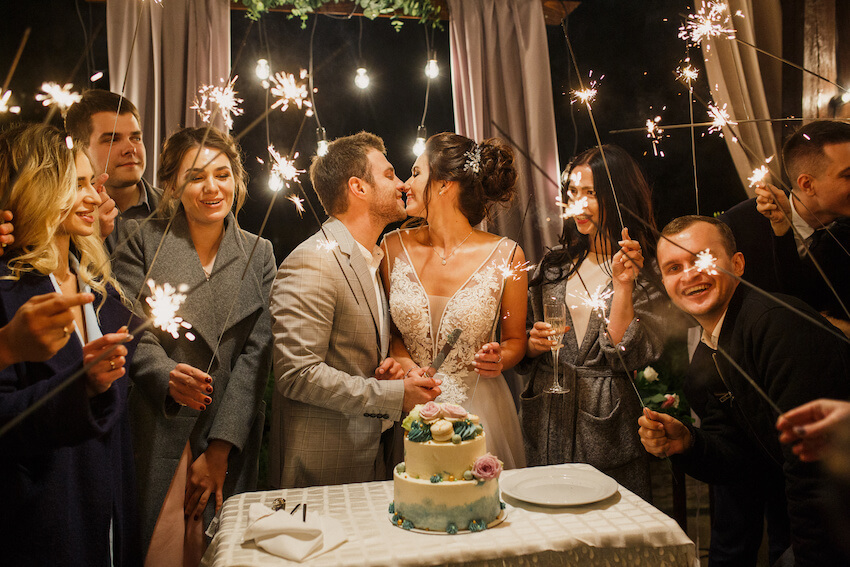 When it comes to writing wedding thank you cards, there are a few things to make the process less intimidating. Along with choosing the right wedding thank you card wording for cash gifts, here are a few tips for writing the best wedding thank you notes.
Break It Up Into Batches
One of the most overwhelming parts about thank you notes is that there are so many. Trying to write 75 to 150 notes in one sitting is a bit much. Instead, try breaking down the thank you notes into batches. 
In general, etiquette dictates that you have three months to send thank you notes after the big day. You can go down your guest list and do 10 per day or set aside 15 to 30 minutes per day to get the job done. Write each note together with your spouse or divide the list and conquer it as a duo.
Make Each One Personal
Some wedding experts think it's impolite to type or email thank you notes. While handwritten notes are thoughtful, they're not the only way to show your appreciation. The key here is to add a personal touch to each thank you note. You don't want to just write the same message and send it to everyone on your guest list.
Whether you use a digital thank you card or a handwritten one, take the time to make each note unique. This shows guests that you truly appreciate their time and effort.
Address Them Correctly
Internal envelopes for thank you cards can be less formal. You can also address guests by their first names in the actual thank you note. However, the outside envelope should be addressed with the same name as your formal wedding invitations. You can handwrite the addresses or use a digital stamp to make the process quicker and easier.
4 Stunning Wedding Thank You Card Designs
Once you have the right words, it's time to pick a thank you card design. At Greenvelope, we offer thousands of designs to show your appreciation. Below, you'll find some of our favorite wedding thank you cards to share how appreciative you are of each and every guest.
1. Lemon Orchard Thank You Note
This stunning wedding thank you card features a photo slot where you can share a snap of your favorite wedding day moment. The note is backside supported, so you can write your message without worrying about not having enough space.
2. Shimmering Confetti Thank You Note
Show your appreciation for your wedding guests with this elegant and sophisticated thank you note. It features shimmering gold confetti for a glamorous touch and plenty of space to write a personal message.
3. Chic Minimalist Thank You Note
This photo thank you card features two image boxes and large, modern text with the words "thank you." On the back, there's plenty of room to write a detailed thank you note. The design can be customized by changing the color palette and typography.
4. Rich Fall Florals Thank You Note
This floral thank you note is perfect for fall weddings. It features florals in decadent ruby and blush hues for a touch of romance. 
Choosing the Best Wedding Thank You Cards
With this guide, you'll be a pro at wedding thank you card wording for cash gifts. Our tips and advice on thank you note wording makes it easy to send out notes following your big day.
At Greenvelope, sending wedding thank you cards is easier than ever. With just a few clicks, you can access your entire guest list, including addresses, to make sending your notes quick and efficient. Just add a personal message to each recipient and hit send. Plus, our thank you cards are designed as part of wedding stationery suites. That means your thank you note will match your wedding invitations and other stationery you've used leading up to your special day.