June 7, 2018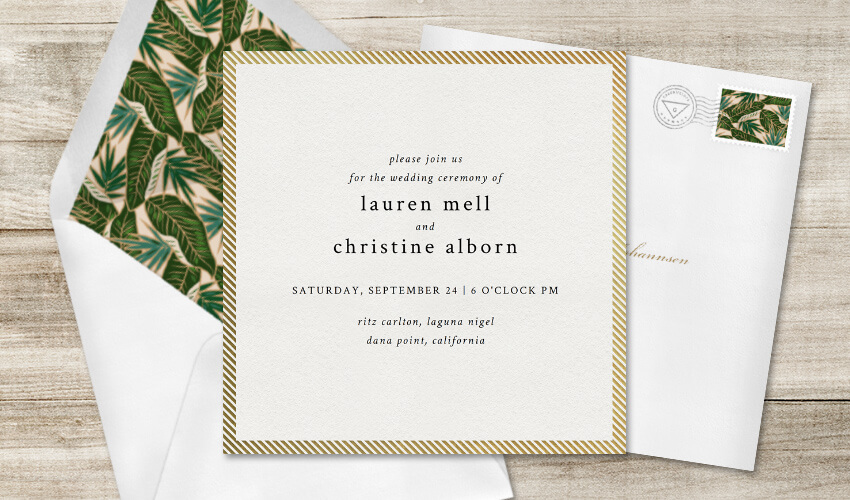 The invitation is one of the first communications your guests will receive about your wedding day, so a good first impression is key! Your invitations do a lot more than simply convey a theme or wedding style, they also provide critical information for your upcoming nuptials. Details like the who, what, when, and where should be thoughtfully formatted for easy interpretation. We've outlined the anatomy of a perfect wedding invitation to help ensure your invite has all of the necessary information your guests are looking for. Keep scrolling—you'll see what we mean soon enough!
The Envelope
Here are the key elements to consider when deciding on the vibe and style you want to convey through your envelope:
Typeface

Liner

Paper Type

Stamp and Accents
Ultimately, you want to make sure that your envelope matches the vibe of your wedding. If the style of your big day falls under the rustic romance category, you might opt for a kraft paper envelope with a hand-lettered font. If you're more traditional and the idea of incorporating an elegant accent is appealing, you might select a felt envelope with romantic flourishing script that's sealed with a classic monogram.
Envelope Wording
The guest greeting you choose to include on your envelope will set the stage for your wedding. Think about it this way—if you're planning a formal black-tie wedding, it makes sense to set that expectation early and with a more formal greeting. On the other hand, a conversationally-worded greeting like "Jack & Christine" alludes to a more laid-back affair. If you're planning a formal wedding, we recommend checking out this article by The Knot for tips for drafting expert-approved envelope wording.
One last thing, don't overlook the flap of the envelope. It's the perfect place to list the names of the hosts.
Invitation Wording
There are so many ways to say "you're invited!" Our best advice? Consider the type of wedding you're planning and base your wording off of that. Depending on your preferred formality or tradition, there may be cultural, religious, or formal etiquette that you want to keep in mind. Emily Post has a variety of formal wording samples that you can view here. Alternatively, if you're more of a "no rules apply" couple, think of this as an opportunity to show your personality as a couple with something more playful (like these ideas from Offbeat Bride) or let your style and layout dictate your verbiage.
Wedding Details
Following the salutation and request line of your invitation, be sure to include specifics like your wedding date and time, the venue name and address, and a brief mention of what's to come (like dinner and dancing!) You don't want to overcrowd your invitation, so any additional details outside of that should be put on an extended details page.
Ready to get inspired? Browse exclusive designer templates here and start designing your perfect invitation with Greenvelope.com.