July 8, 2020

It's the most wonderful time of the year. The mantles are adorned with pine garland and the Christmas tree sparkles with brilliant orbs and glittering lights. The menorah and Kinara shine brightly. And children exclaim with glee as they sled down hills with Jack Frost nipping at their noses.
As Christmas time rolls around, the hustle and bustle of holiday celebrations begin. It's time to start dreaming up unique party themes and tasty treats to serve at your holiday happening. Here are the top Christmas party food ideas featuring appetizers and snacks to get you in the holiday spirit. Plus, you'll find incredible online holiday invitations you can use to invite guests to rock around the Christmas tree.

15 Festive Christmas Party Food Ideas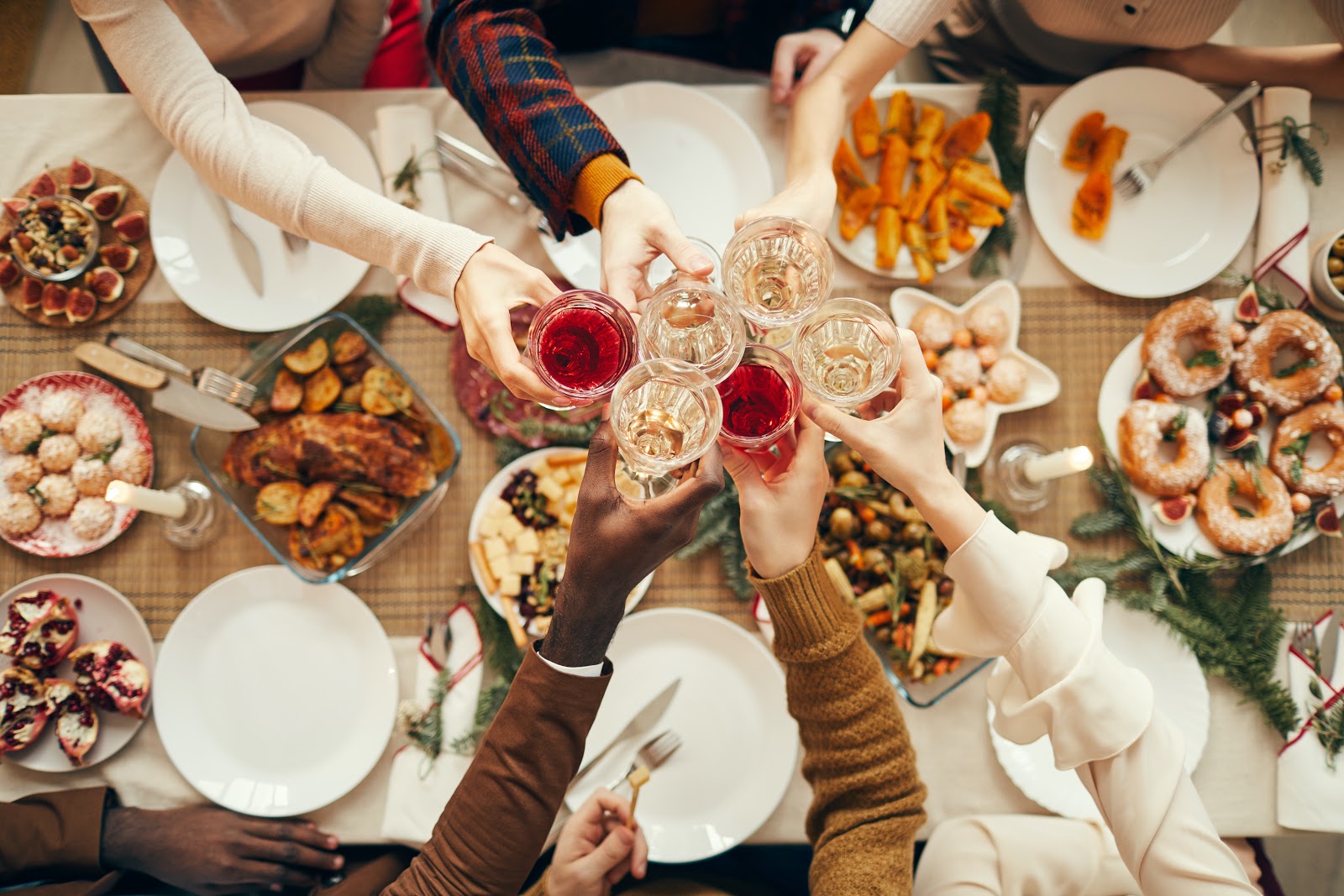 Holiday parties are all about celebrating the joys of the season. From letting sleigh bells ring to meeting that special someone under the mistletoe, this time of year is magical. Add some magic to your company holiday party or your get-together with friends and family by using these creative Christmas party food ideas.
7 Delightful Christmas Appetizers
No holiday party is complete without an array of appetizers. From finger foods to sweet and savory treats, appetizers help invite your guests to feel the spirit of Christmas in the air. Here are some of our favorite Christmas appetizers that take just a few minutes to put together.
1. Pinecone Cheese Ball
Looking to add a hint of nature to the appetizer table at your holiday party? This pinecone cheese ball is easy to whip up and makes you look like a truly artistic chef. Just blend cream cheese, goat cheese, and spices like chives and tarragon. Use your hands to mold the cheese dip into the shape of a pinecone. Add almonds to mimic the scales of a pinecone, and use a few rosemary sprigs to add the appearance of a fresh tree branch.
2. Fruit and Veggie Christmas Tree
Wish your friends, family, and coworkers a Merry Christmas with an appetizer that's sure to catch their eye.
Use four or five different veggies and layer them on a tray in the shape of a Christmas tree. Vegetables that work well as the green parts of the tree include broccoli, celery, and asparagus.
Use vibrant vegetables such as red and orange bell peppers and tomatoes to add color to the tree. Include a few pretzels for the tree trunk and some cauliflower florets for a snowy background. You can also make this appetizer tree using fruits such as pineapple, mango, and berries.
3. Cranberry Pecan Baked Brie
There's something about gooey cheese and fruity flavors that encourages people to eat, drink, and be merry. Baked brie is an excellent holiday appetizer that adds elegance to any spread without demanding hours of preparation.
This Cranberry Pecan Baked Brie recipe takes just 10 minutes to prepare. Drizzle honey, butter, cranberry sauce, and pecans on the brie cheese, pop it in the oven, and in minutes, you'll have yourself a merry little appetizer to serve to loved ones.
You can also choose small brie rounds to whip up brie bites instead of a whole brie log.
4. Holiday Artichoke and Spinach Dip
This spinach and artichoke dip is the perfect topping for a toasted baguette or some crispy tortilla chips. Set the dip in the middle of a round tray and use crackers or baguette slices to mimic the look of a wreath. Sprinkle the arrangement with pomegranate or cranberries.
5. Sweet and Spiced Nuts
The holiday season is filled with spices and seasonings. From chestnuts roasting on an open fire to sprigs of rosemary, the season is filled with moments that entice your senses. These sugar-and-spice nuts are the perfect naughty or nice treat to add to your appetizer table. Featuring a blend of cayenne pepper, red pepper, chili powder, cinnamon, and brown sugar, these nuts are sure to be a hit.
6. Caprese Skewers
This appetizer is easy to throw together at the last minute, and the simplicity of the ingredients adds an elegant touch to any holiday table. Best of all, it incorporates the colors of the season with red, green, and white hues. Use a long toothpick and add a mozzarella ball, basil leaf, and a tomato. Drizzle the skewer with a balsamic glaze to add a sweet and tart note.
Turn your kitchen into Santa's workshop, and add a new spin on this classic appetizer. Swap out the mozzarella for feta cheese instead. In place of the basil, use pesto tortellini. Or try sun-dried tomatoes instead of regular cherry tomatoes. The possibilities are endless.
7. Cranberry Walnut Blue Cheese Pinwheels
These festive roll-ups can be made from scratch using flour or you can save time by substituting store-bought puff pastry. They add a decorative note to any buffet table, and their contrasting tart and savory notes are sure to delight your guests. Swap out the walnuts for other nutty favorites like pistachios and pecans, or use ricotta instead of blue cheese for a milder flavor.
4 Christmas Main Dish Ideas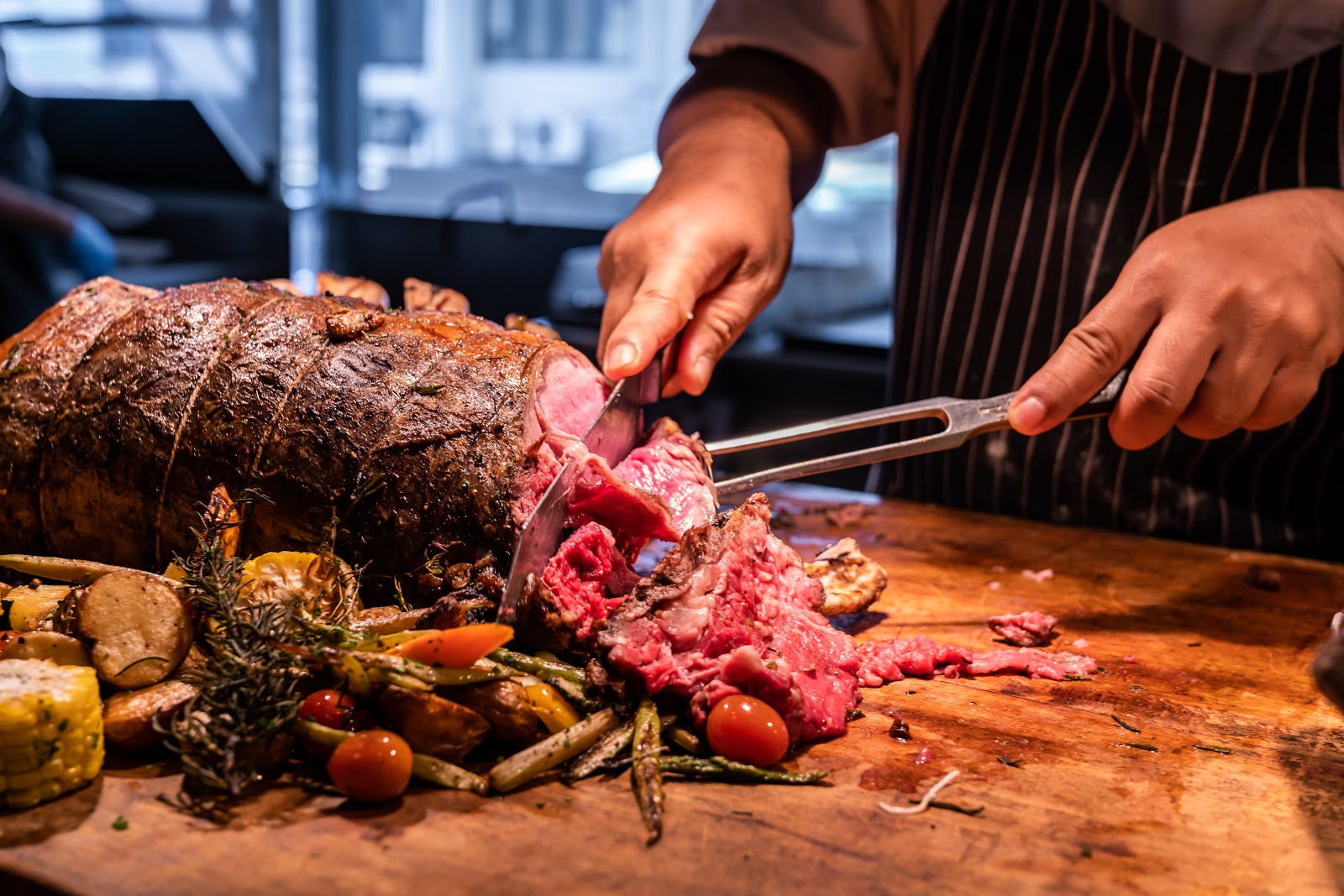 If you're hosting a cocktail party, you can stick to serving party appetizers and desserts at your buffet table. If you're hosting a Christmas dinner party, you'll also want to spend some time looking at Christmas party food ideas for the main menu. Here are a few main dishes to serve at your holiday party.
1. Christmas Prime Rib
A juicy display of prime rib is sure to gather everyone around the table to share in the joy of the holiday season. Horseradish and Dijon mustard add a sharp-tasting note that's balanced by the hearty flavor of the meat. Decorate the serving dish with a few cranberries or pomegranates for a festive touch.
2. Rosemary Roasted Potatoes
Liven up the main course with a side dish featuring pungent sprigs of rosemary. The crispy golden potatoes add a warming touch to your table. And best of all, they're easy to make. Just cut up the potatoes, add some warming spices, and pop them in the oven until they're ready to serve.
3. Holiday Ham
There's nothing boring about an old-fashioned glazed ham. Sweet and savory notes dance across your tongue while conversation with loved ones fills the air. Decorate the tray with herb sprigs, pineapple slices, and cherries for a vibrant tone.
4. Cheesy Risotto
For a creamy side dish or a vegetarian main dish, whip up a cheesy risotto. It's comfort food with a decadence that makes spirits bright. Made with spices, Parmesan cheese, and arborio rice, it's a great choice for an upscale dinner party where you want to wow guests. Plus, you can make it vegan-friendly by skipping the cheese and still indulging in the naturally creamy texture of arborio rice.
4 Christmas Desserts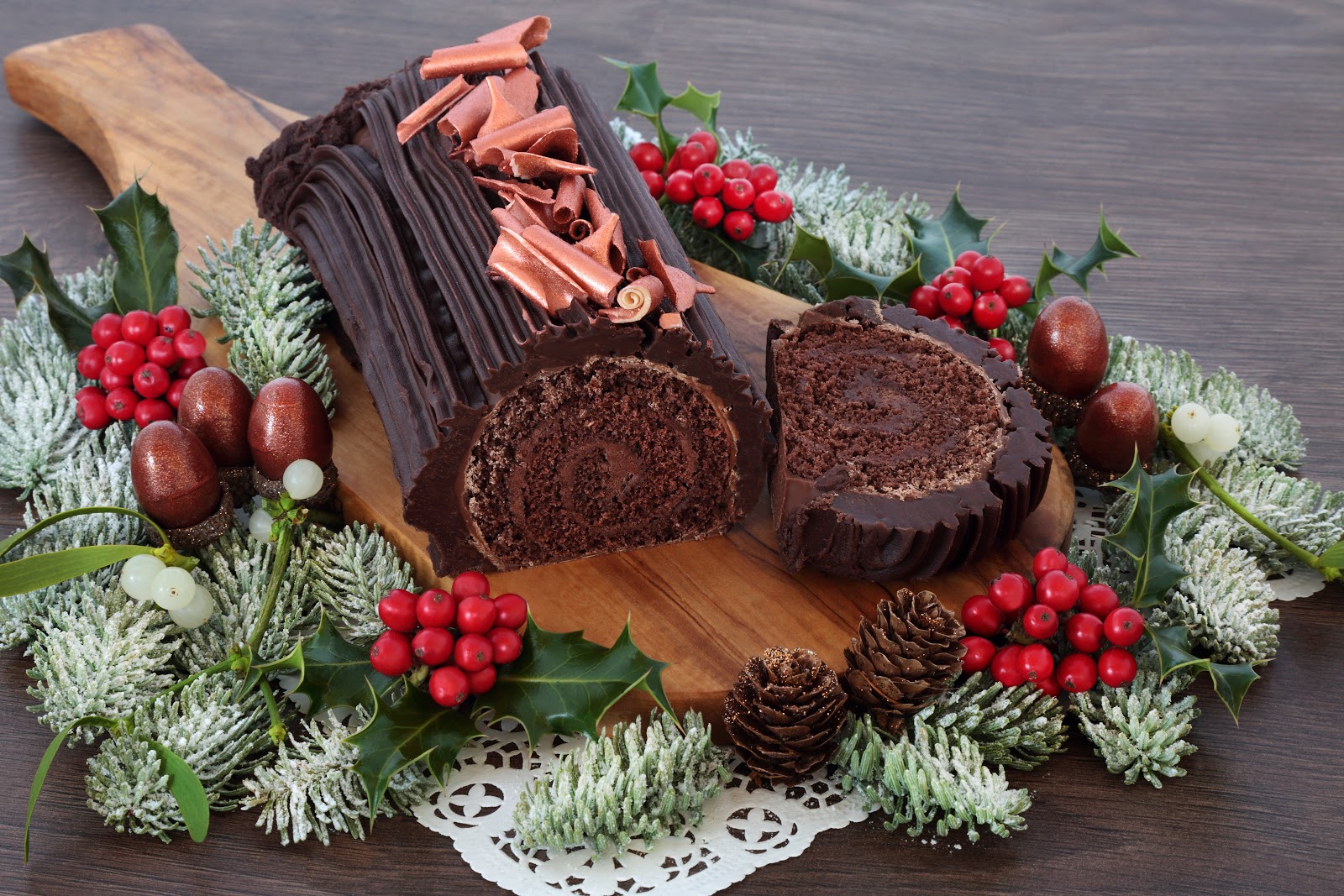 You can't make a list of delicious Christmas party food ideas without mentioning desserts. The holidays are a time to enjoy friends and family. What better way to do that than to host a dinner party and round out the evening with an indulgent treat. Here are our absolute favorite holiday desserts.
1. Cupcakes With Candy Melt Trees
Whip up a batch of your favorite cupcakes — red velvet is perfect for the season — and adorn them with pretzel and candy melt trees. Start by laying pretzel sticks out on a baking sheet lined with parchment paper. Melt green candy melts and then transfer to a piping bag.
Using a zigzag motion, drape strands of the candy melt into the shape of a tree using the pretzel as the tree trunk. Decorate with confetti sprinkles and stick the base of the pretzel into the top of the cupcake.
2. Cheesecake
Love cheesecake? When it comes to serving this dessert with a holiday spin, the possibilities are endless. From cheesecake recipes featuring red velvet and vanilla to chocolate truffle, apple, and pumpkin, this dessert takes center stage at any holiday gathering.
3. Caramelized Apricots With Almond Cream
In this sweet holiday dessert, the tart notes of apricots are contrasted with brittle caramel and silky smooth cream. It's served warm, offering a warming sensation that will perk your guests up, even on the coldest nights.
4. Peppermint Fried Dough
Nothing says it's Christmas time quite like candy canes and peppermint. These fried dough balls have a decadent flavor that's right at home with the indulgent vibes of the holidays. They're sugary and savory, making them the perfect little bites to pop in your mouth at the end of a delicious meal. You can also dip them in dark or white chocolate.
Stunning Holiday Invite Ideas for Your Next Event
You've picked your theme and nailed down the menu. Now, it's time to tell guests about your holiday event. Here are 5 holiday invitations to use for your next Christmas soiree.
1. Two Tone Jingle Invitation
This holiday invitation features a whimsical font and vibrant hues to announce your holiday party details. It's perfect for holiday office parties, white elephant exchanges, and cocktail evenings with friends and family.
2. Festive Santa Hat Invitation
Santa Claus is coming to town with this holiday invite featuring a hand-painted Santa hat. The different watercolor background options enable you to customize this invitation to fit your party theme. The whimsy of the hand lettering is perfectly suited for every holiday party from business get-togethers to gatherings of close friends.
3. Christmas Buffet Invitation
This holiday invitation is the ideal option when you want to invite guests to a festive evening filled with delicious Christmas foods. It's simple enough to use for casual business events but also livens up a larger family gathering.
4. Soft Foliage Invitation
This elegant invite is a great choice if you're hosting a fancy holiday event. The earth tone backgrounds play perfectly with holiday color schemes featuring emerald and ruby hues. Metallic accents add a subtle sparkle while the delicate script adds a hint of seasonal magic.
5. Festive Party Icons Invitation
This hand-drawn invitation offers a unique way to invite guests to a memorable holiday party. With holiday icons including reindeer, Christmas trees, and mistletoe, it's a good way to get guests into the spirit of the season.
Invite Guests To Take Part in the Holiday Cheer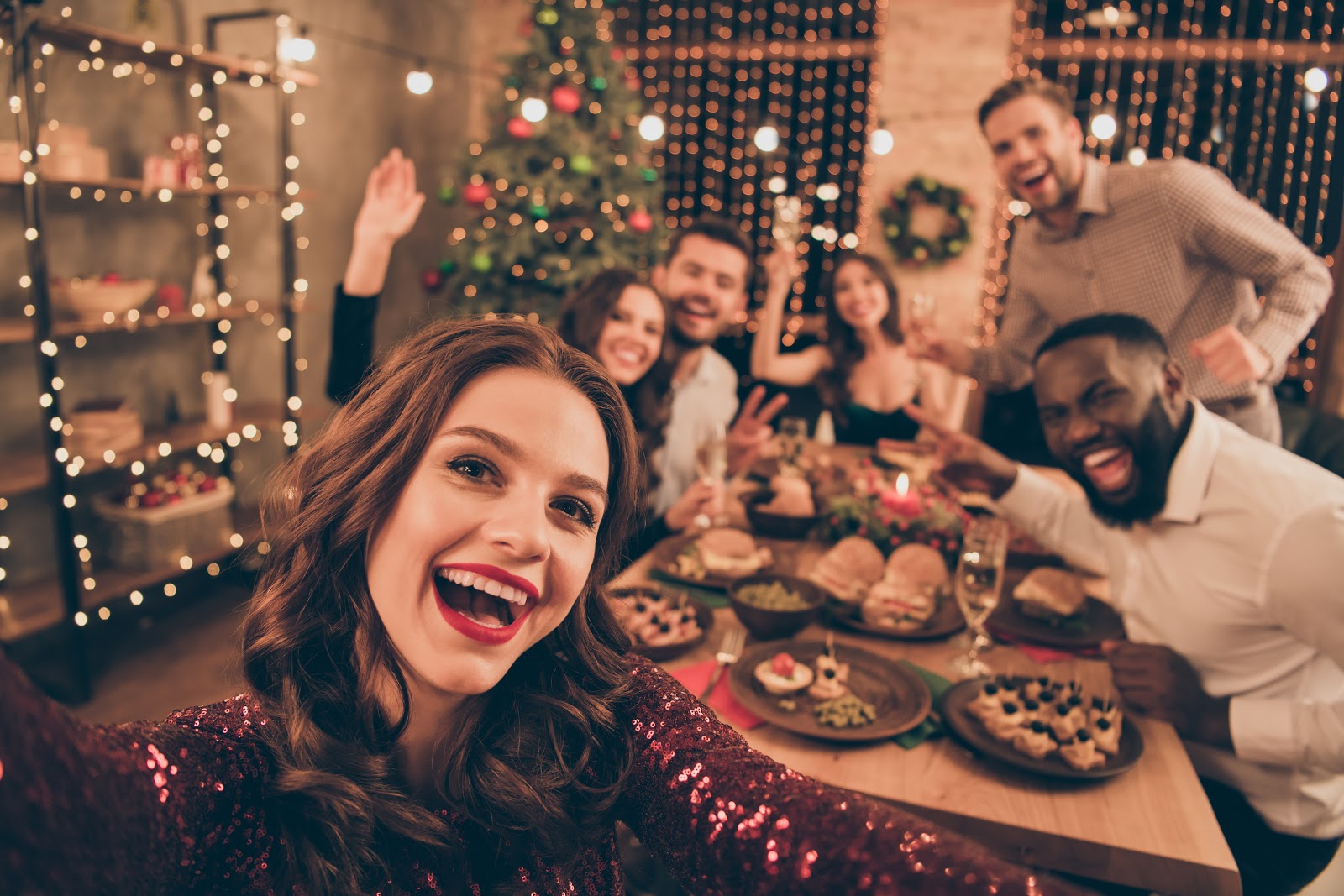 These yummy holiday appetizers and food ideas are easy to make at home. You don't have to spend hours slaving away in the kitchen to enjoy decadent and visually stunning treats. From spicy peppers to sweet sugars, the holiday offers flavors for everyone.
Get guests in the holiday spirit with digital invitations from Greenvelope. From glittering invites to sophisticated options with watercolors and modern type, you're sure to find a style that suits your holiday party theme.