July 8, 2015
We brought together insight from both event industry experts and expert party-goers to bring you our top summer party trends right now. Share your faves with us in the comments section below!
Garland Detailing 
Simultaneously playful and utterly chic, if we saw garland chandeliers at every party, we wouldn't complain. 
Dessert Bars with a Twist – Courtney Lutkus of Simply Radiant Events
From gelato bars to s'mores bars, we are loving seeing the new, playful twists on dessert. After all, it is the most important meal of the day. (Wait, did we mix that up?)
Breezy Florals + Neutrals
Warm air + summer nights call for light-colored linens + minimalist florals. Keep it airy to create an aura of relaxation, beauty, and magic for any summer celebration. 
Think Outside the Cocktail – Katie Brauer of West Shore Cafe & Homewood Mountain Resort
From infused fruit waters & homemade iced teas to innovative shrubs, the art of the non-cocktail is one we are ready to embrace with open arms. Perfect for kids, or just as an alternative to cocktails to keep the crowd hydrated + happy!
Distinctive Signature Cocktails – Danielle Rothweiler of Rothweiler Events
Nothing against our classics (we love you always, margarita) but it is so fun to see unique, personal favorites and custom cocktails being used as signature cocktails. A super fun way to show off that personality!
Hand-painted Watercolor Cakes – Kia Martinson of ESTOccasions
For weddings, showers, and social celebrations alike, watercolor cakes are a delightful (+ delicious) addition. For the DIYer in you, view the full tutorial via Sprinkle Bakes here.
Pop of Gold – Makini Brereton of Makini Regal Designs
This summer, skip the "gold everything" and opt for a more elegant "gold couple of things". Makini recommends that a simple way to incorporate just a hint of gold would be in the tableware, whether that be a simple gold trimming on the plates or gold cutlery.
Up Your Picnic Game – Anastasia of Coastal Creative Events
With a hint of chic coastal style, Anastasia recommends hosting a boho summer picnic with lush florals and rich fruits like figs, plums , pomegranate and dark berries. We personally love the picnic baskets complete with lovely vintage quilts. 
Small Plates + Family Style Dining – Nick Brune of Eco Caters
Not only do you get to taste a little bit of everything (yay!), shared plates and family style dining get everyone involved in the meal, sharing, talking, and enjoying the same food and experience together.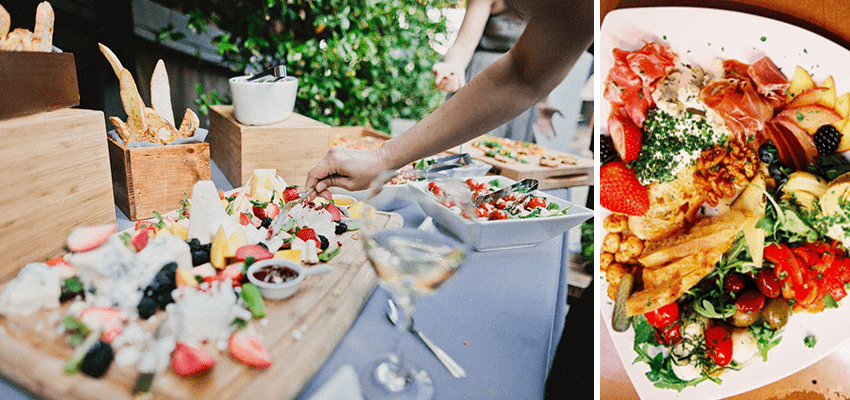 What are you waiting for? Get started planning your next summer party by browsing our collection of customizable designer invitations here.