June 25, 2015
After 7 beautiful years, Jeff Smith finally proposed to his now-wife Shannon on July 11th 2014, and had their wedding a mere three months later (talk about making up for lost time)! In an effort to avoid pomp and circumstance, and to inject "a taste of Shannon and Jeff," for family and friends, the couple strayed from tradition to create a wedding that was distinctively them. Captured beautifully by Anne McGrath Photography.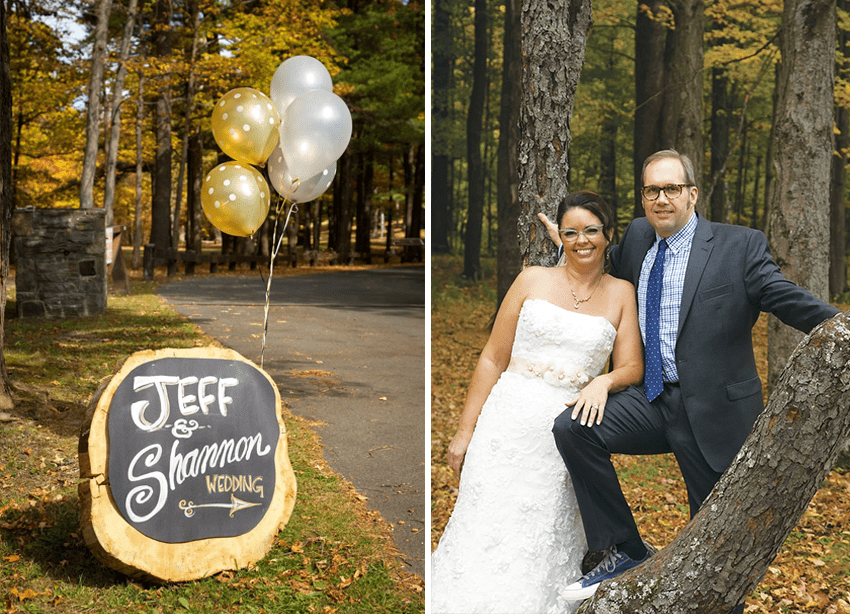 In the Smith's words: "We wanted to share pieces of ourselves with [the guests]. We love the people in our lives. We consider them each unique and incredible individuals. And, we wanted our wedding to convey our feelings for them, as well as show off some of us." Following in this trend, the Smith clan and a few friends managed to DIY the entire wedding, and Shannon even hand-painted all of the signs for the wedding onto crosscut pieces of tree trunk that a friend cut for her.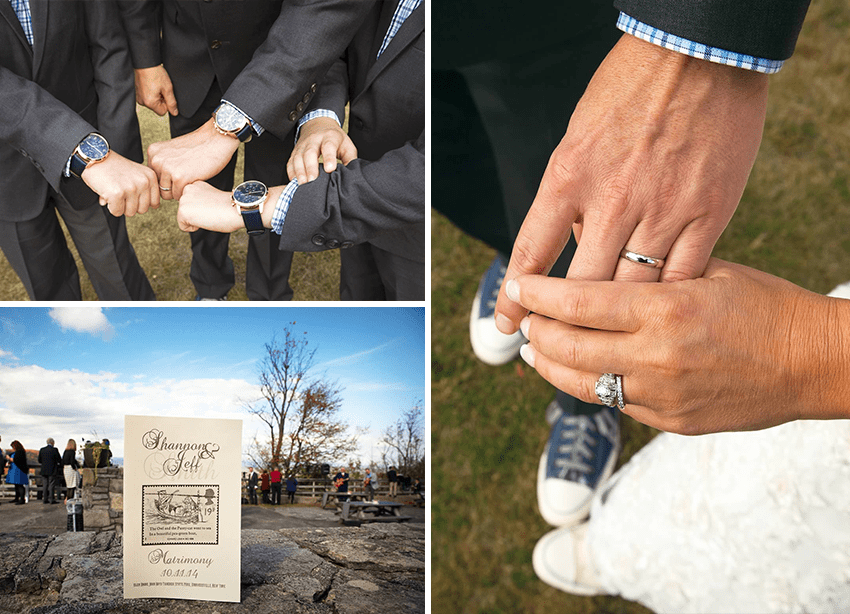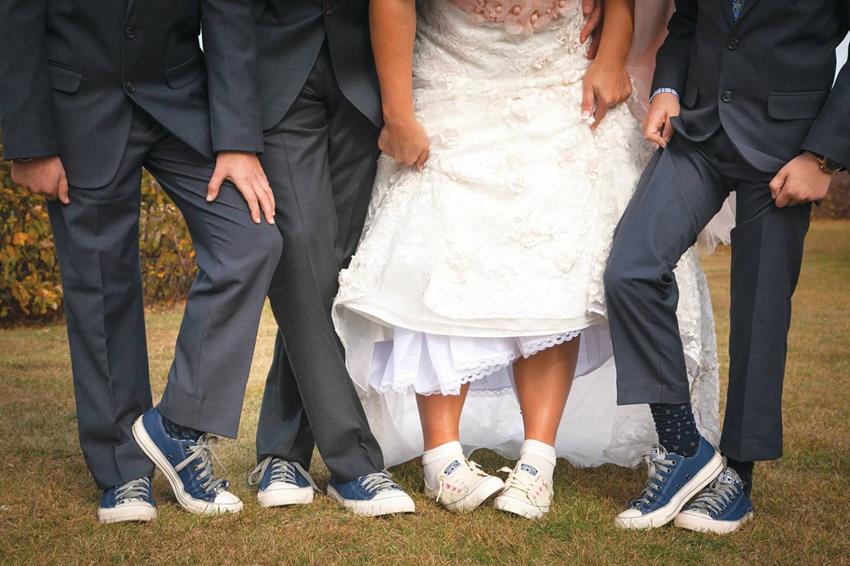 The Smith family's originality came out in their outfits as well! From Shannon doing her own makeup to custom-made Chuck Taylors for the couple and their boys (who happened to be the best men as well,) it was very clear that the Smith's had things done their own way – which we love!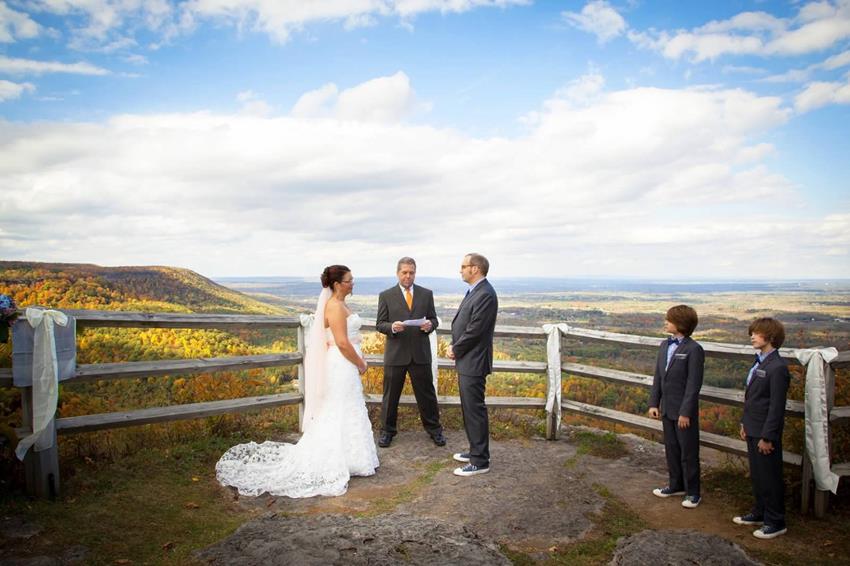 The ceremony and reception were held at John Thatcher State Park, a convenient 10 minutes from the Smith's home. "The place is breathtakingly beautiful, and it's not a traditional wedding venue, which meant  we could afford it; and more importantly, we didn't need to conform to a lot of tradition." (Plus, who could argue with a view like that?!)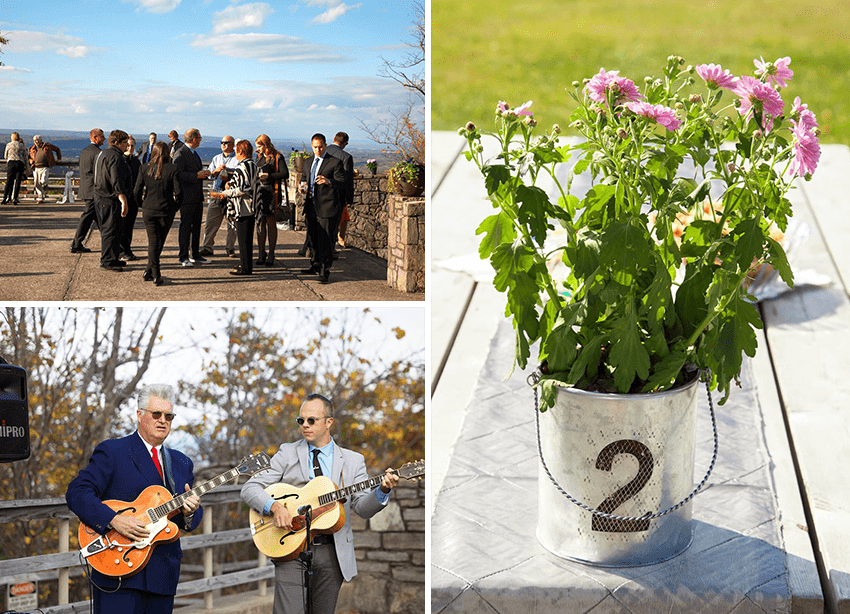 While it was the Smith Wedding, Santo & Johnny (two of their best friends,) could have easily stole the show with their version of Shannon's favorite song, "Sleepwalk." That, combined with the 3-hour iPod Mix Jeff had made guaranteed great music for the reception, without the expense of a DJ.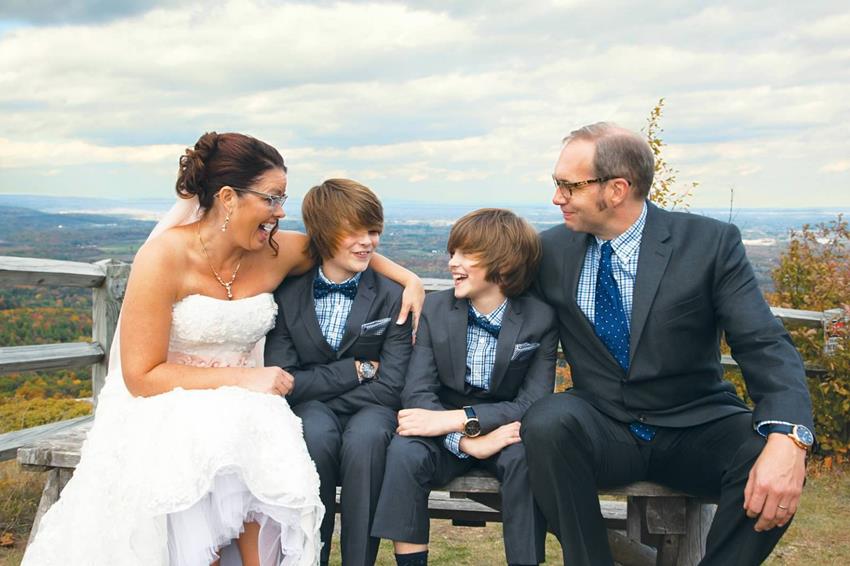 3 Tips from Shannon and Jeff on planning your dream wedding:
Strike out on your own. Turn tradition upside down.
Consider the things that really mean a lot to you, and design your wedding day around those passions. It will show when your big day comes.
Keep it simple. Our guests, several of whom have attended dozens and dozens of wedding, either playing in bands or taking photographs, conveyed to us just how much our wedding stood out and how much fun they had. Some of that was because it was unique (as per tips #1 and #2); but, we think a lot of it was because we had no real agenda for our guests, other than to watch a short ceremony, then hang out in the beautiful fall air and socialize. Simple.
Ready to start designing your own custom digital invitations? Get started here
A huge thanks to Jeff and Shannon for sharing their amazingly beautiful day with us, and thank you to all of the wonderful vendors who helped bring their celebration together.
   Catering: Bucca di Beppo
   Florist: Mother Nature and themselves
   Awesome bonus: Cigar roller
   Hair: Maddy of Madelaine's Hair Salon
   Invitations: Greenvelope.com