January 14, 2020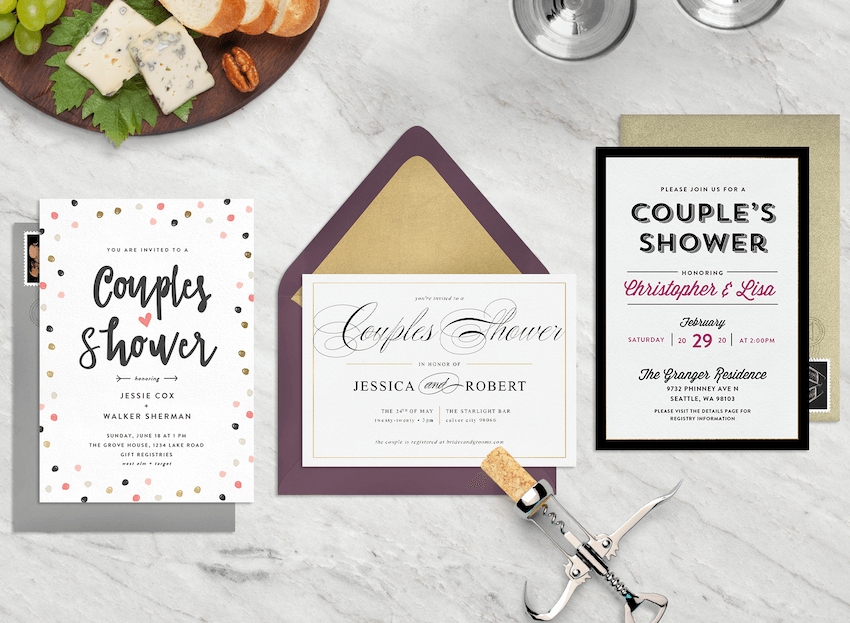 So you've decided to host a couple's shower? Sounds like fun! It's a lovely way to get all your friends and family together ahead of your big day. Plus, you don't have to worry about planning and hosting separate wedding showers or parties, which can save everyone time and money — a big plus for a busy bridal party. Once you've figured out a date and a venue for your couple's shower, it's time to start thinking about sending out invitations. To help you decide, we've rounded up some of our most-loved couple's shower invitations to inspire you.

17 of the Sweetest Couple's Shower Invitations
It's been tough to narrow down our favorites, but here's a collection of our top couple's shower invitation designs. There's something for everyone with a mix that ranges from traditional and understated to modern and bold.
Some of these designs are based on engagement party invitations or bridal shower invitations, but it's easy to fully customize the text to make it perfect for your couple's shower. This means you can use a design you love for any occasion. You can also use custom colors on most designs and include registry information on any invitation's details page. Digital invitations make it easy to personalize your invites and track your RSVPs.
1. Couple's Celebration
This gorgeous couple's celebration invitation features a neutral, modern design that makes it attractive for fans of a simple, minimal look. There's a range of themed options available, including designs with kraft and metallic accents. Customize it further with your own colors to tie it into your couple's shower theme.
2. Couple's Confetti
If you're looking for a couple's shower invitation that mixes sweet with modern, this couple's confetti design could be perfect for you. With two neutral color options plus a blush and gold version, there's something to suit everyone's taste. The bold typography and cute arrow add a romantic flair to your party invitation.
3. I Do BBQ
Hosting a backyard get-together to celebrate your upcoming wedding? This I Do BBQ couple's shower invitation is an ideal choice for a casual cookout or fabulous fiesta. With a BBQ in the foreground and a picnic-inspired gingham background, it'll get your guests excited about RSVPing to your party.
4. Raining Hearts
Add some humor to your couple's shower invites with this fun raining hearts design. With an umbrella front and center your guests will know straightaway what kind of celebration they're in for, and the hearts add a romantic touch. In keeping with the romantic theme, there are four pastel color options to choose from, or you can customize it with your own.
5. Lush Greenery
Invite your friends and family to celebrate with you ahead of your wedding with this lush greenery invitation. With hand-drawn greenery and neutral, nature-inspired tones, it's perfect for a variety of couple's showers. Whether you're hosting a themed get-together with a wreath making class or a modern party at home, it's sure to appeal to the nature lovers around you.
6. Rose Gold Botanicals
Looking for a botanical invitation with a little more sparkle? These rose gold botanical invitations are a lovely blend of nature and style. The soft, pastel neutrals make the rose gold accents really pop — for a design that catches the eye straight away.
7. Pop the Champagne
If you're hosting a couple's shower in the Summer, this bright and fun design is the perfect way to invite your guests. The hand lettering and summery color scheme make this a sweet design for brunch or for a get-together with plenty of cocktails and party games.
8. Rustic Twinkle
This rustic twinkle invitation design is an ideal choice for an outdoors, rustic-inspired couple's shower. Whether you're hosting a gathering under the stars or inviting loved ones over for a casual lunch in the yard, this nature-inspired design will have people talking. Choose from your favorite woodgrain effect with muted or striking options available.
9. Classic Lattice
Keep the focus on your celebration with this simple, classic lattice-inspired couple's shower invitation design. With a pattern that wouldn't look out of place on European tiles, this design makes you think of a sweet and sophisticated celebration. There's a handful of color schemes available, plus you can match it to your party theme with a custom color option.
10. Let's Drink to That
This understated, design-led invitation is perfect for any couple's shower. By keeping it simple, all eyes are on the details of your upcoming celebration. There are six neutral or striking color options to choose from, or you can make it your own by working with our design team. It'll have your loved ones eager to celebrate in style.
11. In the Spotlight
Put yourselves at the heart of your invitation with the in the spotlight design. With a large space for a photograph of the two of you from your engagement shoot or an at-home photo session, it's perfect for celebrations like engagement parties or couple's showers. Choose a color you love or opt for gold accents to really make the design pop.
12. Swiss Miss
This Swiss Miss invitation design is a hit with couples who love a fun, modern aesthetic. The strong typography and bold colors help make your invitation stand out. Sweet details like the heart and script fonts add a romantic touch, while still keeping the focus on the details of your party.
13. Confetti Celebration
Bring on the celebration with this fun, on-trend confetti celebration design. It's bold, interesting, and gets everyone in the mood to celebrate with you. The eye-catching gold balloons are complemented by a selection of pastel and striking dark backgrounds, or customize it to match the theme of your couple's shower.
14. Engagement Bands
Make a statement with this striking engagement bands celebration invitation. When this lands in your loved ones' inboxes they'll be sure to smile. Pair the metallic accents with a beautiful photograph of the two of you for something that'll get everyone excited about your story. Choose between light and dark backgrounds based on what suits your photo best, or personalize it with your wedding colors to match your upcoming wedding invitations.
15. Sorrento Tile
Planning a destination wedding? This sorrento tile design is perfect for inviting friends and family to your couple's shower ahead of the big day. The hand painted design is inspired by southern Italy, with a color palette that works for both modern and traditional celebrations. Make your details really stand out with a brush of metallic gold.
16. Waffley Wedded
This fun couple's shower invitation is perfect for foodies planning a brunch get-together. It's a perfect balance of whimsical and chic with hand drawn illustrations that really catch the eye. The softly textured background makes the illustrations pop, while the playful, handwritten font calls for your guests to take everything in.
17. All the Photos
This modern couples bridal shower invitation design gives you the perfect opportunity to share some of your favorite engagement shoot photos with friends and family. Your couple's shower is a fun way for everyone to get to know each other and discover more about the two of you as a couple, so why not start now with a few of your most-loved snaps. Tie it into your shower further with photo cards dotted around the room.
Invite Your Couple's Shower Guests in Style
Whether you opt for a striking graphic invitation or let your engagement photos do the talking, your couple's shower invitation is sure to get people excited about what's to come. It's the perfect occasion for them to celebrate your love story ahead of your wedding day, and the fun starts with your invitation landing in their inbox. Find a design you love, customize it to suit your style, and send it out for your guests to enjoy.