February 15, 2017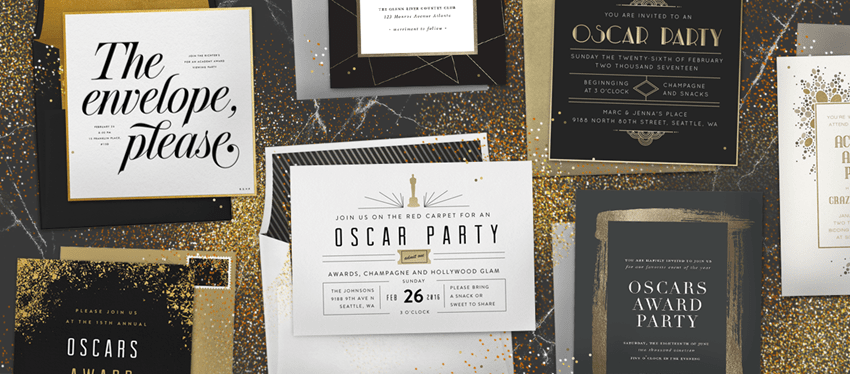 The night of all things glittery and golden is quickly approaching (and we couldn't be more excited!) There's no reason to not host your own red carpet evening—inspired by everything Hollywood does best (awards, movies, and glamour!) It's the most anticipated award show for a reason, so invite your friends to curl up, get cozy, and watch all the festivities in the comfort of your home. Here are our recommendations for pulling off the perfect Oscar Sunday celebration.
Drinks
It's the Oscars, so don't be afraid to pop a bottle (or two!) of bubbly and toast to your favorite celebs in style. From the classic French 75 to a sparkling Champagne Mojito, there are so many choices when it comes to crowd-pleasing cocktails. Brit + Co has 10 award-worthy recipes that are perfect for both intimate or large-scale Oscar viewing parties.
Snacks
Sweet treats and finger foods are a must. The key is to create a balanced menu with options that are elegant enough for the red carpet but realistic enough of a low-key party. From seasoned popcorn to Mini Black-Bottom Cheesecakes, Food & Wine has a variety of simple recipes that fit that perfect balance. A cheese plate is also a good snack to munch on throughout the evening (and easy to put together with these tips from Real Simple!)
Attire
You could go either way here: fancy or cozy. Keep in mind that Sunday night means Monday isn't far away. It's likely your guests won't want to commit to an ultra dolled-up occasion. We recommend promoting a dress code that's cozy and comfy (the RSVPs will roll in!)
Send Digital Invitations
Select a digital design that sets the tone for the theme of your party—in this case, anything with art-deco inspiration and maybe a touch of Hollywood glamour. Keep in mind that managing your event will be dramatically easier by going digital, especially when it comes to tracking RSVPs. The sooner you know how many people can attend, the easier it will be to plan other details like the amount of needed food and cocktail ingredients. Browse our full collection of Oscar-inspired designs here.
Games
The star of the evening will the be award show itself, but you can keep you guests entertained through the rush of commercials and any speech that runs a little too long. HGTV has free, printable bingo cards and scorecards that are sure to be a fun addition to your party.
How will you spend your Oscar Sunday? Share your favorite party planning details with us in the comments section below or on Facebook!