November 13, 2022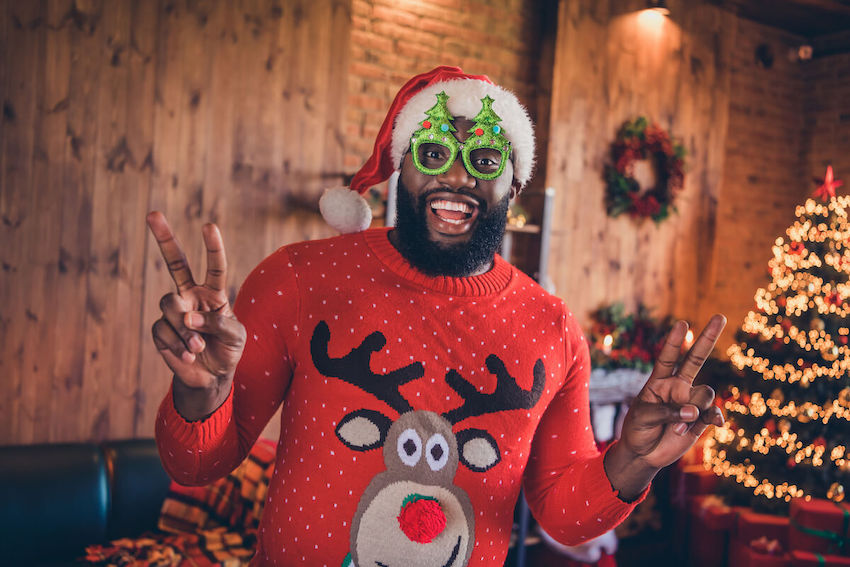 Ready for a holly, jolly, hilarious holiday? Throw an ugly Christmas sweater party! This holiday party theme offers plenty of light-hearted fun during the most wonderful time of the year. To help you plan the ultimate ugly sweater soiree, we're sharing our top party planning tips, plus DIY ugly sweater ideas and invitations that are sure to make guests laugh.

Planning Tips for Your Ugly Christmas Sweater Party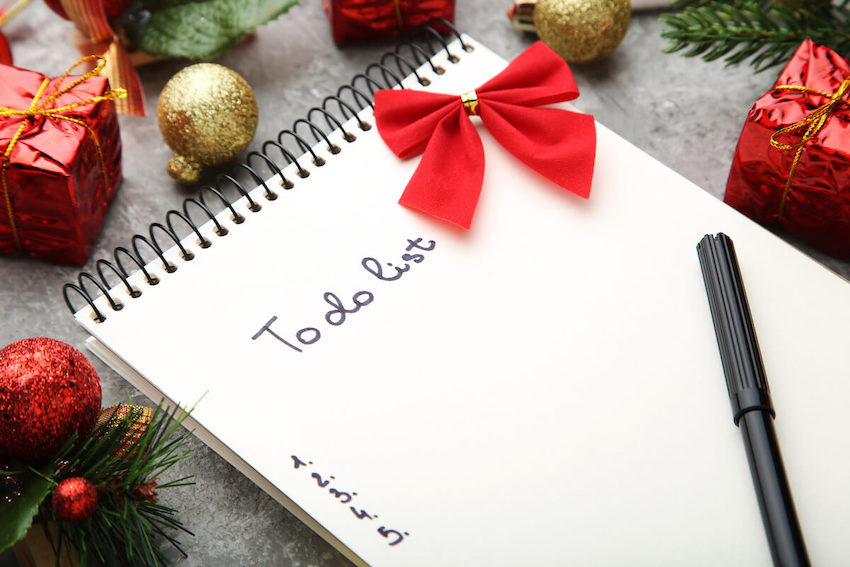 Throwing an ugly Christmas sweater party is like hosting most other events. You need to invite guests, choose a venue, and plan your food and entertainment. Of course, you'll also want to hold an ugly Christmas sweater contest. Here's a quick party planning checklist to kick things off.
Choose a Date and Time

: Most Christmas parties take place before December 25, but feel free to choose a date that best fits your schedule. An evening affair is most common, but host a brunch if that's more your speed.

Choose a Venue

: Once you know when you want to host the ugly sweater party, it's time to pick a venue. You can have the event at your home, a friend's house, or a local brewery or restaurant. One benefit of choosing a public space is that you won't have to spend so much on decorations since it's already likely to be decked out for the holidays.

Make a Guest List and Send Invitations

: Figure out who you want to invite and choose a fun invitation that matches the theme. Send invites three to six weeks in advance and set an RSVP deadline. With Greenvelope, you can customize any

Christmas card

or

entertaining invitation

to suit your celebration.

Plan the Menu

: Ugly sweater parties are fun and festive and your menu should be no exception. Whether you serve a full meal or stick to appetizers and snacks, there are many

different foods you can make for your ugly sweater party

, including Santa truffles and Christmas Lights Bark.

Arrange Entertainment

: Keep the fun going all night long by playing Christmas movies, singing Christmas carols, and making Christmas crafts. You can have an ugly sweater-making party where everyone designs their own ugly sweater and wears their creation the rest of the night. Other

Christmas party games

like a candy cane hunt and holiday party charades will also keep the fun going.

Decorate the Space

: Set the scene by selecting bright and funny decor to match your ugly sweater ideas. Hang ugly cardigans around the room and use neon red and green decorations to brighten up the space.
8 Ugly Sweater Ideas for Your Next Christmas Party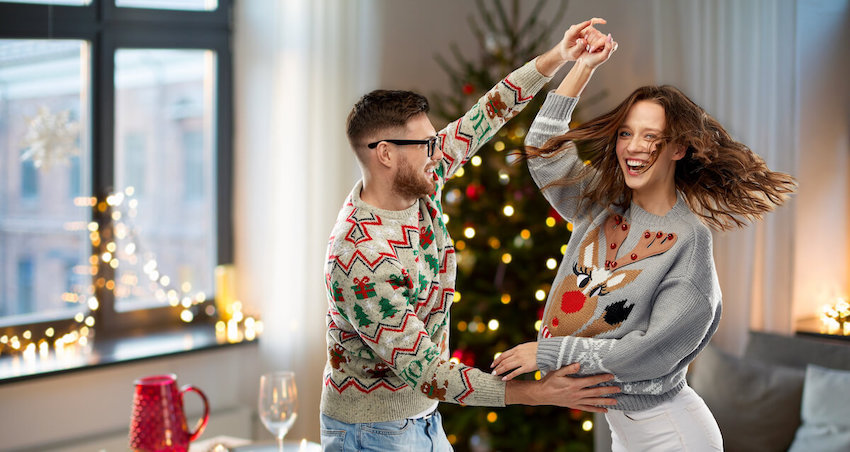 For your Christmas sweater party, you can make your own or buy one online. To make an easy and affordable DIY ugly sweater, swing by your local thrift store or dollar store to gather supplies. You may even find a one-of-a-kind sweater among the racks. 
Christmas decor like gift wrap, pom poms, ornaments, and tinsel all make quick, affordable additions to your outfit. Here are some of our favorite ugly Christmas sweater ideas you can make at home or purchase on sites like Etsy.
1. Advent Calendar Sweater
Count down the days until Christmas with an advent calendar sweater. Sew the numbers onto the sweater or turn them into pockets where you can stash treats to hand out to friends at the party.
2. Tinsel Sweater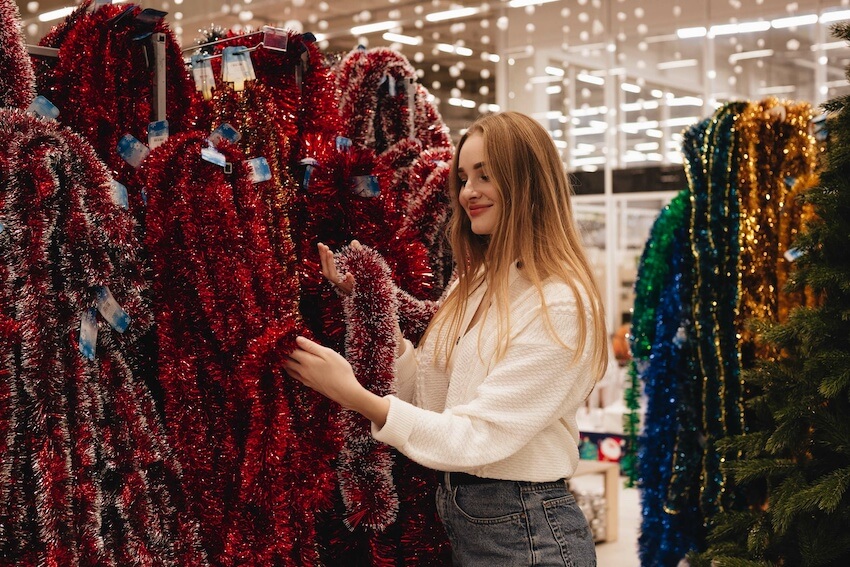 Shimmer and shine with a DIY tinsel sweater. All you need is an old sweater (a cardigan or sweatshirt is ideal), a hot glue gun, and tinsel in the color of your choice. Add elements like poinsettias, battery-powered Christmas lights, or snowmen figurines to take this look to the next level.
3. Light-Up Snow Globe Christmas Sweater
If you really love a DIY project, try your hand at a light-up snow globe Christmas sweater. Featuring a plastic terrarium bowl as the snow globe, you can fill this design with all sorts of Christmas characters — from snowmen and gingerbread men to candy canes, jingle bells, and snowflakes.
4. Mounted Deer Sweater
Tacky and oh-so-festive, a mounted deer sweater will hit its mark. With a mounted plush deer head, Christmas lights and ornaments, and faux garland, it's an over-the-top, prize-winning ugly sweater idea that'll keep your guests fa-la-la-la-laughing. 
5. Tacky Rudolph Christmas Sweater
For one of those classic ugly sweater ideas that's easy to pull together at the last minute, you can't go wrong with a tacky Rudolph sweater. Simply grab one of your old sweaters and deck it out with felt antlers, cut-out glasses, and a red pom-pom for Rudolph's nose. You can amp up the bling factor with glitter spray or leave it as-is for a simple yet classic ugly Christmas sweater. 
6. Tulle Christmas Tree Sweater Dress
If a simple DIY ugly Christmas sweater isn't enough to get your Christmas spirit up, try making an entire ugly sweater dress instead! Using layers of green tulle and an old dress, you can turn yourself into a Christmas tree — and the life of the party. Christmas ornaments and a tree topper headband complete the look.
7. Frosty the Funky Snowman Sweater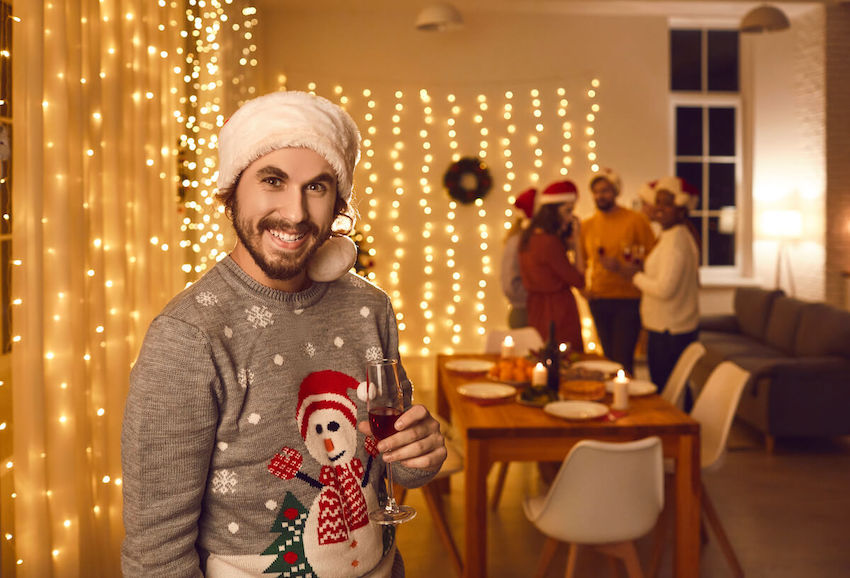 You can always opt for a ready-made snowman Christmas sweater. But if you want to step up Frosty's game into full-on funkiness, use a hot glue to add some tacky elements — like a felt carrot for his nose, tinsel for his scarf, and jingle bells for his cap. Oh, and don't forget to wear a Santa hat yourself!
8. Grinch Pullover
Win the prize for the ugliest Christmas sweater and make the judges' hearts grow three times bigger with a Grinch-themed pullover that works for kids and adults alike. Adorned with glittering lights and jingling bells, you're sure to make an entrance.
Funny and Festive Ugly Sweater Party Invites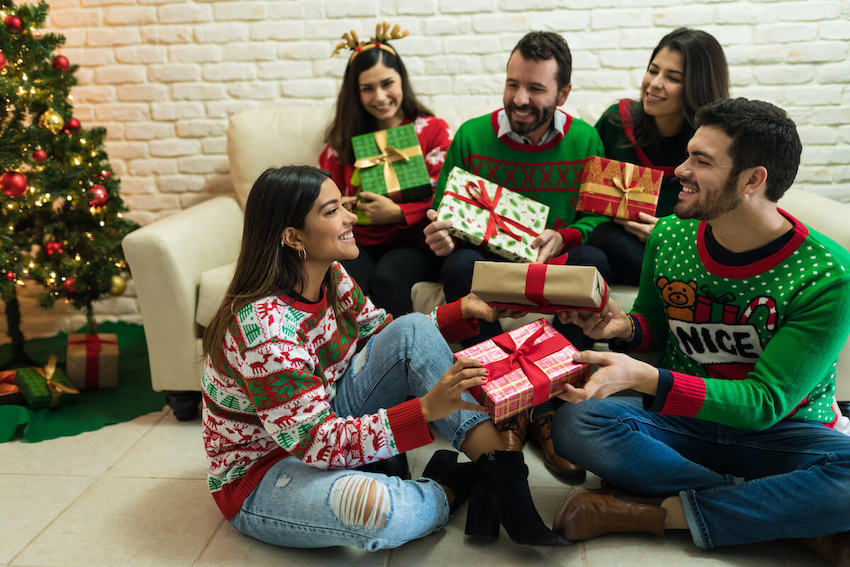 Ready to deck the halls with tacky sweaters? Greenvelope has you covered with dozens of holiday invites that are perfect for light-hearted and silly holiday events. You can also customize any ugly sweater invitation by changing the message, color palette, and typography. You can even add music that plays when guests open the digital envelope. 
For a truly one-of-a-kind tacky Christmas sweater invite, upload a custom design — just like the DIY queen or king that you are. Here are some of our favorite ugly sweater ideas for your invitations.
1. Get Ugly Invitation
This ugly holiday sweater invite features knit designs of holiday favorites including reindeer, snowflakes, and Christmas trees. Use it to invite guests to get ugly with you this festive season.
2. Oh What Fun Invitation
Holiday parties are fun, but ugly sweater parties are the most humorous events of the season! Invite guests to join you for a night of holiday frolicking with this bold and joyful invite.
3. Ugly Sweater Invitation
Guests will LOL when they see this ugly sweater invite. The cut-out design features an ugly sweater and is available in several colorways to match your theme.
4. Let's Get Ugly Invitation
'Tis the season for hot cocoa, Christmas carols, and ugly sweaters. This holiday invite features an oversized sweater and an invitation to dress to impress for an ugly sweater contest.
5. Iconic Santa Hat Invitation
This Santa hat invite is ideal for a holiday party where guests can enter the ugly sweater contest and Christmas karaoke battle while sipping on hot cocoa. It's modern and glam while still being casual, making it ideal for a range of holiday parties.
Get Festive This Holiday Season with Tacky Sweaters and Loads of Laughs
With these DIY ugly Christmas sweater ideas and party planning tips, you're sure to have a memorable event this holiday season. For even more festive options, don't miss our selection of entertaining invitations, plus Christmas party ideas that are sure to help you sleigh the day. Happy holidays!