December 16, 2014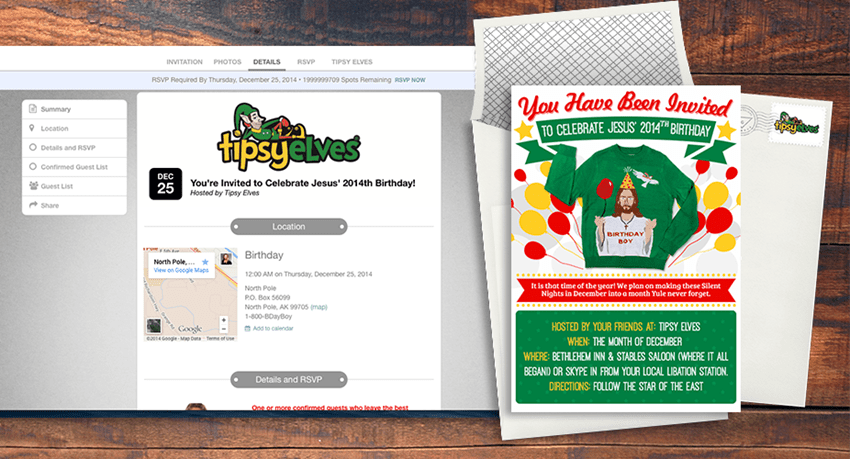 Especially during the holiday season, getting your message in front of your audience is an uphill battle. With the onslaught of seasonal advertisements and promotions that bombard consumers from October through December, it isn't surprising that seasonal email marketing often translates into white noise and wasted marketing dollars.
But what does that mean? That you should give up on seasonal promotions? Quite the opposite, actually. Instead of falling into a slump or getting lost in the crowd, take a page out of the Tipsy Elves playbook and implement a little bit of creativity to truly stand out in the inbox.
When designing their holiday email campaign, this one hits the mark in three important ways:      1. Surprising      2. Funny      3. Valuable
Surprise!
Instead of sending a typical newsletter email, Tipsy Elves utilized a Greenvelope invitation for a surprising and engaging customer experience. By uploading a custom design, they seamlessly integrated humorous brand-relevant imagery and verbiage to showcase one of their holiday sweater designs in a new and interesting way. (Who wouldn't be stoked to get an invitation to Jesus' birthday in their inbox?!) See Jesus' birthday invitation for yourself here!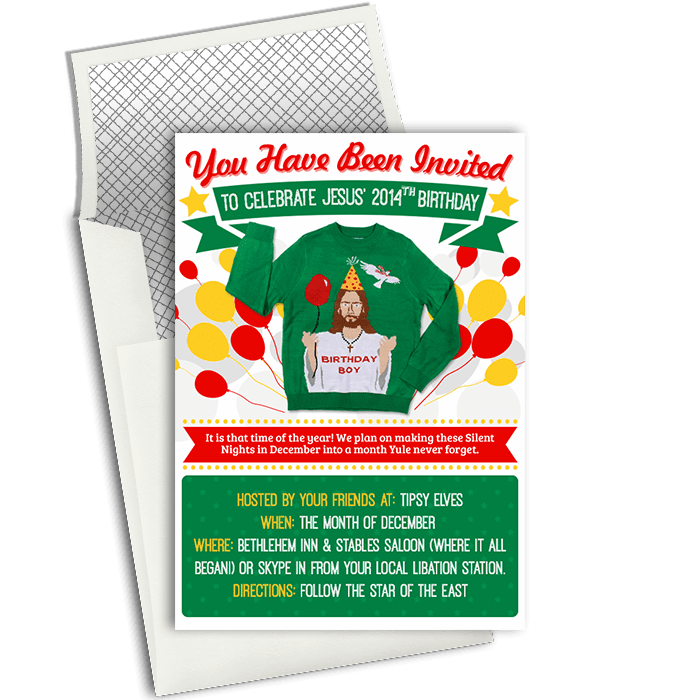 Value
The value here is clear: Ugly Sweater parties are a winter staple, and here is a trademark Tipsy Elves sweater right in your inbox. On top of that, they also offer an opportunity to win a $200 gift card to purchase your sweaters, onesies, and swants (AKA sweater pants) through Tipsy Elves.
One or more confirmed guests who leave the best message to JC will receive a $200 gift card to TipsyElves.com!

Aside from building relationships and creating engagement with customers, this fun call to action led to plenty of laughs. 

We will be there with bells on! Will there be valet parking for our camels?

This celebration is going to off the hizzy fo shizzy – wouldn't miss a party with my boy JC can't wait

Cheesbus! How's my favorite brotha from a virgin motha doing? Thanks for the invite, dude, I'll be there. I hope this party is as epic as the one you had at Easter. Speaking of which, where did you go that weekend? You totally disappeared and left me with those ugly chicks. Not cool, bro. PS. I'm coming with Mary-Mag, I hope that's kosher.

My Boy!!! You know I wouldn't miss this for the world. I am ready for the Pose-Off. – T. Tebow

Hey J. Cizzle! Kim & I ain't comin'. You say to follow the East Star, but we only follow the Star known as North West! – K. West
The Elusive Open Rate
So, the Tipsy Elves team did a lot of things right when creating their marketing campaign, but all of the hilarity and value of an email makes no difference if no one opens it. With previous mailings through other sites, their team experienced an average open rate hovering around 22% and maxing out at 28%. For this particular Greenvelope.com holiday mailing, open rates hit 33% within the first 2 days, and hit nearly 50% within 4 days!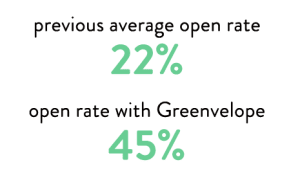 A 200% increase in email open rates? That's not just any old holiday magic, that is the signature magic of Greenvelope.
Nick Morton, founder of Tipsy Elves, said:
"At Tipsy Elves we always enjoy engaging with our customers in fun and unique ways. Sending out a birthday invitation to Jesus' 2014th birthday party hosted by Tipsy Elves and using Greenvelope was an exciting way to utilize a new online medium to promote our brand and our products. We were very happy with the results. We arrived at a nearly 50% open rate for the invitation which is extremely high for any type of email marketing campaign. In addition there were hundreds of user-generated messages posted to the Greenvelope invitation explaining all the fun things they plan to bring to Jesus' Birthday on December 25th! We had a great time with the promotion and I believe our customers did as well. Hopefully there will be another opportunity in the future to work with Greenvelope again. "
So for Tipsy Elves, the secret sauce for promotional success was being surprising, being funny, and providing value. When connecting with your clients, customers, and subscribers this holiday season, and year-round, how do you make your marketing stand out? Tell us in the comments section below, or start a free trial to see how Greenvelope can work for you!
Visit the Tipsy Elves website here: http://www.tipsyelves.com