January 2, 2015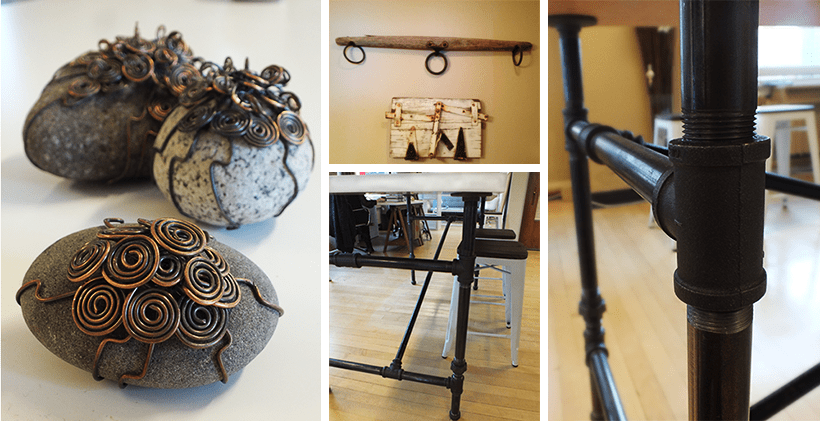 In this new day and age, more and more companies are seeking to be eco-conscious. While not everybody can install solar power and other expensive gadgets, there are earth-friendly (and often money-saving) things we can all do! Upcycling is the act of reusing discarded or recycled material, and it's a great way to not only stay green, but also save money and show your creative side! Without further ado, here are some practical and decorative ways you and your team can upcycle in the office.
PERFECTLY PRACTICAL
1. Old Newspaper to Keep Things Clean
Have you ever wondered what happens to the newspaper delivered to the door every morning? Chances are one of your co-workers will toss it into the recycling bin without a second glance. Try saving the newspaper, and the next time  you need to scrub some windows or your desk the newspaper will work great.
2. Upcycled Furniture
Everybody loves IKEA furniture, but have you ever thought about adding your own style to it? When moving into our downtown Seattle office, our CEO and Founder added some functional, upcycled style by putting a new twist on an IKEA classic. Instead of buying a base for the classic white lacquer tabletop, he utilized discarded pipes to serve as the table legs.
3. Old books as lifts
A large majority of jobs today require sitting behind a computer all day, which can not only strain your eyes but can be bad for your posture as well. A great way to remind yourself to sit up straight, or even stand, is by elevating your laptop or monitor. Where do you find these portable, convenient, makeshift stands? Instead of tossing those old textbooks, law books, or encyclopedias that you never use, you can utilize them to lift your desktop setup.
DELIGHTFULLY DECORATIVE
1. DIY Centerpieces
Nobody has the time or money to buy new flowers for your office centerpiece every week, not to mention water them daily! Instead, try upcycling your centerpiece! Here at Greenvelope.com, we utilized some rocks and old copper wire to create this beautiful DIY centerpiece! If you're looking to get inspired to create artwork, centerpieces, or office decor, look no further than your local Habitat for Humanity ReStore.
2. Shelves from ladders or old books
Exactly how much time have you wasted driving to and from IKEA, and don't even get us started on assembling the furniture! Add a little flair to your office by utilizing old books, or unused ladders as shelves! Not only does it save time and money, it's also portable and saves space!
3. Repurposed artwork
Henry David Thoreau once said that " The world is but a canvas to the imagination." This definitely applies to art as well, and we at Greenvelope.com strongly suggest using your surroundings to create art. Whether it's repurposing old furniture to create a sculpture, creating a masterpiece out of your latest nature finds, or using old boards as a painters canvas, repurposed artwork is the perfect way to not only save money and materials, but also to show off your office's unique personality and character.
What other ways do you upcycle or go green around the office? Tell us in the comments section below for a chance to be featured in an upcoming post!
You can get started going green with invitations, cards, promotions, and more with a free trial here.