February 20, 2019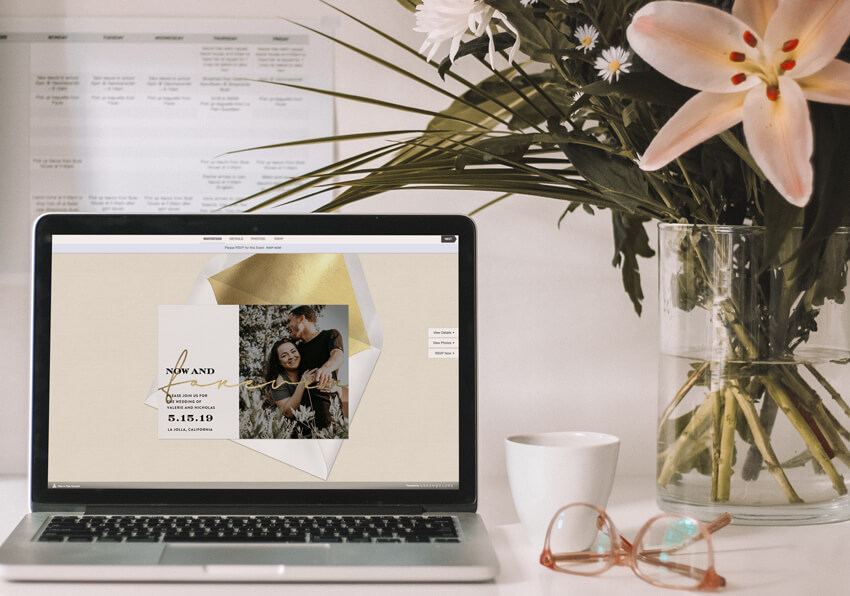 So you've found that ideal invitation design and you're on your way to customizing it to perfection. Sure, the date, time, and location might be top of mind when it comes to your event invitations, but don't overlook functionality that can help make the planning process effortless (for both you and your guests!) Below are some key features that you won't want to overlook as you build your Greenvelope invitation.
Don't Forget to Personalize Your Subject Line
This may seem somewhat obvious, (and don't worry, we won't let you send without a subject line), but personalizing your subject line is the best way to increase your open rate. Imagine seeing a nonspecific subject line like "Invitation" or "Party" in your inbox – not rushing to open it are you? We suggest letting your guests know what they're being invited to by customizing the email subject line to your event. Here are some examples of successful event invitation email subject lines:
You're invited to Our Summer Party
Reserve Your Seat at the Annual Spring Gala
You're Invited to Michelle's Baby Shower
Join Us in Celebrating Yvonne's 21st Birthday
Take Advantage of All the New (And Classic) Design Options for Your Envelopes
Impress guests before your invitation is even opened. From stamp assortments and paper textures, to patterned liners and cohesive typefaces, Greenvelope's design functionality can help you create an envelope that beautifully complements your invitation. We've spent the last year adding new envelope styles, new liners and even the ability to add a wax seal to your envelope, so you will truly be able to make the envelope custom to your event.
Make Your Card Sing by Adding Music
We can't think of a better way to bring the theme of your event together than to add a song. Go ahead and add your favorite disco song to your 70's Costume Party invitation. Getting married? Maybe add the song you and your partner first slow-danced to. Music is a great way to tie memories and emotion to your invitation.
Need an Exact Headcount? Let Your Guests Know Who and How Many People Are Invited Using Advanced RSVP Options
This functionality is perfect for avoiding texts and calls from guests asking if they can bring a friend at the last minute. Just include a plus-one policy in your invitation, and you'll be able to get an accurate headcount early on. For families and couples, instead of simply adding "and guest" to their RSVP page, you will be able to use our linked contacts feature to include all names, so they can quickly let you know exactly who is coming.
Get More Than Just a "Yes" or "No" from Guests by Including Survey Questions on the RSVP Page
There's a good chance you'll need to collect more than just RSVPs from your guests. Depending on the type of event you're planning, it might be helpful to collect meal preferences from your attendees, or perhaps shirt sizes from a group of volunteers. Or, maybe you're planning a weekend full of wedding events and you're interested to know who will be attending each of your specific events. Regardless of the type of event, gathering guest details will be effortless with survey question functionality.
Collect Payments and Donations at the Same Time You Collect an RSVP
While not needed for all events, allowing guests to purchase a ticket directly through the RSVP page can help streamline the process for any ticketed event. You will even be able to scan tickets in as guests arrive using our EventWorks check-in application. Beyond paid tickets, you can also provide free tickets, the option to donate, and sell items.
If Needed, Print a Few Copies of Your Invitation
While digital invitations provide a lot of benefits, we also understand that some invitees might appreciate a paper invitation, or you may want a physical copy as a keepsake. If that is the case, don't miss the option to download a high-resolution version of your invitation design that you can print out at home or with a local printer.
Include an RSVP Deadline to Ensure You Get Responses When You Need Them
We all have friends and family members who are the serial procrastinators. To help nudge them along, an RSVP deadline is the perfect solution to getting a timely headcount. With just a couple clicks, Greenvelope makes it easy to set an RSVP deadline that will gently nudge your guests for a response. Depending on your event type (and perhaps your guest list), you can also opt whether to continue accepting RSVPs after that date or not.
Automatically Schedule Follow-Ups
This is maybe one of the most commonly missed features and goes hand-in-hand with making sure the aforementioned procrastinators do not forget to RSVP. For those that have already submitted their RSVP, you will also be able to schedule a separate Event Reminder that will go to all attending guests, just in case they forgot any of the details. Simply choose the times and dates that you want these reminders to go out and we'll make sure they go out to the relevant guests.
Create a Seating Chart Directly from Your Guest List
Once your invitation has been sent out and RSVPs are finalized, there are still more features to help make managing your event that much easier. Use our built-in Seating Chart tool to layout tables and assign attending guests to their seats. With the click of a button you can automatically assign guests to tables by couples and families, or manually assign your guests to the right table for them.
Save Key Information to Your Computer
While you can view all of your tracking and guest information on Greenvelope.com at any time, you can also download this information as a file. This seems like a small feature but is extremely valuable when working with a caterer and they need to know how many people are coming and what meals they have selected. Simply send them a spreadsheet with all this information. You can even provide them your seating chart, so they know where everyone will be sitting.
This is by no means all of our features, but a few of our favorites that you certainly won't want to overlook. You can test all of the features that digital invitations have to offer for yourself by signing up for a Greenvelope trial here.