December 19, 2013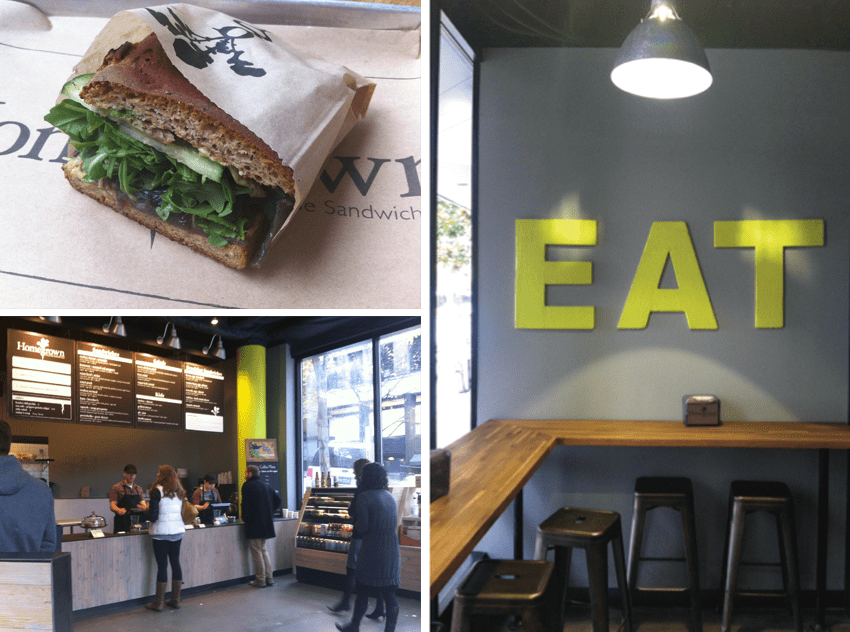 Every now and again the Greenvelope team enjoys a company lunch together. One of our favorite Seattle spots is the newest downtown location of  Homegrown. Homegrown is a specialty sandwich shop started by a native Seattle duo, Brad and Ben (big time sammie guys). They've created a brand dedicated to bringing their customers the best ingredients that Washington has to offer. Homegrown sources local,  organic and sustainable ingredients whenever possible, and are always keen on creating the best seasonal faire. One of our favorite aspects of Homegrown's commitment to sustainable food systems is their transparency. Not only do they show customers that they mean what they say, but they provide people with the resources and thought-provoking ideas to help people apply these concepts to the way they look about food all the time. Clearly, we're in love. Congratulations to this awesome Seattle company who just opened their fifth location today!
 
GREENVELOPE FAVORITES
Lauren: My favorite sandwich changes regularly because I usually try the sandwich of the month. They're typically veggie-based, and I'm always blown away by Homegrown's ability to include inventive things like peas and broccoli in a sandwich. They really nail the flavor and texture. They've made me reconsider acceptable sandwich fillings, and that is an impressive feat. I remember when I first heard that Ben and Brad wanted to start a sandwich shop, when we were all still in college and I thought, "well yeah. obviously."
Sam: My go to sandwich is the Turkey, Bacon + Avocado, but honestly you can't go wrong with any of their sandwiches. My favorite part about homegrown is they don't cut corners for any of their ingredients – not event the salt, which is top notch!
Caseysimone: I try and switch it up every time I go, but I've fallen in love with their caramelized onions, so I find myself defaulting to their Portobello and Goat Cheese sandwich. The balsamic marinated portobello is perfectly complimented by their caramelized onions and pesto, with toasted gluten free bread (made in house!) it makes for the perfect winter sandwich.