June 9, 2015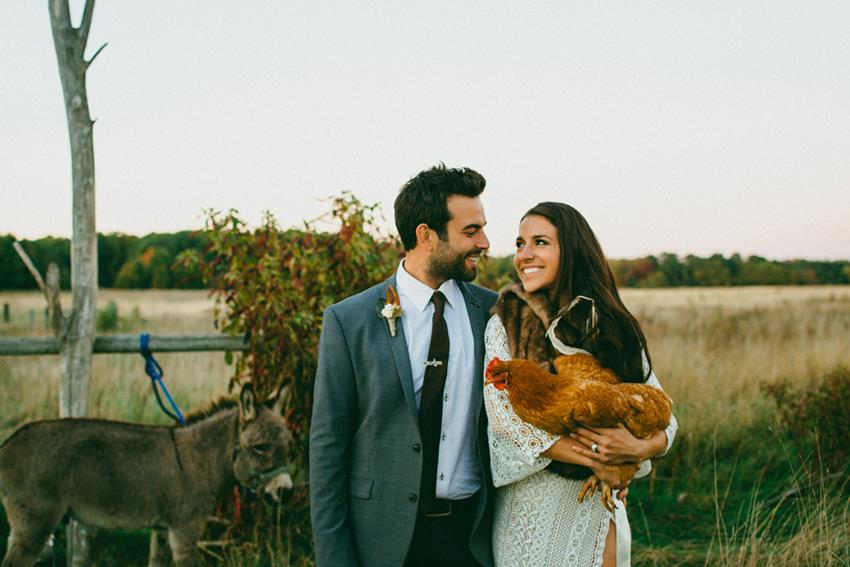 After being together for almost 10 years and living together for over 8 years, Bianca and Tad finally decided to tie the knot. By foregoing the typical wedding formalities and opting for a celebration that was a full representation of the things they loved and were important to them, their Eternal Connection wedding was certainly an occasion to remember. Held on their farm in Michigan, it was a weekend filled with love, shared seasonal fare, dancing, morning yoga, and too many beautiful details to list… all captured beautifully by the incredible Caroline Ghetes Photography.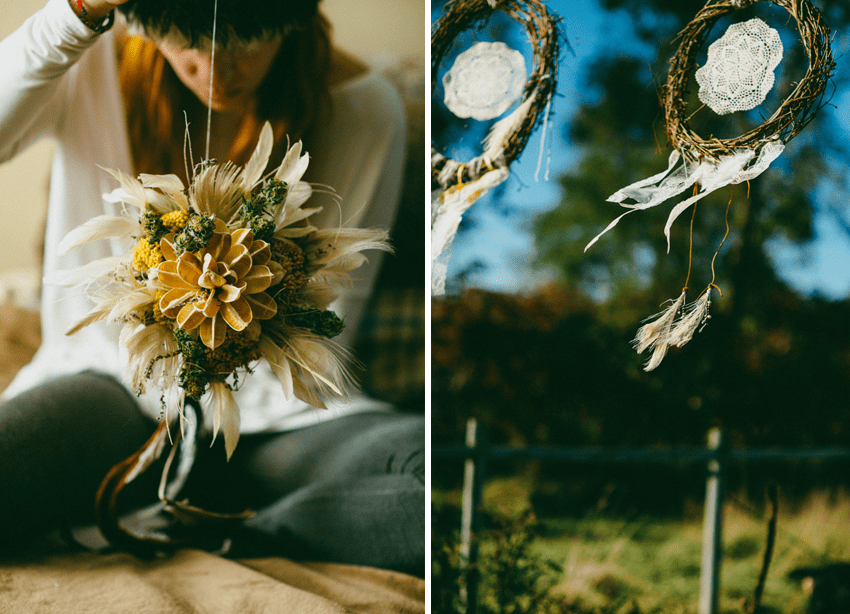 "We are all about sustainability and saving the planet so re-using things we owned already instead of buying new was a big influence as well as keeping the décor natural. Buying expensive flowers that are shipped in because they are out of season did not make sense to me, so I picked and dried flowers and other plants that were in abundance in the fall in Michigan. For additional décor I picked disregarded apples from the orchard across the street and put them into boxes stacked up, used them on the tables as well as a beautiful assortment of gourds that my husband bought for 50 cents each from a farmer's market. We made dream catchers from dried branches from the farm with dangling feathers and a floating doily in them for the wedding alter."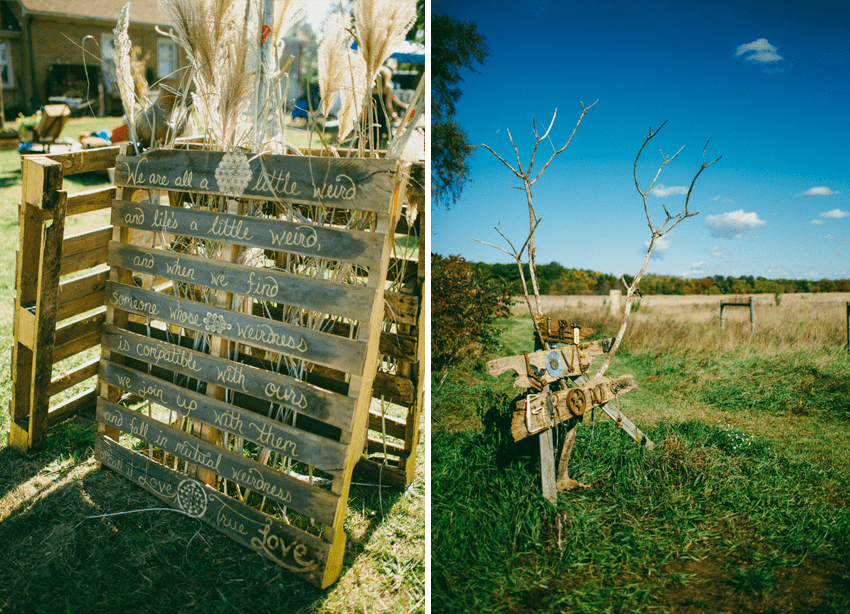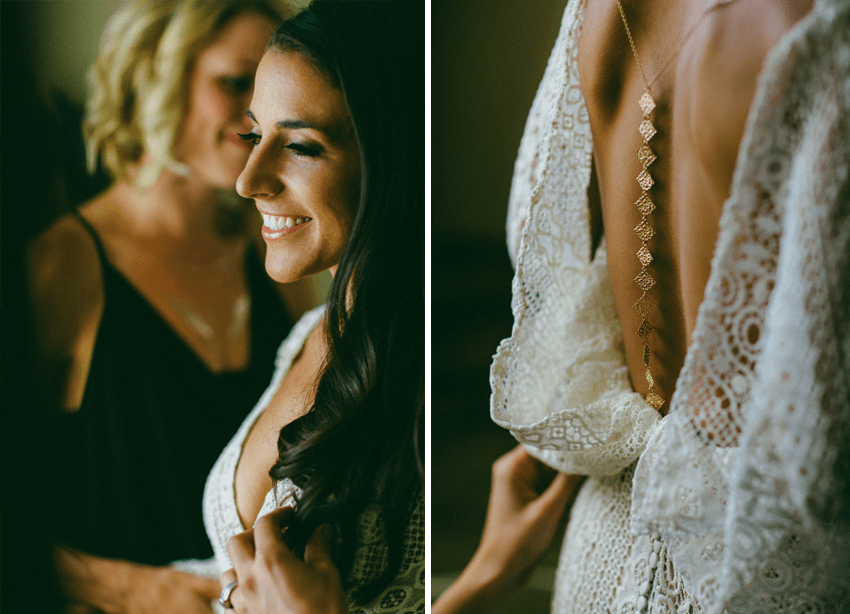 Bianca had a vision for her stunning dress, from which she created a design and had custom made by Julia Needleman. Her feather accessories were from SpiritTribe, and her hair was flawlessly styled by Matthew Robert Blashka of Milano Hair Design.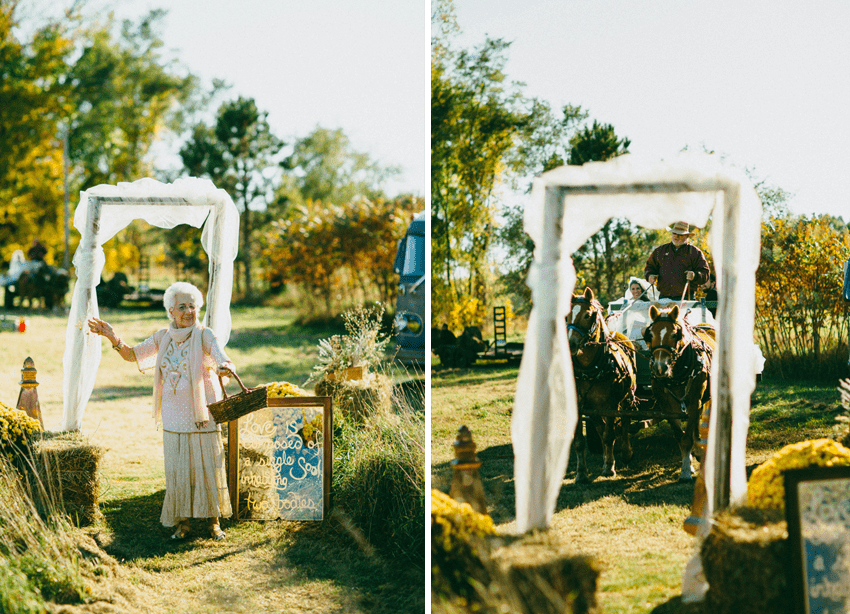 "My 97 year old Grandmother was my flower girl, her name is Carolyn so she came in dancing to Sweet Caroline, and she was rocking out to the entire song (people have not stopped talking about this)!  The whole weekend was magical beyond belief and I am not entirely sure how I pulled it all off in 3 months, but the day was BETTER than I had ever DREAMED the day could be. I am definitely thankful for Greenvelope for helping my sanity leading up to the big day."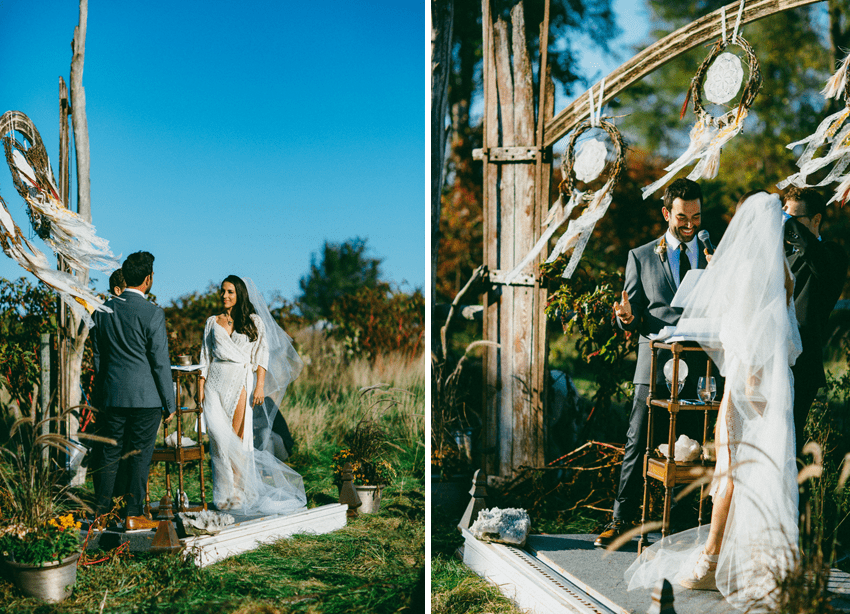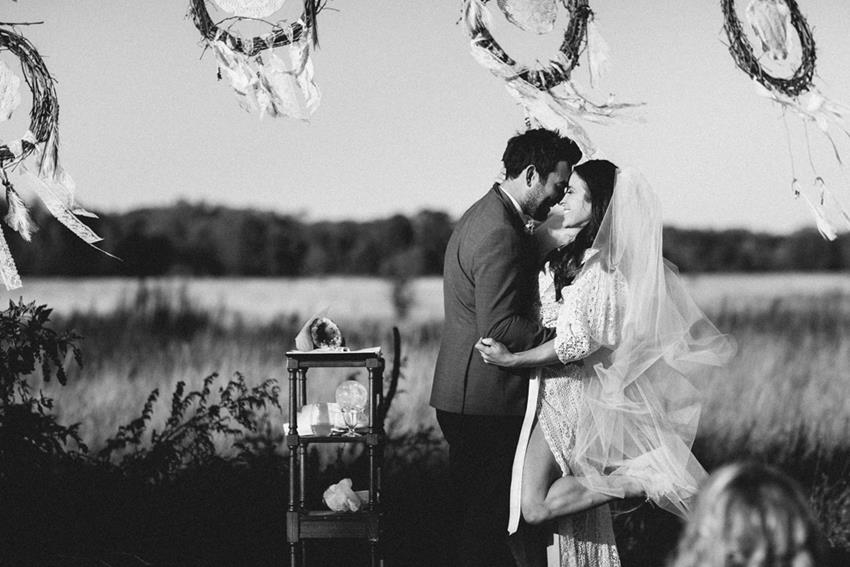 Instead of the standard ring ceremony, Bianca & Tad signified their connection through a honey ceremony. As read by their minister & friend Dustin, "One of the most appropriate metaphors for love, honey is a universal symbol for the sweetness of life. For centuries, cultures around the world have incorporated the delicious nectar into their celebrations. For Tad and Bianca, it is their first taste together of the sweet life that lies ahead."
"As together you now share this honey, so may you now share perfect love and devotion to each other, share your lives together, and thereby may you find life's joys doubly gladdened, its bitterness sweetened, and all things hallowed by time, companionship and love."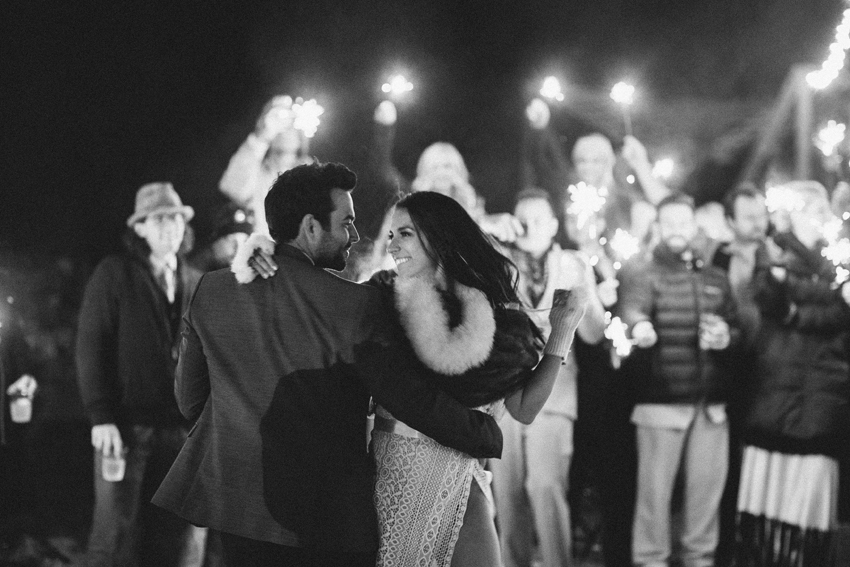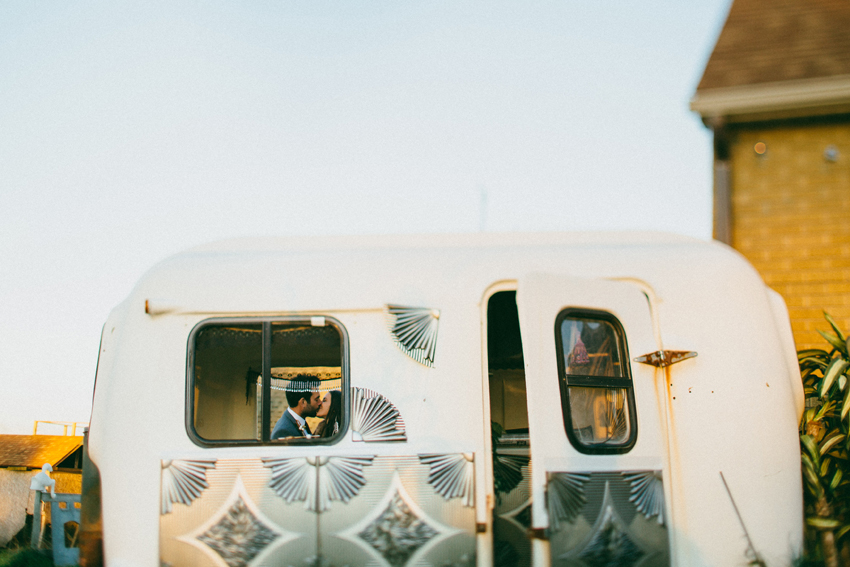 Bianca & Tad's 4 tips for couple's planning their weddings:
Don't sweat the small stuff (most are minor details, no one will notice and its not worth the extra stress)

Don't plan your wedding for 1.5-2 years. Its not going to be any more perfect with that much time and it only leaves you with way longer to stress out over each and every decision and small detail

Make choices because YOU like them or want to do something that way. Don't let anyone else's opinion weigh into it – it is your day and it should be the way you want it to do be, not the way others want it.

Don't do something just because that is the way people expect it to be. People enjoy something DIFFERENT! It will make the event more memorable for you and your guests.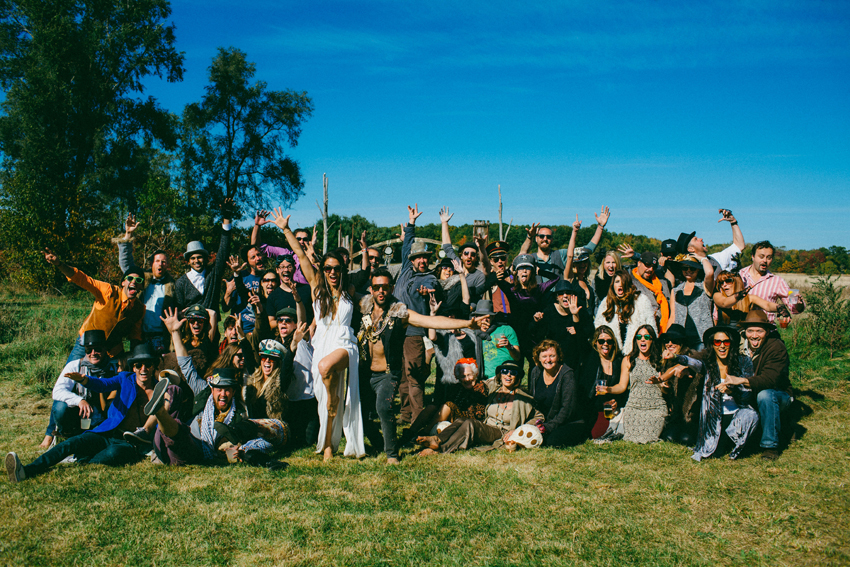 Bianca & Tad saved money and were able to extend the celebration by hosting their wedding as a weekend campout on their newly renovated farm. "This was also a chance to share the farm with so many friends to show them what we had been up to! Our Eternal Connection (which was our name for our wedding) was definitely unique and very special."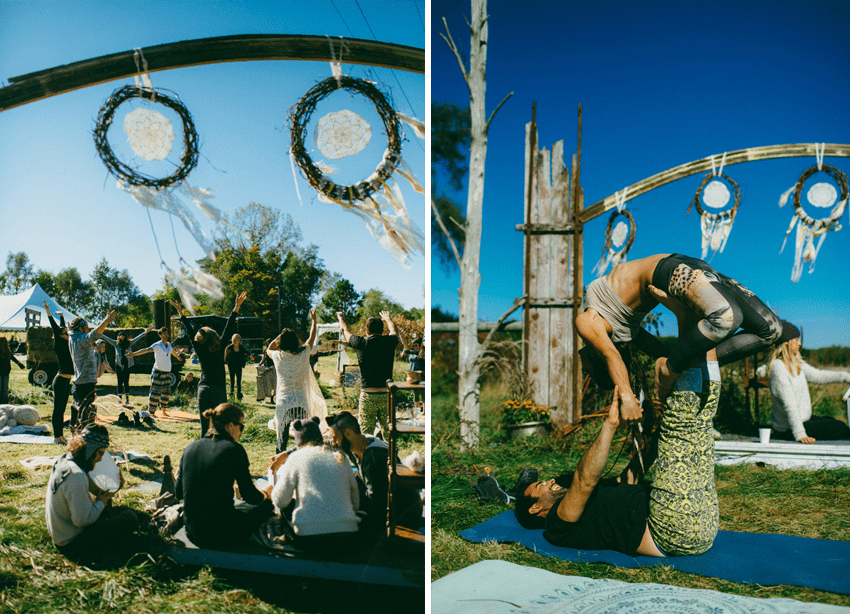 The morning after the ceremony was spent basking in the warmth of love, sunlight, and each others' company while there was plenty to do with games, group yoga, and even a local, organic smoothie truck.
"Not spending the time and money on paper invitations was huge for me, and not using paper was a top priority for my husband, so we both came out ahead! We had a lot of specific survey questions because we were serving so many meals and also accommodating some guests camping on the property while others were staying at different hotels – this was where Greenvelope really came in handy for me! I felt organized and had very little stress from the RSVP process…"
---
"Thank you for your outstanding site as well as commitment to move people away from the wasteful paper invitations.  I learned that invitations can be beautiful and unique while also being sustainable and eco friendly by creating beautiful/customizable digital designs."
---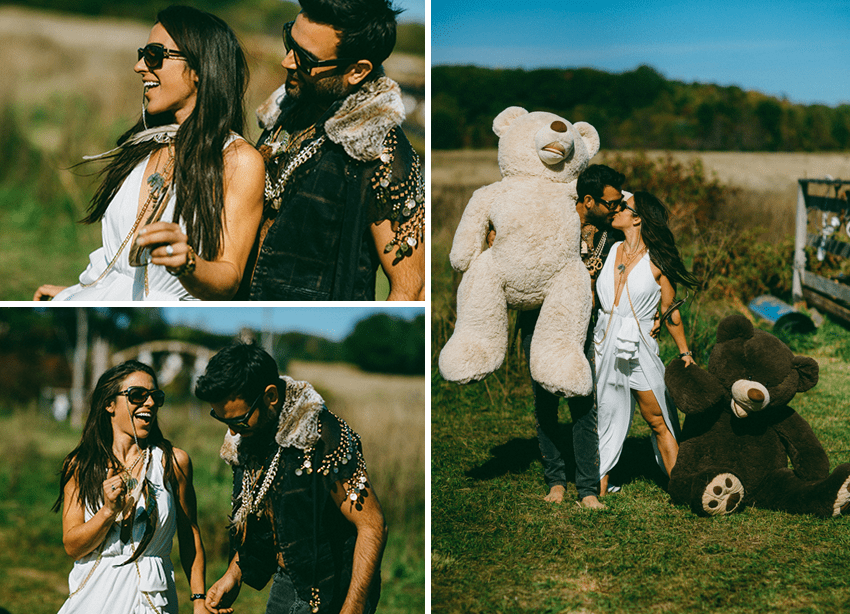 A big thanks to Bianca & Tad for sharing their story and special celebration with us. Here's to a lifetime of happiness for this gorgeous, glowing couple. We have a feeling the honey of life only gets sweeter from here.
Start designing your Greenvelope wedding save the dates, invitations, or thank you notes with a free trial here.
Thank you to all the lovely & talented vendors who helped bring the day together:
Photography: Caroline Ghetes
Catering: Gorilla Gourmet, Dan Fry, Smoothie Operator Food Truck
Bouquet & matching boutonniere: AFoxWedding https://www.etsy.com/shop/afoxwedding
Feather accessories: SpiritTribe 
Dress: Custom made by Julia Needleman
Cake: West Town Bakery 
Rentals: Michiana Tent & Event Rental
Solar Powered Sound & Lighting: SOLARBEATZ 
Hair: Matthew Robert Blashka from Milano Hair Design
Videography: Sights & Sounds / Seth Bunting