July 10, 2023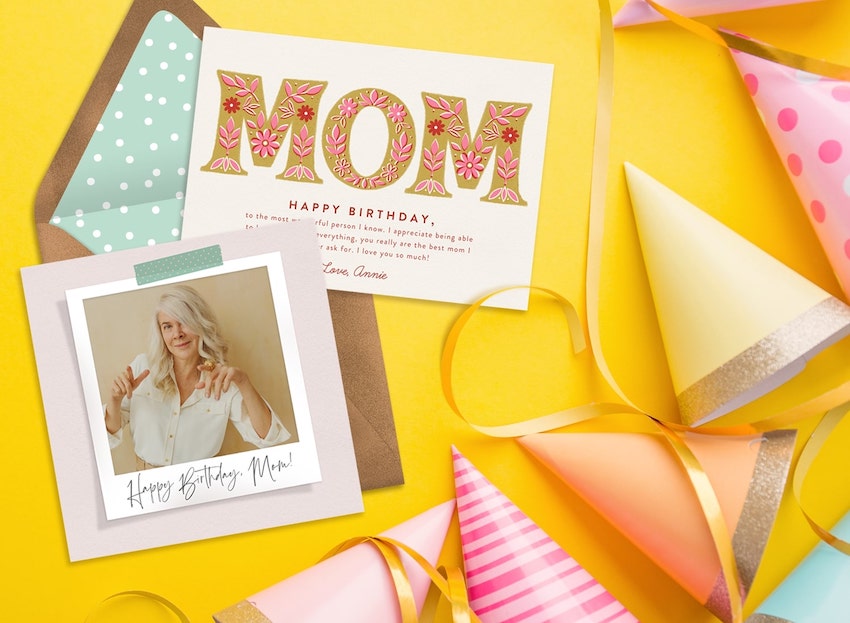 Your mother's birthday is fast approaching, so it's time to find a birthday card that's as thoughtful, sweet, quirky, or funny as she is. Luckily, we have quite the collection!
Discover some of our favorite birthday cards for Mom and find the perfect match. You'll find some of our most popular designs, wording ideas, and inspiration to help you craft the best birthday greeting card for your mom, stepmom, mother-in-law, or other mother figure in your life.

What to Write Inside the Perfect Birthday Card for Mom
There are so many ways to say 'Äúhappy birthday mom'ÄĚ that we can'Äôt feature all of the birthday wishes here. But if you'Äôre looking for inspiration, we'Äôve got you covered 'ÄĒ here are some of our favorite birthday message ideas for your mom'Äôs birthday card this year.
Happy birthday, Mom

! You truly are the best!

I love you

, Mom!

My gift

to you is ____. 

Happy

b-day

to the most incredible mother-in-law in the world. I really struck gold with you!

Happiest birthday

, Mom. Enjoy the best

birthday gift

ever 'ÄĒ my company!

Today is the most

special day

on the calendar 'Äėcause it'Äôs the day you were born. Love you, Mom!

Dearest Mother, I ran out of

gift ideas

so please accept this card as an IOU and an ILY (I Love You)! 

There's nobody like you, Mama.

Happy birthday

!

Hope you have the best birthday ever. I'm so blessed to have you as my stepmom!

This card is filled with lots of

birthday wishes

, Mom! Love you.

Love you, Mom

. Have a wonderful time!

You're not just my mother, you're my

best friend

and biggest supporter.

Happy birthday

, Mom! Love you forever.

Save some

birthday cake

for me, Mum. Have an amazing day!
14 Birthday Cards for Moms
Moms are so special, and they deserve cards that are special too. That's why we've worked with talented designers to bring you a wonderful collection of birthday ecards that are perfect for all the moms and mother figures out there.
There'Äôs a¬†template birthday card design for everyone 'ÄĒ from the stepmom who would love a floral birthday card to the mom who has a minimalist and contemporary style. Personalize the experience further by choosing their favorite color combination, and adjusting the fonts, placements, and wording.
You might spot that some of these happy birthday card designs are actually happy Mother's Day cards. What's beautiful about our online greeting cards is that they're completely customizable. Turn any design into your new favorite birthday card for mom by changing up the wording in no time at all.
You can even make your online card go further by adding a gift card. It'Äôs super easy to do 'ÄĒ once you'Äôve finished designing your card, simply add a gift card of your choice. You'Äôll have the birthday card and gift all checked off in one place!
1. Happy Bday Frame Card
Celebrate your mom with a photo of the two of you in this sweet photo birthday card. There's plenty of space for a special photo and personal birthday wish.
2. Cool Mom Card
This fun birthday card is one of our favorite birthday cards for Mom. If your mother has a lively sense of humor, she'll love this eye-catching illustration on the front. And you can unleash your best joke or funny quote on the reverse.
3. Birthday Sweets Card
Does your mom love cupcakes? If so, this sweet birthday card is ideal. Choose from three fun color options or make it your own with the help of our design team. On the reverse, there's more than enough room for a poem or heartfelt note.
4. The Reasons Why Card
We love this beautiful birthday card for the way it allows you to celebrate all the things you love most about your mom. Transform this Mother'Äôs Day card into the perfect birthday card by tweaking the text to say 'Äúhappy birthday!'ÄĚ
5. Getting Older Card
If you're on the lookout for funny birthday cards for Mom, this humorous birthday card is one of our favorites. There are lots of contemporary color options, and we love the way this card feels fresh and modern.
6. Folksy Floral Card
You don't need a double-sided card to say all that you want to say. This single-sided floral birthday card puts Mom front and center, and still gives you room to share just how much she means to you on the front.
7. Polaroid Celebration Card
Photo cards are a lovely way to honor the best mom in your life. This Polaroid-style design has a handmade birthday card feel, thanks to the Polaroid effect and handwritten font. Share a photo of you and your mom on the front and a lovely message on the reverse.
8. Cheery Cocktails Card
Who doesn't love a cocktail or mocktail? If your mom's a fan, this cheery cocktails card is a top pick. We love the retro-yet-modern illustrations, plus it's available in a few color options to match your favorite lady's style.
9. You Are So Amazing Card
You know your mom's amazing, but maybe she doesn't hear it often enough. Use this stylish birthday card to tell her exactly how you feel with the help of some adorable illustrations. Swap the text on the front to reflect your birthday wishes, and you have a stunning birthday card for Mom.
10. Mom! Card
There are so many ways to call someone mom, and this card lets you list all of them. This bold, modern card is ideal for any mother figure in your life 'ÄĒ and there'Äôs plenty of room on the reverse for you to write a long message, poem, or share a story that you remember.
11. It's Your Birthday! Card
This brightly colored birthday card is for all the fun and funky moms out there. It's sure to make your mom smile as she opens up her email or text message card. Stick with this bright pink and yellow version for the ultimate in happy birthday mom cards.
12. Birthday Beauty Card
Celebrate your mom's beauty inside and out with this thoughtful floral birthday card. The delicate floral illustration matches well with the contemporary typeface, giving you a birthday card that's modern and traditional all at once.
13. Number One Mom Card
Is your mom the number one mom? Of course she is! Make her feel like she's on top of the world with this sports-inspired Mother's Day card that can easily become a birthday card with just a few clicks.
14. Mother's Day Bouquet Card
Although this might be styled as a Mother's Day card, this beautiful flower bouquet card can become your new favorite birthday card for Mom simply by changing the wording. Choose your favorite color option out of the six available and personalize your message in moments.
Celebrate The Best Moms Ever With These Birthday Cards for Moms
Birth mom, stepmoms, mothers-in-law, and other mother figures in your life deserve a card that's as special as they are. That's why Greenvelope offers a collection of birthday cards to suit your special relationship.
Find your favorite design, then make it your own with layout, wording, and color choices. Write a thoughtful (or hilarious) note, then send it off via text or email for a beautiful surprise they're sure to love.