June 11, 2019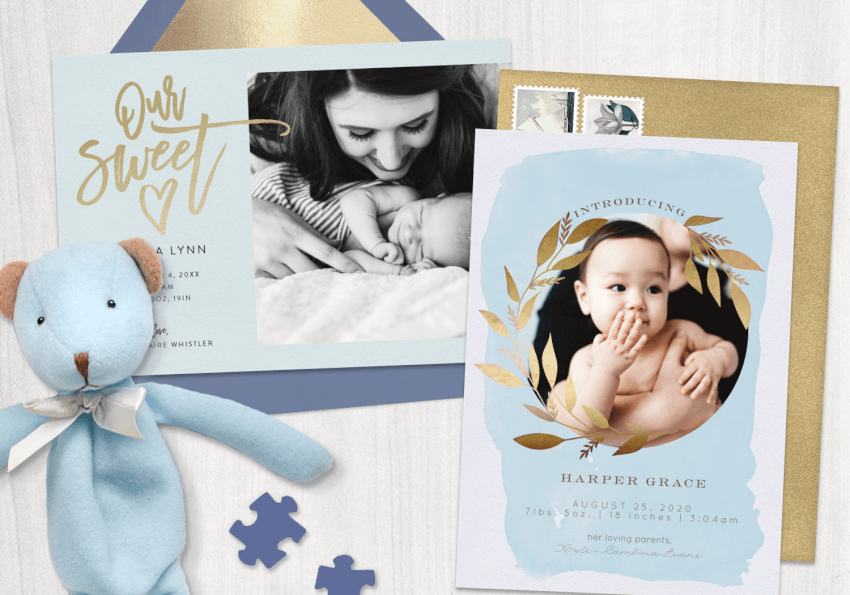 Birth announcements aren't necessarily top of mind for couples just welcoming a new bundle of joy. They just can't be – new parents are, after all, concerned with being new parents. Expecting folks to carve out space in their new parent brains is unrealistic. That is, expecting folks to do so without help.
That's where our list of birth announcement ideas come in. Because birth announcements are an important part of you and your baby's journey together, and because your loved ones all want to hear about your new addition, we're here to bridge the gap and guide you toward the birth announcement style that will communicate your message precisely the way you want it to be communicated.
Vintage
There's nothing wrong with turning back the clock and announcing your little one in vintage style. In fact, you may find it's the perfect way to do so. Vintage birth announcements stand out from the crowd with chic typefaces and ornate accents.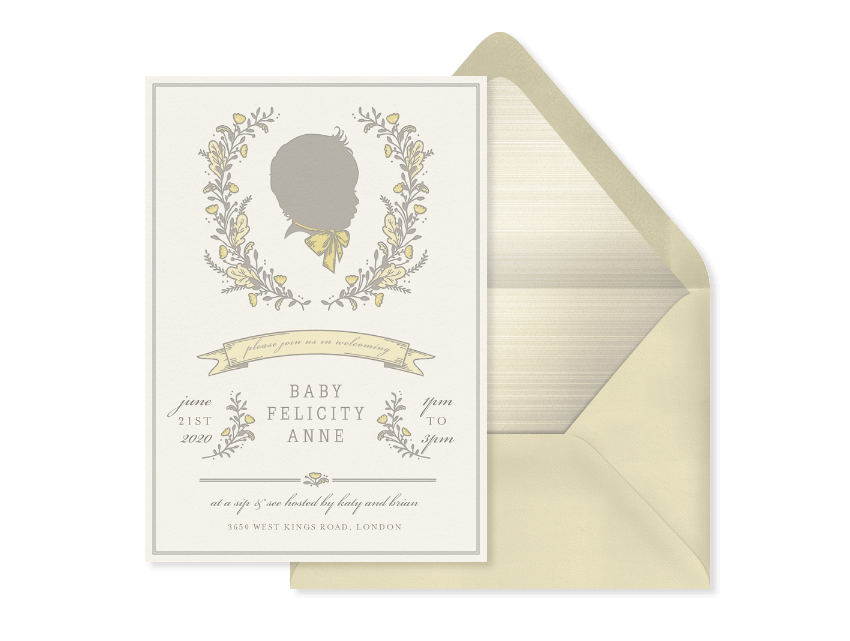 Modern
Two words typically come to mind when one thinks of "modern": clean and bold. For many, modern designs achieve a sense of simplicity. But as illustrated by the following examples, simple can be both bold and elegant. Browse more modern birth announcement styles here. 
Floral
Floral is a style that's wonderful for not only brightening up a birth announcement, but in grounding recipients within organic-feeling elements. If you're looking to strike a natural feel without going overboard, floral birth announcements might be the way to go.
Multi-photo
Who doesn't love sending or receiving multiple photos of your baby? Multi-photo birth announcements give the star of the show ample room to roam — and smile, and be incredibly adorable.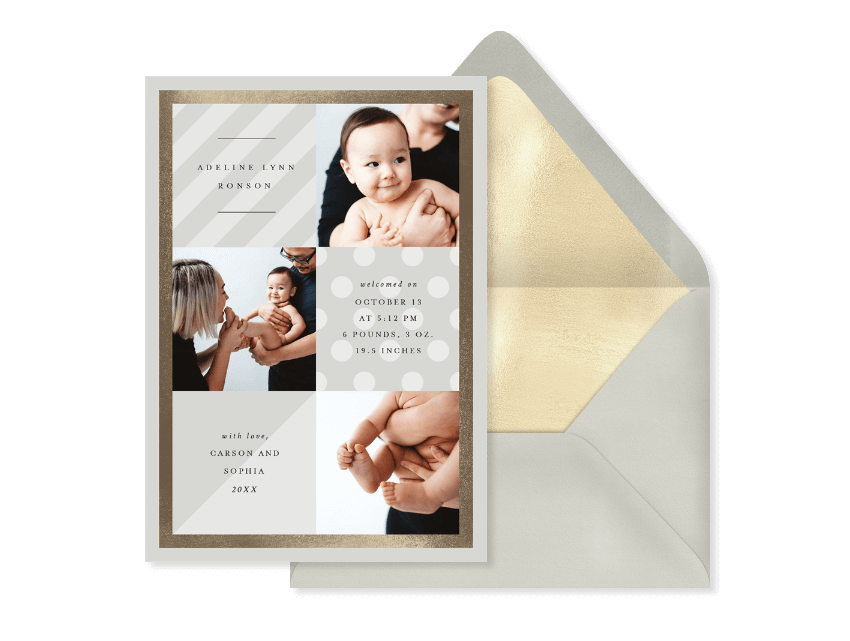 Embellished Scripts
Jolt your birth announcement with the fashionable flair of embellished scripts. Not only that, but there's a level of romanticism that embellished scripts achieve, which could be the exact thing you want to commemorate the occasion.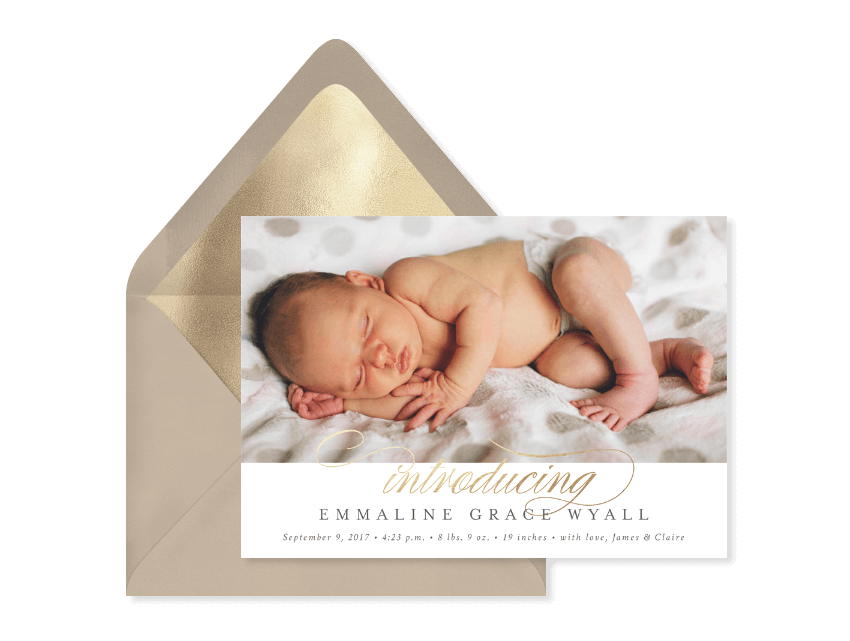 Animals
Similar to floral birth announcements, there's something about the natural world that helps us capture and communicate the emotions we want to convey. Whether they do or don't feature photos of your baby, animal-themed birth announcements can be both poetic and memorable.
Illustrative
There aren't many other styles out there that can strike a playful and charming tone that teeters between reality and fantasy. Uniquely cute but sharp illustrations can also go a long way in standing out from the birth announcement crowd — after all, it isn't every day a hand-drawn whale helps announce the splash of news.
Pictograms and Infographics
Going the pictogram or infographic route places emphasis on the numbers, which can be super informative while striking a fun and playful tone.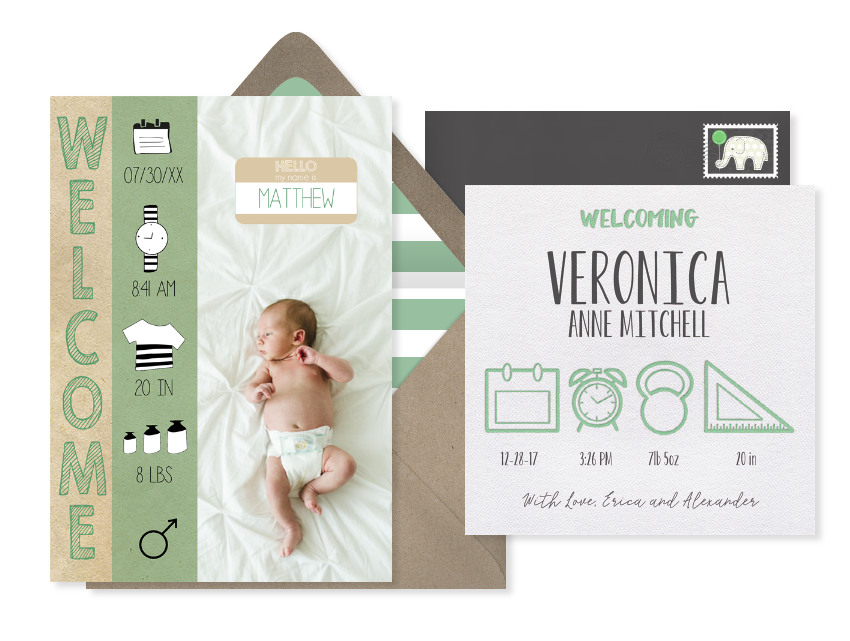 Quotes
Incorporate a significant quote into your birth announcements for an extra personal touch. Whether from a favorite author, a song lyric, or a proverb, quotes are a lovely addition to any custom birth announcement design.
Clean and Simple
This style doubles down on what can be achieved with the modern style we discussed earlier. It's clean, yes, simple, yes, and direct with all of its information, which truly lets the star of the show take center stage. You can browse more simple birth announcement styles here.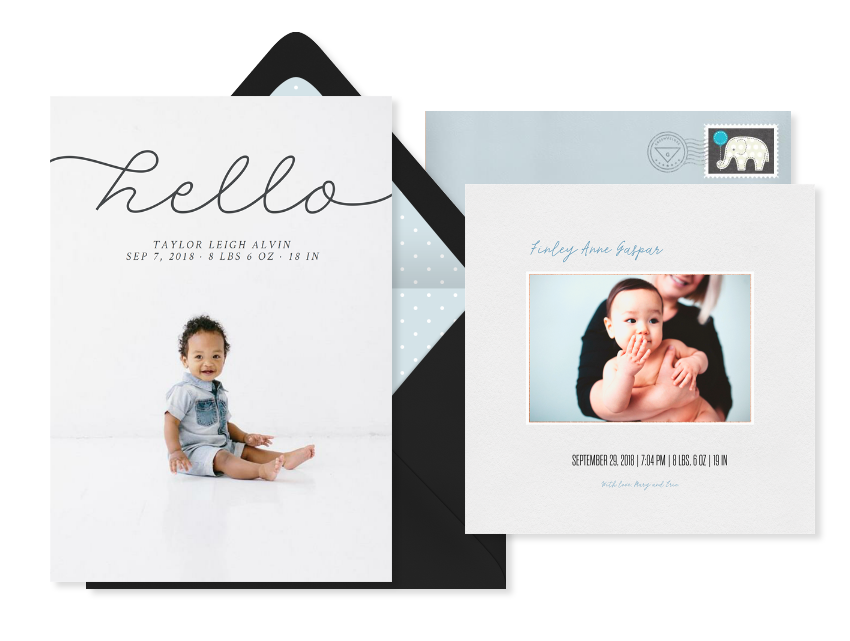 To browse even more designs, see Greenvelope's full collection of birth announcement designs here. Also, for an in-depth breakdown of when it's best to send your birth announcements, see our post, When To Send Birth Announcements.