December 7, 2016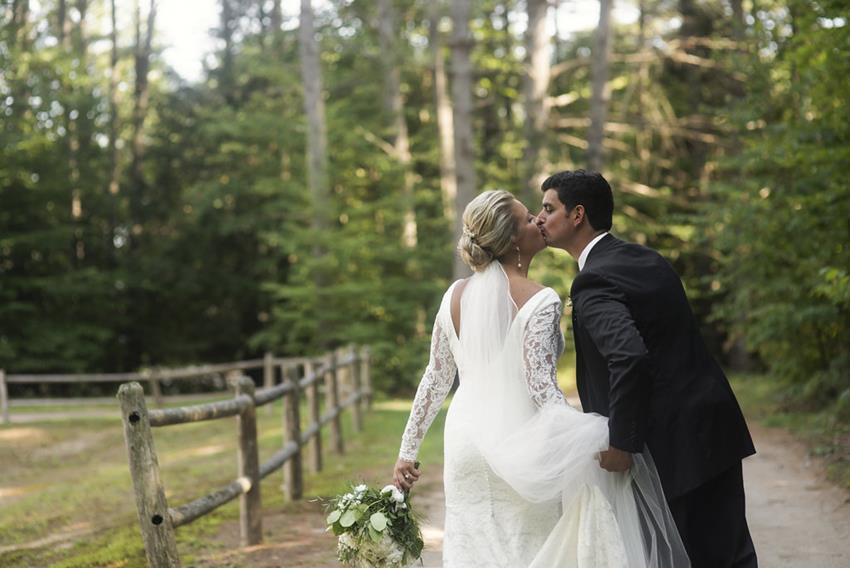 Summer camp sparked the adventurous love story of Ashleigh and Matt. Both employed within the industry, Ashleigh and Matt share a fierce passion for the outdoors, so it was no surprise when they decided to have their wedding at a charming summer camp venue. Complete with a thematic blend of rustic elegance, their special day quickly turned into a fun-filled weekend full of group activities at Camp Echo Lake in Warrensburg, New York.
In the words of the bride, "Building a sense of community amongst our family and friends over the course of the weekend was the most meaningful part. People arrived throughout the weekend and participated in any of the activities they wanted."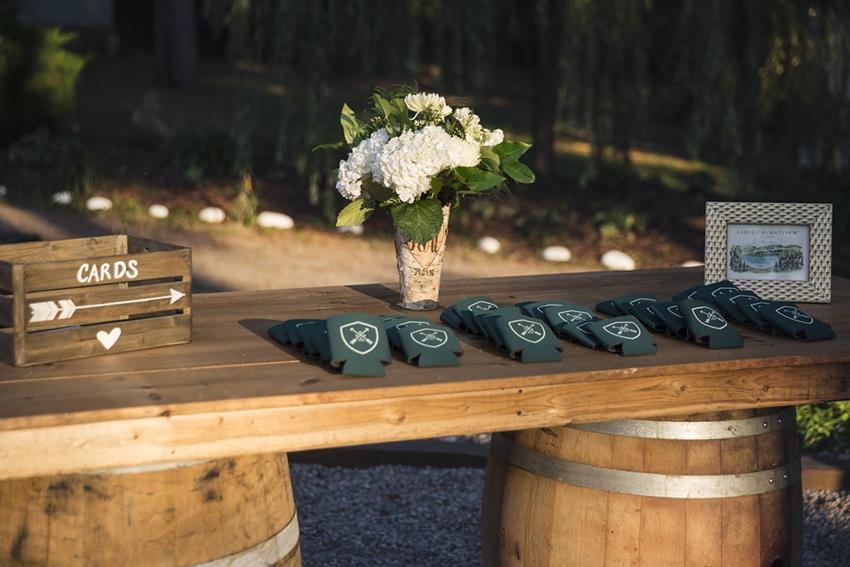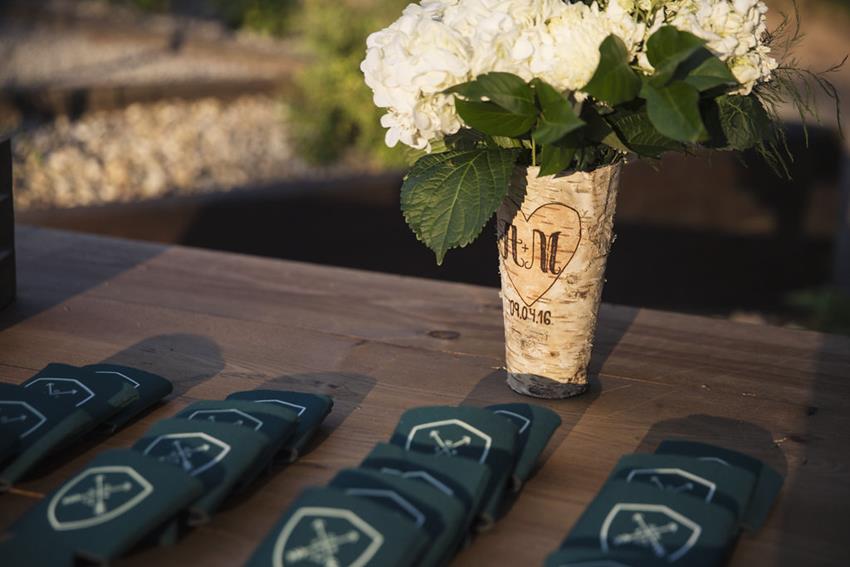 Ashleigh and Matt kicked off the weekend with a memorable welcome campfire, complete with a delicious BBQ spread. It wasn't long until their family and friends were involved in outdoor adventure that ranged from paddle boarding and frisbee to hiking and yoga. There was truly something for everyone. The best part? Teams were formed for an epic Color War that included tug-o-war, dodge ball, and a game of softball. The groom's team wore green and the bride's team shined in blue.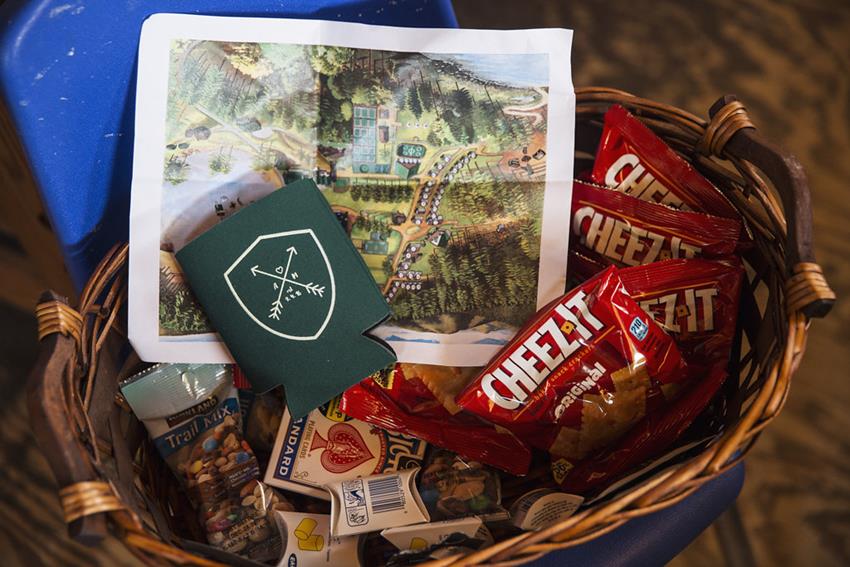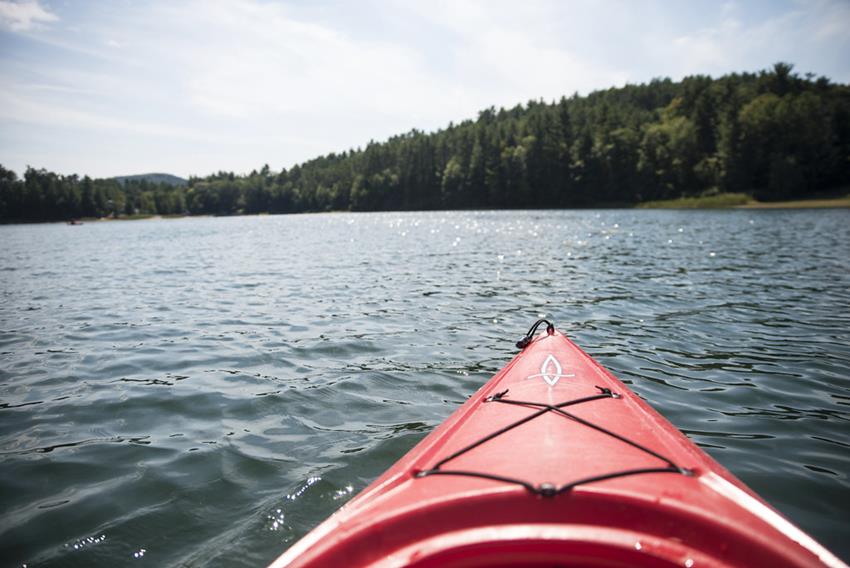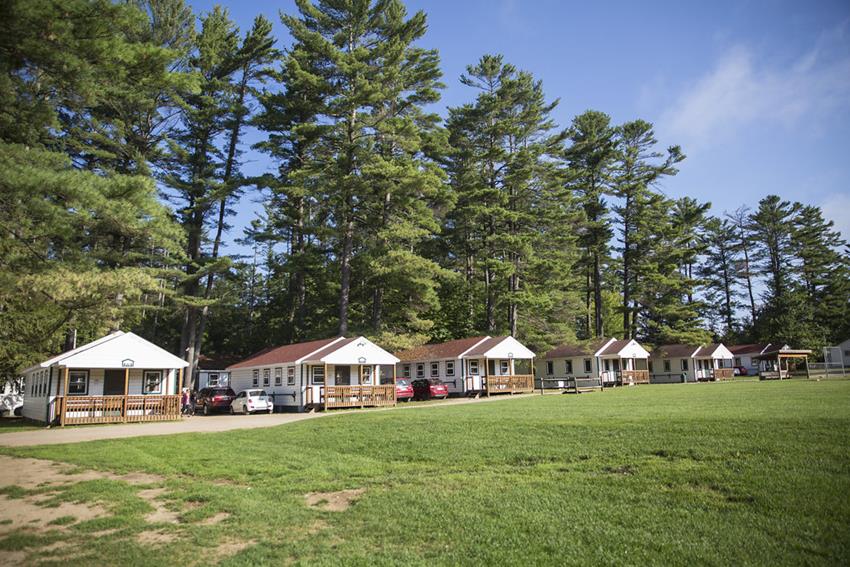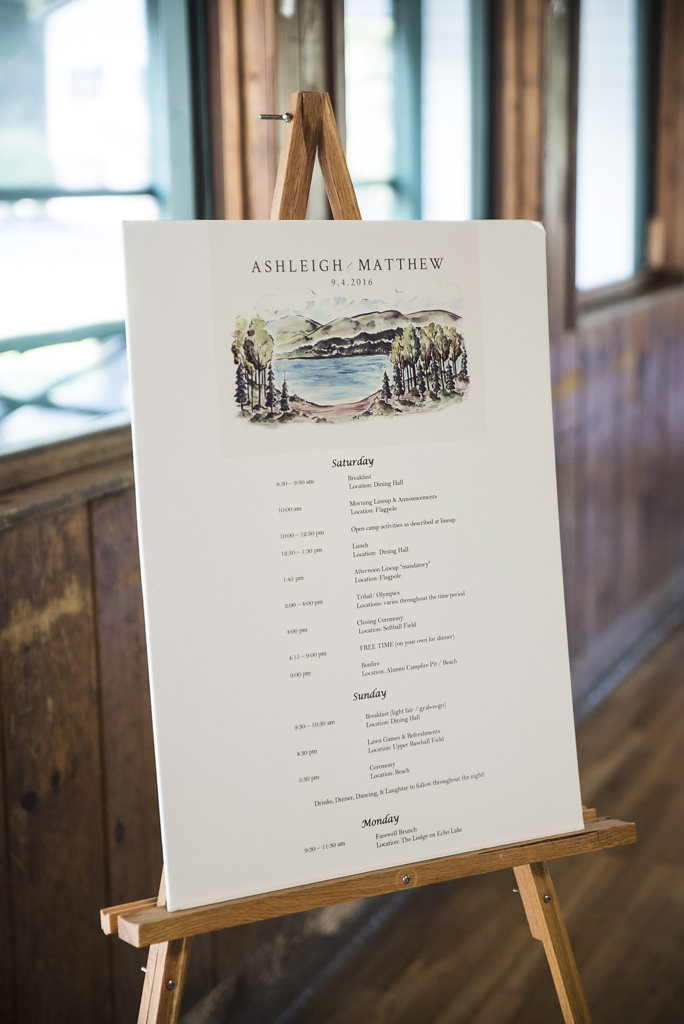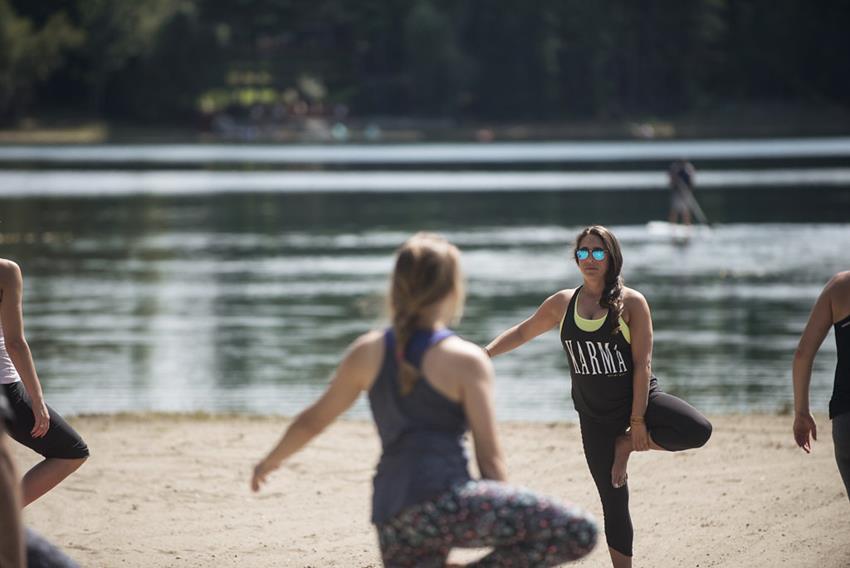 "The afternoon of Color War was our favorite. Each of our bridesmaids and groomsmen were on a team and our four team captains dressed up in ridiculous costumes and face paint. We had the best time. Seeing everyone together was amazing."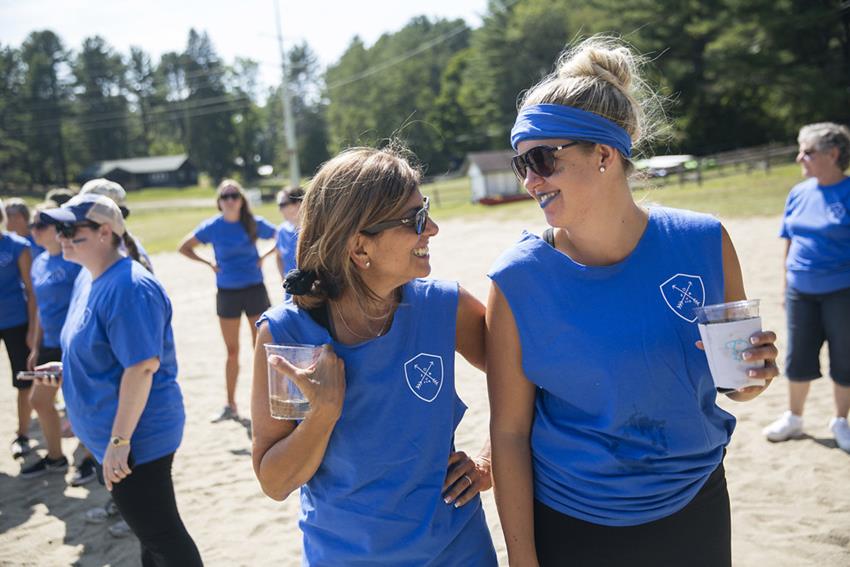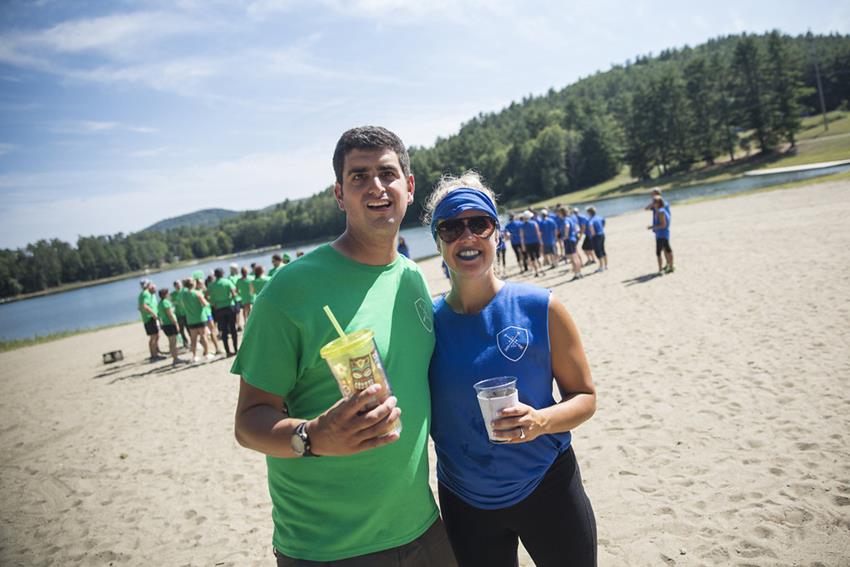 A theme as lively as this of course lent itself to an inspiring wedding celebration, conveyed through pure excitement, adventure, and the joyous love between not only Ashleigh and Matt, but all of their guests. Keep scrolling to see all the thrills of their big day, and for their top three tips for other engaged couples. A huge thanks to the talented Kaja Tirrul of Jack Loves Mary Photography. She beautifully captured every moment of the big day.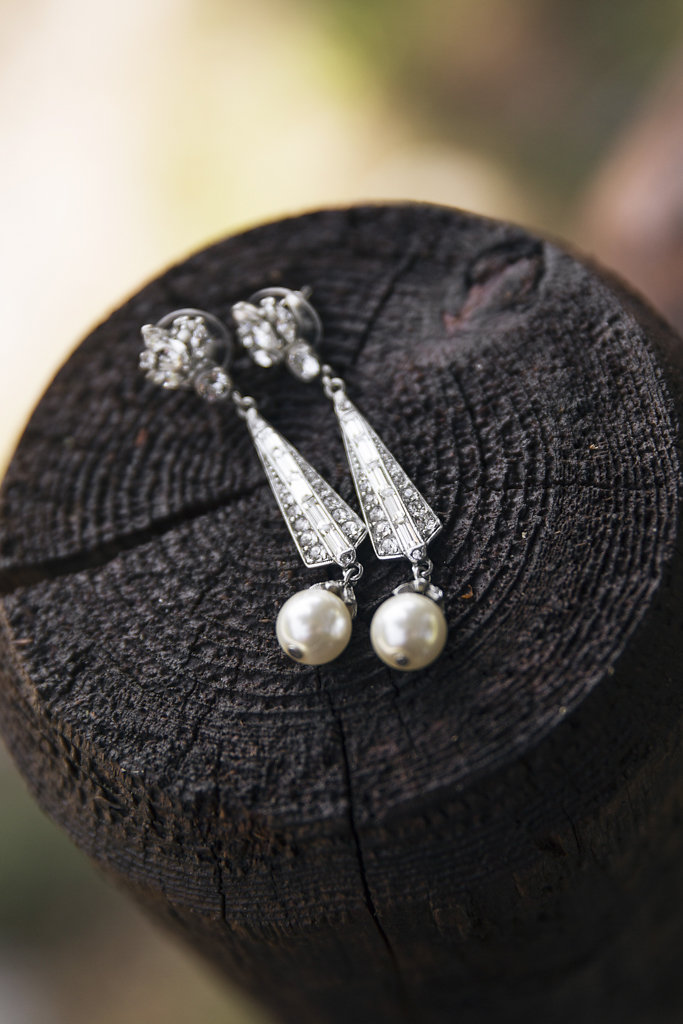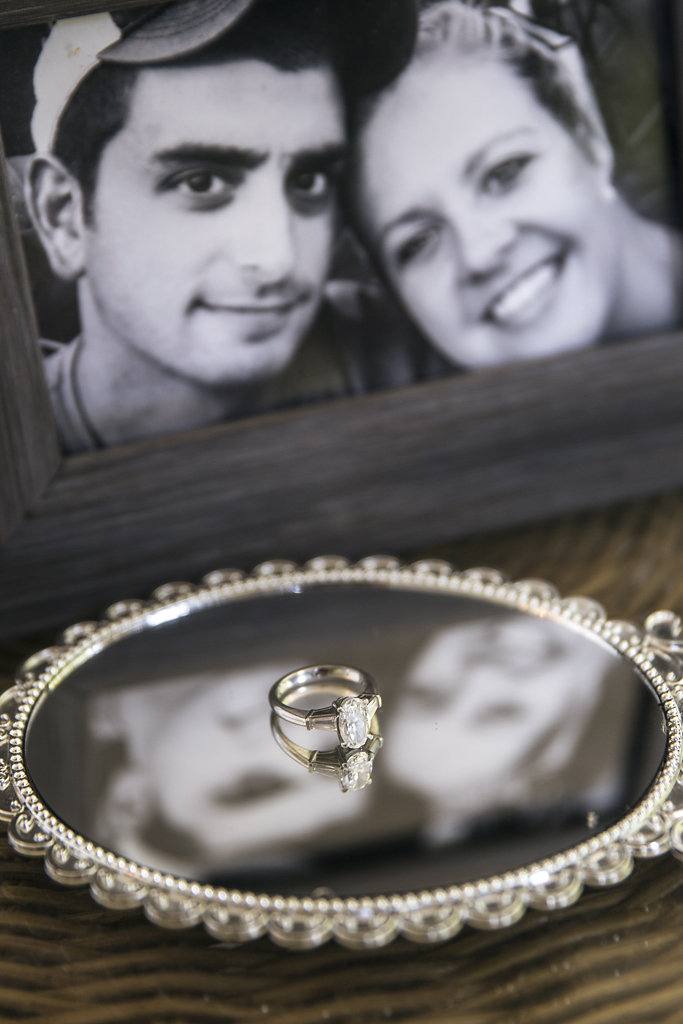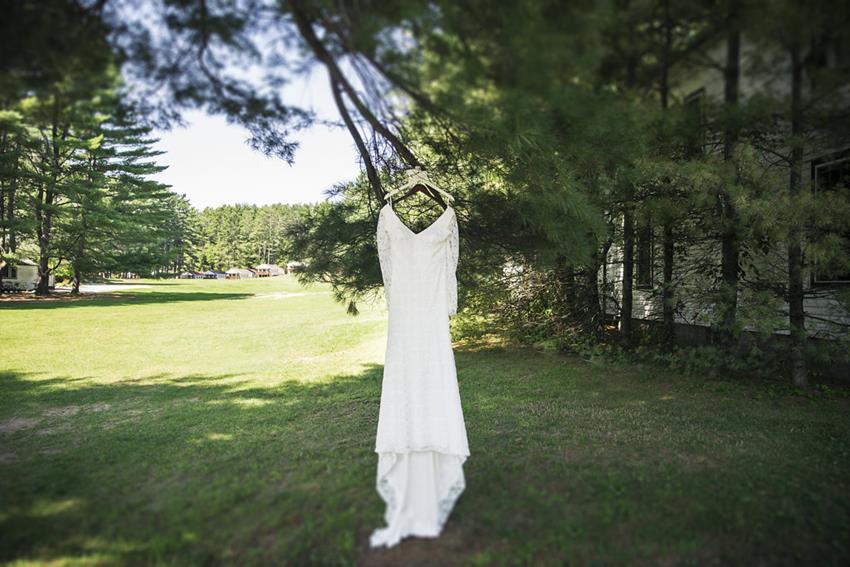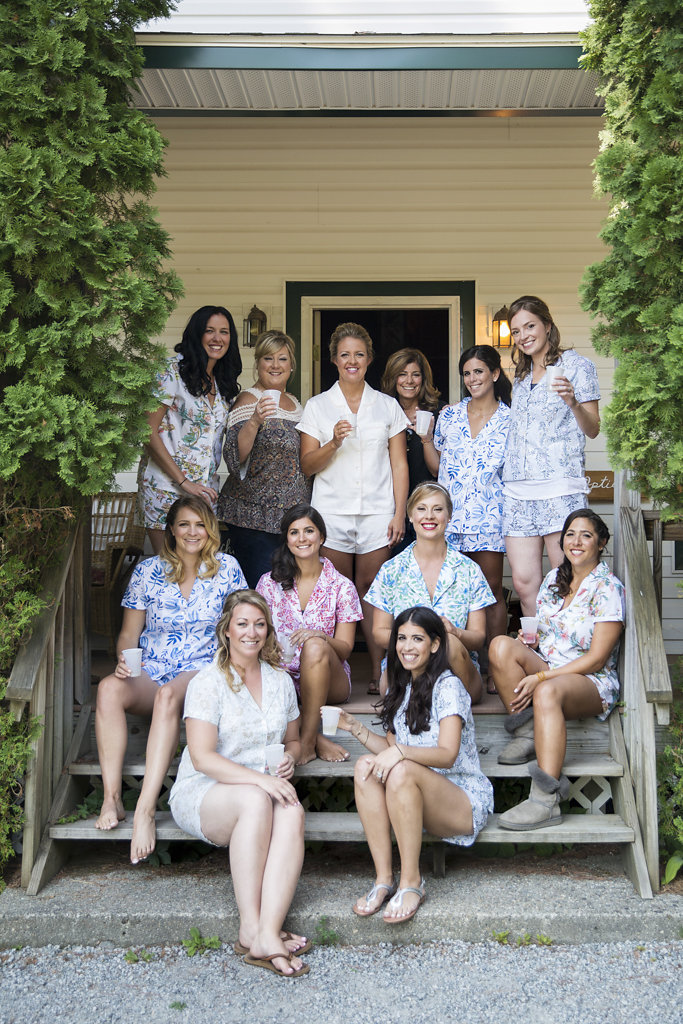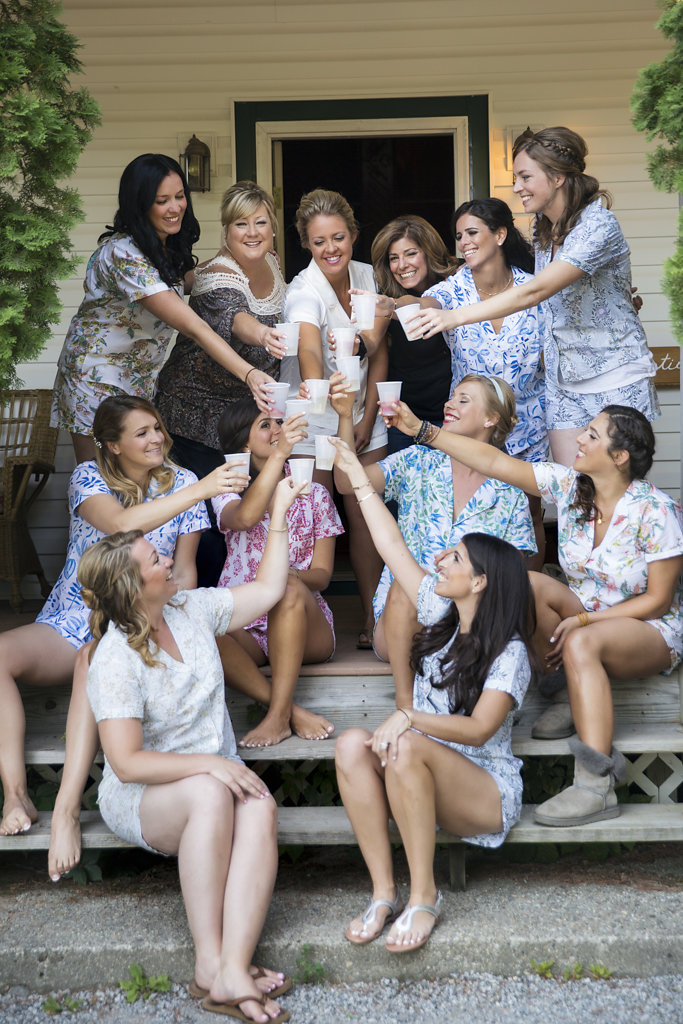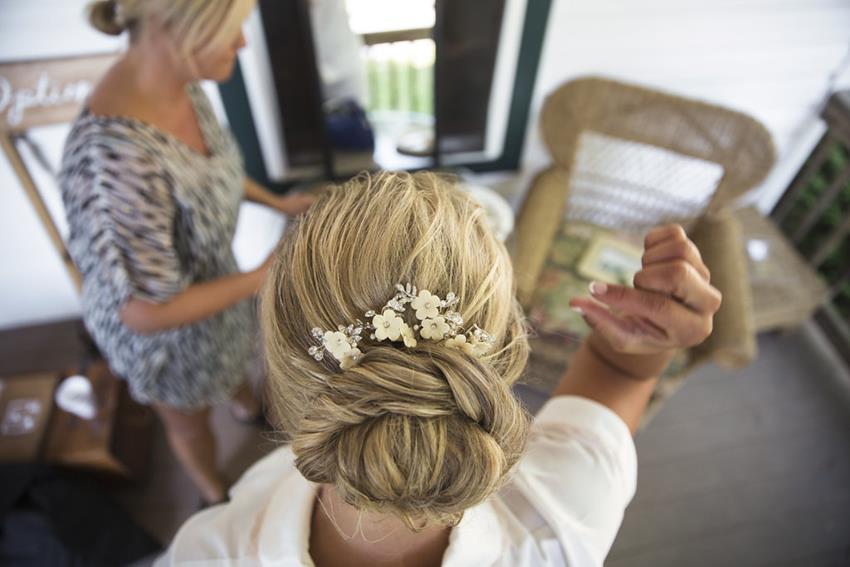 "I'm originally frm the west coast and many of my bridesmaids still live in Oregon and Washington. When ventured west for my bachelorette party, we did some dress shopping.  I knew I wanted lace and something sort of w vintage.  I found a long sleeve lace dress at a small boutique in Seattle and that was it!  It was really special for me to have that moment with my close friends and mom by my side."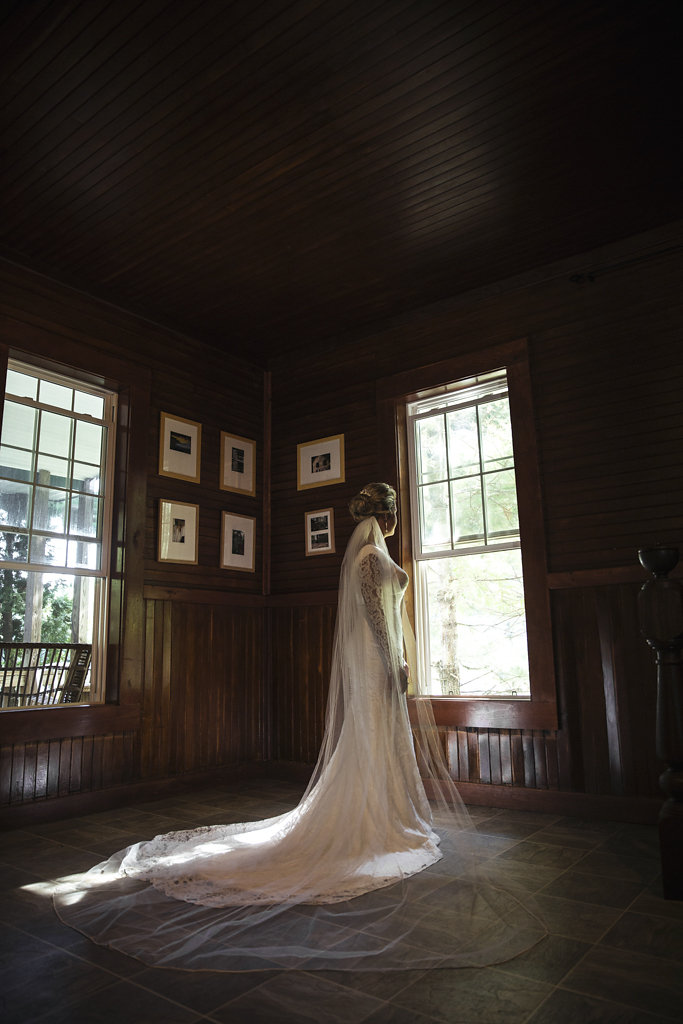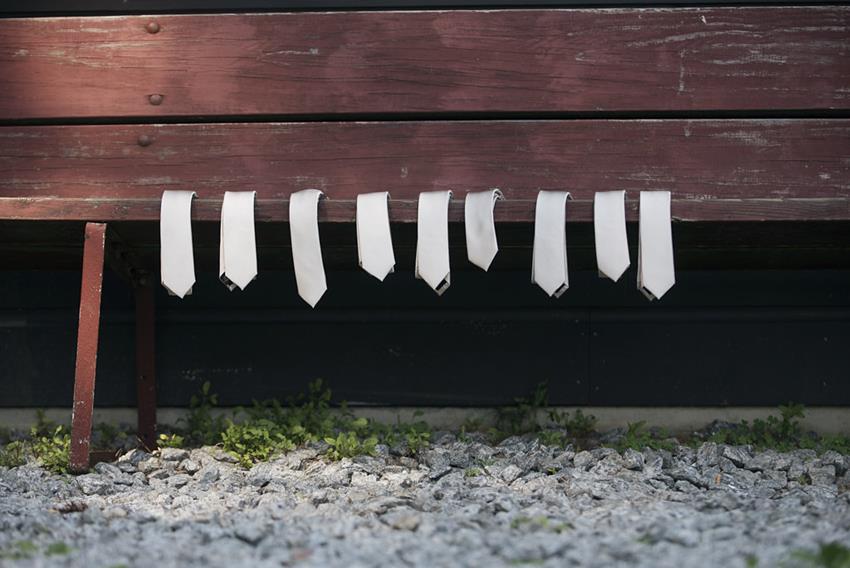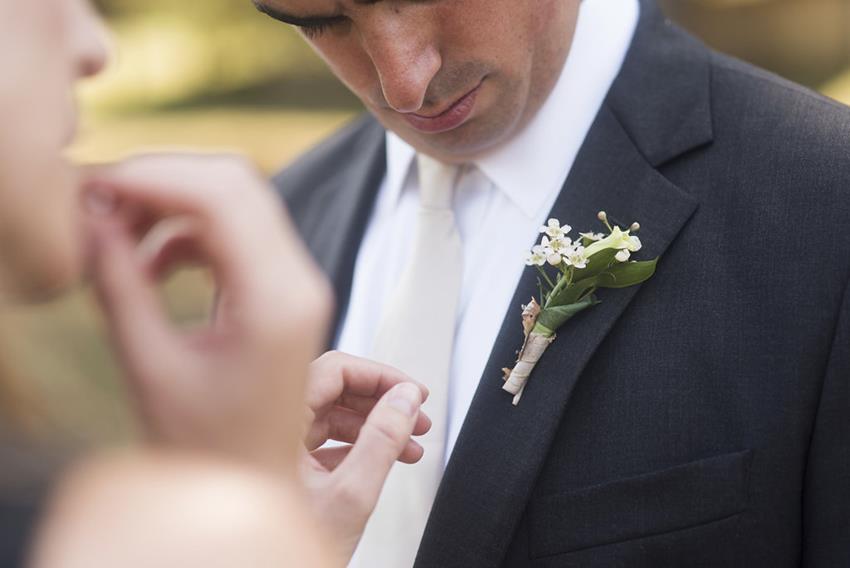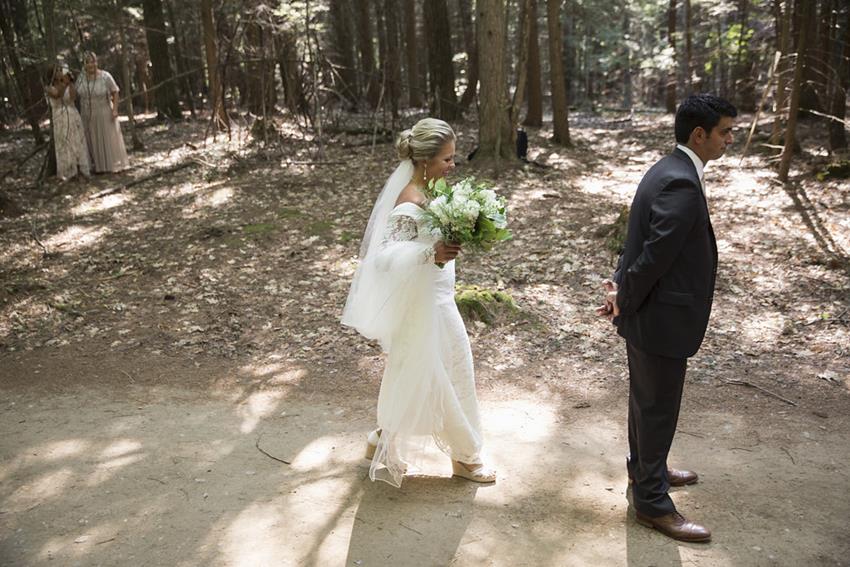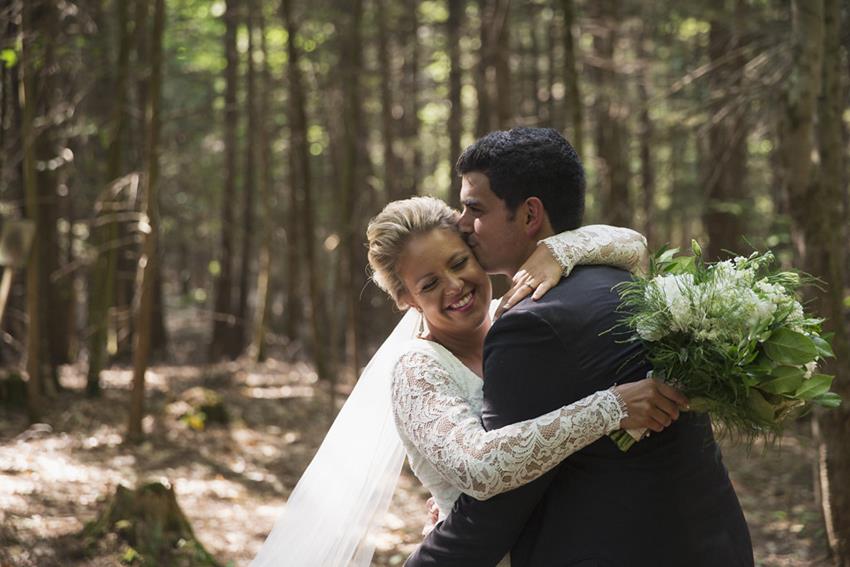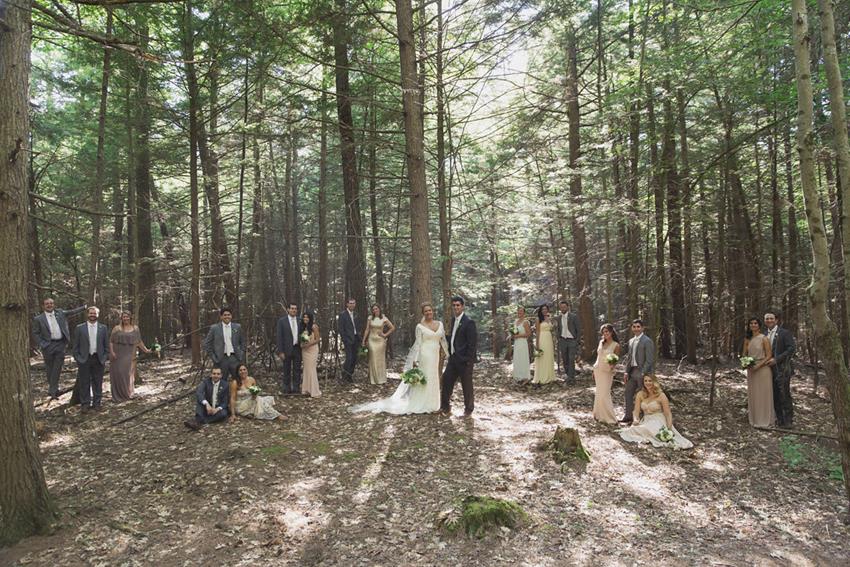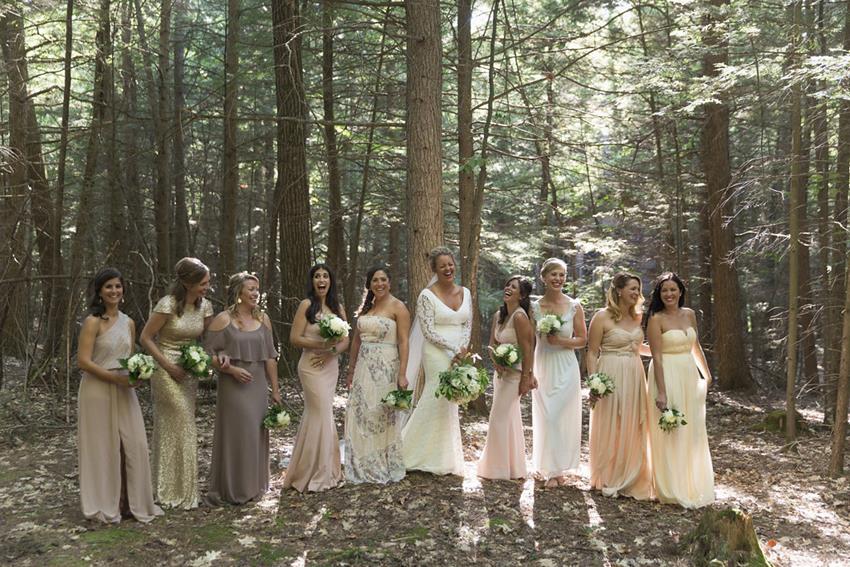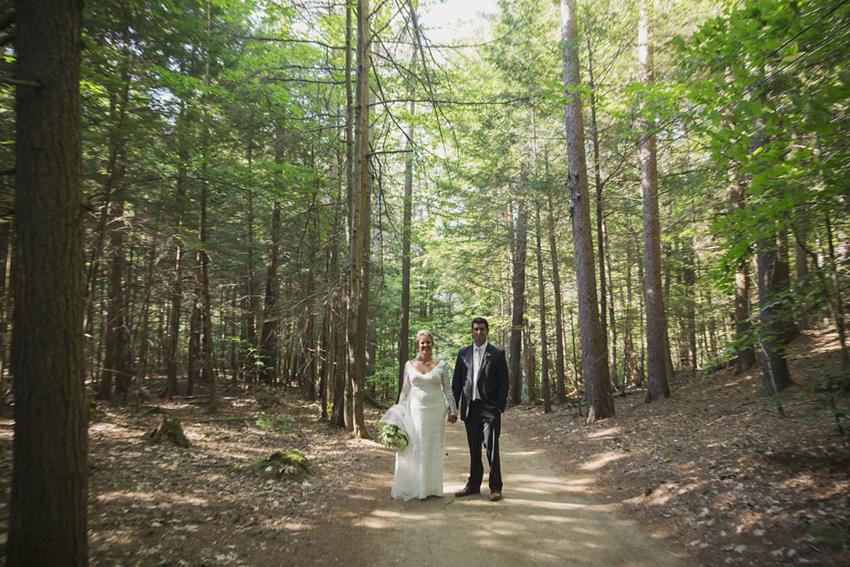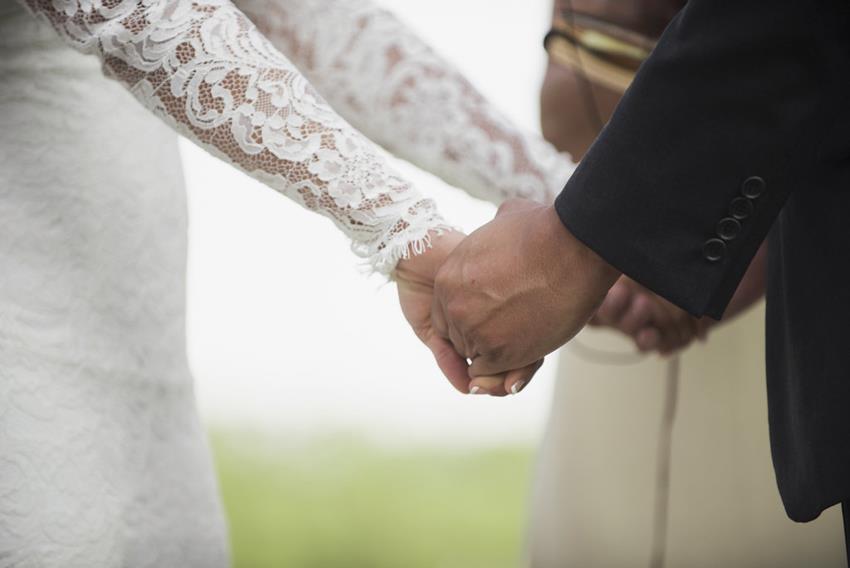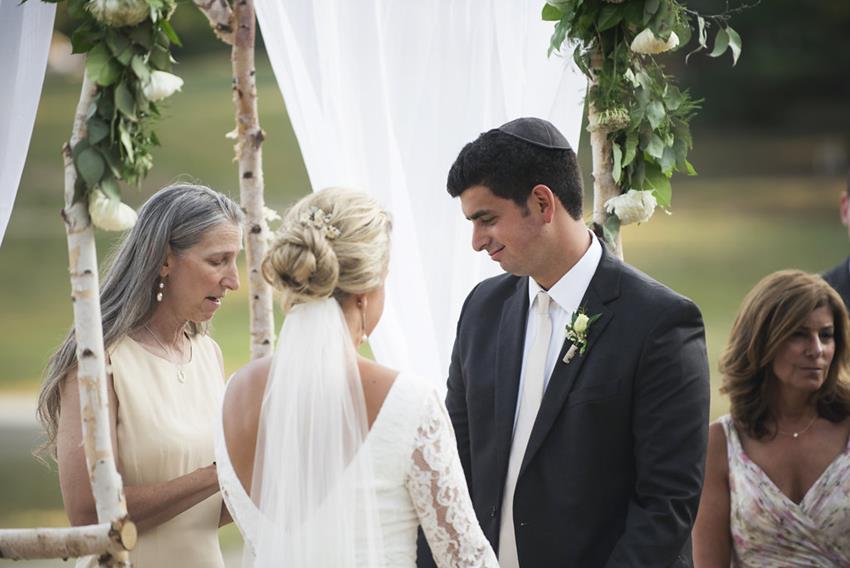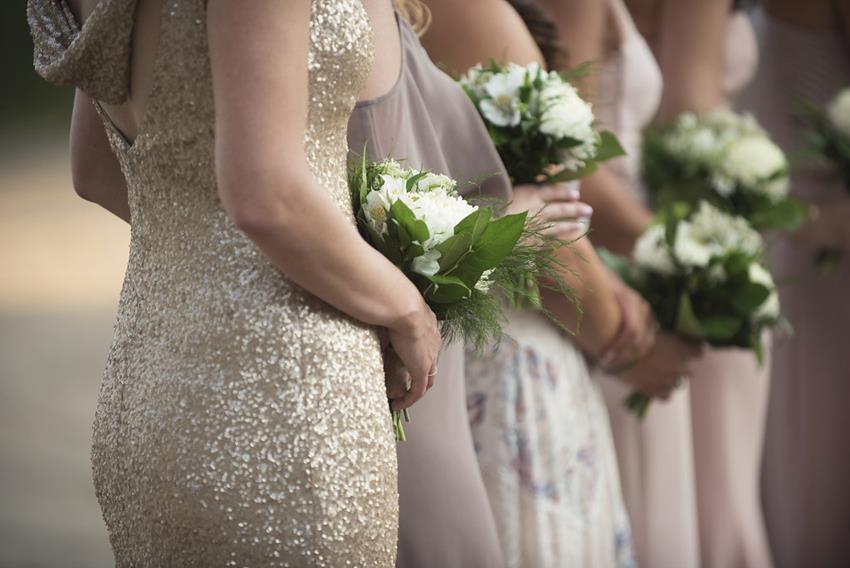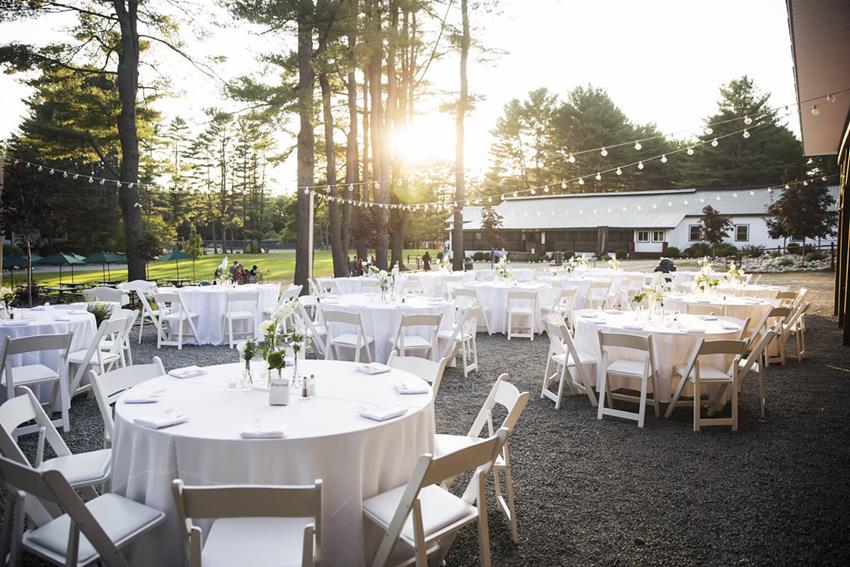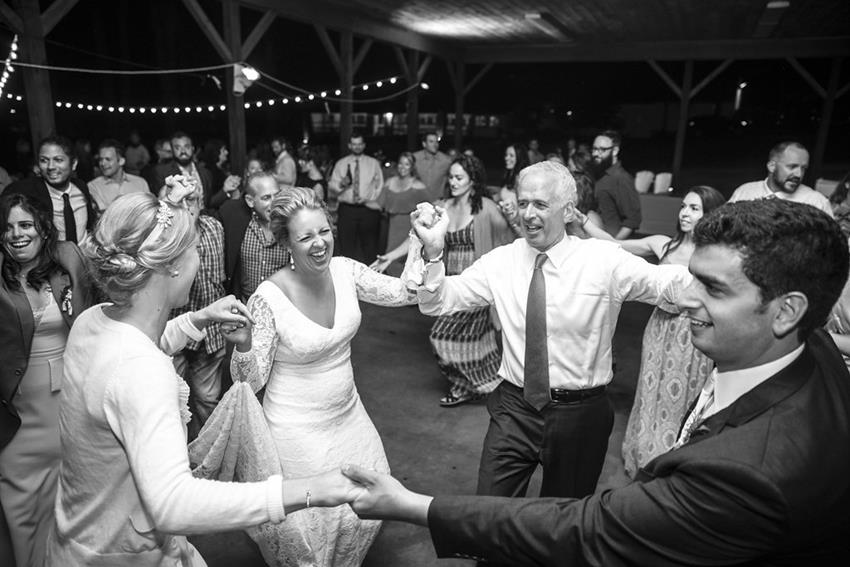 Ashleigh & Matt's 3 Tips for Engaged Couples:
Focus on 1-3 elements that are most important to you as a couple and plan all your wedding details around each of them. For us, our relationship and lives revolved heavily around camp, so that made choosing a venue really easy. Since my family is from the west coast and his is from the east coast, it was important to us to provide opportunities for our families to begin building memories and relationships.
Make sure you select vendors that represent your taste and style. We love to eat good food, so choosing our caterer was one of our biggest decisions. In addition, our relationship really grew over a mutual love for live music. Choosing our band was also a big decision.
Reminding yourself of the big picture really helps to keep you from stressing the small stuff. Stay centered and think about how you want to feel and how you want your guests to feel.
Ashleigh and Matt decided to go paperless for their wedding invitations, and the final design was stunning.
"Along with cutting costs, we also wanted to reduce waste when sending out wedding invitations. We researched a number of different digital invitation companies because it was important to us that the invitation look more professional and elegant than a standard electronic invite. We loved that Greenvelope offered a custom design service at a price that wasn't over the top. The sending and tracking of the invitation was ridiculously easy and convenient. It made the whole process SOO much easier," explains Ashleigh.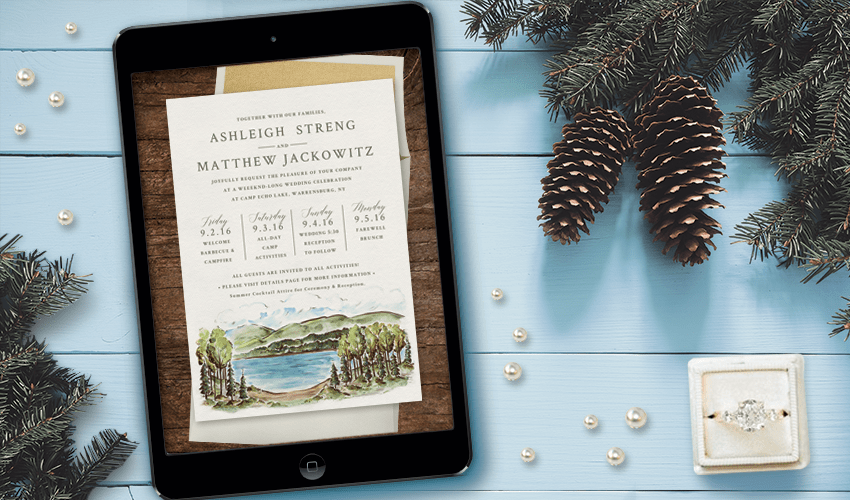 "The actual design of the invitation was the most beautiful icing on the cake. Our designer was friendly and listened so well to what we wanted. We absolutely loved what she created. We also loved that we got to keep her artwork to have some invitations printed as a keepsake."
Vendors:
A huge thank you to Ashleigh and Matt for letting us be a part of their special day, and for sharing their story with us.