November 21, 2016
'Tis the season for lots of candy canes, eggnog, and the perfect excuse to host a festive, out-of-the-box holiday party. If you're in need of some inspiration to spark that perfect theme, try starting with your invitation. Around here, we have no shortage of festive holiday designs. Here are four of our favorites to get you started:
Cozy Ski Chalet Weekend
The perfect winter weekend: crackling fires, glowing candles, a cascade of snowflakes, and the rush of cold air on your cheeks. Invite friends and family to cozy up for the weekend with a digital invite that is a true representation of winter's soft elegance. Complete with rustic charm and teal accents, you can set the scene for a relaxing hideaway weekend.
Holiday Dance Party
Not all holiday parties require tinsel and twine (or red and green!) In this color scheme, vibrant pinks unite with energetic reds to channel what is sure to be the ultimate dance off. Alert guests of the theme and attire early with a fun digital invite that will creatively reflect a bright and lively evening.

Clink & Drink Party
True to the season and strikingly elegant, this stylish spread allows you to explore the glamorous side of New Year's Eve. A balance of modern gold tones and shiny silvers paired with a pop of edgy, tuxedo black evoke a sense of modern style that will impress well into the midnight hour.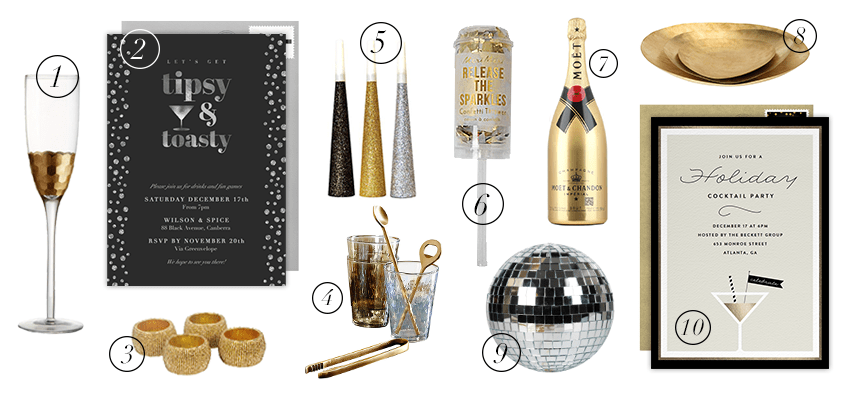 Secret Santa/White Elephant Party
Secret Santa and White Elephant parties are a true holiday treasure. You can make these gift exchange events as festive and playful as you want, but remember that simplicity will ensure that you get to enjoy the party too!