July 22, 2020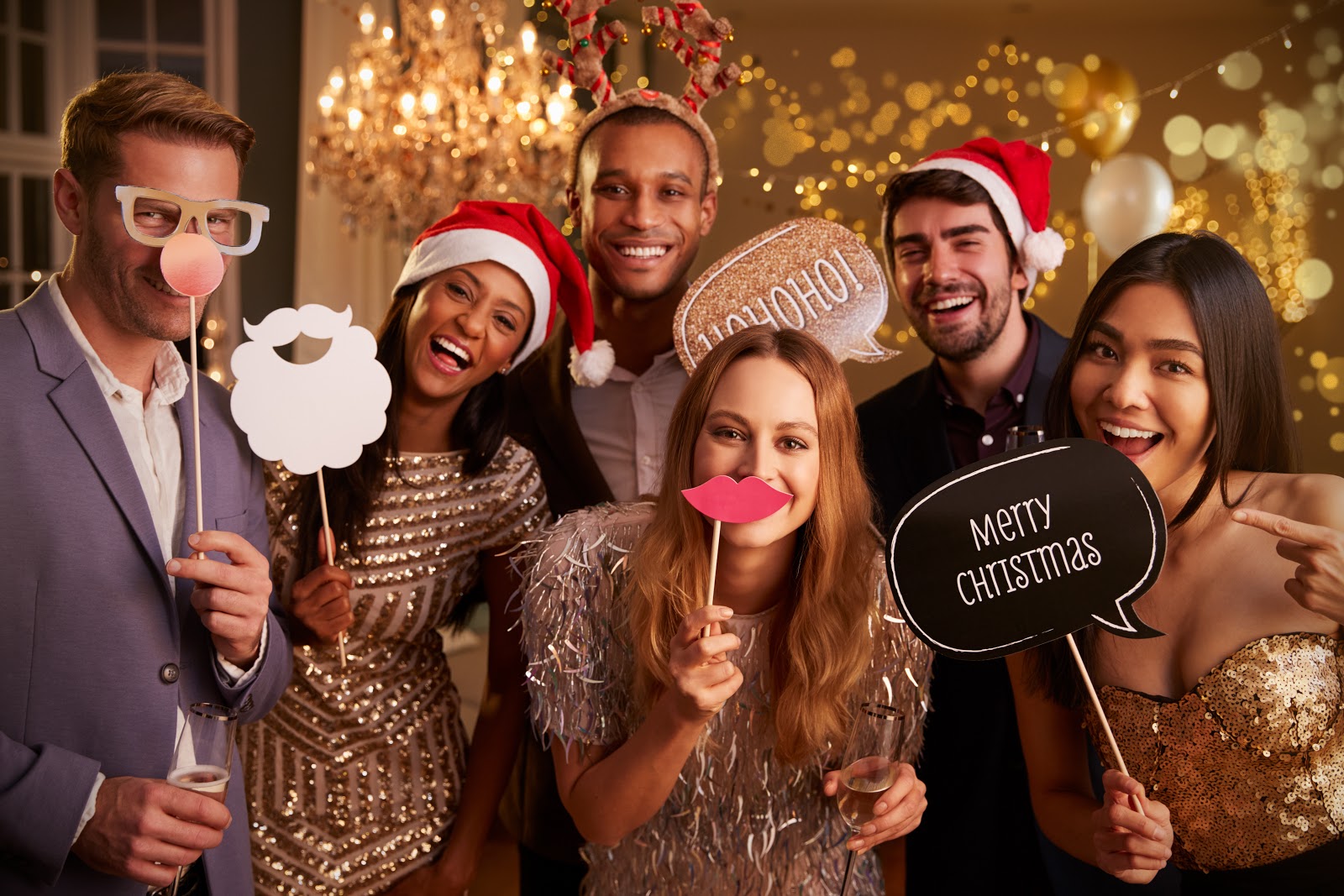 The time has come to start your Christmas party planning. Whether you're hosting a big family gathering or a small celebration for close friends, Christmas is the perfect opportunity to bring some sparkle to your party.
To help you plan an event that'll put a smile on your guests' faces, we've brought together some of our favorite Christmas party games and activities. Take inspiration from this list of party game ideas to plan your perfect festive celebration and create a party that people will remember.

Our Favorite Christmas Party Games
Plan a festive get-together with the help of our favorite Christmas party games. There's something for every celebration — from TV-inspired classics to creative party games. These are all family-friendly party ideas and can be easily adapted to suit small or large groups.
1. Guess the Holiday Scent
Here's a fun game to start your Christmas party off. Gather a collection of festive scented items like candles, potpourri, and even baked goods. There are so many festive smells that really bring back memories — like pine trees, cinnamon, gingerbread, and cranberry and orange.
Find a table or space where you can lay everything out. Keep everything hidden under a large tablecloth or individual bowls or boxes before handing your first guest a blindfold. This will help strengthen their sense of smell while they try to guess the holiday scent. The winner is the person who guesses the most scents correctly. After the game is finished, light those candles or pass around the baked goods for everyone to enjoy.
2. Christmas Movies Emoji Quiz
Bring out your loved ones' competitive side with a fun Christmas movie emoji quiz. This is the perfect festive game for movie buffs. It's easy to customize too, so you can feature your family's favorite Christmas movies.
Make a list of all the Christmas movies you can think of, then try and write the titles using only emojis. It's trickier than it sounds! If you're stuck for ideas, try this Christmas song emoji quiz to get you started. Once you have your list, print copies and pass them around for everyone to make their guesses at your holiday party.
3. Candy Cane Hunt
Encourage everyone to stand up and move around with this fun twist on a scavenger hunt. Hide candy canes and lead your guests to the sweet treats, using festive clues and a little imagination to guide them.
To get started, think about where you'll hide your candy canes. Next, write clues to help your guests make their way there. It's up to you whether you play the game at home, extend it into your garden or make it an across-town adventure. You could even send guests your first clue inside your Christmas party invitations.
4. Pin the Nose on the Reindeer
Take inspiration from a classic and give 'pin the tail on the donkey' a holiday game upgrade. Swap the donkey for Rudolph and embrace the laughter as you watch guests try — and fail — to complete the picture. This is a great Christmas party game for the whole family because you can get the younger ones involved too.
Get creative and draw a reindeer, then cut out circles and decorate them to be Rudolph's nose. Pin the picture to your wall and ask guests to have a go at pinning the nose on while blindfolded. Make the game more complicated by adding a set of reindeer antlers to the mix. Don't have time to make your own? Head to Etsy to find plenty of pre-made pin-the-nose options, including pin the nose on the snowman.
5. Christmas Family Feud
Bring the popular TV show into your home this festive season with a fun game of Christmas Family Feud. Group your friends and family into teams and let them battle it out to see who is the most in the know.
Recreate the experience at home with a host and two teams, plus a whiteboard or blackboard to act as your question and answer board. Keep the answers hidden behind colorful tape, then reveal them as they're guessed correctly. You could survey friends and family in advance to create your scoreboard, or use these Christmas Family Feud questions and answers as inspiration.
6. Name That Tune — Festive Edition
Some of your favorite games can easily be transitioned into Christmas party games. Name That Tune is a great example. Swap the kind of music you'd normally feature for your favorite Christmas songs, and you have a fun, family-friendly party game.
Your festive edition of Name That Tune is easy to create. Simply make a playlist in your favorite music streaming app, hook up some speakers, and challenge your guests to be the first one to guess the artist and title. Add in easy guesses like Jingle Bells and some lesser-known songs too. Keep a tally of scores and reward the music trivia game winner with a festive treat.
7. Christmas Charades
Keep the laughter rolling with a festive version of that old favorite — charades. Watch as friends and family try their best to act out a Christmas word or festive phrase while the rest of you try and guess to score points.
Play along together for fun or split your group into teams and keep track of scores. The beauty of charades is you can play it however you'd like. Set a theme for each round (like Christmas songs or festive foods) or keep it open. Write note cards with prompts for people to choose from or ask people to think up and act out their own ideas. However you choose to play, this is one that'll get people smiling.
8. Guess the Gift
If you're looking for Christmas games that are a little easier than charades or a scavenger hunt, a gift guessing game could be perfect. Disguise a gift and ask your guests to take turns guessing what it is. Play up the moment with a big reveal and a prize for the person who guessed correctly.
There are lots of fun ways to disguise your gift so it's less obvious. Wrap it in layers of paper or place it inside a stocking for people to feel and make their best guess. This is a great Christmas party game for kids because it's interactive, and they can explore their senses to figure out what the hidden gift could be.
9. Christmas Bingo
Bring the magic of bingo into your home and keep everyone on the edge of their seats as they wait to see if they'll be the lucky winner. Play host and call out festive favorites like Santa and Rudolph while your guests mark off the images on their bingo cards.
Creating your own Christmas bingo card can be lots of fun. Use a graphic design tool like Canva to make a grid and fill it in with festive images. If you're looking for a ready-made bingo card, this printable festive bingo set is free to download and print ahead of your party.
10. Two Truths and a Lie
Put a festive twist on an old-school classic with a Christmas-themed game of Two Truths and a Lie. This is a fun Christmas party game for couples and families, as you'll know each other well enough to be able to make a good guess.
Ask your guests to get thinking and come up with two truths and a lie that are somehow linked to Christmas or the holiday season. They might include references to past Christmas parties or recount their favorite holiday movies. Take it in turns to guess what's fact and fiction, and enjoy a relaxed party game together.
More Fun Christmas Party Ideas
Christmas party games can really transform an event and make it a memorable day or night for your guests. Sometimes you'll want to add other activities too, so here are some non-competitive activities to inspire a fun, festive party.
1. Complete a Festive Puzzle Together
If you're looking for a calm, relaxing activity for after your party games, try a festive jigsaw puzzle. Gather everyone around a table or get cozy on the floor and work together to build the puzzle. You could also leave the puzzle out throughout the party, so guests can stop by and fill in a piece or two as they grab a drink or some snacks. By the end of the evening you'll have a finished puzzle that you've all contributed to.
2. Make or Exchange Christmas Tree Ornaments
Create a new Christmas tradition with an ornament crafting session or exchange. Experiment with baking your own DIY salt dough decorations or buy in ready-made baubles to paint and decorate. Once your ornaments are ready, guests can either take them home to hang on their tree for years to come, or they can swap with a loved one as a mini Christmas gift exchange. This is a great activity for kids to get involved in, as you can create some lovely keepsake decorations.
3. Play Christmas Karaoke
Break out your homemade karaoke setup and encourage people to sing to their heart's content. Set up a selection of your favorite Christmas songs and challenge your guests to a karaoke battle — or team up to sing Christmas carols together. Combine your karaoke session with Christmas drinking games, and you have a laughter-filled evening of entertainment for the grown-ups after the kids have gone to bed.
4. Have a Festive Bake-Off
For foodie families, a festive bake-off is the perfect Christmas party activity. While it takes some advance preparation, it's a fun way to get everyone involved and have a great time.
Set a theme and see who can come up with the most delicious or most fun baked goods. Keep it simple by providing cupcakes for people to decorate at the party, or ask people to bake ahead and bring their creations with them on the day. Assign a judge and a prize for the best bake, or keep it strictly fun.
You could even plan a special Christmas party around the concept, and invite guests with personalized Christmas invitations that outline how the bake-off will look.
5. Host a Cozy Christmas Movie Night
After you've enjoyed a delicious meal together or spent the day playing party games, you might be looking for a calm way to close out the evening. A Christmas movie night could be the perfect answer. Choose a fan favorite and deck out your home with blankets, hot cocoa, marshmallows, and fresh popcorn. If you have the space, invite some of your party guests for a sleepover for the ultimate Christmas movie night experience.
Celebrate the Season with Fun Christmas Party Games
There's so much to celebrate over the Christmas season. It's an opportunity to gather family and friends for a party filled with smiles, laughter, and good memories. Complement your cooking skills and love for hosting with these fun Christmas games. It will create a memorable festive celebration your guests will enjoy. Don't forget to start the fun and games early with customized digital invitations that hint at the entertainment to come.