April 7, 2022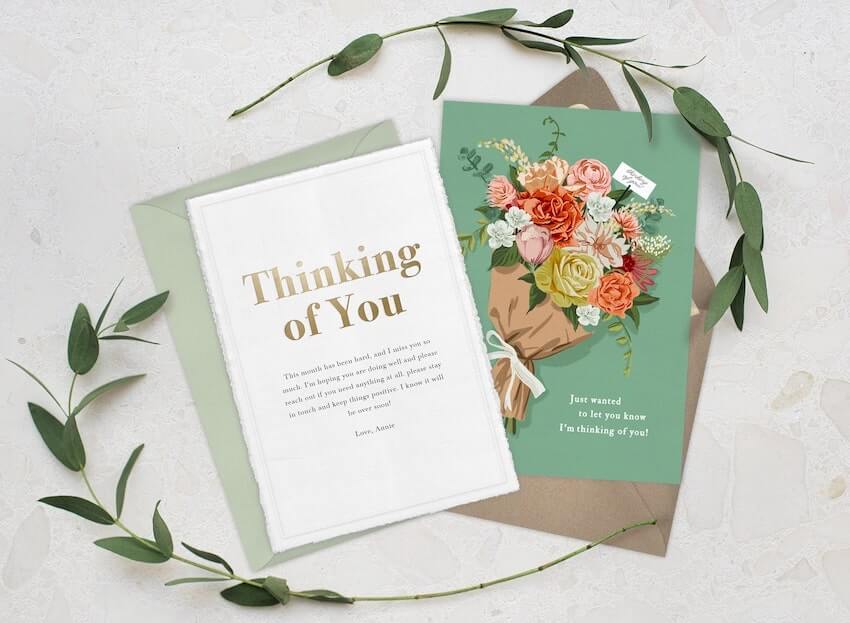 Whether you're sending heartfelt sympathies for the passing of a family member, the loss of a job, a divorce, an illness, or another difficult time, it's hard to find the right words. With a well-chosen sympathy greeting card — from a "thinking of you" card to a get well card — you can show your support and let your loved one know you're there in good times and bad.
We've lined up a card assortment that will help you share words of encouragement during all of life's difficult moments. Find the one that fits your loved one's personality and situation, then personalize your message, and send your condolences. With the support of someone like you, we know your nearest and dearest will get through this — one day at a time.

12 Sympathy Cards to Show Your Support
These beautifully designed digital note cards include messages of support and sympathy. With room to add your own message (and pre-written text to help you get started), you'll be able to show you care during any of life's struggles.
1. Floral Sentiments Card
This classic condolences card is a simple and classy way to send your sympathy. The "thinking of you" message works in a variety of circumstances, both happy and sad. Send it out as a memorial card after the loss of a loved one, or use it during happier times, such as an anniversary card to recognize a momentous year. There's room on the back to add your own message for any occasion.
2. Virtual Hug Card
This heart-shaped design makes a lovely card to share encouragement after a disappointment, like a career setback or a breakup. It also makes a good pet sympathy card for anyone who has just lost their furry friend — the playful shape and font evoke the joy that pets bring into our lives while the "sending you a virtual hug" message will make any recipient feel your love.
3. Thankful for You Card
This unique sympathy thank-you design makes an excellent encouragement card for anyone who's experienced recent setbacks that make them doubt their self-worth. Remind them of better times by personalizing the front with a photo of a happy memory you two share. Then add your own message on the back to remind them of times when they helped or inspired you. When you let them know that you see their value, they just might see it too.
4. Feel Better Card
For anyone who's been under the weather with a persistent cold or an even more serious illness, this get well soon card sets the tone for a speedy recovery. Its colorful design instantly lifts the spirits, and its message can stand on its own or be paired with your own personalized message on the backside of the card.
5. Tranquil Thoughts Card
This Tranquil Thoughts sympathy card displays your personal message right on the front. It's an ideal card for sharing your deepest sympathies. If you're the person who always knows what your loved ones need to hear, this template displays your thoughts and well wishes front and center. Put all the words you've been wanting to say down on (virtual) paper for your loved one to cherish.
6. Just Checking In Card
If you know someone who's been struggling for a while, this Just Checking In Card, featuring a watercolor checkers board, will let them know you're still thinking of them. Often when we experience a loss, such as a death in the family, we receive an outpouring of support right after the event occurs. But that support slowly fades. Send this card to let your friend or family member know that you're still available if they need help.
7. Hanging Plant Card
For any plant enthusiast in your life, this "hang in there" card will provide a little encouragement when they're in need. Let them know that this too shall pass by sending this houseplant peace sympathy card. The illustrated greenery inspires a sense of calm and the message inspires perseverance.
8. Gilded Sentiments Card
Formal, timeless, and effective, this "thinking of you" card allows you to show support to anyone in your life from your stoic grandfather to your professional colleagues. Both the layout and the message are direct — devoid of melodrama, yet full of feeling. This card offers just the right touch to let anyone know you care.
9. Things Are Bananas Card
Not every sympathy card needs to recognize a tragedy. Sometimes, letting our loved ones know that we see the everyday stress in their lives can take a weight off their shoulders. Send this playful card to let someone know that even though things are crazy, they're still in your thoughts. This light-hearted message also works as a belated birthday card or an unexpected holiday card. (Things are always bananas around the holidays!)
10. Daydreams Card
The message on this nature-inspired sympathy card could be the most helpful message you can send in difficult times. More than saying "I'm wishing you peace" or "everything happens for a reason," telling someone to take their life "one day at a time" can help them get through their hardship.
Use the space on the back of the card to let your loved one know that sometimes just getting out of bed and brushing their teeth can feel difficult, but if they focus on these little day-to-day tasks, gradually they'll be able to take on more. They will get through this — one day at a time.
11. Peaceful Poppies Card
Some of us aren't great with words — we show our love and support through our actions. This sympathy card lets your loved one know that you're willing to do whatever it takes to support them. There's room for a personalized message on the front of the card right below text that reads "here if you need me." But don't feel like you need to write a piece of poetry to cheer up your loved one.
Instead, explain the ways you'll be there for them — whether it's picking up their family members from the airport before a funeral, picking up groceries when they can't find the time, or helping them fold their laundry while you two watch chick flicks and eat a pint of ice cream. Your actions will speak louder than your words. This card is just the conversation starter.
12. Sending All the Positive Vibes
Whether someone you love has been feeling down or just needs a little extra encouragement, this fun and funky design is like sunshine in a sympathy card. Send positive vibes to help your friend or family member get through a hard time or use this card to wish someone good luck before a big day. Either way, it will have your loved one feeling positive.
We're Thinking of You
Whenever a loved one is going through a hard time, we want to be there for them. But it can be difficult to know what to say. Let a heartfelt sympathy card help you find the right words. And remember that showing up and showing your support for struggling friends and family members is the most important thing you can do — how you do it is entirely up to you.
Take the first step by sending a digital greeting card. You can personalize the message and send it to your loved one instantly. You can even attach a sympathy gift, like a gift certificate for food delivery or a voucher for a cleaning service to help anyone who is struggling to find the time and energy to take care of themselves during a time of loss.
Digital cards are also a good way to remind a loved one who has been struggling for a while that they are not alone. Send your thoughts, send your love, and send your hope that tomorrow and each day after will be a little easier. We're thinking of you and your loved ones, and we hope things get better soon.