January 23, 2020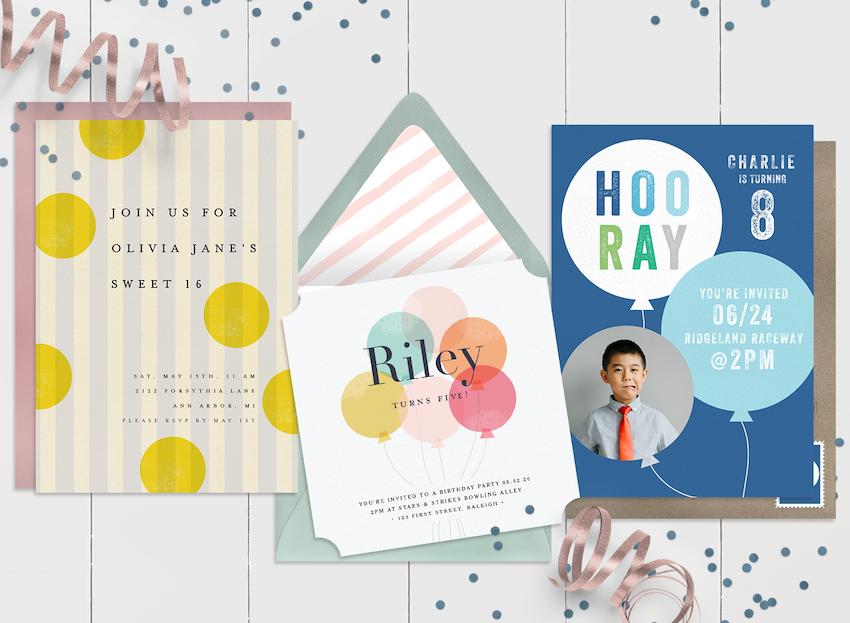 We have zero shame in saying this: We're a big group of kids who never grew up. And for that reason, designing (and sending) kid's birthday invitations is sorta our jam.
Because while adult birthday parties are nice, we'd choose a bouncy house over a cocktail bar any day. And when you think of all the go-to kid's party themes — pool parties, skating parties, bowling parties — you're low-key humming the tune to Our Favorite Things.
So if you're searching high and low for the best kid's birthday invitations, just sit back and relax. We have a whole collection of designs that will make you want to party.

Advantages of Sending Digital Kid's Birthday Invitations
Planning your child's birthday party should, well, make you feel like a kid again. It shouldn't stress you out with time constraints, logistics, budgets, and so on. Here's why sending online invitations through Greenvelope can make the experience feel like a party for the parents (not just the kiddos).
It helps preserve your budget: Looking to save a pretty penny? Parents Magazine listed sending digital invitations — rather than paper ones — as one of the best ways to save money on a child's birthday party.
It's a time saver: Between reserving the bounce house, calling other parents, and checking in with the bakery, this event is taking more prep than hosting your extended family for a holiday party. Greenvelope's easy customization tool allows you to send out invitations in just a few minutes.
It ensures no one is accidentally left out: Let's face it, traditional mail is anything but fool-proof. Rather than worry that an invitation got lost in the mail or sent to the wrong address (causing one of your child's closest friends to feel left out), Greenvelope sends invitations directly to the other parents' inboxes. Plus, with advanced guest tracking, you know if — and when — your invitations are opened. Therefore, if a parent hasn't opened the invitation days after sending it, you can call, text, or direct message the guest with a follow-up.
It can easily be customized to the birthday theme: Personalized stationery from printed-paper card companies come with limited options. But with Greenvelope, there are over 350 kid's birthday party invitations to choose from — all of which can be customized in just a few clicks.
So without further ado, let's take a look at some of the cutest options for digital, kid's birthday invitations.
10 Kid's Birthday Invitations to Kick Off the Party
We can't help control the volume level or prevent a cupcake sugar rush, but when it comes to sending out the invitations, we're all hands on deck. Here are 10 kid's birthday invitations that will bring out your inner child.
1. Party Gator Invitation
Whether you're planning a trip to the zoo or the birthday boy (or girl!) simply has a deep love of animals, this birthday card will be a hit. Featuring a watercolor illustration of an alligator and a fun, scribbled font, it's sure to delight your guests. Customize the invitation wording with, "See you later alligator (at the party!)," and fire off your invites to the other parents.
2. Mermaid Magic
Is a certain water baby about to have a birthday? This mermaid-themed invitation certainly makes a splash, featuring fun illustrations of starfish, clamshells, and a shimmering mermaid fin. Whether you're planning a pool party or hosting a water fight in your own backyard, this birthday invite is about to make waves.
3. Unicorn Magic Invitation
If your little magician could wave their magic wand, what birthday bash would they wish for? This adorable birthday greeting card is exactly what they've been dreaming of, with a unicorn illustration, sparkling rainbow, and pink background. Send it out to all your guests as you count down to your little one's enchanting party.
4. Let's Roll Invitation
Grab your roller skates (and perhaps a set of knee pads) and get ready for the best birthday party ever. Your little birthday star is headed to the skating rink, and this invitation will ensure they're joined by all their best pals. Choose from five bright color palettes, or create your own to match your birthday party theme.
5. Festive Piñata Invitation
Is someone daydreaming of a fiesta for their birthday? This birthday party invite features bright colors and a fun donkey piñata covered in rainbow stripes. So put on your best party hat, stuff your piñata full of candy (good luck with that by the way), and enjoy this fiesta de cumpleaños.
6. Super Hero Pow Invitation
If your little superhero has a birthday coming up, this party photo card will start your celebration off with a POW! and a BAM! Tell your little crime fighter to don their best cape and you'll take care of inviting all their sidekicks. Luckily, with Greenvelope firing off your invites to all the parents' inboxes, those RSVPs will come in at the speed of light.
7. Baseball Stitch Invitation
If you're planning a baseball-themed birthday party, this invitation better be first in the lineup. Whether your little all-star is dreaming of a day out at the ballpark or a game at your own field of dreams (translation: your backyard), this kid's party invitation is sure to be a home run. Grill some brats, ask the parents to fill the stands, give all the little players eye-black stickers, and prepare for a wonderful afternoon at the ballpark.
8. Teddy Bear Hearts Invitation
Is your little one about to celebrate their first birthday? This adorable card works beautifully as a 1st birthday invitation, birth announcement, or baby shower invitation, depending on your special occasion. Featuring an illustration of a teddy bear surrounded by sketched hearts, it's a wonderful card to celebrate your bundle of joy.
Celebrating ages 2, 3, or 4? No worries! With Greenvelope's customization tool, you can personalize this invite for the appropriate milestone in just a few clicks.
9. Confetti Balloon Invitation
Is your little princess planning an over-the-top birthday bash? This girl birthday invitation features a blush color palette and rose gold accents, fitting for any young fashionista. Whether she's craving a tea party, dress-up party, or trip to the movies, she'll feel quite grown up with this modern and classy invite.
10. Rustic Woodland Wreath Invitation
Sometimes, you don't need a fancy-schmancy party to have the best time. Sometimes, an outdoor BBQ where children, adults, and friends can gather together, play games, and swap jokes is the most memorable experience of all. This photo invitation is a wonderful fit for any outdoor birthday, and can easily be customized for a fifth or first birthday invitation, or anywhere in between.
Ensure Your Kid Has the Best Birthday Yet
With Greenvelope, you're not only getting a group of expert party planners, you're getting the peace of mind that your kid's best friends will be invited to join in on the fun.
Our birthday invitations are conveniently (and quickly!) delivered to the other parents' inboxes. There's no worrying about whether an invite got lost in the mail or didn't arrive on time. Plus, there's no dealing with address labels or RSVP cards — your guests can RSVP in just a few clicks.
Actually, now that we think of it, the most challenging part of the planning process may be narrowing down your design selection. With over 350+ cards to choose from, you'll have more than enough options for your kid's birthday bash.