May 23, 2023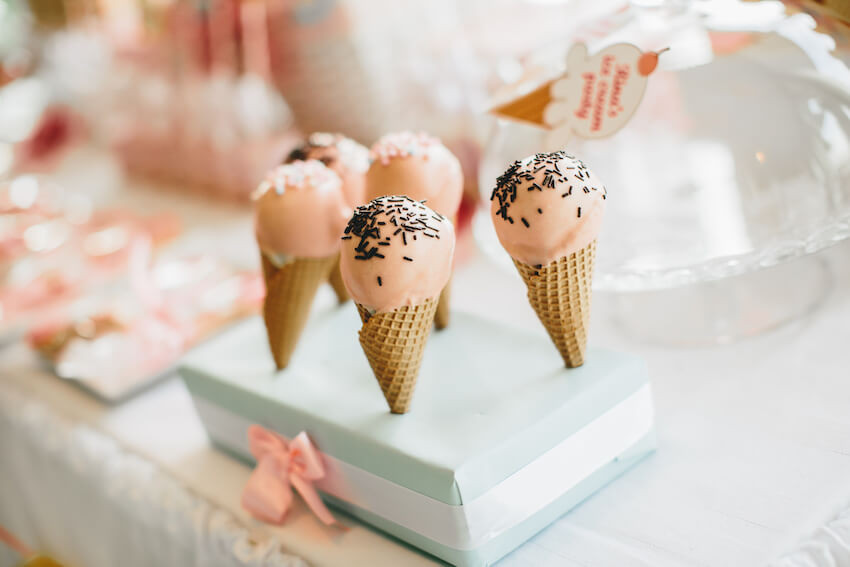 Who doesn't love an ice cream social? If there's a big celebration coming up and you have a dessert fan in the house, an ice cream birthday party is the perfect way to celebrate the guest of honor regardless of age.
Discover our favorite ice cream birthday party ideas to help you create an incredible celebration. Get inspiration for color schemes, decor, and food — plus our most-loved themed birthday party invites.

9 Tips for Planning the Best Ice Cream Birthday Party 
Whether you're celebrating a little one's 1st birthday or a grown-up's milestone birthday, an ice cream birthday party theme is sure to be a crowd pleaser. Explore our favorite ways to celebrate with these ice cream birthday party ideas.
1. Choose a Pastel Color Scheme
When we think of ice cream parties, we always think pastel. These soft, delicate colors work so well with the fresh colors of your favorite ice cream flavors. Choose pastel pinks, blues, purples, yellows, and oranges to create a modern (or retro) feel for your celebration.
Carry your color scheme across all elements of your party — from this sweet party invite to birthday party decorations like ice cream balloon garlands and piñatas. Let the festive colors inspire you to create a dreamy event for someone special.
2. Hang Ice Cream Cone-Themed Bunting
Bunting or garlands are always great choices as they provide an easy way to create atmosphere without investing in a whole new collection of party decor. Buy some ice cream-themed bunting or DIY your own decor with this printable ice cream garland.
Hang your garlands or bunting over the cake or dessert table, or use them to add interest to a photo backdrop area. This is one of our favorite easy ice cream party decorations as it'll liven up your space in no time at all.
3. Add Sprinkles and Confetti to Tableware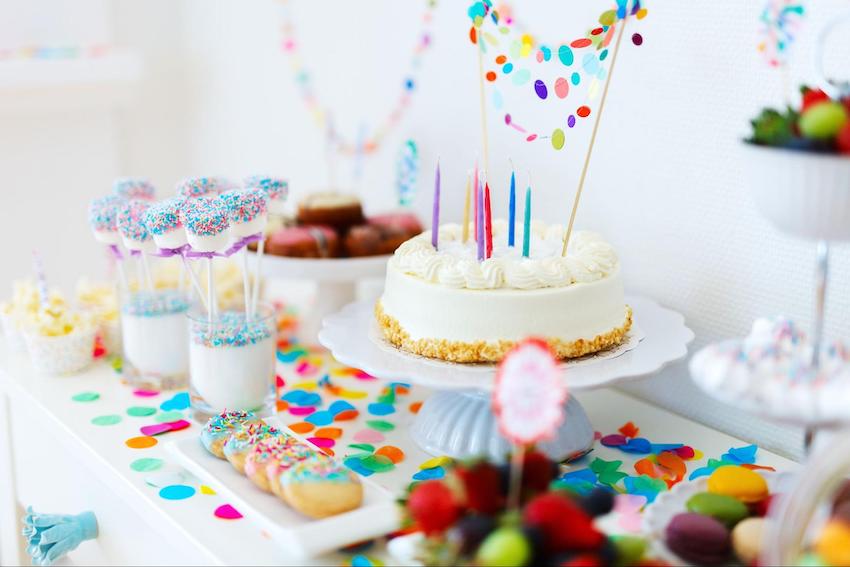 The best ice cream always has sprinkles, and it's these cute strands of sugar that you can use as inspiration for your party tables. Stock up on table linens and decor pieces that feature sprinkles or confetti as a sweet way to let your ice cream theme shine.
Look for tablecloths, napkins, straws, and eco-friendly party plates and cups that feature brightly colored confetti or pastel sprinkles. Swap traditional cutlery for brightly colored or iridescent versions, and have some colorful ice cream spoons ready for your guests to use.
4. Decorate with Pastel-Colored Flowers
While flowers might feel grown up, they're also ideal for children's birthday parties. Whether you're celebrating someone turning five or 35, vases filled with beautiful fresh blooms instantly liven up a space.
Use flowers as your table centerpieces, or hang artificial flowers on garlands along the walls. Consider using flowers not just as party decor but also as part of your menu with edible flowers in ice cubes or as a garnish.
5. Create Your Own Ice Cream Shop
One of our all-time favorite ideas is to create your very own ice cream parlor at home. This is always fun for kids and anyone who loves to customize their desserts. Stock up on ice cream party supplies (like ice cream cones and ice cream cups) and create a self-serve ice cream bar.
You can focus on a variety of flavors and include dairy-free options if you have guests who are vegan or lactose intolerant. Be sure to offer an array of toppings, including those ever-popular sprinkles, crushed candy pieces, mini chocolate chips, fresh fruit, and sauces.
If creating your own ice cream sundae bar feels overwhelming, an amazing alternative is to hire an ice cream truck or vintage ice cream bicycle for your event.
6. Serve a Signature Ice Cream Sundae
We've heard of signature cocktails, so why not have a signature ice cream sundae? This ice cream birthday party idea is a fun way to recognize the guest of honor's tastes.
Ask the birthday honoree to put together their dream ice cream sundae and serve it to your party guests as part of the celebrations. Take a summer ice cream classic like a strawberry sundae and give it a fun name, or encourage the guest of honor to create something unique with an unusual ice cream flavor or topping combination. You could even play a party game of "Name That Sundae" to get everyone in on the fun.
7. Offer Colorful Drinks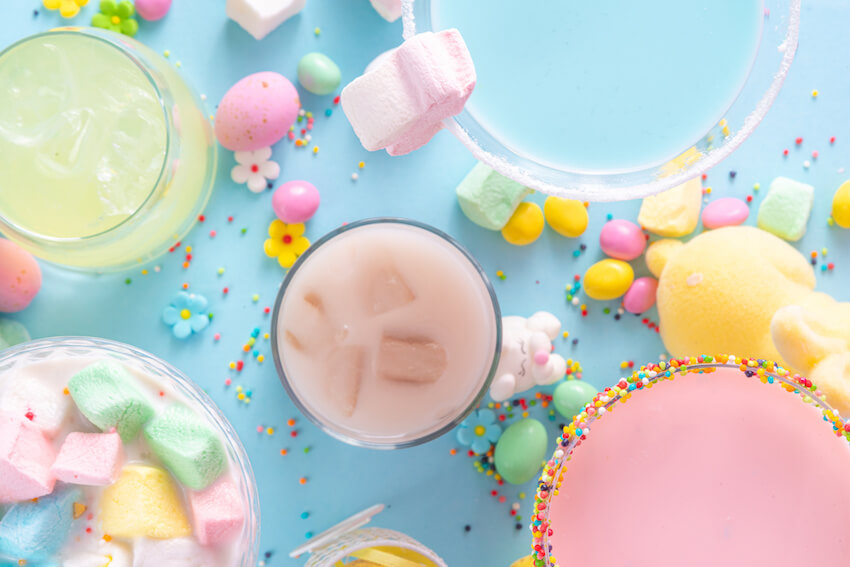 Give your party guests something refreshing to drink (and pleasing to see!) with colorful drinks that go perfectly with an ice cream theme. Stick to pastel tones or go brighter with bold-colored fruit juices and sodas in flavors like cherry, rhubarb, and grape — perfect for making your own ice cream float.
There are lots of stunning pastel cocktail ideas out there and this Hawaiian blue mocktail is a beautiful and tasty alcohol-free option.
8. Have an Ice Cream Birthday Cake
Enjoying a slice of delicious cake is a birthday must-have. Make that "happy birthday" moment feel even more special with an ice cream cake. You can go all-in on the theme with a cake shaped like an ice cream cone or sundae, or simply add a themed party topper.
9. Choose Ice Cream Party Favors
A sweet way to complete your ice cream birthday party theme is with matching take-home party favors. This is the perfect opportunity to say thank you to your party guests with goodies that remind them of your fun-filled celebration.
Put together party favor bags with gifts that feel age-appropriate — that might be stickers, ice cream themed stationery, themed soap or wax melts, bath bombs, candies, or even mini bottles of vanilla flavored syrup or gin. If you want to give something sweet, a cupcake or brownie with an ice cream themed topper is always a lovely option.
Invite Guests with These Ice Cream Birthday Party Invitations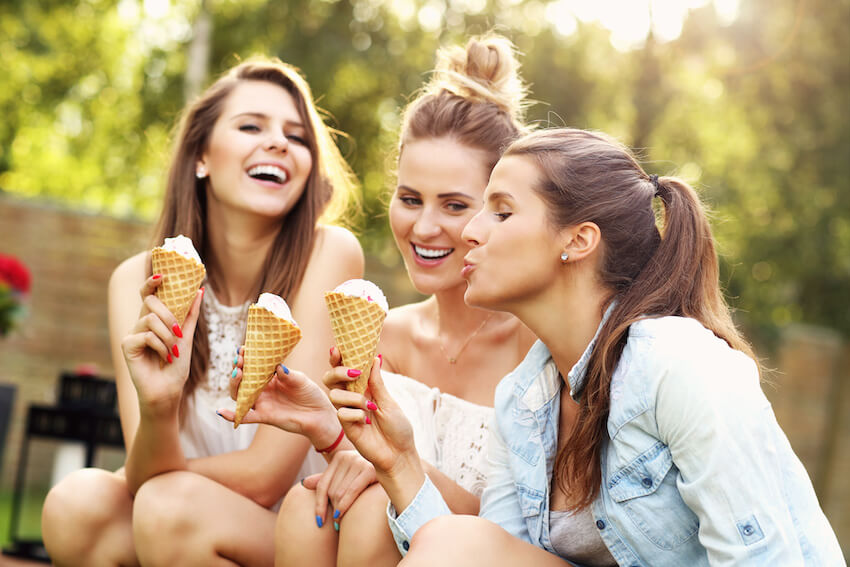 Get your guests excited about the big event with a themed birthday party invite. Whether you're inviting guests to a sweet 16 party or celebrating a little one's first birthday, a personalized invitation always feels special.
Greenvelope makes it easy to customize any digital invitation to make it your own. Change the layout, wording, colors, and fonts to create something that feels perfectly tailored to the guest or honor. You could even choose one of our baby shower or baby sprinkle invites and adapt it to be your dream birthday party invite. To get you started, here are some of our favorite ice cream birthday party invitations.
Drippy Ice Cream Invitation
We love this adorable ice cream-themed invite for a kids' birthday party. There's space to share a sweet photo of the birthday guest of honor, and plenty of color options to make this invite feel completely custom.
Banana Split Invitation
Let your guests know they're in for a real treat with this fun banana split invitation. It's ideal whether this dessert is the honoree's favorite, you're planning a DIY banana split ice cream bar, or you simply love the illustration.
Triple Scoop Invitation
The bright colors on this photo invitation make it ideal for a summer birthday party. Add a photo of the special guest, along with all their party details below. Choose from four color options or ask our designers to add your favorite colors instead.
Host the Sweetest Ice Cream Birthday Party Ever
Ice cream birthday parties are always exciting. There's plenty of color, fun party decorations, and delicious ice cream and goodies. Use these ideas to help you plan an incredible ice cream party for someone special. When it's time to let your guests know about the big event, use one of our ice cream-themed party invitations to spread the word and get those RSVPs pouring in.