September 14, 2022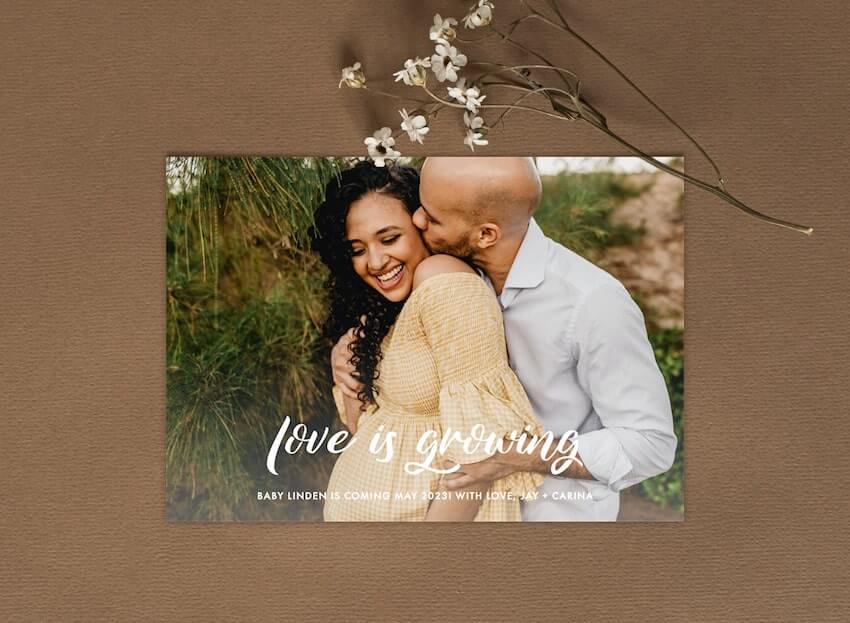 This fall, you've got something brewing that's even more exciting than a pumpkin spice latte. You're welcoming a new baby to the family, and you're excited to share the news with a big announcement. But first, you need a fall pregnancy announcement idea that's as adorable as your future baby.
Well, get ready for some autumnal inspiration. We're sharing 10 themes for your pregnancy reveal, and we're certain you'll fall in love with at least one of them. We'll explain how to bring each theme to life with a family photoshoot or a flat lay, and we'll share three photo announcement cards that will help you share your news.

10 Themes for Your Fall Pregnancy Announcement
It's easy to create a social-media-worthy pregnancy announcement with just a few props and a clever fall theme. Once you've snapped the perfect photo, you can use it again and again.
Create a photo card to share the news with your nearest and dearest first. You can even print and frame the pic to hang it in your baby's bedroom as their first "Welcome to the world!"
To help you create the ultimate pregnancy reveal, we've rounded up 10 DIY fall pregnancy announcement ideas. Here are our favorite ways to share the big news about your little one this season.
1. Fall Pregnant
Have a little fun with this old-fashioned expression, and tell the world that the mom-to-be has fallen pregnant. Do a little photoshoot featuring the proud mama lying in a pile of fall leaves. Then add text that says, "I've fallen pregnant! Our baby is due MM-DD-YYYY."
2. Our Little Pumpkin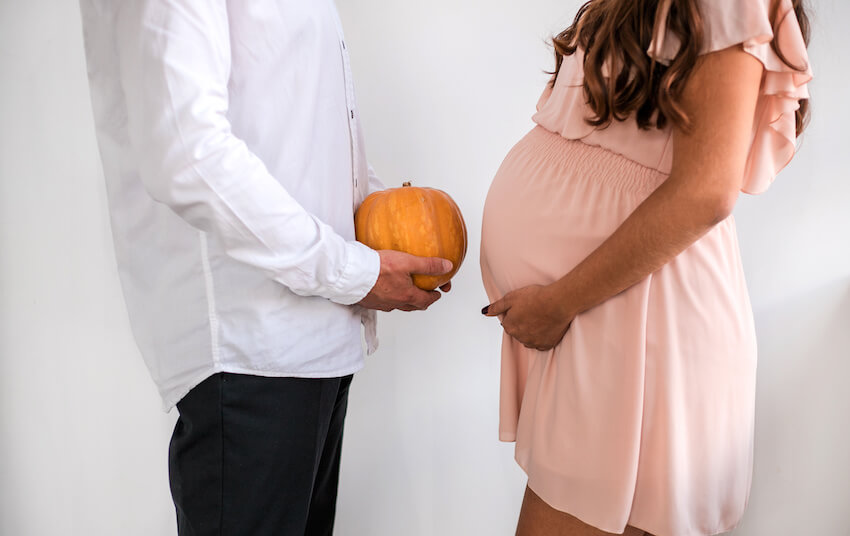 There's nothing more autumnal than a pumpkin pregnancy announcement, and there are so many creative things you can do with this theme. Write your news on a letterboard and prop it up in a pumpkin patch for a sweet, simple, and social-media-worthy design.
If mom-to-be isn't showing yet, have her hold a pumpkin in front of her belly to represent the future baby bump. Or if she's already in her third trimester, have her stand back-to-back with her partner while the partner holds the pumpkin to create a matching bump. Add text that says, "Our little pumpkin is on the way!"
If you're feeling a little camera shy, style a flat lay with pumpkin seeds on one side, baby pumpkins on the other, and a chalkboard in between. Add text that says, "Love is growing" or "We've planted the seed. Now we're waiting for our little pumpkin to grow."
3. Love You a Latte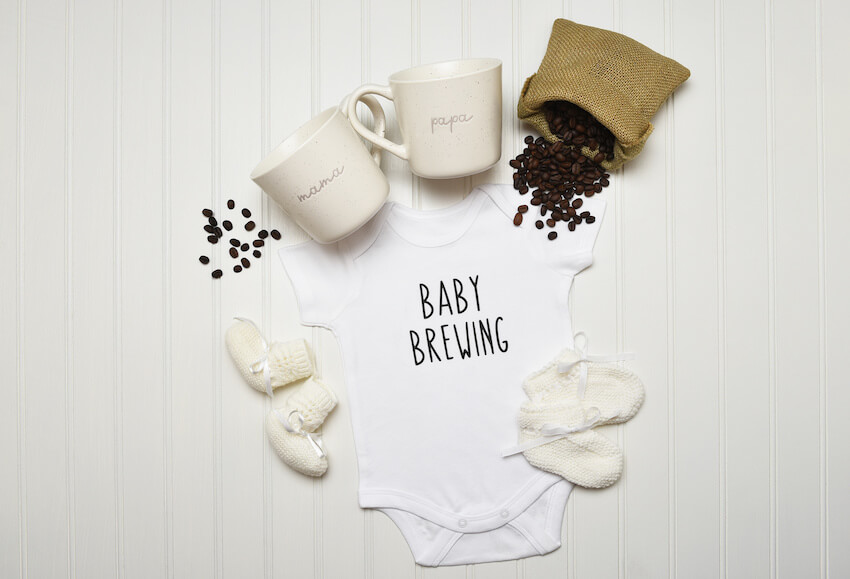 If your favorite thing about the fall season is pumpkin spice lattes, then this theme is the perfect way to announce your new addition. You can take a picture of the parents-to-be dressed in plaid and sipping lattes, or you can style a flat lay with mugs full of lattes topped with whipped cream and surrounded by baby pumpkins. Add a chalkboard that says, "We already love you a latte" or "Babies are made of pumpkin spice and everything nice."
4. A Gourd-geous Baby
If you want a more original take on the pumpkin-themed pregnancy announcement, incorporate all the gourds. Style pumpkins, butternut squash, acorn squash, and any other gourd you can get your hands on. Pose for a family photoshoot or add a letterboard to spell out the exciting news — "A gourd-geous baby is on the way!"
5. Fall in Love
Welcome your new baby with all the love you already feel by adding text to your pregnancy reveal that says "We're already falling in love" or "Get ready to fall in love." Then, include your due date underneath. This sweet theme is the perfect opportunity for an intimate photoshoot that shows the love between the parents-to-be or the whole family if your first child is about to be promoted to big brother or big sister.
6. Our Little Treat
If you're announcing that your baby is on the way in October, it's the perfect time for a Halloween pregnancy announcement. Use a letterboard or chalkboard to announce, "This is no trick! We're expecting a little treat." Include your baby's due date and decorate with a jack-o-lantern and baby-sized Halloween costumes to create a flat-lay announcement. Or you can keep it simple by wearing a T-shirt with a jack-o-lantern over your baby bump.
7. Apple of Our Eye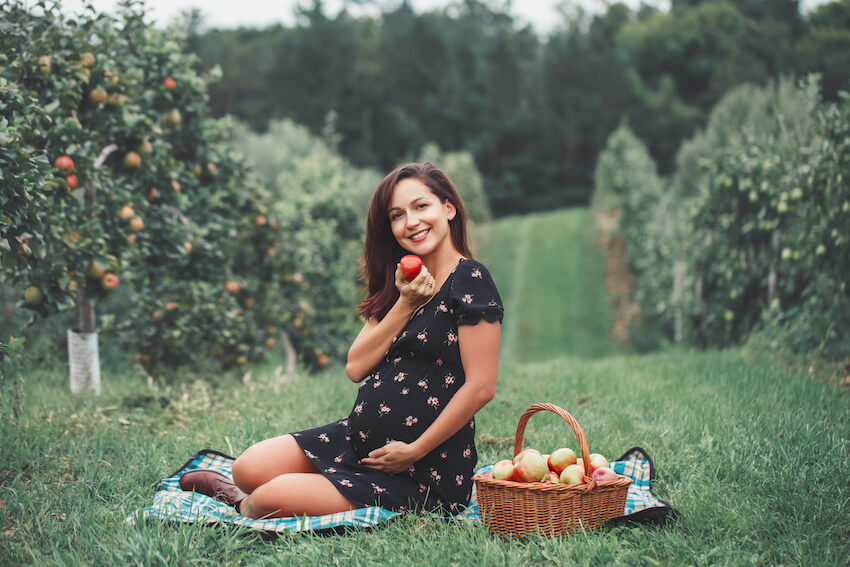 After pumpkins, the second most iconic fall food is apples. For your fall baby announcement, head to an apple orchard. Take pictures of the parents-to-be or the whole growing family doing some apple picking, or create a stylish social media pregnancy announcement by placing a letterboard in front of overflowing barrels of apples. For the text, write "The apple of our eye is arriving on MM-DD-YYYY" with the due date.
8. So Thankful
We love the sincerity of this message, and it's ideal for a Thanksgiving pregnancy announcement. You can create a Thanksgiving-themed flat lay with your big news written on a onesie, letterboard, or chalkboard. Surround the message with fall leaves, acorns, and pinecones, or add classic Thanksgiving food, like turkey and pie, around the edges of the frame.
Of course, with such a sincere message you can also keep your announcement simple with an intimate photo of your growing family and text that reads, "So thankful" or "Even more to be thankful for."
9. Better Than Sweater Weather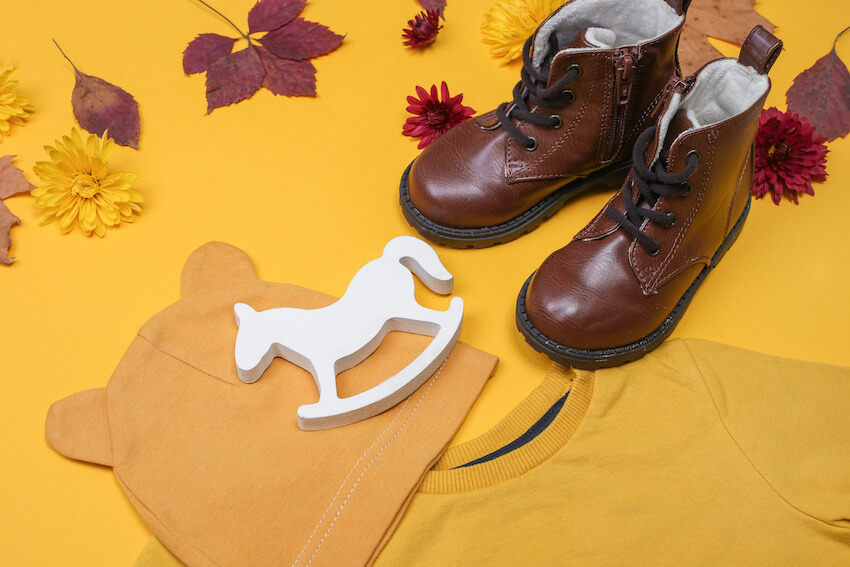 For all your friends who love sweater weather, create a cute fall pregnancy announcement that reads, "This news is better than sweater weather." Then, style a baby sweater or a long-sleeve baby onesie next to a letterboard with your baby's due date. Another idea is to have the mama-to-be hold a tiny sweater in front of her baby bump for your pregnancy reveal photoshoot.
10. Cutie Pie
Fall rolls around, and suddenly there's pie everywhere — which is great for those pregnancy cravings! If you're craving a cute idea for your fall pregnancy announcements, pick up some of the season's most classic pies, like apple, pumpkin, and pecan. Then, arrange them into a flat lay with your big news written on a chalkboard in the center of the frame. For your announcement text, you can write "We're expecting a cutie pie!"
3 Fall Pregnancy Announcement Photo Cards
A social media announcement is a good way to share your news with acquaintances. But for close friends and family members, a pregnancy announcement card is a more personal way to make them feel included in your next big adventure.
Send a card to your grandparents, aunts and uncles, close cousins, and best friends. Sharing the news with them first (before all your social media followers) will show how important they are to you and your future child.
Here are three digital photo cards that allow you to easily add your pregnancy announcement photo and send it out to your loved ones' email addresses in minutes.
1. Blessed Wreath Announcement
The fall colors on this pregnancy announcement card will pair perfectly with your autumn-themed photos. Your image will be surrounded by beautiful fall foliage, and the message on this card will complement any Thanksgiving pregnancy announcement.
2. Love Is Growing Announcement
This pregnancy announcement card features a full photo, which will put your photoshoot front and center. The message pairs beautifully with a "fall in love" theme or a pumpkin, apple, or gourd theme.
3. Omg Yay! Announcement
This cheerful card would go well with any pregnancy announcement photo, but we love the idea of pairing the "omg yay!" text on this design with a pumpkin or cutie pie theme. You can update the text below "omg yay!" to say "our little pumpkin is on the way."
Say It All This Fall
Designing an adorable flat-lay photo or having a family photoshoot (baby bump and all!) is part of the fun of announcing your little one. And when you put together your fall pregnancy announcement, you can enjoy some on-theme excitement by playing in the fall leaves, visiting a pumpkin patch, or going apple picking.
After you pick (and take pics of) your fall design, create an online announcement photo card that you can send directly to your loved one's inboxes. It will feel more personal than a social media post and allow you to share your big news with the important people in your life — like your relatives and close friends — before you share it on Instagram.
Anyone who receives the announcement is sure to feel the joy and start falling in love with your new baby.