August 14, 2014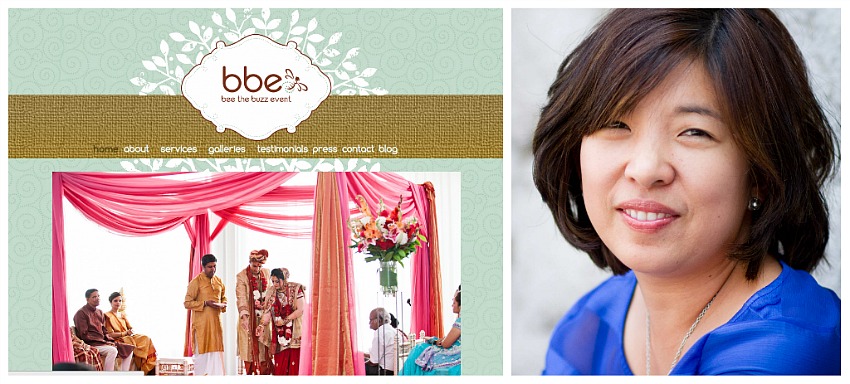 Bee the Buzz is an award-winning event planning and design company in the Minneapolis and St. Paul area that is obsessed with love…life…and the environment. The company¬†invests in technology that uses less paper, such as emails, phone calls, and Google docs. They say "It is in our DNA to produce an event that leaves the least amount of carbon foot-print without sacrificing style." To further show their dedication to the environment, they donate a portion of their income from each event to Green Futures by Tree Trust, a non-profit organization that turns charitable donations into trees planted in parks and neighborhoods throughout Twin Cities area.
Bea, the owner and lead planner, shares tidbits about her company and being an event planner.
When and how did you know that you wanted to be an event planner?
I have always had an entrepreneurial spirit within me and I am a people pleaser. My husband and I love to host get-togethers at our house and I love all aspects of making guests happy and comfortable. After I quit my corporate job, I wanted to do something that I love and event planning is one love that I can't put off. I think we should love what we do, otherwise, life is not going to be as fulfilling as we want it to be. To me, a fulfilled life is to help others and by my vocation, planning parties! The look of happiness and satisfaction in a client's face says it all. I take pride in what I do and I bend myself backwards for my clients if I have to.
What was the very first event you planned and how did it go?
The very first event was a friend's wedding and it went really well! I actually was not feeling well that day (fever at 103) but it went off without a hitch and my friend is still thanking me to this day.
What do you love most about event planning?
I love producing an event that people can enjoy the moments and realize that life is good. It's that simple! They say, people who love parties, live longer. Don't you agree?
Funniest or craziest thing that has ever happened at one of your events?
I don't know if the craziest (to me it was a little crazy – good crazy though), but one of the most interesting weddings that I have done is the Marathon wedding. In the morning of a wedding day, a couple usually chooses to relax and sip sangria or do a little round of golf, but this couple decided to run a marathon! They both were avid runners. It was the bride's 5th marathon but the groom's 1st. I was a little worried about the groom, honestly. I saw my husband run a marathon the year before and he did not want to get off the couch for the rest the day! This couple though were in high spirits and even danced the night away. I had the outmost respect for their dedication and I can see that they can weather any challenges in their married life. It was always great to have found clients like that!
What inspired you to support green communication?
I wanted to educate my clients that it is good to be aware of our surroundings and be mindful of the waste created by events. I want them to know that their kids, grand kids and great-grand kids will have the opportunity to enjoy the beauty of this earth if they do something about it. Being green does not mean re-using junk. It can be by selectively curating elements of the party that will end up in less trash. We can certainly help with that.
How did you come up with the name of your business?
When I was in college, a few close friends sometimes called me Miss Bee. It was a fun twist from my name, Bea, and with the buzz lately of how we can protect the environment of bees (the insect), I thought it would be appropriate to have a business name that reflects our core values in preserving nature. So, one morning I woke up and came up with the name Bee The Buzz Event. I like the sound of that and people sometimes need to hear it twice to get it but after that the name stuck.
What's your approach when meeting a client for the first time?
I lay everything on the table so there will be no surprises at the end. I give 110% to my client. My dedication and loyalty is evident in the testimonials that they give me.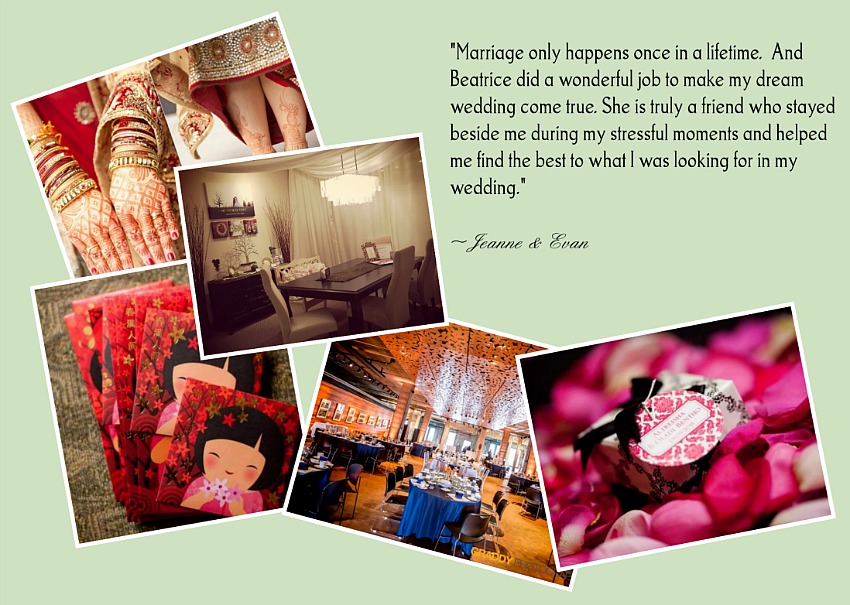 Give one piece of advice to newly engaged couples at the start of the wedding process.
"Ask for help" No matter how organized and research-minded you are, having someone to guide you every step of the way will prove to be valuable at the end. This is a once in a lifetime event. Make sure it will be one that you will never forget.
We are proud to announce that Bee the Buzz is a certified Greenvelope event planner!