October 10, 2017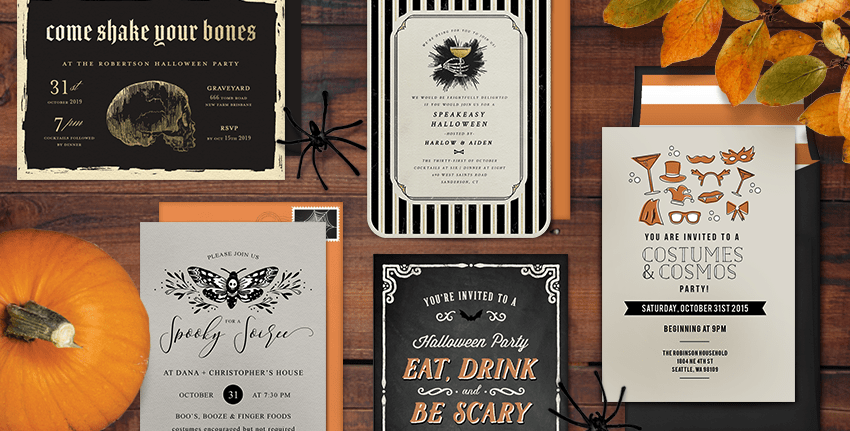 Just because you're too old to trick-or-treat doesn't mean the party has to end. Get fully into the spirit and invite your adult friends to come out and play. Below, we have 8 Halloween party theme ideas (with matching invitations!) that are perfect for your spooky soirée.
Creepy Crawly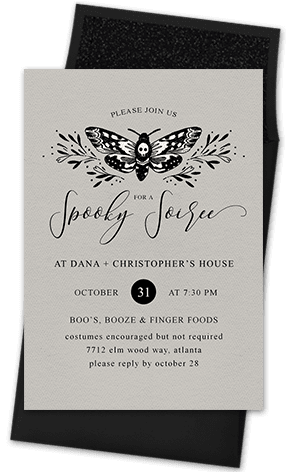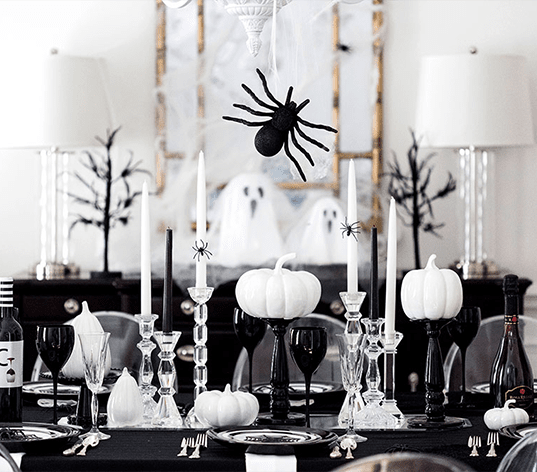 Sometimes it's best to stick with the classics. Creepy Crawly party themes have kicked-off spooky celebrations for years (and for good reason!) Keep in mind that this theme doesn't always have to be gross. You can elevate the overall look into a moody affair with a touch of elegance. Like this black and white tablescape with creepy crawly accents!
Crime Scene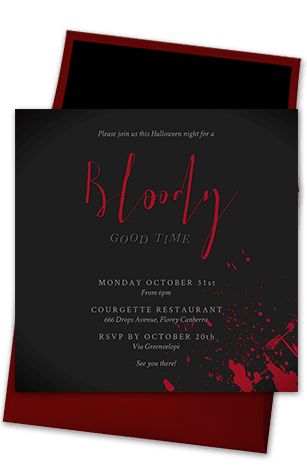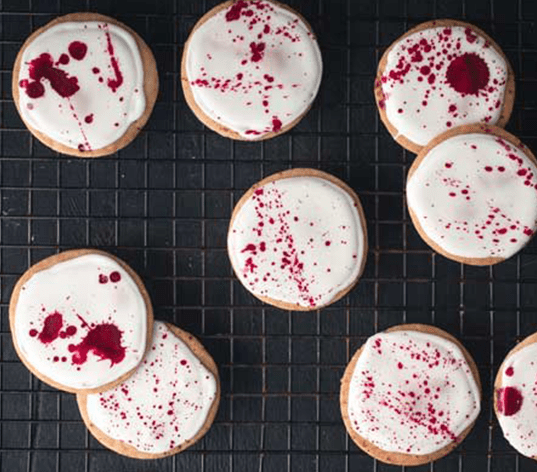 Is this theme disturbing? Absolutely. But you can turn gory to sweet with some creative desserts. We love these Crime Scene Cookies by Crush magazine (and so will your guests!)
A Speakeasy Halloween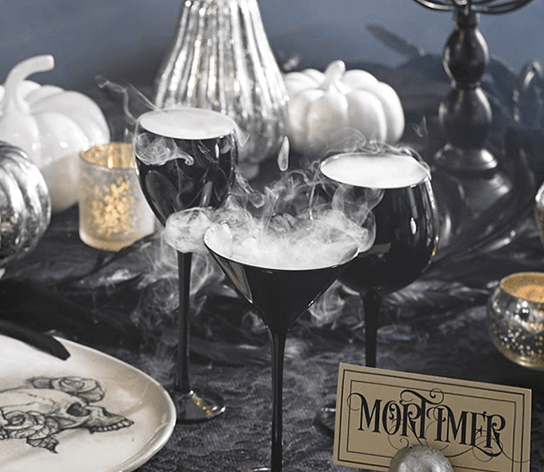 Invitation: Spooky Stripes by Signature Greenvelope | Photo Credit: Grandinroad
The roaring twenties are something worth celebrating—and Halloween is the perfect opportunity! Ask your guests to dress up in their best 1920s attire for entry to your party (but only after they learn the secret password!) Whip up some prohibition bites (like wasabi deviled eggs or candied bacon) and make sure everyone "speaks easy" to avoid suspicion when ordering a drink at the bar. Cocktail code words are a must to pull off this theme!
Spells & Potions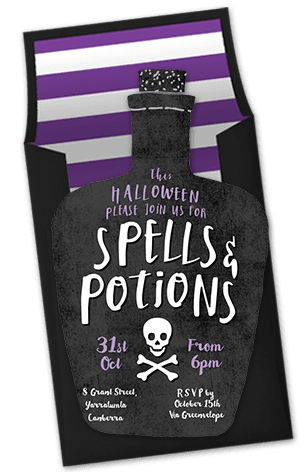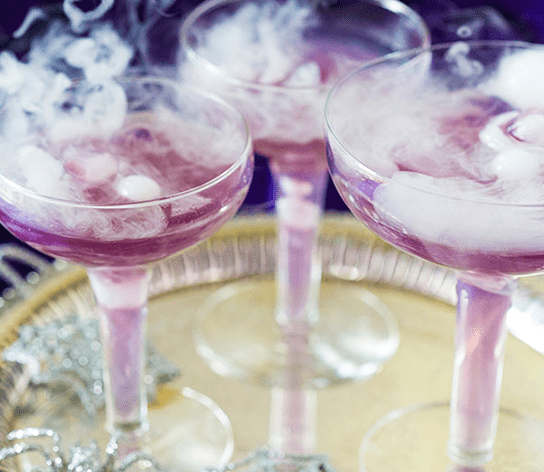 First things first with this theme: Let's start with the drinks. We recommend a sinister take on any of your favorite cocktails. The cocktails can be classics—just as long as you name them accordingly. Or, you can concoct this spooky Witch's Brew recipe!
Ghouls Night In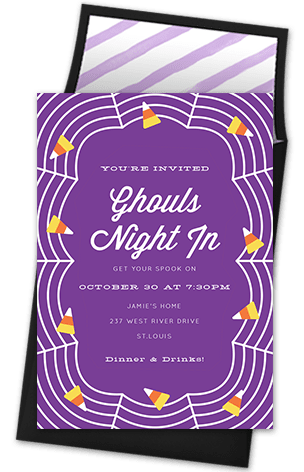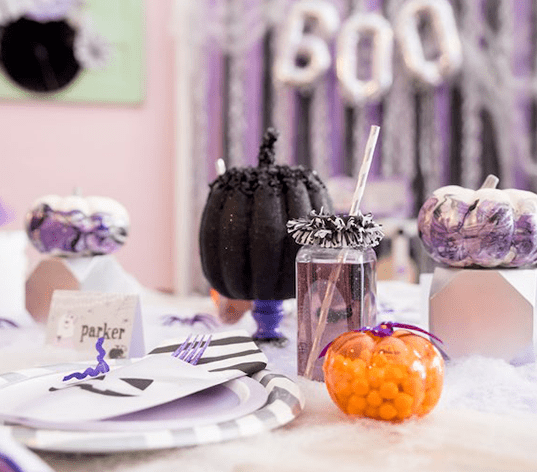 It's like a regular evening in with the girls, but spookier! Take your evening to the next level with festive décor that screams Halloween. We love any tablescapes or decorations that stand out with a vibrant touch of color.
Full Moon Halloween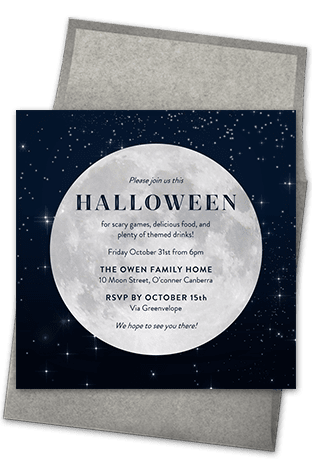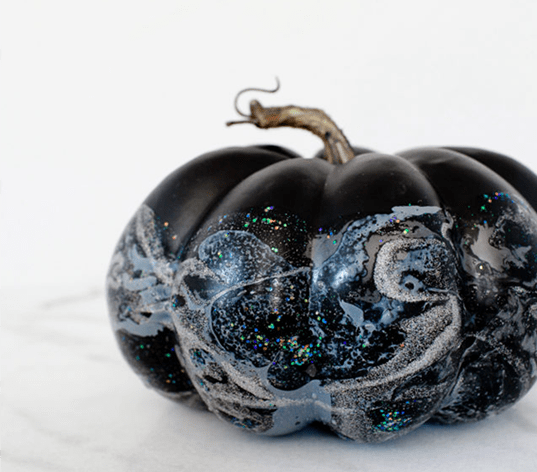 This theme is ideal for anyone looking to swap out their usual Halloween décor for something a little more iridescent and out of this world. We love what's happening with this black marbled pumpkin (and so will your guests!)
Murder Mystery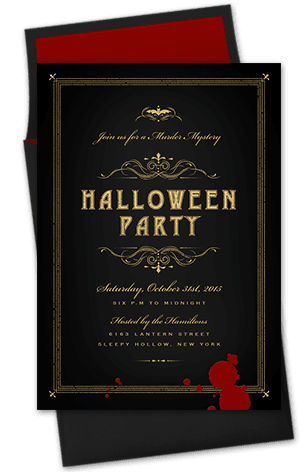 This theme is all about setting the scene. Moody lighting, spiderwebs, and candelabras are key to pulling off a classic, old manor mystery. Don't be afraid to add some additional spooky décor (like skulls and creepy crawlers!) in spirit of the holiday.
Dia de los Muertos Halloween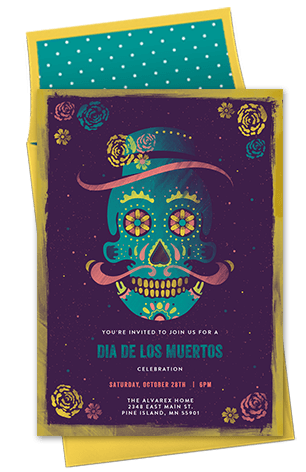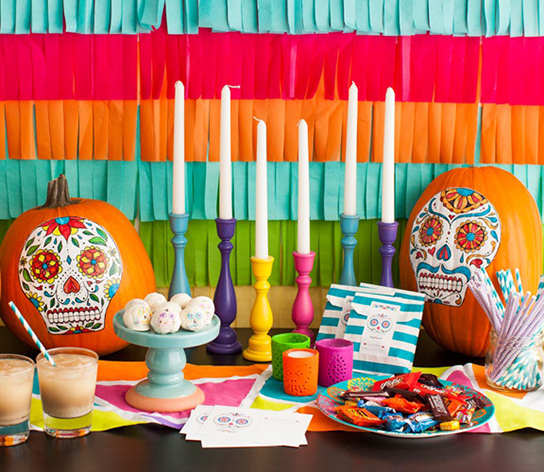 Invitation: Vivid Skull by Trushin Studios | Photo Credit: Brit + Co
Lively, spirited, and vibrantly colorful, this holiday is traditionally all about honoring loved ones who have passed. We recommending selecting décor that commemorates the dead (like traditional sugar skulls, bright floral displays, and candlelit lighting).
If you're still looking for inspiration, browse our full collection of Halloween invitations designs here. There's something for everyone!