June 27, 2018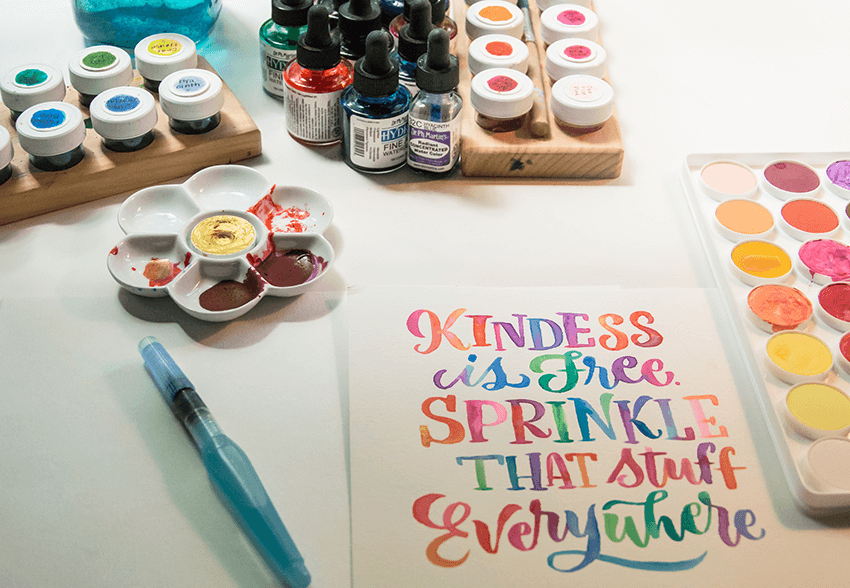 Today, we're excited to feature Laura Bolter, an incredibly talented designer based in Lenexa, Kansas. She's best known for incorporating bright colors and different artistic mediums into her designs, but it's her skills in typography and calligraphy that Laura is most proud of. Whether it's hand lettering or illustrative drawings, Laura's original designs have set the stage for large-scale celebrations and intimate gatherings of all kind. Today, she's joining us to share a bit more about her journey, her design process, and her artistic inspirations.
Can you share a bit more about your journey as an artist? How you got started to where you are now?
I always knew that I'd be a designer. I started a graphic design program at Colorado State University, but later transferred to the University of Kansas to finish. Though it might seem crazy to leave Colorado, my husband and I decided to live someplace different for a while, and I'd heard great things about KU's graphic design program and Lawrence, Kansas. I was recruited by the Hallmark Cards Lettering Department during the last semester of my senior year and negotiated with KU to allow me to receive credit for working at Hallmark in lieu of classes. I learned so much there and really credit Hallmark for a great start in my career. After several years of working in Lettering, and then in Shoebox, for a short time, it became necessary to leave and go freelance, so that I could be home with my daughters. My career started before computers were being used for design, and so I'm self-taught in all things Mac, but I'm a devout Mac geek and have been since my first Mac IIsi 5/80 in 1991. I continued to freelance for Hallmark, but I also began working for many other social expression companies over the years, and eventually did book design, too. I saw companies come and go, but always seemed to find the next opportunity to land on. For a time I did custom invitation design–working with customers I found through word of mouth and through an Etsy shop, to design wedding, bar/bat mitzvah invitations and more. But, the internet has changed my work dramatically (I was born before my time!), and now I'm able to work for companies like Greenvelope, without the stress of dealing with customers. But, I'm still in Kansas. 🙁
What part of the design process do you enjoy the most?
The blank canvas is intimidating. Getting over the hump of getting started—the adrenaline rush when I see an idea emerging that I'm excited about is the the part of the process I enjoy most.
What is the #1 song or musician on your designing playlist?
I have to go with two artists: Adele and Coldplay.
What are you most passionate about outside of your work?
My family. Don't tell them, but my granddaughter is my favorite. 😉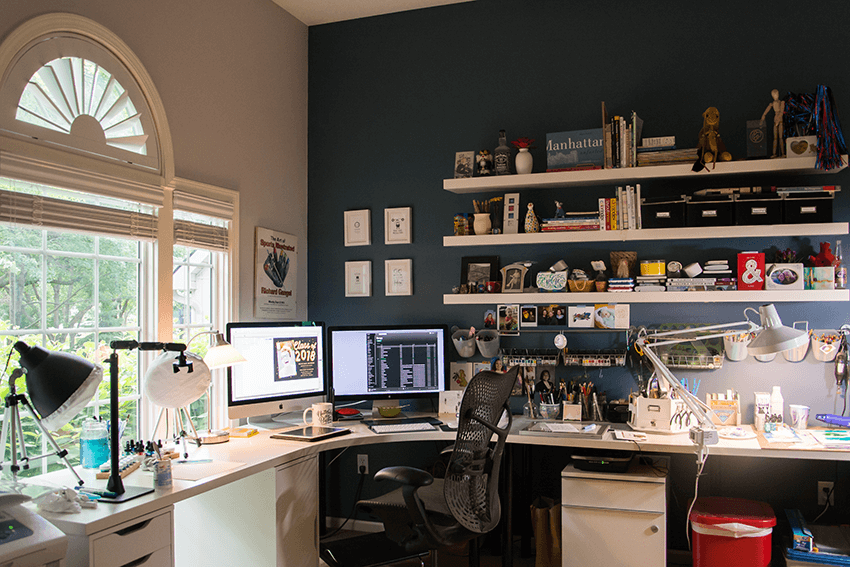 Could you share with us the favorite design of yours currently on Greenvelope.com and what the creation process was like?
Class Of is currently my favorite design. Recently I started experimenting with illustrating gold balloons because they seem to be a popular trend, and because it's a different type of lettering design. It's been fun finding ways to incorporate the gold balloons into various sending occasions, and of course is appropriate for graduation. I'm enjoying this illustration process and will continue to explore more opportunities for using gold balloons, because I'm happy to see that customers seem to like them right now, too.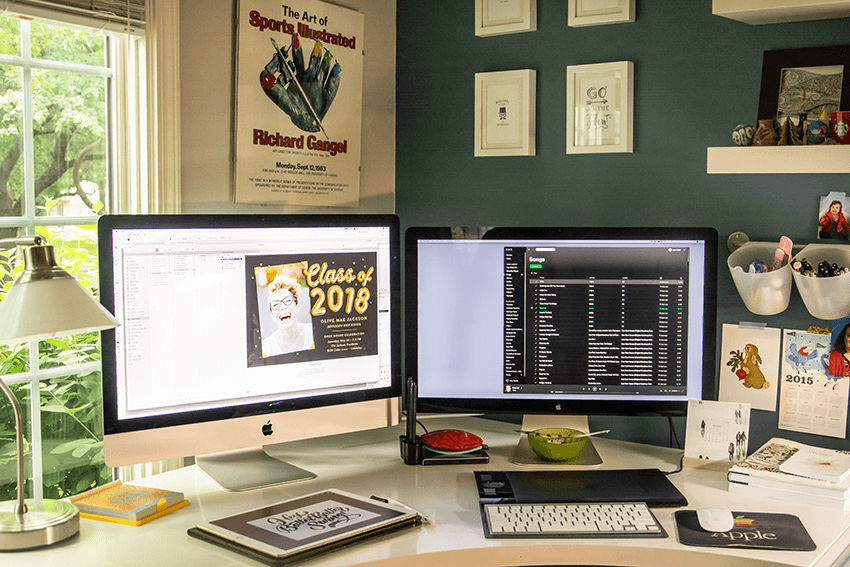 Share 3 Favorites:
Food:

Ice cream. I could eat it everyday for breakfast, lunch and dinner and never tire of it.

Television series:

The West Wing.

Instagrammer:

Nick Misani. I've been a fan of Nick's lettering and design work for some time. Nick is an uber talented lettering artist and graphic designer who worked for Louise Fili's studio. I also found out that he is one of the nicest, most generous designers, when I recently attended his Art Deco Lettering workshop and heard him speak about his use of Instagram as a tool for finding business. He feed is so well thought out, consistently gorgeous, complete with a color scheme that evolves over time. I can't wait for him to launch his Fauxsaics class where he'll teach the process he's developed for illustrating faux mosaic illustrations. I'd love to incorporate that technique in my work.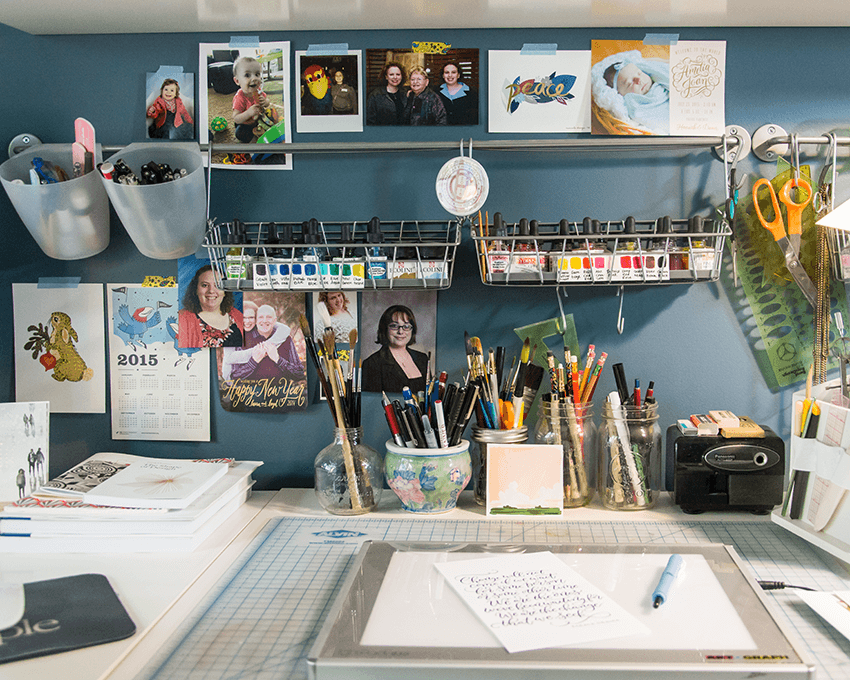 Who or what has made the largest influence on your work?
The community of incredibly talented designers that I've come to know over the past six or so years has helped me to push the envelope of my own work. And, the iPad Pro, Apple Pencil and the Procreate app have been life changing tools for me. They have helped me to be much more prolific, flexible and efficient.
How has your aesthetic style changed over the years?
Early in my design career it seemed necessary to be a jack of all trades. The companies I worked for wanted all types of work from its designers. However, due to the nature of the companies I work for now, I'm able to really focus on the aesthetic style that comes more naturally to me—and so I've gone back to focusing on my lettering roots and developing even better skills as I learn and experiment. But, with the iPad Pro, I've also felt more comfortable exploring illustration, and that has allowed me to use more layered and detailed art in my designing.
We'd like to extend a special thanks to Laura for joining us on the blog today! You can see more designs from her beautiful collection here!