December 7, 2015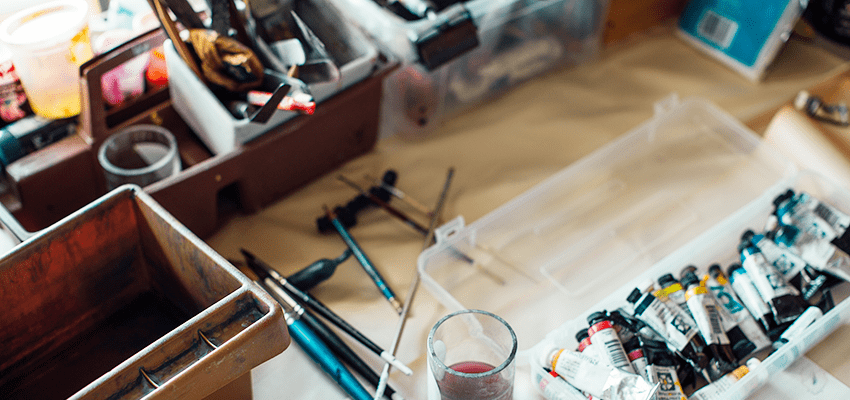 What does creativity feel like?
The most notable feeling associated with creativity is the "Aha!" moment, but creativity is much more than that. It is a process of exploration, understanding, progression, inspiration, and allowing one's mind to rest, daydream, search, synthesize, and evolve.  

It is this process that we were interested in hearing about from our designers. In such an artistic and creative profession, we wanted to know: How do you spark your creativity when you aren't feeling creative?
"I typically step away from my computer and try to get outdoors. I am really inspired by nature and the unexpected shapes and arrangements that can be found. It really sparks my imagination and gets me to see things in a new way. Oh, and Amy Winehouse, Lorde and Lana Del Ray are my go-to soundtracks while working." – Stacey Meacham
"To spark our creativity, we have to take a break, get lost in Pinterest, and go shopping!" – Jayne Swallow, October Ink
"I'm quite left-brained for a creative, and as a result brainstorming is actually one of my least favorite parts of any given project, which I think many artists would find unbelievable. To get things percolating, I spend a little time on Pinterest where I follow tons of lush design, stationery & surface pattern boards. Then I leave my desk, cozy into a couch in my house and list out any words, phrases or motifs that could relate to the theme I'm working on. This makes layouts and fun new ways to combine ideas much more attainable." – Elizabeth Silver, E. Silver Design
"Commiserate with other designer/artist friends about hitting a creative block over lunch, dinner, or drinks (or all of the above!) and realize – once again – that everyone goes through this. Then give myself permission to take a day or two, or even a few hours, off from being creative, and come back at it afterwards with a fresh perspective." – Shari Margolin, Shari Margolin Design
"To spark my creativity I like to flick through magazines – preferably ones with lots of architecture and fashion photography. There are lots of ideas lurking in those pages if you take the time to see them." – Claudia Owen
" I guess I like to clear my head and shoot some hoops at the park while listening to The Moth. Or I'll watch about four and a half hours of Friends on Netflix. If I owned a bathtub, I would probably take baths too." – Shawn Diaz
"I tend to work on many projects at once, so I never not feel creative. When I feel like I'm in a rut with one project, I just switch to another one. It's a lot of juggling but I'm rarely bored." – Amy Mullen, Mint Parcel
"A double Americano and Beethoven. If I really need a kick, you might also see Celine Dion circa 1997." – Camille Robinson, Robinson Paperie
"When I don't have a deadline, I just try to relax and do something completely different, go for a walk or watch a movie for example. When I do have a deadline, I look through some good works of other designers and start working myself. The creativity usually comes in the process." – Alexandra Dzhyganska
"I unplug! I step away from the computer, put away the phone and get outside – go for a walk or play with the dog. I find taking my eyes off the screen is the best way to get my creativity back on track." – Jessica Williams, J. Amber Creative
"When I need to spark my creativity I leave my computer and change my environment. I'll go for a walk, watch some TV, read a book or try to take a nap. When I need a creative idea quickly I'll browse my Pinterest or Instagram feed. But my best ideas come to me at night when I'm in bed!" – Carmia Cronje, Clementine Creative
"A long walk, strong coffee, and good music (today it happens to be The National, but if varies quite a bit)." – Olivia Raufman
Thanks to all of our artists for contributing, and we'd love to hear from you too – what do you do when you're searching for that spark? How do you inspire your creativity? Share with us below in the comments section or on social media with the hashtag #SparkCreativity