August 30, 2021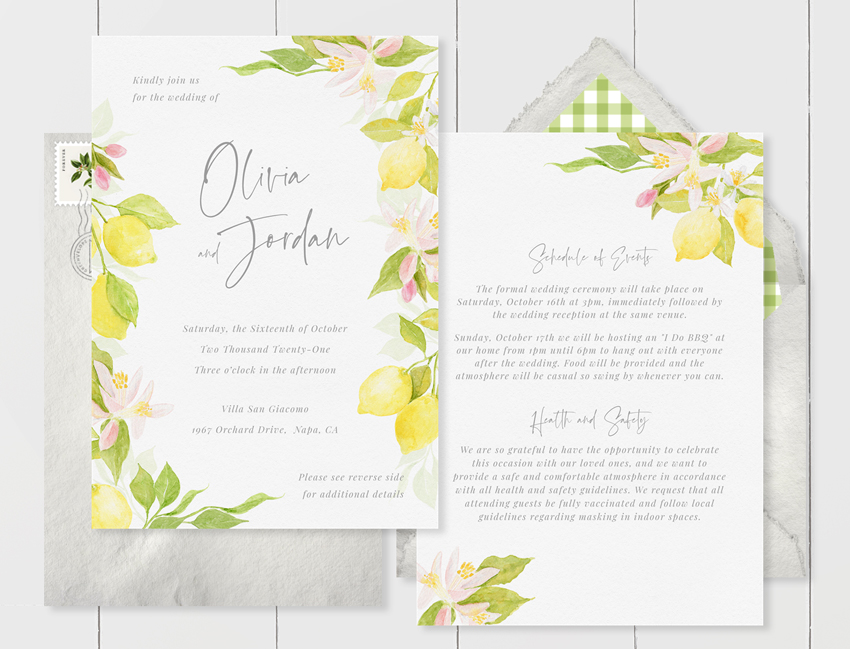 When you think back to the wedding invitations you received over the years–from friends, from family, from coworkers–the odds are quite low that in any one of those invitations was it stated that you'd have had to have received a vaccination in order to attend. Nope. RSVP yes or no. Choose chicken or fish. Done. 
Today, it's a bit more complicated. 
Intimate ceremonies, large gatherings, and destination knot-tyings alike are now faced with the question of what to do about guests and COVID-19 vaccinations. Per your venue's rules–or, per your rules–will all guests be required to be vaccinated? Will unvaccinated guests be able to attend, but only if they agree to physically distance themselves from the ceremony and reception? Or, will unvaccinated guests be restricted from the ceremony (indoors), but be permitted to attend the reception (outdoors)? 
And, finally, how can you, the couple to be wed, respectfully and effectively communicate your wishes? From figuring out just what to say to how best to go about gathering replies, and everything in between, in this blog post we'll be taking a look at how to do just that.
But first, remember: it's your day. 
As important as it is to remember this, it's just as easy to forget: your wedding day is your day. Not your mom's, not your uncle's, not your best friend's. Yours. It's supposed to be a special day; a really special day, one that you'll look back upon fondly for years and years and years. 
So, if you've lost sight of that, or are struggling with setting boundaries, let this be the permission you may need: you are allowed to focus on you, your partner, and what the two of you want for your wedding. And if for some reason a guest of yours doesn't see it that way, try to remember to be patient; understanding may come in time.
Choosing How Your Vaccination Requirements Will Appear
First thing's first: vaccination requirements should never steal the show. Let the imagery and wording on the invitation itself shine and communicate key details to your invitees (date, time, venue, etc.; if you need help with your wedding invitation wording, give our handy tool a try). If you're sending paper invitations, we recommend saving any vaccination requirement information to be communicated via insert. It can either be added as a segment on the RSVP card, or as a completely separate insert, which would then detail any instructions you may have for your guests to provide proof of vaccination. 
If you're using Greenvelope, however, you have some more options at hand. Plus, thanks to the powerful tools that come with your account — like surveys and direct messaging (file attachment included) —  you're likely to receive clear responses far quicker, while also having the ability to follow-up in the snap of your fingers. Your invitees also have the ability to message you — to say, "Congrats!", for example, or to ask for clarification on something — which means that there's less pressure to be overly wordy on Take One; you have more room to have and maintain a conversation with ease. 
That in mind, the examples you'll find below are the methods through which you can communicate vaccination requirements within Greenvelope. 
Utilize Survey Questions
Examples:
Have you received vaccination for COVID-19?

I understand that to attend I must be fully vaccinated.

Will you and your guest be fully vaccinated for COVID-19 by our day of celebration?
A very direct route to receiving an answer or agreement regarding vaccination. Survey questions will always follow invitees' submission of their RSVP. And, as seen in the example below, we recommend keeping it simple with either an acknowledgement of understanding or a Yes/No question, depending on how direct you'd like to be. Additionally, you can utilize follow-up questions where applicable (i.e. if a guest who says they're attending answers "No" to the question of whether or not they are fully vaccinated at this time). 
When guests submit their RSVPs and answer the survey question(s), a confirmation email is sent to you, the host, wherein their responses can be viewed. Additionally, in the "Track" page of your mailing, you'll not only see each contact and their RSVP response, but you'll see the answers to the survey questions, which will make it extremely easy for you to sort as you go along (i.e. applying a "Vaccinated" or "Unvaccinated" tag).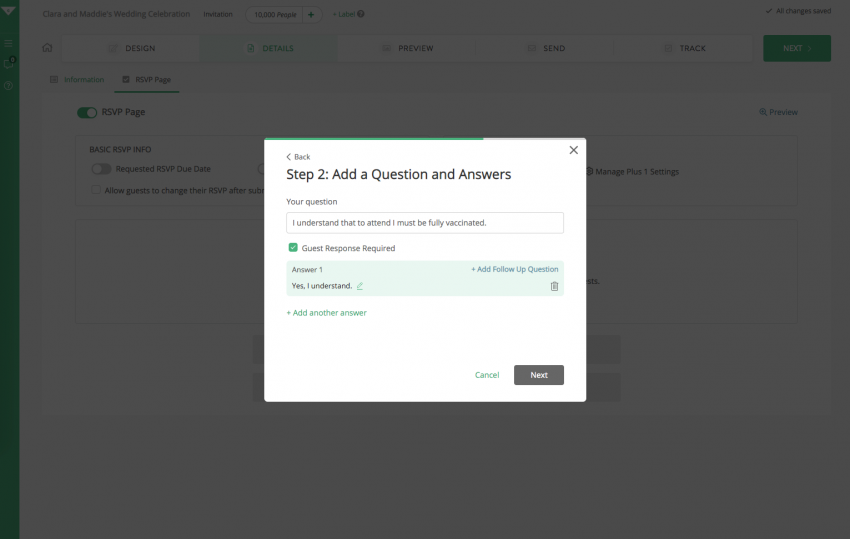 Include a Message in the Details Panel
Examples:
Out of concern for our guests, in order to attend this celebration you and your plus-one must be fully vaccinated. 

Our venue requires that all guests show proof of vaccination upon entry. Please plan accordingly. 

COVID-19 vaccination required to attend; see RSVP page for more details. 
If you don't feel comfortable asking invitees directly about their vaccination status, no sweat. The details panel (which appears alongside of your Greenvelope invitation) is highly customizable, and, in turn, a perfect place for you to include a general message to all invitees — and to do so prior to their submission of RSVP. 
If after going this route, you want to receive more specific information, you can always reach out to guests through Greenvelope's in-account direct messaging tool.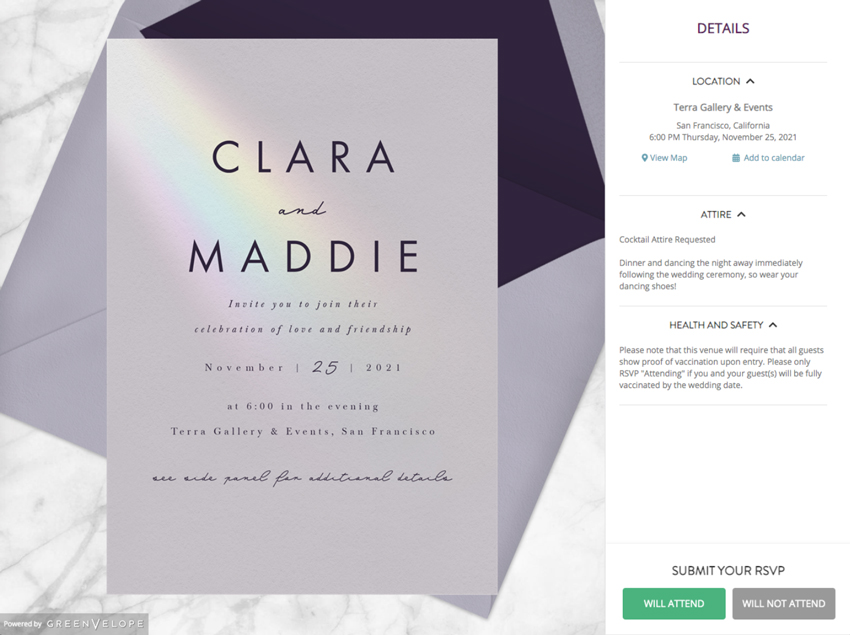 Send a Direct Message
Examples
Just sending out a quick but important update about the big day! After a lot of time to think, we've decided that, in order for our wedding to be as safe as possible, all guests must be fully vaccinated in order to attend. We understand that this might leave you with some questions, so please feel free to reach out. We ask only that you do so respectfully though, as we realize that this is a complex and nuanced topic. Thanks so much! 

When we became engaged, we of course never pictured our wedding being impacted by a pandemic. But these are the times, and, despite its impact, we can't wait to celebrate our love with you. In order to ensure fun, however, we feel we must first ensure safety — for all guests, especially those at higher risk. That's why after careful consideration we've decided that in order to attend our wedding you and your guest(s) must be fully vaccinated. When you have a moment, please reply to this message directly with a "Yes, fully vaccinated", or a, "Not at this time." We'll be sure to follow up and continue the conversation!  

Trust us, planning a wedding during a pandemic can be tricky. You're faced with a lot of tough choices, one of which is how to navigate the inviting of guests who may or not be vaccinated for COVID-19. We've stressed about this for months now, and have come to the decision that, in order to ensure our wedding is as safe as possible, all guests must be fully vaccinated. We understand that this may mean that we can't celebrate our big day with people we hold dearest. We're deeply saddened by that. But we just do not feel comfortable taking the risk, and sincerely hope that you understand this decision; it was not one made without consideration. 
Whether you've already sent your invitations with Greenvelope but now find yourself in the position of asking for vaccination information, or personalized 1:1 communication is more your style, using Greenvelope's in-account direct messaging tool is a great way to chat with your guests while also keeping everything in one tidy place. You can even request those attending to attach a photo of their COVID-19 vaccine card in advance of the big day.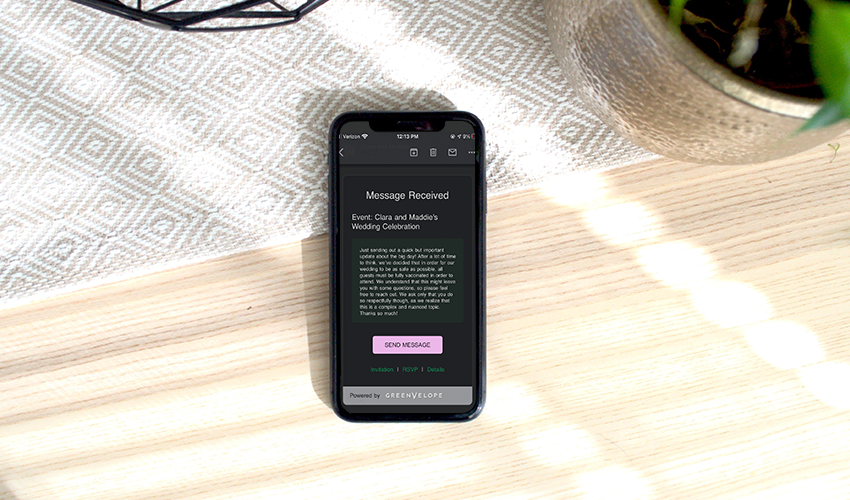 Use a Combination of Tools
There's nothing at all saying that you have to restrict yourself to just one of the aforementioned options. You can definitely use more than one and, in many cases, we even recommend you doing so. That way, the message you're sending about safety at your wedding is very clear, and guests are respectfully reminded of that at multiple points along the way. 
An example of using multiple Greenvelope tools could be:Â 
Include a general message to all invitees in the details panel. 

Include a survey question directed toward all 

Two weeks before your wedding day, send a direct message to all attending guests that they'll need to bring their vaccination card in order to enter the venue
Striking the Right Tone
Especially when it comes to something like vaccinations, we can't stress enough how important it is to consider tone, no matter what route you take in starting a conversation. Those you're inviting to your wedding are loved ones, and the last thing you want to do is cause an argument, a rift in your relationship, or hurt feelings. 
So, whether it's in the form of a question, a statement, or a direct message, try not to lecture, accuse, or reprimand. You aren't here to argue, or to belittle. Do your absolute best to remain patient, respectful, kind, and helpful, while also honoring the boundaries that you and your partner are putting in place. 
To help, we've put together a few examples of "Try This, Not That" below: 
TRY THIS …
Out of concern for the safety of our guests, we're requiring everyone intending to attend to be fully vaccinated. 
… NOT THAT
Unless you're fully vaccinated, you won't be allowed to enter. 
TRY THIS …
We understand that it's a complex topic with a lot of nuance. We'd love for you to attend our wedding but unfortunately we can't budge on this. Thank you for reaching out.
… NOT THAT
We disagree with your stance, and refuse to put other guests at risk. 
TRY THIS …
Please don't leave your COVID-19 vaccination cards at home, as they'll be checking them at the front door of the venue and the last thing we want is for you to get turned away.
… NOT THAT
Your COVID-19 vaccination cards are needed for proof. If you don't have them on hand, you won't be allowed in.
Give Yourself Some Grace
Lastly, we have one more bit of advice, and we think it's pretty important: while navigating something like COVID-19 vaccination requirements at your wedding, be sure to allow yourself some grace. Go easy on yourself. "Unprecedented" may be a word you're sick of hearing by now, but it's absolutely true — it's unlikely that many, if any, in your circle have navigated even remotely similar waters. In that way, it's almost like you're charting your own new course. Which can be scary. 
So, again, go easy on yourself. Do the best that you can in both setting boundaries and in communicating those boundaries to your guests. You may even be surprised with just how understanding they'll be.