August 31, 2020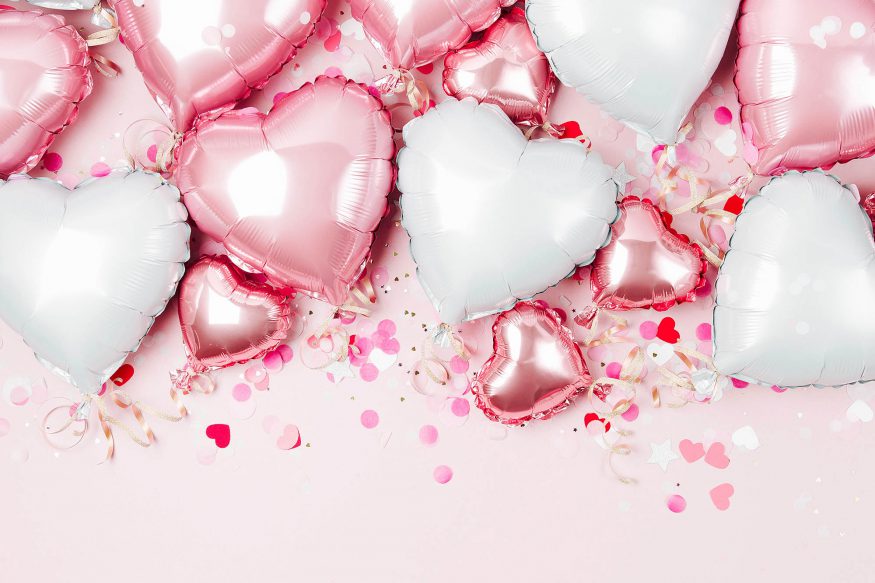 Bachelorette parties are so much fun to host. It's a key moment leading up to the bride-to-be's wedding and a time to gather loved ones to celebrate the joyous occasion. It's also one of those celebrations where you can truly get creative and go wild. To help you create the perfect party atmosphere, we've compiled some of our best bachelorette party decor ideas. Once you've sent out your digital invitations, it's time to get the party started in style.

13 Fun Bachelorette Party Decor Ideas
Ready to get inspired? Here are some of our favorite bachelorette party decor ideas. From floral wreaths to glittering disco balls, there's something for everyone.
1. Photo Booth
Capture sweet memories and add plenty of laughter to your bachelorette party with a photo booth. You can either hire one from a special events company, or create your own with a fun backdrop, silly props, and a camera.
There's a lot you can do with a photo booth, which is why it's become a party favorite. Snap photos for fun, or turn it into a competition to see which of your bridal party or guests can create the best images with your photo props. After the party's over, keep those photos and turn them into a memory book or share them with friends.
2. Paper Flowers
Add a touch of floral decor to your bachelorette party with pretty paper flowers. Match them to your party theme or wedding color palette. You could add some sparkle with glitter or rose gold accents.
For an interactive tie-in to your decor, try paper flower tutorials, which are perfect for bachelorette parties and bridal showers. Bring in plenty of materials in different colors and let guests create DIY flowers to take home.
3. Fringe Curtains
Add some wow factor to your walls with fringe curtains, which are an easy way to liven up your party space — especially if you're going for a bold color scheme.
Fringe curtains come in plenty of colors from dazzling golds and bright pinks to iridescent hues. Hang them as is or give them an upgrade by adding bunting, string lights, or pom-pom fringe. If you're creating a DIY photo booth, fringe curtains make a colorful photo background. They're also perfect as a backdrop for activities and games like karaoke, charades, and bachelorette party bingo.
4. DIY Chalkboard Sign
The boho vibe is still a popular theme with weddings, so bring some of that rustic charm to your bachelorette party decorations with DIY chalkboard signs.
Paint the frames and add embellishments like faux flowers, ring decorations, and anything that fits your party theme. Find chalkboard pens and fill your signs with slogans like "Team Bride," "I Do Crew," or "Bride Tribe." You could also share heartwarming quotes about love. For a different way to collect well wishes from guests, create a giant chalkboard and ask them to sign it.
5. Balloon Arch
The best party decor helps set the scene and transforms a space from bland to brilliant. Bring your bachelorette party to life with an oversized balloon arch.
Balloon arches have become a party must-have, instantly adding color and whimsy to any event. Mix in party balloons of different colors and variations like confetti balloons and mylar balloons. Bring in some oversized props like inflatable ring balloons, or themed elements like flamingos, and add them to your arch for a personalized look.
6. Flower Wall
Flower walls are one of the most-loved bachelorette party decor ideas as they're so versatile. Fill your display with gorgeous pink and white roses, or opt for tropical flowers for an island-themed paradise party.
You can go the DIY route with this elegant decor idea or have one set up by a party supply company. For a longer-lasting option, consider a wall display made with artificial flowers that match your wedding colors and theme, so you can reuse it on your special day.
7. Disco Balls
Bring some glamor to your celebration with sparkly disco balls. Get creative and use them as table accents, or hang one from the ceiling above your dancefloor.
Disco balls are inexpensive and available in a variety of finishes. Use a mirrored disco ball to liven up a modern event, or choose a classy gold version to add a touch of decadence and luxury.
8. Balloon Words
Make a real statement with this standout bachelorette party decor idea. Giant, eye-catching foil balloon words and banners add a sense of playfulness to your bachelorette bash.
While gold foil balloon words are a favorite, there are lots of other options. Try rose gold or silver to match your wedding color scheme or opt for pastels, bright colors, or a rainbow. Like flower walls and fringe curtains, these balloon words also make a great backdrop for photos and bachelorette party games.
9. Homemade Floral Wreaths
Floral wreaths are the perfect way to add a touch of elegance to your party. Use seasonal flowers or opt for silk or dried versions in colors that match your party or wedding theme.
Hang them in different sizes to create visual interest, or use them to add style to a centerpiece. You could even turn this decorative idea into a fun party activity. Simply gather your bridesmaids and guests to create DIY versions and use them as bachelorette party favors.
10. Confetti
There's nothing like confetti to sprinkle a bit of magic on your bachelorette party. Instead of basic paper circles, try dried flowers or themed confetti shaped like wedding dresses, engagement rings, and hearts. For an eco-friendly version, this DIY leaf confetti is a fantastic way to go.
What's great about confetti is that you can use it in lots of different ways. Decorate your tables with colorful confetti, or ask guests to sprinkle it while you snap some memorable photos. You could also fill a pinata with confetti or invest in a few confetti cannons and launch them during a Champagne toast.
11. Themed Tableware
If you and your guests will be sitting down to enjoy drinks or a meal together, styling your tables is a quick way to amp up the atmosphere. Whether it's a traditional tablescape with fresh flowers and delicate plates, or a playful setting with neon party cups and colorful serving ware, putting in some extra effort here can work wonders.
Complement your party theme with tableware that fits right in. Think pineapples and flamingos for a tropical-themed bash, or casino chip coasters for a Vegas-style event. Vintage china is perfect for an afternoon tea, or you could bring in colorful wine glasses for a mimosa brunch or cocktail night.
12. String Lighting
Whether it's warm, bold, or multicolored, string lighting isn't just for outdoor garden parties. Find indoor-friendly versions and use them to add light and charm to your bachelorette party celebration.
Choose lighting that complements your theme and the atmosphere that you're going for. Warm, glowing lights are perfect for creating that luxury feel, while rainbow string lights add a festive touch to a quirky party. There are countless themed versions of string lighting — from palm trees and cacti to diamond rings and hearts.
13. Hanging Decorations
Last but not least, hanging decorations are a fun and fast way to complement your party decor. They instantly liven up a blank canvas and add plenty of visual interest.
Opt for floral decorations, pom poms, or macrame string decorations. There are also fun twists on the classics, like this colorful hanging vine garland DIY. Don't be afraid to step outside the box. Create DIY hanging decorations using images that complement your theme — whether it's cocktails, dresses, rings, celebrities, or even your favorite food.
Find the Perfect Bachelorette Party Decor Ideas for Your Theme
Having fun is at the heart of any great bachelorette party. Once you send your customized bachelorette party invites to excite your guests, liven up your party with the ideas on this list. From easy DIY decorations to creative design elements, you'll have a celebration full of color, excitement, and memorable moments that will serve as the perfect preview to the big day.