February 27, 2020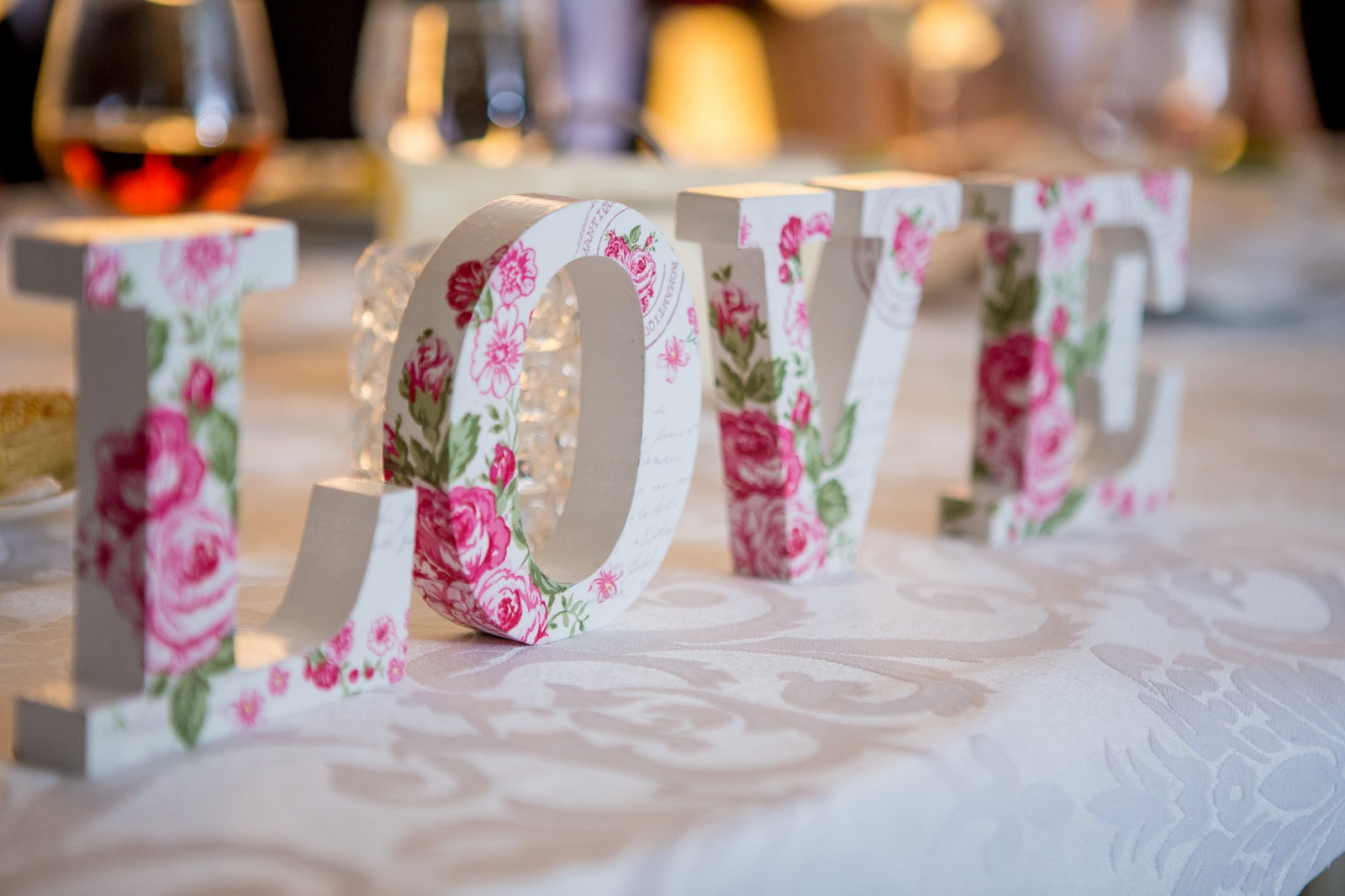 With so many different elements that make up the perfect celebration, weddings come with a language all of their own. In this guide, we'll take you through the wedding words that matter most, along with some suggestions on wording to use inside a wedding card.

Your Wedding Words Guide
Have you ever found yourself wondering what the difference is between a processional and a recessional? Are you puzzled about the different dress codes for weddings, like formal attire or cocktail attire? If so, take a look at some of the most important wedding words to know whether you're planning a wedding, or attending as a guest and writing a card for the happy couple.
Ceremony
Sure, weddings can feel like a day-long party, but the most-loved moments happen in the wedding ceremony. It's the focus of the day and the official start of the newlyweds' adventure as a married couple.
This moment comes with a lot of unique vocabulary, so here are some of the wedding words that focus on the nuptials. Use them to create a fun pun in a wedding card — like the idea of ushering in a new era. Or, let these words inspire your vows by including how you've always dreamed of standing at the altar with your beloved.
Aisle: Whether it's past church pews or casual chairs on a beach, the aisle is where the wedding party will walk to make it to the officiant and the altar.
Altar: When it comes to weddings, the altar doesn't just represent the traditional religious structure. Here it can refer to any location where the exchange of vows takes place, like an archway in a stately home or in front of a garden sculpture.
Best man:Â Think of the best man as the groom's right-hand man at the wedding. This equivalent of the maid of honor is there to support the groom and usually stands alongside them during the ceremony. He is considered the most important of the groomsmen.
Bridesmaids: These are the people who precede the bride down the aisle. They usually consist of the bride's close female friends and family, but in modern ceremonies, bridesmaids may include male friends and family as well. They are there to support the bride on her big day.
Celebrant: Alongside family and friends, the celebrant is one of the most important people at a wedding. After all, they're the official that can pronounce the happy couple as joined in matrimony. Anyone can be a celebrant, but popular options include members of the clergy, justices of the peace, or close friends.
First look:Â Instead of exchanging first glances as you walk down the aisle, a first look gives the couple the chance to greet each other before the ceremony begins.
Flower girl:Â As the name suggests, the flower girl scatters petals or floral confetti down the aisle as they walk behind the bridal party. Flower girls are often young females in the newlyweds' family but may be the children of close friends, too.
Groomsmen:Â These are the people who support the groom on his big day. Traditionally, they are the groom's close male friends or family members. But, in modern ceremonies, groomsmen can include the groom's female friends and family too. They will either wait with the groom at the altar or accompany the bridesmaids down the aisle.
Maid of honor: The maid of honor (or matron of honor if she is a married woman) is found by the bride's side at the ceremony and usually handles the bridal shower and bachelorette party, and helps with other preparations. This will usually be one of the bride's best friends or a close family member. She is considered the most important of the bridesmaids.
Pageboy:Â Like the flower girl, the pageboy follows the wedding party down the aisle. They're often a family member or the son of a close friend.
Procession: The procession is one of the most memorable moments of a wedding ceremony. It's where the bridal party walks down the aisle, followed by the bride. This is easy to confuse with processional, which is the music that plays as the procession takes place.
Recessional: Just as the processional marks the start of the ceremony, the recessional ends it. This is the music you'll hear the happy couple walk out to as they start their journey into married life.
Ring bearer: Simply put, this is the person in possession of the wedding rings or wedding bands at the ceremony. This could be anyone, but often it's a young family member of the couple.
Usher: If you're ever lost on your way to your seat, these are the people who'll help guide you. Ushers are friends or family members that take a proactive role in the day, helping the couple with arrangements and making sure things run smoothly.
Wedding vows:Â Here's where the happy couple declare their love for one another and make promises about their union. Some couples opt for religious or traditional vows, while others write their own.
Dress Code
Most weddings have a dress code, even if it's a very casual affair. This helps guests choose the perfect outfit without worrying about how they'll fit in.
If you're sticking to a dress code you'll want to include this on your wedding invitation cards. Keep it simple with a request for black tie only, or make a play on words around your beachfront wedding attire. Here's a quick run-through of some of the dress codes you might encounter as a wedding guest or choose for your wedding day:
Beach formal: Imagine beach formal just like formal but with a focus on being comfortable and practical at the beach. Think summer suits, khakis, dress shirts, and elegant, light-weight dresses.
Black tie:Â Guests should wear tuxedos or an evening gown or cocktail dress.
Black tie optional: This is similar to black tie, but it's a little more relaxed as guests can swap out the tuxedo for a formal suit instead.
Casual dress: This laid-back dress code doesn't mean anything goes. Instead, guests are likely to wear a suit or slacks with a shirt and blazer or opt for a cocktail dress, sundress, or casual gown.
Cocktail attire: This is a dress code that calls for something sophisticated and glamorous. Dark suits, ties optional, and knee-length or longer dresses work well.
Formal attire: This dress code is much like black tie optional but with a more relaxed feel. Guests can opt for a tuxedo, a two- or three-piece suit, or a formal cocktail dress.
White tie: This is the most formal dress code where guests are expected to wear a tuxedo with a white tie and white shirt or dress in an elegant, long gown.
Floral Arrangements
From spring to winter, weddings are often filled with beautiful flowers that complement the couple's tastes. With so many different arrangements and ways to feature flowers at weddings, it can get confusing.
Here are some of the most common floral features you'll see at a wedding. You could reference them on your wedding invitations, like how guests can use a hashtag to share photos by your flower wall. Or, you can weave in a mention of the meaning of your bridal flowers as part of a toast or dedication.
Bouquet: This is the name given to the bunches of flowers you'll see walked down the aisle by the bridal party. Most notable is the bridal bouquet, often tossed into the crowd as part of a long-standing wedding tradition.
Boutonniere:Â A floral decoration worn on the left lapel of the suit jacket. This is often a single flower or bud, coordinated with the bridal bouquet or ceremony flowers.
Centerpiece:Â The gorgeous floral arrangements you see on tables at the ceremony and wedding reception are known as centerpieces. These flowers help tie the decor together and add interest to the tables.
Corsage:Â While men traditionally wear boutonnieres, the women in the family often wear corsages. These small floral arrangements are worn on the wrist.
Flower wall:Â These beautiful, striking displays make the perfect backdrop for guest photos. Flower walls are made from real or artificial blooms, usually in the wedding colors.
Garland:Â Like the traditional garlands that decorate tables during the festive season, these long, delicate floral displays are also found at weddings. They often feature greenery, flowers, and other natural elements.
Nosegay: These small, delicate mini-bouquets are usually held by bridesmaids and members of the bridal party. They often complement the bride's bouquet without taking attention away from it.
Food and Drink
After the ceremony, it's time to indulge in some delicious food and drink. A wedding day is the perfect time to serve and enjoy great food, specialty cocktails, and themed snacks. These are some of the culinary wedding words you might run into.
It's always helpful for guests to know what food will be served, so you may want to mention this on your wedding invitations. A sweet reference to your wedding cake or how amazing it was to share the meal with them could also go into your thank you notes to your guests after the wedding.
Canapes:Â These bite-sized snacks are often served during cocktail hour, the period between the ceremony and the formal wedding meal. Think of them as small appetizers to keep your guests sated till dinner.
Head table: This is the table where the couple enjoy their formal meal, usually surrounded by their closest family and friends. It's also where you'll see speeches being made before or after dinner by the best man, father of the bride, or other loved ones.
Open bar: Instead of offering only wine at tables or a set number of drinks, some couples opt for an open bar. Here, you're offering a full range of bar drinks to your guests, which means it can get pretty expensive.
Rehearsal dinner:Â Named so because it usually happens directly after the wedding rehearsal, this meal is where the couple welcomes close family and friends to eat together ahead of the big day.
Wedding cake:Â This sweet (or savory) treat is often the centerpiece of the dessert table. Wedding cakes are traditionally made from fruit and sponge layers, but some non-traditional picks include cheese, donuts, or ice-cream.
Stationery
Weddings generate a lot of paperwork, but the good news is wedding stationery is all wonderfully decorated and perfectly on theme. From save the dates to escort cards, these are some of the stationery-themed wedding words you might come across.
Escort card: These small, useful cards help guests find their seat at the wedding meal. They're often found at the entrance to the reception or in another easy-to-find location.
Invitation: Whether it's a digital wedding invitation or something you send by post, a formal invitation lets guests know they're welcome to celebrate this big moment with the happy couple.
Save the dates: Before formal wedding invitations are ready, the couple will want to make sure guests keep the date free. Enter save the date cards (also known as save the dates) — a notification of when the wedding will take place and that an invitation will follow.
Stationery suite: This is an all-encompassing term for wedding stationery, including save the dates, invitations, RSVP cards, and thank you notes.
What to Say in a Wedding Card
When writing a wedding card to the newlyweds, you'll want to go with something straight from the heart. There's no set wording you need to use and you can forget formal traditions that suggest you avoid writing "Congratulations!" in a card. You could opt for a wedding quote about love or wish the happy couple a happy marriage in your own words.
If you're stuck for ideas or need some extra inspiration, here are a few sweet wedding phrases you could include in a wedding card.
"Congratulations on your beautiful day! Sending you lots of love for today and beyond."
"Wedding bells are ringing! Congratulations on your big day."
"Your love story is one to inspire us all."
"Thank you so much for inviting me to share this day with you."
"Your whole life begins again here. Sending you all the love for your new adventure."
"Your strength as a couple means there's no doubt you'll enjoy a long and successful marriage. Congratulations!"
"The two of you embody true love. We wish you all the best for the future."
"Here's to a future filled with love and happiness."
"May the two of you enjoy a good marriage and plenty of love for the rest of your life"
Wedding Words Made Simple
We hope this guide has helped you navigate the world of wedding vocabulary. You'll know your boutonniere from your canapes and all there is to know about wedding flowers. Whether you're writing your vows or curious about the ceremony and experience, knowing these wedding words will help you feel confident and prepared.