December 16, 2015
In preparation for one of the most anticipated nights of the year, we are here to help you find your style with digital invites and cosmetics to match. Throwing a glamorous New Year's bash has never been easier or more fashionable than with the Greenvelope and butter LONDON 2015 holiday collection.
Glamorous Black &Â Gold Ball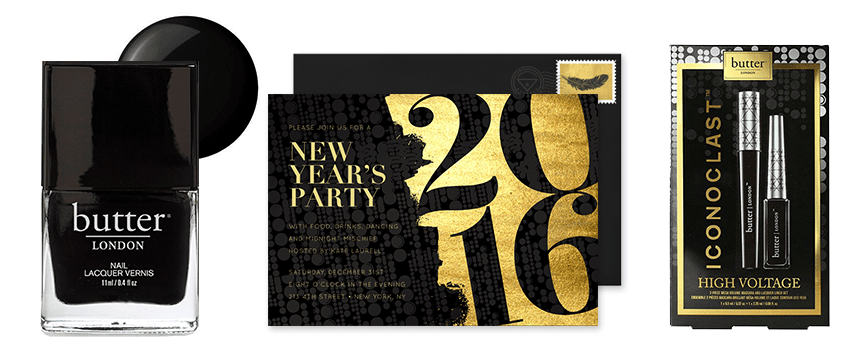 Go out with a bang by throwing a Black and Gold Ball this New Year's Eve!  It's that time of year to find that perfect black and gold statement piece and invite your friends to do the same with the New Year's Grid invite. Get dramatic lashes by rocking butter LONDON's Iconoclast Mega Volume Mascara and Iconoclast Infinite Lacquer Liner and pop the champagne for a glamorous New Year's Eve!
Suits & Sequins Theme 
One of the best parts about New Year's Eve is the excuse for a little extra shimmer, so go all out with a Suits & Sequins theme party. Set the scene with a glitter-accented invitation, and then get ready to accessorize. We love the extra shine of butter LONDON's 444 nail lacquer, and your mani will look ultra-luxe while sipping on that glass of bubbly.
Ladie's Night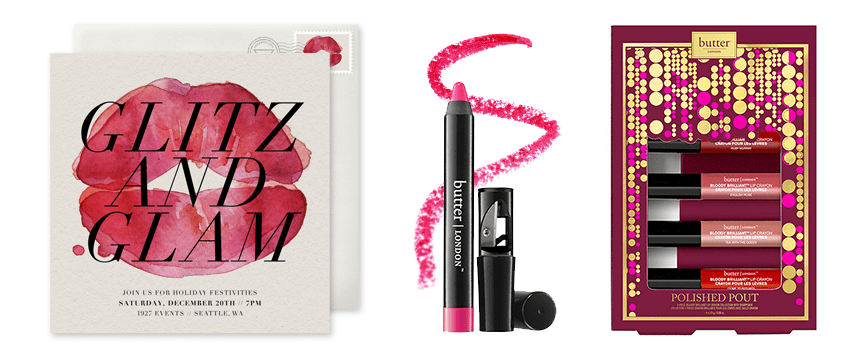 For a night out on the town with the girls, get the buzz going with this fun and colorful Glitz and Glam invite!  Break out the heels and bright lipstick to make a statement, whether your style is classic matte or a polished pout. Have an unforgettable night and ring in the New Year with an irresistible lip for that New Year's Eve kiss!
Fashion-Forward VIP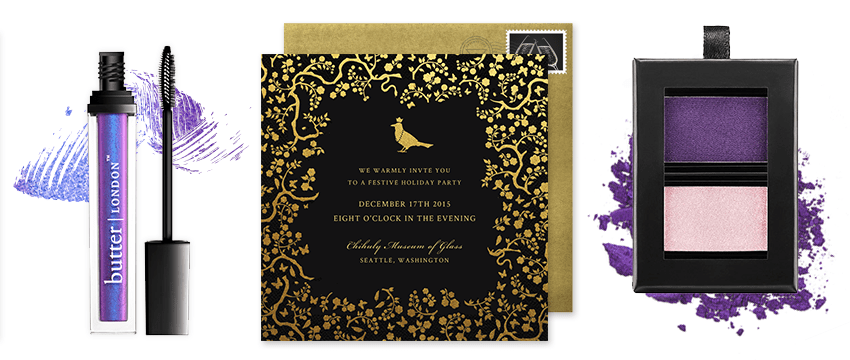 For a VIP soiree, add a little mystery with dark colors and whimsical accents. The Branwen invite adds a hint of flourish and festivity without skimping on class. Don a purple accent on your lids and lashes to complete your look for 2015's most exclusive event.
Chic &Â Classic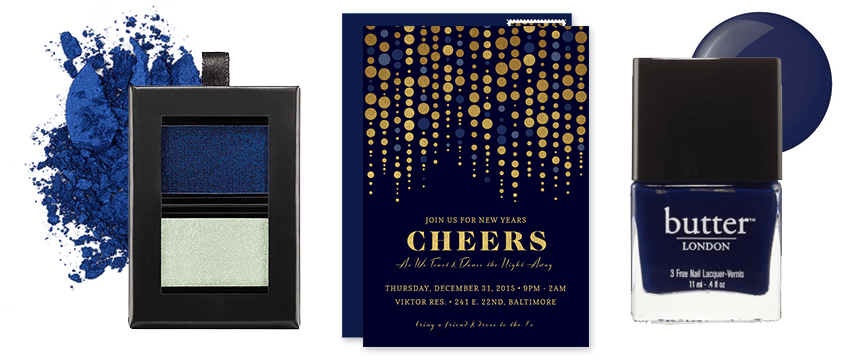 Raise a glass for the New Year and invite your closest group of friends for a classy and intimate cocktail party with the Paillette Curtain invite. For a dash of flair in your classic look, we love the royal look of a hint of Sapphire on your lids and nails. Whip up your signature cocktail everyone loves, put a jazz record on, and keep it classy for the last night of 2015.
Get started planning your New Year's Eve with our design collections here.