July 31, 2019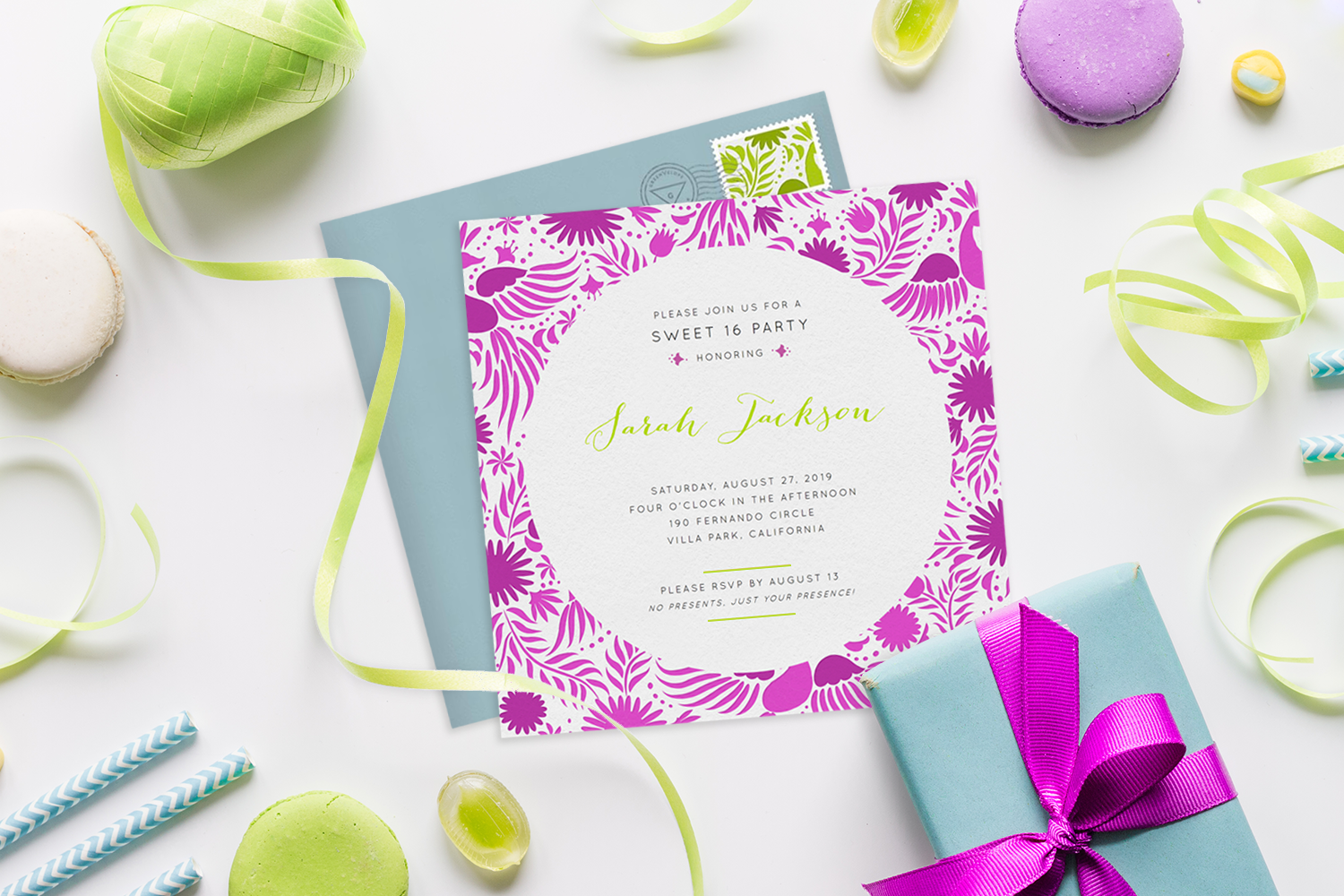 A sweet 16 birthday is an exciting milestone in a teen's life and deserves to be honored in a fun and unique way. Turning 16 marks the shift from childhood to adulthood, and what better way to celebrate than with a sweet 16 birthday party that your teen will cherish forever.
The theme options are endless and what you choose should depend on the personality and interests of the birthday girl (or boy). After all, this party is all about them. From sweet and vintage to more modern and glam, we have all the sweet 16 invitations (and some party ideas) to make your sweet 16 party a success. Cherish the planning process and this time with your teen because before you know it, you'll be planning their graduation party.

1. Vintage Vibes Invitations
This delicate, peony adorned party invitation is just what you need for a vintage, tea-party-themed sweet 16. Create a floral tablescape to match the invitation and add vintage decor elements like lace doilies and fabric bunting. Stock up on mason jars to serve drinks in or to display knick-knacks like vintage buttons. No tea party is complete without an assortment of pastel cupcakes, cakes, and macaroons.
2. Whimsical Sweet 16 Invitations
Balloons and confetti never get old as far as birthday invitations go. Metallic lettered balloons are a popular decor trend right now for everything from birthday parties to baby showers, and this confetti balloon card is the right mix of trendy and whimsical. In terms of decor, use balloon letters and numbers to spell out anything from the guest of honor's name to "sweet 16" to a simple "yay," just like this party invitation.
3. Retro Dance Party Invitations
Everyone loves a costume party, especially one that gives you a chance to dress up in throwback outfits and boogie on the dance floor. With this retro sweet 16 invitation, you can ask guests to rock their best 70s look, complete with bell-bottoms, big hair, and of course, a lot of glitter. Add a photo booth with retro props as a way to capture all the fun, and don't forget the disco ball and disco playlist.
4. Modern Metallic Invitations
Is your teen 16 going on 30? Then this elegant and modern invite is perfect for them. Skip the cutesy motifs and instead go for simple text with a pop of metallic typography to add a wow element. A sleek invite like this deserves a modern and more adult birthday theme, like a Black and White Ball, Roaring 20s, or old Hollywood glamour party. Keep the decor monochromatic as well with a mix of black, white, and gold.
5. Sugary Sweet 16 Invitations
Embrace the "sweet" in sweet 16 with a sugary birthday party invitation that highlights the birthday cake. The adorable, illustrated cake is adorned with a shimmery, hand-lettered cake topper that adds a modern flair for a modern teen. This invite works great for a candy or dessert-themed sweet 16 party (because nobody is ever too old for candy).
6. Glam Night Out Invitations
Most teens want their 16th birthday party to be totally different from the parties of their childhood, and what better way to do that than with a glamorous soiree. This night under the stars birthday invitation sets the tone for a glitzy, magical party, and also works well for a quinceañera. If having a party outdoors isn't possible, you can recreate a starry night indoors with the help of some fairy lights. Pump up the glam factor with a tiara for the birthday girl or tux for the birthday boy.
7. Tropical Luau Invitations
A luau makes a great sweet 16 theme, and this Hawaiian-inspired card has all the tropical touches needed to set the stage. Set up a flower crown making station as a fun party activity that will also give your teen's friends a pretty party accessory. Decorate with aqua-colored balloons and palm fronds, and serve fruity drinks with cocktail umbrellas — your guests will be in the aloha spirit in no time.
8. Surprise! Invitations
Turn a sweet 16 party into a surprise party to make it even more special. Make sure your guests don't spill the beans with this secretive birthday invitation that makes it clear that this is a surprise. This party invitation allows you to add all your party details on the back while keeping the main focus on the surprise factor. With digital RSVP features on the invite, you won't run the risk of your teen accidentally finding out about the party.
9. Gender-Neutral Invitations
Sweet 16 parties are typically reserved for girls, but there's no reason you can't celebrate a boy's big day too. This gender-neutral card works for everyone and commemorates one of the biggest milestones when it comes to turning 16: getting a driver's license. This party announcement is styled after a license plate and features a personalized plate number that highlights the occasion.
10. Parisian Stripes Invitations
Add a subtle ooh la la to your sweet 16 invitation with a mix of French stripes and textured circles. This playful French-inspired party invitation is modern with a dash a fun. Customize the color palette to match your child's favorite color, and play up the French stripes with a full-on Paris-themed sweet 16 party. You can even have a fondue station to really embrace the Parisian vibes.
11. Time for Your Closeup Invitations
The VIP of any sweet 16 party is the birthday boy or girl, and what better way to let them have their moment in the spotlight than with a polaroid inspired 16th birthday invitation. This simple invitation recreates a classic polaroid photo frame on the front with space on the back to add all the party details. Have a polaroid camera handy so the guests can take their own polaroid photos throughout the party. This is an easy way to make sure all the special moments are captured, and the photos work great as souvenirs from the party.
12. Simple Sweet 16 Invitations
No theme? No problem! It's easy to get swept up in planning an elaborate, themed party when all you need is good food and good company. This pink and gold sweet 16 card works for any style of party you're throwing. The focus is on the bold sweet 16 text with the gold sunburst pattern, and the colors on the invitation can be customized to match your color scheme.
13. Sweet 16 Fiesta Invitations
Tacos and pinatas? Sounds like a party to us. Throw a Mexican themed sweet 16 fiesta, complete with a taco bar, virgin margaritas, and this taco pun birthday invitation. Trendy cactus and llama decor are a given for any fiesta, and your teen might even want to save the decor for their bedroom after the party.
14. Summer Soiree Invitations
If your teen's birthday falls during the summer months, there's no better way to celebrate than with a beach or pool sweet 16 party. Choose this sunset gradient birthday invitation to match the summery theme. Your teen and their friends will love spending a day soaking up the rays and splashing around in the water.
15. All the Colors Invitations
A quick and easy theme is to ask all the guests to come dressed in their favorite color. This vibrant watercolor invite celebrates all the colors of the rainbow in a modern way that isn't too childlike. Party supplies and decor are easy too — just pick up balloons, plates, and streamers in different colors, and you're good to go.
16. Backyard BBQ Invitations
A rustic birthday party, like a backyard BBQ or picnic, calls for a rustic invite with muted tones. The gold foil still makes sure the invite is special though, and the swirling typography makes things a little more upscale.
The Perfect Party Starts with the Perfect Sweet 16 Invitations
There's a lot that goes into planning your teen's sweet 16 party — from picking the theme to planning the food menu — and sending the right invitation is the first step towards making sure this is a birthday party your soon-to-be 16-year-old will never forget. If you can't find a sweet 16 invitation that works for you, our selection of birthday invitations can be fully customized to work for any sweet 16 theme.