March 30, 2017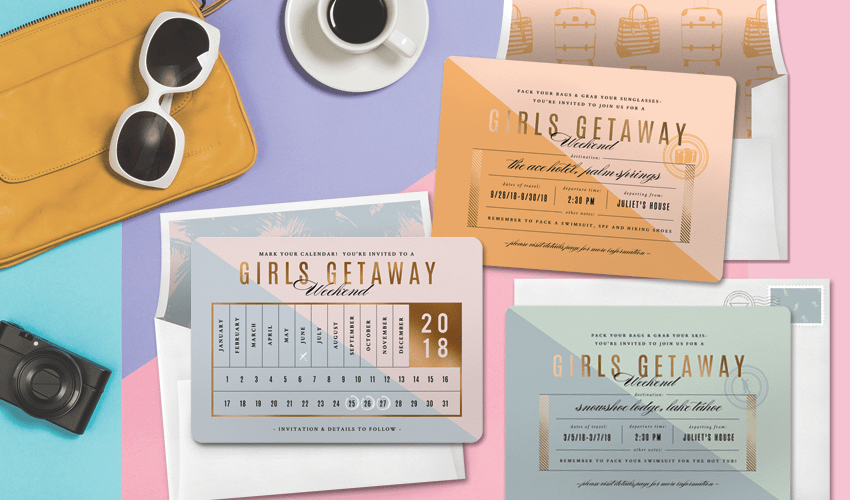 Get ready to plan your next party, team. We just launched a brand new mini invitation collection—based on the inspiring vision of Molly My. This talented lady is the founder behind My Magazine, a super fun lifestyle magazine that encourages women to create some of life's most beautiful things and moments. We united around a common mission: help make party planning fun, inspiring, and accessible. Check it out below, and see why Molly thinks digital invites are taking center stage!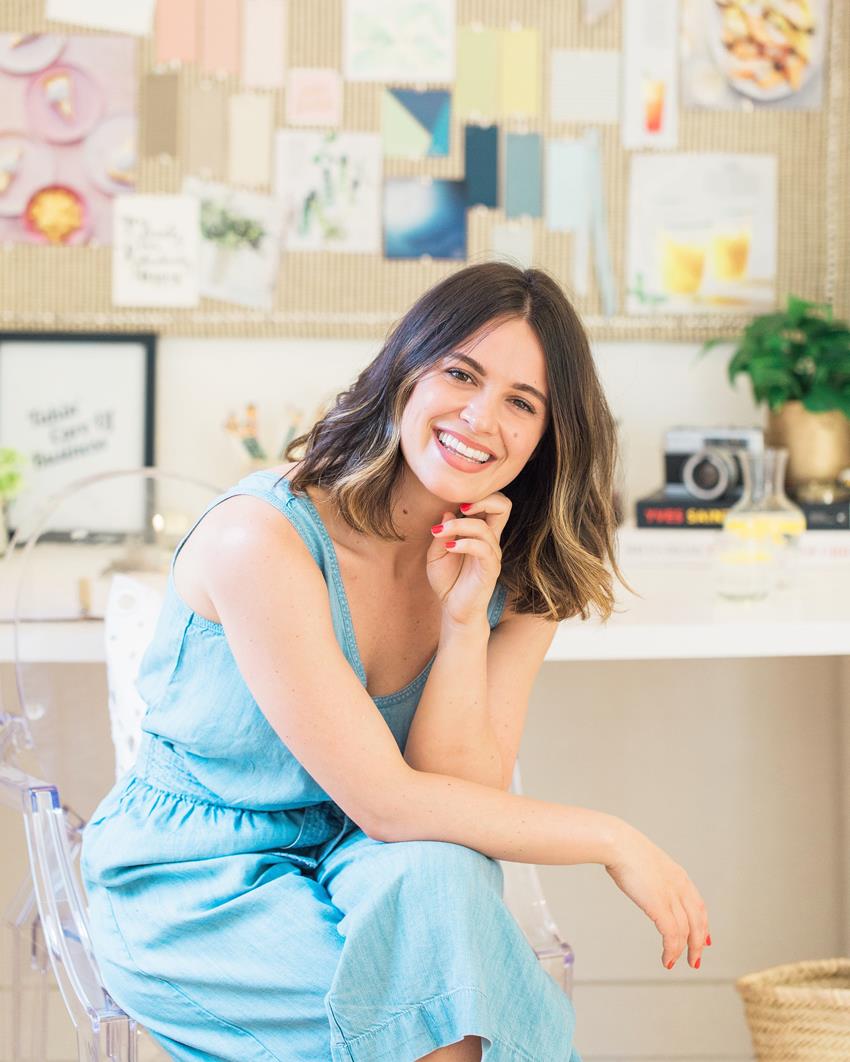 Inspiration
The inspiration I had for these invites came directly from my love for entertaining and bringing friends together! The creative process was easy to derive inspiration because all three (I'll Cry if I Want to, Girls Getaway, and Welcome Palms) were opportunities to share my personal experiences – either moving, planning a girls' weekend, or helping to cheer up a friend – in all of which, I consider myself an expert, now in my late 20s!
Why Digital?
Digital invites are ideal for the gal-on-the-go. Not only are they quick and easy (and often less expensive than snail mail!), they are highly customizable to your liking. As everyone is online 24/7 nowadays, digital invites are taking center stage!
I'll Cry if I Want to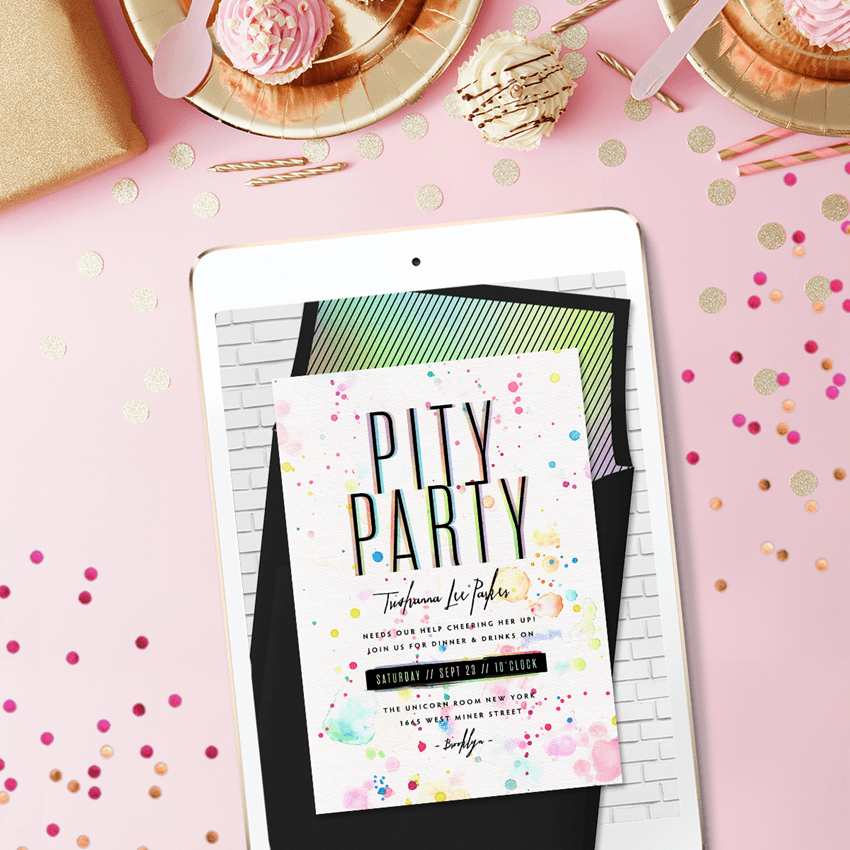 I wanted this invite to be uplifting and colorful, slightly all over the place (possibly how our minds might feel after a rough day, week or situation!), with a classic 90s feel. I personally love an imperfectly perfect party, it's always been more my style. This invite is meant to enliven a friend and remind them that unicorns DO exist and to forget the rest. A Pity Party is an opportunity to not only show a friend that you're there to support them, but to celebrate the bad days – we've all been there! You learn a great deal from a "bad" day or experiences, and these opportunities to learn and grow should be celebrated. Sometimes we just need some pity, friends, and sweets to remind ourselves that this too shall pass.
Girls Getaway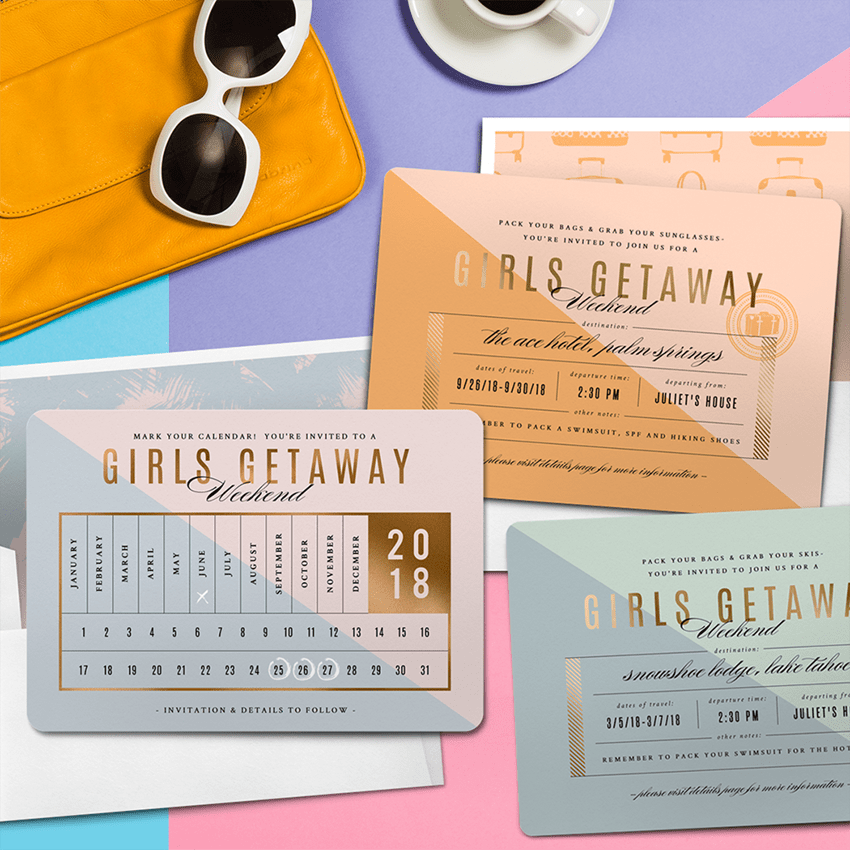 I pulled inspiration from two of my favorite places – Paris and Palm Springs! I wanted this invite to feel classic, elegant, and feminine, but without a lost sense of laid back modernism. My idea of the perfect Girls Getaway is somewhere timeless, with a glass of rosé in hand (a little sunshine doesn't hurt either!). To emulate this, I selected muted colors and metallics. The muted colors represent relaxation, while the metallics maintain festivity. This is the perfect combo for an unforgettable vacation with the girls!
Welcome Palms
(Originally designed for a housewarming party, the text in this design can be fully customized. So feel free to use this beautiful design for any type of event!)
I moved around a lot over the years for work (New York City, San Francisco, Los Angeles) and my style has evolved with each move – but one thing that has always stayed the same is my love for natural elements, like plants, and fruits and veggies as aspects of my decor. I always have leafy plants in my space, fresh fruit (pineapple is one of my favorites!), herbs in eyesight, and bowls of lemons and limes. I used my own space as my inspiration for this invitation. If you can't tell, I also love the color green! Any shade of green, but I favor emerald (which is also my birthstone color!). I've come to realize (after moving so much, and my style evolving), that a clean space with natural elements will never go out of style!
Expert Tips
Before hosting any type of gathering, I first look at invites to gain some inspiration for the theme of my party (try it, it's super helpful!) and build the idea from there. Invites set the tone for the event ahead and shouldn't be overlooked – plus, they're really exciting for your guests to receive! Also, never forget a good thank you card. Whether you've attended a gathering, or hosted one, a thank you goes a long, long way and is one of my biggest tips on being a good guest or host, always say thank you!