January 28, 2020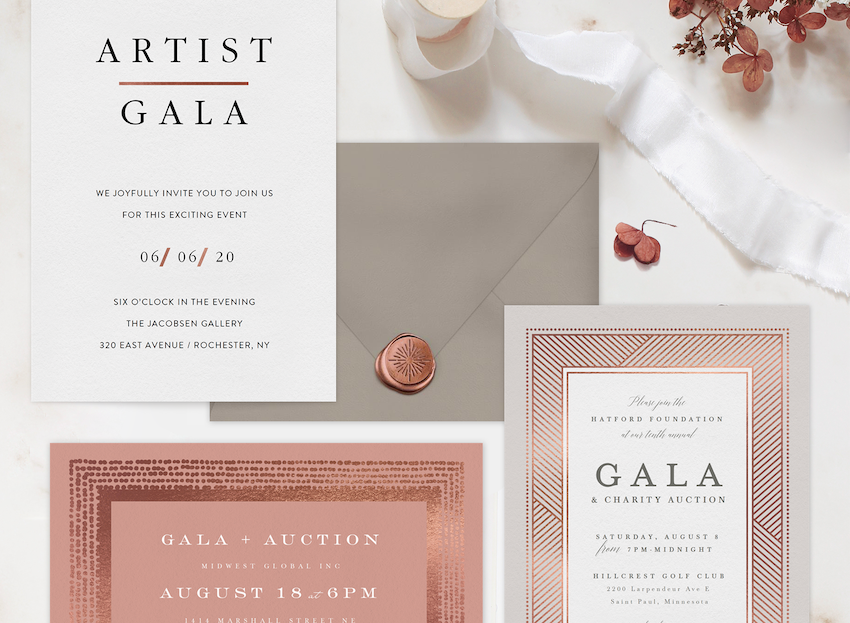 Galas are among the grandest parties you'll ever host or attend. Often with a theme to celebrate or a cause to draw attention to, these events are the height of elegance and sophistication. For an event so special, you'll want to find a gala invitation that impresses your guests straight from the start.

Our Favorite Gala Invitations
Every gala is unique, with a select guest list and an array of visual and musical performances. Find an invitation design that's as intriguing or opulent as your event, and you'll have the best chance of encouraging guests, patrons, and potential fundraisers to RSVP.
To help you discover the ideal design for your gala party invitations, here are some of our favorites. There's something for every taste — from shimmering and splendid to simple and sophisticated.
1. Geometric Gala
Set the tone for your modern yet elegant event with this beautiful gala invitation design. The design-led, geometric border catches the eye while drawing attention to the event details within. Strong font choices and a touch of gold complement the watercolor tile design.
2. Holo Gala
Looking for a fun design that really makes some noise? This bright, modern event invitation is striking in all the right ways. With the option to choose between holographic or bronze gold-foil accents, it's easy to find the right colorway for your event — or personalize it further using our design service.
3. Stately Shimmer
Invite guests to your next gala or charity event with this stately shimmer gala invitation. The strong weaved border adds a touch of opulence, making it perfect for a grand event like a gala dinner or silent auction. You can choose from gold, rose gold, or silver foil accents that add some dazzle to your invitation.
4. Awareness Ribbon
This awareness ribbon invitation template is ideal for fundraisers, events, and auctions aimed at raising awareness and collecting donations for charitable causes. The bold outer border is accented by an inner, shimmery border for a hint of glamour. Find the ribbon color that represents your charitable cause or customize it with an exact color match.
5. Oversized Gala
The bold, modern font choice on this oversized gala invitation helps it stand out. Make an impact as soon as your guests see this in their inbox, thanks to the stunning gold, silver, and rose gold-foil accents. This design-inspired choice would be ideal for a sophisticated auction or charity gala.
6. Stained Glass
Inspire your guests from the start with this artistic, stained-glass gala invitation. The mosaic tile inspired design mixes fun with elegance, and offers plenty of rich color options to choose from. Paired with sophisticated font choices, this artsy design is perfect for charity auctions and galas dedicated to the arts.
7. Simple Watercolor Wash
This elegant, understated watercolor invitation is ideal for more laid-back, serene galas and charity events. Although it isn't dazzled with foil accents or shimmer, it's no less striking thanks to its simple yet beautiful border and typography. There's a mix of soft and deep color options to choose from, or you can customize with your own event color scheme.
8. With a Twist
Looking for another simple yet elegant gala invitation option? This design is a beautiful blend of classic and modern, mixing a bold border with handwritten fonts and a softly textured background. This gives you a design that's refined without being overpowering, making it great for corporate invitations. Take your pick from one of the simple color options available, or make it your own by customizing it with a brighter border.
9. Colorful Geometric
Bring a touch of fun to your gala event with these colorful, geometric invitations. A modern geometric design meets plenty of color for a social or business invitation that catches the eye. The gentle gold or silver foil accents add a hint of sophistication to the playful design.
10. Elegant Bokeh
Keep the attention on your event details with this Elegant Bokeh design. The soft background that mimics a dazzling celebration adds interest to the design without being overpowering. Strong typography highlights the cause of your event, and there's plenty of space for your invitation wording.
11. Art Deco Diamond
Ramp up the wow factor with this gorgeous, art-deco-inspired gala invitation. It's a design that embodies opulence with radiating lines and striking foil accents. Whether you're hosting a themed gala for VIPs or a sophisticated charity auction, this design will help your invitation stand out in your guests' inboxes.
12. Color Pop Gala
Looking for the perfect invitation for your fun, modern gala or charity event? This gala invitation could be just what you need. It mixes bright, trendy colors with bold geometric shapes for a strikingly different type of invite. There are five bold color options to choose from or you can make it your own with the help of our design team.
13. Simple Foliage
This gorgeously understated design is ideal for the most exclusive gala events and corporate events. The simple foliage card design features ferns and gingko leaves in an embossed effect border, mixing elements that are both classic and modern. With plenty of white space around your event details, it's easy for your guests to focus on what really matters. If you're looking for corporate event invitations for your charity gala, this design is a winning choice.
14. Black Tie Affair
Let your guests know they're in for the fanciest of events with this dedicated, black-tie event invitation. There's no guessing when it comes to the level of formality with this fun design, featuring a striking black tie and gold foil accents. With simple yet bold font choices, there's lots of space to feature details that will get people excited about your event.
15. Desert Moon
Impress your guests with a design that's different from the rest with this simple yet chic gala invitation design. The color scheme is inspired by the desert, making it perfect for a gala or dinner invitation in the Southwest. Modern typography and bold graphic lines give your invites a modern feel, especially when paired with the contemporary color choices.
16. Mineral Texture
Prime your guests for a luxurious event with these beautiful invitations. There's a crisp attention to detail, both in the captivating background and the fonts featured in the design. Choose from four color options or add your favorite color with our design service.
17. Shimmering Lines
There's something about this shimmering invitation design that lets you know you're invited to a grand gala. The curtain of gold or silver lines falling from above leads your eye toward the finer details. Make an impact and impress your most important guests from the start with this captivating gala invitation.
Showstopping Designs for Every Gala
We hope you've discovered more about what you're looking for or even found the perfect design for your gala invitations. The right design can inspire your guests to RSVP right away or encourage them to find a new interest in your cause. Browse our gala invitation designs to see more of our collection, with over a hundred options available.